PetSide may earn a small commission from affiliate links in this article.
Learn more
When her beloved pet, Bam Bam, went missing from her home in Oakland County, Michigan, owner Elaine Westfall had no idea that her troubles had just begun. Dominating the news cycle, the 50-pound carnivorous Caracal had the population of Michigan freaking out and clicking every article they could, in order to get information on the whereabouts of this potentially deadly animal.
"I got here 18 hours ago," Tim Pamplin, the WDIV-TV night cam reporter, said Thursday, as he sat in his Channel 4 van cutting a segment for the 5 o'clock news. The story, he said, had everything — police, a cat wrangler, and piercing eyes, "glowing in the dark."
However, as the excitement passed and Bam Bam was found, all eyes have fallen onto the owner – who states that she has no idea how the animal managed to escape from their enclosure. Now, a much bigger drama is unfolding, with legal controversy hitting the headlines.
Westfall, 62, owns four caracals in total, including Pebbles, Wasabi, and Fire – two of which she bought from Florida and two from Africa. Keeping them in special enclosures in her backyard, she paid $50,000 or more (estimated) to not only purchase the big cats but to keep them (and members of the public) safe with their homes in her backyard and garage.
Unfortunately, Westfall now has to work with the legal implications and heartbreak that comes with owning exotic animals. It's something that has been in the headlines since the likes of Tiger King came onto screens – and even before then, with the rights of pet owners versus animal rights constantly butting heads.
Put simply, it means that Royal Oak police have issued Westfall five citations and given her, according to the police chief, until Monday, to make sure the cats leave the neighborhood.
"They've got to be gone by Monday — all of them," she said. "This is not just, 'Here, take my kitty.' This is taking my cat, my big cat, and taking care of it for the rest of its life or until I can come to get it. It is a responsibility. You can't just hand it over to anybody."
She states that she isn't even sure if the police have this authority, in order to demand that she give up her cats. Who, despite what general discourse would suggest, Westfall claims are completely friendly and create no risk to themselves, herself, or the neighborhood. Currently, her biggest fear is that the police will turn up at her house and attempt to seize her pets, before placing them with someone unknown – and that she will never see her fur babies again.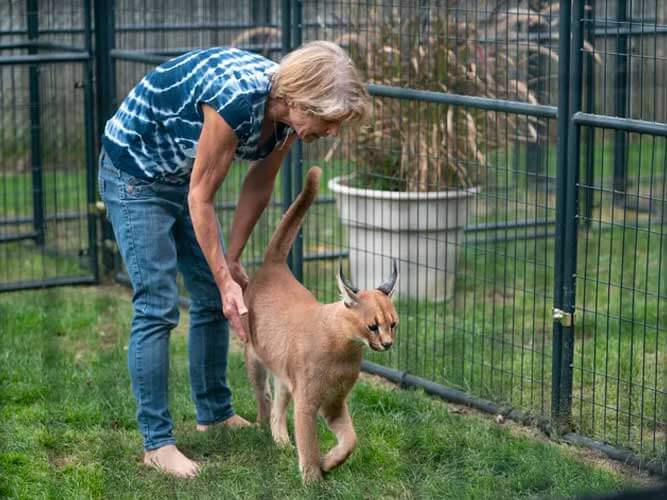 Worse still for the owner, the news and coverage of the escaped caracal mean that many of her neighbors – and plenty of strangers – have now turned against her.
"Right now, those doors in the kennel are padlocked," Westfall said. "The cats won't go out in them because they are so traumatized. All of them. They are huddled together in the basement. That's how traumatized they are."
She added: "And I'm supposed to pick them up and move them by Monday?"
This is an understandable concern since it's no easy feat to care for exotic animals and a specialist would need to be found. Not only this – but one with the time, energy, and resources available to provide them with a good life.
Of course, as always, there are three sides to every story – the two sides involved and the onlooker's perspective. And, according to the police, this wasn't the first time Westfall's cats have escaped from their enclosure. Indeed, there have been disagreements between the two parties as to how the caracal managed to escape.
The police state that three of the pets got loose, while Westfall states that only two managed to escape – and that this was due to "human error".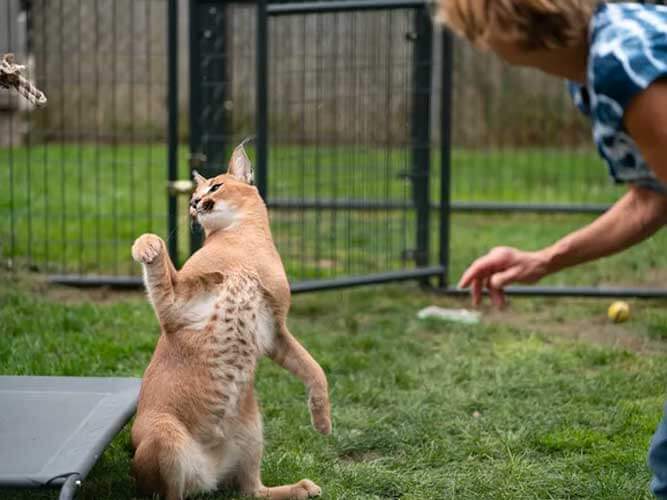 Regardless of this, Westfall makes the point that all pet owners can resonate with. That these sandy-colored, large cats (who are said to act more like dogs than cats, in their playfulness and loyalty) are, essentially, part of her family.
"I don't have any kids," she said. "I have four-legged animals. These are my kids."
Unfortunately, however, these animals are known to eat smaller animals – including rodents, mammals, and birds. And there had been some jokes posted online that Bam Bam and his kind are responsible for the disappearance of some pet cats in the area.
Heather Ineich, who had initially caught the lost pet, states that the whole situation has been blown out of proportion. Luring the caracal into a trap, in her own backyard, she shooed the police away, when they initially came calling. It is Ineich's belief that the police's mishandling of the situation and their posts on social media made it seem like the caracals are vicious animals.
In this case, Westfall at least has a friend in Ineich, who says she has fallen in love with the big cats, herself. Indeed, Ineich has been urging the owner to fight the citations in court. After all, she says, it's not illegal to own caracals.
Since caracals do not actually fall under the exotic cat classification, there are no regulations surrounding the animals, according to the Department of Natural Resources. That's not to say that federal agencies may not have jurisdiction over what happens to the animals. Particularly, if new laws are added over time.
Understandably, Elaine Westfall is describing the entire ordeal as a personal hell.
"I don't have an attorney," she added. "One contacted me, but I haven't called her back. I don't even know the first person to call. Somebody help me!"