PetSide may earn a small commission from affiliate links in this article.
Learn more
The rapid response of rescuers from Dog Meat-Free Indonesia has resulted in the saving of over 50 dogs from a terrible fate at an illegal slaughterhouse.
According to a recent report released by FOUR PAWS, animal rescuers from Dog Meat-Free Indonesia and police officers were able to locate and intercept a truck carrying a total of 53 dogs, all of which were intended to be taken to an illegal slaughterhouse for use as food.
According to the rescuers, all of the dogs in the truck have been secured inside sacks with only their heads sticking out of the top. They had also had their muzzles bound to prevent them from defending themselves or making any noise during transit. Almost all of the dogs found were severely emaciated and were under one year of age.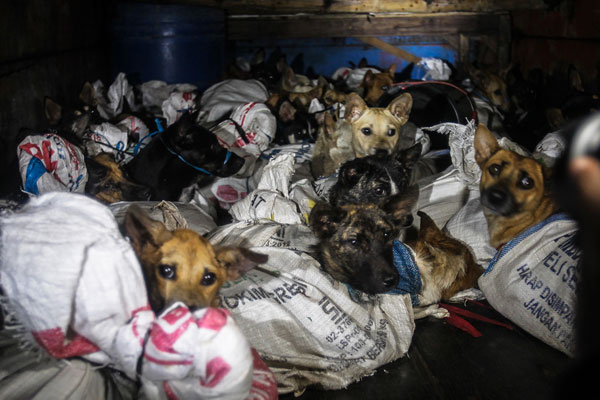 This successful rescue has marked the first large-scale raid against the illegal procurement of dog meat and dog slaughter in Indonesia. The raid also resulted in an individual being arrested who is suspected to have been actively involved with the underground dog meat trade for over 20 years.
Once the dogs had been removed from the truck and freed from the cruel bindings they had been left in, rescuers immediately began providing emergency veterinary care for each of the canines in turn. The dogs were then transported from the site to a temporary shelter.
Tragically, one of the dogs passed away in transit and did not make it to the shelter. The surviving pups will be staying at the temporary shelter until they have been able to fully recover from the severe neglect and abuse they have had to endure until this point.
The non-profit organization, FOUR PAWS, actively works around the world to prevent and end the suffering of animals. They are hoping that this recent rescue sends a message and marks a "turning point" in the illegal dog meat trade in Indonesia.
The FOUR PAWS head of public campaigns Southeast Asia for the Ending the Dog and Cat Meat Trade campaign, Dr. Karanvir Kukreja, had said in a statement that both the positive actions that were taken by the Sukoharjo authorities and the criminal, terrible, and shocking, events that have taken place are highly important "in fighting against this outlawed, outdated, and cruel trade."
He also highlights that there has been reassurance from law enforcement and campaign groups that the disgusting and cruel practice is quickly coming to an end. "For traders, there will be no place left to hide to continue their criminal practices in the very near future," he explained.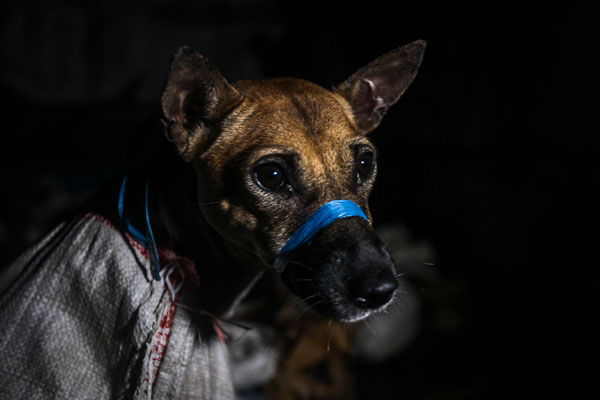 FOUR PAWS itself has also conducted a recent rescue operation in February 2021 that resulted in the savings of over 60 dogs, who had also been on their way to a slaughterhouse in Cambodia. Just under half of the rescued canines are still undergoing treatment for the abuse they endured and have a little way to go in terms of recovery at the FOUR PAWS' shelter in Cambodia. This shelter should soon be undergoing expansion as a result of the kind and generous donations of Pawthereum (a cryptocurrency charity project).
On Tuesday 30th November Pawthereum will be matching donations made to FOUR PAWS up to $50,000 as part of Giving Tuesday. Further information can be found on the FOUR PAWS organization website.