PetSide may earn a small commission from affiliate links in this article.
Learn more
72-year-old William Carter had been filling his truck at an Orange Mound gas station early morning on the 25th October when a masked gunman approached him. Tragically, in a valiant attempt to protect his owner, Carter's pit bull had been shot several times and died on the scene. At the same time, Carter received a gunshot wound to his foot as the gunman began firing in all directions in a panic.
Before the retired social worker and Vietnam veteran had had a chance to understand what the assailant was demanding, his 9-year-old pit bull, Major, has leaped into action. Seeing that Carter was under threat, Major, who had been trained to protect him, jumped from the rear of the truck to the front seat to growl at the man. The man then reflexively fired at the dog before turning his gun on Carter and shooting him in the foot.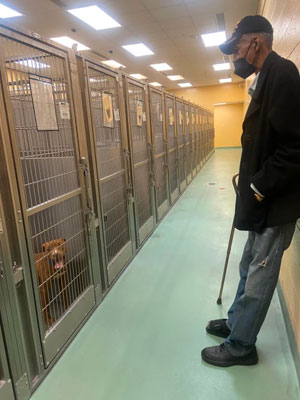 "He didn't know the dog was in the truck, and when the dog jumped at him, he panicked and started shooting. He shot the dog two or three times off the bat," Carter told WREG.
An officer nearby had heard the gunshots and come to Cater's aid whilst calling for backup. Sadly Major died immediately. Carter told police that he had no idea who the man was but that "his eyes look[ed] like darkness." Not only did Carter lose his beloved dog in the attack, but the shot to his foot also resulted in two broken bones which required physical therapy and possible surgery in the future.
"My dog gave his life for me," Carter told WREG.
It was announced at the time that he intended to adopt a new dog, followed by information for a GoFundMe campaign set up by his family to help with medical expenses and vehicle repairs.
An outcry of support followed the news of Major's demise, with people all around expressing their sympathy and empathy for the situation. One WREG reader, having seen the story, reached out to tell of her desire to buy a new dog for Carter after reading how he had loved Major.
"I realized how valuable Major was because he protected me to the end," Carter had said. "To the end of his life, he protected me."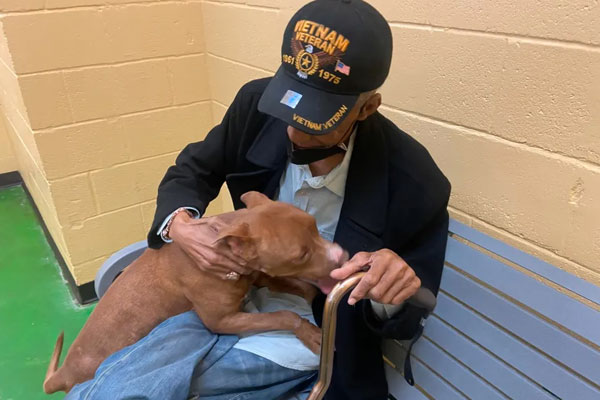 Upon receiving the news that a reader wanted to purchase a new dog for him, Carter expressed his gratitude for the kind-hearted stranger. "I was just thrilled at what she did, you know. It really touched my heart."
The anonymous woman paid for a dog to be adopted from Memphis Animal Services. Carter then went to select his new dog on Saturday 13th November. Quickly, Carter was able to find a young 1-year-old brown pit bull that bore a striking resemblance to Major. He even sent photographs to friends and family who said they were blown away by the resemblance, describing the pup as "Major incarnate".
The new dog has been named Duece and should be going home to Carter within the next week. The pup does still needs to be vaccinated and neutered, as the service is not offered at the shelter. Sadly, Carter doesn't feel safe enough to go out at night following the shooting. But he hopes that Duece will help him to regain his confidence and feel safe once again in his own home and neighborhood.
The GoFundMe account is still ongoing to help pay Carter's medical bills and replace the damaged truck, which was damaged during the attack.
"The most horrifying thing is the smell of that blood," Carter told WREG "I mean, it won't get out of this truck, and I can just see Major laying there in a heap," he said.
Police are still actively searching for the shooter and welcome and information that could lead to the capture of this dangerous gunman.
Memphis Animal Services also welcomes any questions regarding animal adoption with many dogs still awaiting their new forever homes.