PetSide may earn a small commission from affiliate links in this article.
Learn more
The Sotelo family, in Peru, had decided to purchase a puppy from a small local pet shop in central Lima. Having settled on a puppy, which they were led to believe was a purebred husky, the family made their purchase of $13 and set off home to raise their new pet.
Their new pet, affectionately named Run Run, initially got along very well with the neighbor's dogs and would often be seen playing happily alongside them. However, as Run Run grew, certain signs started to appear, indicating that something was not all as it seemed with the new "puppy".
Unfortunately, Run Run had developed a habit of chasing neighborhood ducks and chickens. Not only that, but this new habit was regularly resulting in the birds being killed. Neighbors became increasingly angered by the behavior of Run Run, who later was identified as an Andean fox. As the fox's features developed it became evident with Run Run sporting thin legs, a pointed head, a bushy tail, and prominent ears.
According to Maribel Sotelo, her teenage son had been the one to purchase Run Run from the store around six months prior to these problems starting as a result of Run Run's natural hunting instinct. "We thought he was a purebred puppy," Sotela told Reuters.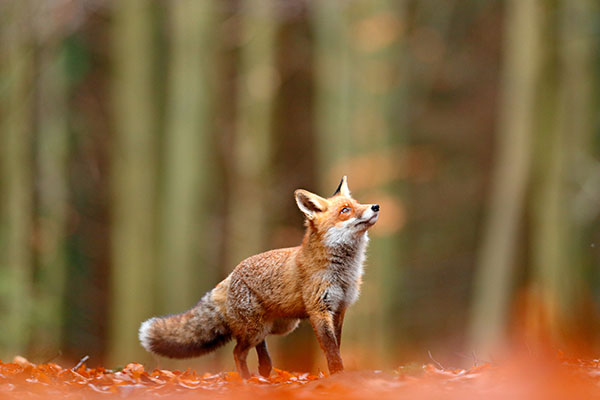 Maribel also told News outlets of how she had been informed by a neighbor that Run Run had killed and eaten three large guinea pigs, for which the Sotelo family had been expected to reimburse the guinea pigs' owner.
Run Run later ran away from home, much to the distress and discomfort of the local population. As a result, the Ecological Police and officials of the National Forest and Wildlife Service (SERFOR) were called out to help find the runaway fox and take him away to either a specialist care center or a zoo.
According to Walter Siva, a wildlife specialist and veterinarian at SERFOR, wildlife "trafficking" stemming from Amazonian areas such as Ucayali, Loreto, and Madre De Dios, are to blame for the illegal sale of wildlife in Lima.
Wildlife trafficking is the result of hunters killing the animal's parents and abducting the hatchlings to be sold illegally in informal markets. The end result of which can be extremely dangerous, as can be seen in this case of a wild fox being sold as a domestic family pet.
As of 9th November, Run Run has been located and caught by wildlife officials to be dealt with accordingly.
Siva has told Reuters that SERFOR has already carried out over 120 interventions during 2021 alone, in order to confiscate illegally obtained wildlife being illegally sold in Lima. The selling of wildlife in Lima is prohibited and punishable by up to 3-5 years in prison if caught.