PetSide may earn a small commission from affiliate links in this article.
Learn more
Pitbulls have long been vilified by mass media for being "unruly" or dangerous. And, while there are always reasons to be careful around any dog, it's fair to say that these depictions of dogs can be dangerous in more ways than one. One such incident includes the story of Dwaeji, a 12-week-old puppy.
Based in Toronto, Tommy Chang – the owner of Dwaeji – was heartbroken when his puppy ran through an open door. Luckily, at the time Chang was relieved when he was told that the puppy was picked up by Vaughan Animal Services (VAS).
His relief soon turned to anger, however, when VAS refused to return the pup to his rightful owners. Instead of insisting that the puppy required a DNA test in order to ascertain whether or not the pooch was part pit bull.
Despite Chang telling VAS that Dwaeji is actually an American Bully – and therefore not subject to the same rules and regulations as Pitbulls, the branch pushed forward in their testing.
"It's been horrible," Chang said at the time, "My wife has been literally crying day and night. My sons are completely devastated."
Indeed, the owner did well to provide full documentation, showcasing the AKC lineage with papers from the American Bully Kennel Club and two veterinarians. Despite this, the pound stated that this was not satisfactory evidence and, again, moved forward with the DNA test to assess the lineage.
However, Chang then hired a lawyer and also began to gain support from the local community – something he says was instrumental in having Dwaeji returned to the family.
"It went viral, literally globally, not just in Ontario," Chang said. "I want to acknowledge the support."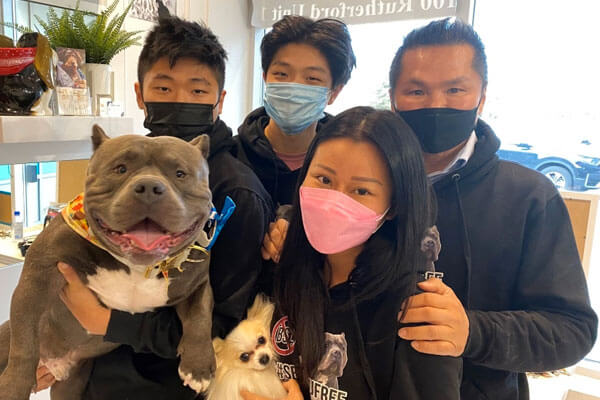 Speaking to CTV News Toronto, VAS says that they have now concluded the investigation into Dwaeji's breeding.
"Based on the work of this investigation, it has been determined that King-Kong Blu (also known as Dwaeji) can be lawfully released and he has been reunited with his owners," officials said. "This is a very happy ending. VAS took the appropriate steps under this provincial legislation, and we are pleased with the outcome."
The pound gave no further comment after the release and has not detailed any other outcomes from the testing.
"It doesn't even feel real," Chang told CTV News Toronto. "We figured this was going to go the full stretch."
Chang also states that the time with the pound has changed his personality considerably. According to the family, they feel that the pooch has lost a lot of what made up his personality. Not only this but that the Bully was returned weighing 10 pounds less than when he went in. This is a considerable change, given the age of the pup and how quickly dogs gain weight at this time in their life.
The experience has caused Chang to take further ownership of the cause behind the capture. He states that he is not going to stop fighting for others who are in similar predicaments but may not have the means to pursue those behind a wrongful capture.
He is now very aware of those whose pets were held for much longer or even rehomed after it was discovered that they were part pit bull.
"I think this is going to be a catalyst that's going to help change things," he said. "We can't stop because Dwaeji is out now."