Dry Vs Wet Food For Cats: Which is Better?
New owners of cats always have this nagging question about which between wet cat food and dry cat food is better for their purring pets. Friends, neighbors, and acquaintances will tell them to feed their cat with kibbles while vets and others will say otherwise. So which one is better for your cat? Should you give it exclusive wet or canned cat food which is more expensive? Or should you go for cat kibbles as it's more practical and is not easy to spoil? You'll find the answers here and many more.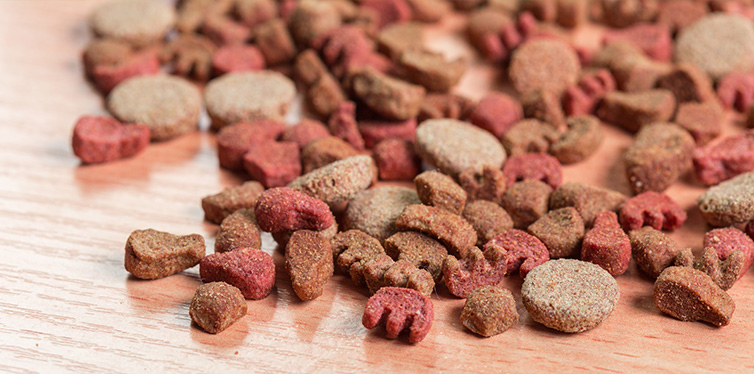 Understanding Feline Feeding and Nutrition
Our purring little friends do not thrive on fruits, vegetables, grass, grains, or any other plant foods. The design of their digestive system means they can only accept and digest meat-based meals. The digestive tract of obligate carnivores like cats is also shorter than the gut of other animals. Because it is shorter, it may not be able to digest and process the thick cellulose fibers in plant food ingredients. These ingredients take time to digest. Feeding it to your feline friend does nothing other than to pass right through its gut without absorbing the nutrients.
In the wild, predators feast on prey animals. They don't go out to hunt or forage for root crops, climb trees for their fruit, and snatch vegetables from patches. They wait in ambush so they can pounce on their prey at the right instant. The prey animal they feast on contains moisture, proteins, and fats as well as the minerals and vitamins that they need for survival.
It is safe to assume that cats can also thrive on plant proteins like those coming from peas, lentils, legumes, and others. But plant proteins do not contain the amino acid taurine which is important for heart, muscle, eye, and brain health. Taurine is present in the muscle tissues of animals in great abundance.
Taking these into consideration, we can now look into the better type of food to give to your cat: wet or dry?
Dry Cat Food
The main issue with majority of dry cat food is that they contain too many fillers in the form of corn, wheat, or other ingredients that cats don't need. These ingredients provide the bulk in the cat food so that manufacturers do not need to put in more animal meats. It is a lot cheaper this way. We are not saying that fillers don't have a purpose in pet food. They are also important in the food extrusion process to allow the shaping of the cat kibbles.
A typical cat kibble contains 20 to 30 percent protein and 10 to 12 percent moisture. You will have to do a little math to get the real protein percentage of the dry cat food in terms of its dry weight. For cat food that has 30% protein and 10% moisture, this means that its actual dry protein content is only 33.33%. If it also contains 15% fat, this counts for 16.67%. Adding the actual protein and fat content, we get 50%. This also means that 50 percent of the dry cat food is carbohydrates. Cats do not need this much carbs in their diet. They subsist on animal proteins, not plant carbs.
There is another reason why cats should not indulge in carbohydrates. It is true that this macronutrient provides the cat with the energy it needs. We also know that cats are not as active as dogs. The only activity that cats do that resembles exercise is when they play. Because cats are not that active, too many carbohydrates can lead to obesity. This occurs because the body converts the excess carbs and stores them as fat.
Fat cats tend to have diabetes a lot more than those that are not obese. If the cat doesn't develop diabetes, its overweight status can also hamper its movement. It will be sluggish in its movement. It will not be able to play with its favorite toys by itself.
Cats that feed on kibbles alone are also more prone to getting fat and developing diabetes because of the free-choice feeding nature of kibbles. Since kibbles are not easy to spoil, cats can go to their food bowls whenever they want. It's this ability to choose when to eat that can expose cats to obesity.
Aside from the risk of obesity and diabetes, cats that feed on dry food alone are also at risk of dehydration. Big cats in the wild eat prey animals that contain more than 70% moisture. Only 30% of the animal is solid ingredients like bones, meats, and internal organs. In our example above, a typical cat kibble only contains 10 to 12 percent moisture. This is far below the 70% that cats get in the wild.
It is for this reason that cats receiving only dry cat food also need to drink water from a pet fountain or a water bowl. The current recommendation is to give cats a cup of clean and fresh water for every 10 lbs of the cat's body weight. Suppose you have a 15-lb kitty, then this cat needs to drink 1.5 cups of fresh water every day. Knowing cats, they are not easy to entice to drink that much water. Pet drinking fountains do help, nonetheless.
If your cat is not drinking enough water, it increases its risk of developing stones in its kidneys. Urinary stones can affect the cat's urination, further causing more problems like chronic renal failure. Since the kidneys are also responsible for flushing out wastes and toxic substances from the cat's body, a failing kidney means these harmful substances remain in the cat's system. This can produce other problems that may require costly treatments.
Not everything is bleak about dry cat food. Pet parents say that kibbles can help improve the dental health of their cats. The rough texture of the kibbles scrapes the surface of the teeth and gums, removing debris in the process. This is not a substitute for good brushing and a visit to the pet dentist, however.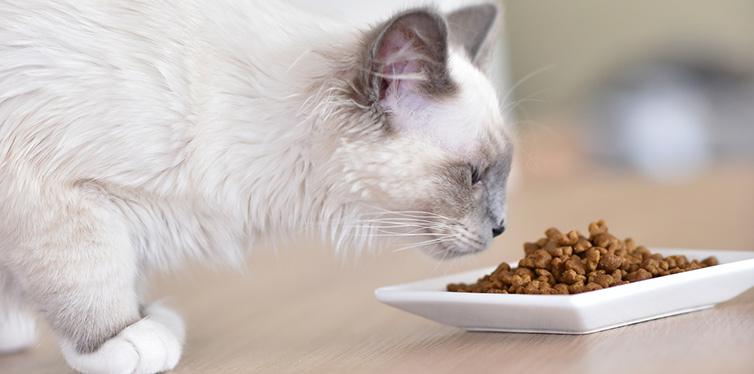 Wet Cat Food
After going through the things about dry cat food, you might think that wet cat food is better. This is not often the case. Everything depends on the formulation of the wet cat food recipe and the inherent trustworthiness of the manufacturer. A mediocre-quality wet cat food cannot compare to a high-quality cat kibble.
Wet cat food addresses some of the issues that pet parents have about dry cat food.
First, it contains more moisture in amounts that are closer to what cats feast on in the wild. But this doesn't mean you can already forget encouraging your cat to drink from its water bowl or pet fountain. As a matter of fact, cats still need to drink to augment the moisture from their wet cat food.
Cats feeding only on wet food still need to drink a third to half-a-cup of water for each 10 pounds of its body weight. A 15-lb cat will need to drink about half to three-quarters cup of water every day. This is still lower than the 1.5 cups that a cat feeding on dry food needs to drink every day.
Because wet cat food contains 75 to 80 percent moisture, its dry matter weight is less than what dry cat food has. You may think that it has fewer nutrients compared to cat kibbles, but this is not true. We have to compute for its actual dry matter content. If the wet cat food contains 80% moisture, we can assume that its dry ingredients comprise only 20%. If the same cat food contains 10% proteins and 4% fat, we can compute for the dry weight composition as 50% proteins and 20% fats. This also means the cat food only contains 30% carbs. It's a better choice for cats that are prone to obesity and diabetes.
Premium-quality wet cat food should list a named animal meat as its first ingredient. It should also be free of animal byproducts as you will never know what is present in the ingredient.
It is true that wet cat food may increase your cat's risk of developing gum problems like gingivitis. It only becomes an issue if you neglect your cat's dental care and regular trips to the pet dentist.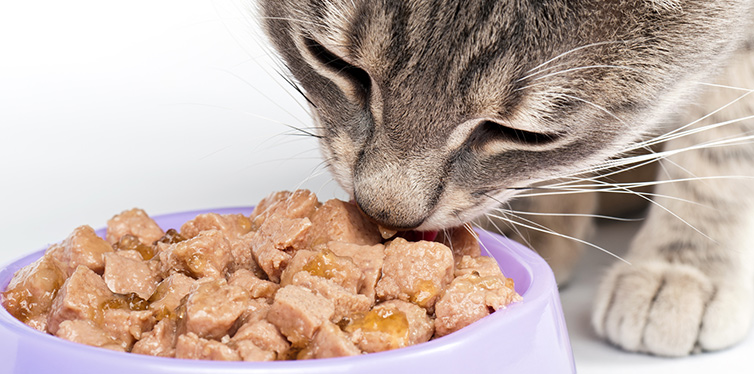 The Better Food for Your Cat
It is easy to think that wet cat food is better for your cat because it contains more proteins and moisture than dry cat food. But if you can choose a dry cat food that also contains higher proportions of protein relative to its moisture content, then this is a great cat food, too. It is also imperative that you encourage your cat to increase its fluid intake.
The bottom line here is to always choose the one with the best ingredients for your cat. It should always contain high-quality named animal meats as principal ingredients. It should also have no fillers in the first 5 ingredients. Remember, it's not in the wet or dry nature of the cat food that you should focus on, but on the nutrients they give to your pet.
Sources:
Feeding Your Adult Cat: What You Need to Know – Pets WebMD
The Healthiest Diet for Your Cat – Huffington Post
Related Reads
Related Reads