The Best Rawhide For Dogs in 2022
Last Updated: January 4, 2022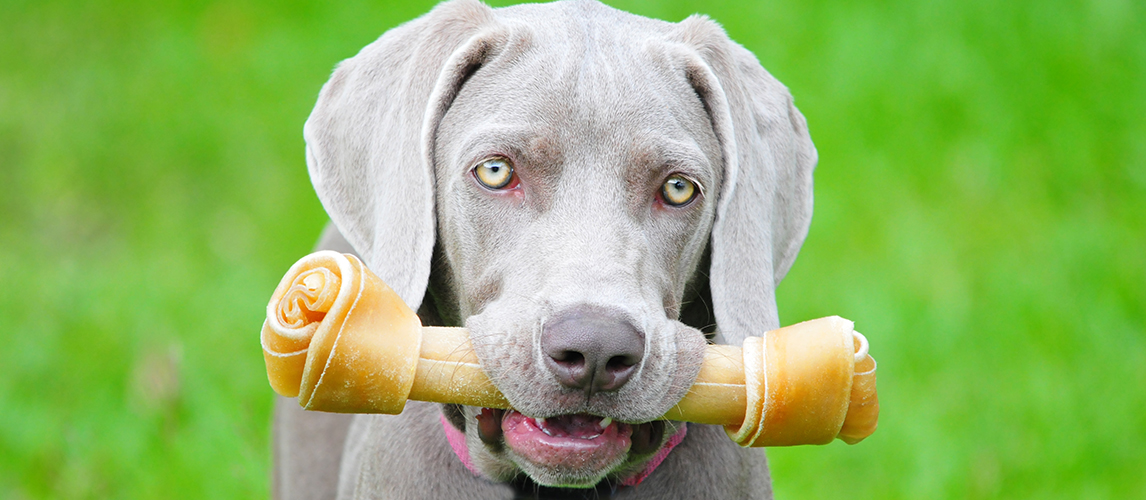 PetSide may earn a small commission from affiliate links in this article.
Learn more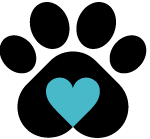 By Petside
Published 13:12 pm
There are few things that dogs like more than having something to chew on. But when you are giving your furry friend an object to sink their teeth into, you need to ensure that it is safe, healthy, and enjoyable. Instead of artificial products, you could instead look at natural options – and this is why many dog owners choose to buy rawhide dog treats.
As well as not creating a mess, they also help to keep your dog engaged for a long time, alleviating their boredom, satisfying their natural need to chew, and boosting their dental hygiene. But before you buy anything which your dog is going to put into their mouth, you need to ensure that it is right for them based on their size, breed, and how aggressively they chew. And this is where our buying guide of the best rawhide for dogs is here to help. Here, we will through just a few of available options for your four-legged friend, and the key features that each one boasts.
The Best Rawhide for Dogs
Best Rawhide For Dogs Buying Guide & FAQ
What to Consider When Buying a Rawhide Bones
Before you start investing in rawhide bones for your dog, you need to know a little bit more about the main factors to look out for. Here is a list of some of them, so you can check the points off against each product which you may want to buy.
As we have already mentioned, whenever you are giving your dog anything which is going into their mouth, there is always the risk that it could end up being swallowed and digested. So, it is especially important that ensure the quality is high. There are a few different ways that you can do this. First of all, you should take a closer look at the ingredient list. Many of the best rawhide chews are made exclusively from beef hide without the addition of any extra chemicals. Obviously, you can also give online reviews a closer inspection to see what other dog owners have to say about the rawhide dog treats.
When you have the products in your hands, there are a few other points to consider. Firstly, you should look at the thickness. Chunkier products are likely to last longer, and are often better if you have a big dog or aggressive chewer. If the color is light tan rather than white, this indicates that they are more natural rather than excessively bleached or treated with chemicals. You should also pay attention to the odor, as they should have a light meaty aroma rather than a putrid stink.
As you can tell from the above buying guide, rawhide treats for dogs come in a range of different shapes and sizes. Some are specifically suited to the size of your dog. Some are better for gentle chewers, while others are for lighter biters. We will go into some more detail about the different types of rawhide chews later in the article, but it is worth noting that daintier chewers are better with smaller and softer products, whereas larger dogs and more aggressive chewers tend to be best with the kind of dense and stiff rolls which afford a lot of jaw movement.
Another factor which is worth checking out in more detail is the place of manufacture. For example, if they have been made in the USA, it is much less likely that illegal or toxic chemicals have been used in the manufacturing process. Obviously, this is not the only point that you should bear in mind, but it is one which is worth adding to the list.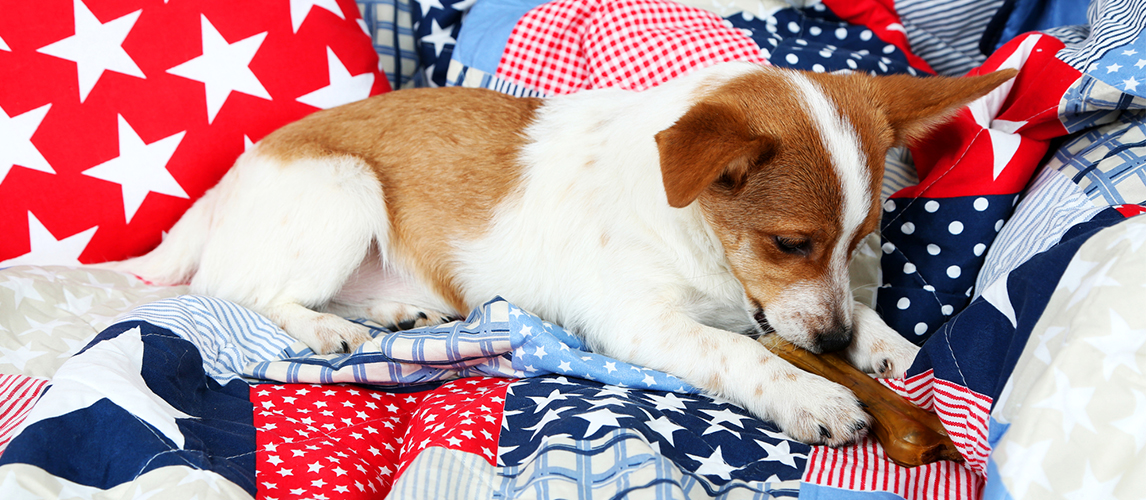 Benefits of Rawhide Chews
Before you buy a new product for your dog, you should have a clear idea in your mind about what sort of benefits it offers. Here we will go through the specific benefits of rawhide chews one-by-one.
Satisfies your dog's need to chew
All dogs have a natural instinct to chew. Some can even spend hours every single day doing this. Not only does this provide your dog with stimulation, but it can also help to relieve symptoms of anxiety as well. Puppies have a particular need to chew to develop their teeth and jaw muscles, and you will want to make sure that this energy is directed into products like rawhide for puppies. But keeping your dog busy chewing on something suitable isn't only beneficial to them. It also helps to keep them away from your favorite pair of sneakers, or anything else that they can sink their teeth into!
Find out more about Chew & Teething Toys for Puppies here.
Not only does chewing help to keep your dog's jaws strong, but it also helps to keep their teeth clean, their breath a little bit fresher and their teeth whiter. The pressure on the teeth and gums provided by chewing serves to toughen them up, which is something that wild dogs used to be able to do while hunting, but domesticated pooches don't have the same opportunities. Dogs who regularly chew on rawhide or similar products tend to have less plaque and tartar build-up, which naturally accumulates when the teeth are left dormant.
Looking after your dog's oral hygiene is an ongoing task and one which will help to stop them needing expensive dental work further down the line. Even more troubling, poor dental hygiene can lead to bacteria entering other parts of your dog's body. In turn, this can cause conditions such as gingivitis, which can then result in periodontitis, the leading cause of tooth loss in dogs.
Helps to alleviate boredom
As you already know, the responsibilities of a dog owner don't stop at making sure that they are healthy. You also have to ensure that they are happy, entertained, and engaged. Dogs naturally get bored and demand your attention. If they don't get it, this can lead to destructive and damaging behavior. Giving them something to chew on can keep them busy for minutes or even hours at a time. Of course, you should still make sure that you supervise your dog to ensure that they don't encounter any of the dangers associated with rawhide, which we will talk about in the following section.
Related Post: Pig Ears For Dogs
Dangers of Rawhide Dog Bones
While rawhide dog bones certainly have plenty of benefits for your dog, this doesn't mean that there isn't a fair share of dangers as well. It is important that you know what these are so that you can make a more informed decision about which variety is going to be the safest for your four-legged friend.
Added chemicals and preservatives
The first thing to check is that the rawhide chews are made using 100% beef hide. Otherwise, you could end up with ones which have been treated with artificial flavors, colors or other chemicals. Even if they only contain trace amounts, they can be harmful to your dog if they keep chewing and consuming them on a regular basis.
Another issue directly associated with rawhide dog chews is that they can cause an intestinal blockage of some variety. While studies have shown that your dog's stomach will normally break down rawhide, it tends to take a longer time than other food varieties. This kind of intestinal blockage can pose a health risk to them, or at least interrupt their regular digestion. One of the best ways of preventing this is by stopping your dog from consuming bigger pieces.
Perhaps the most widely talked-about risk of rawhide bones is that they are can present a choking risk. If your dog breaks off and swallows a big chunk of rawhide, this could end up getting caught up in their oesophagus or another area in their digestive tract. Obviously, this could be very dangerous for your dog and lead to a trip to the emergency vet. In more extreme situations, abdominal surgery will be required to remove broken off pieces from the intestines or stomach.
Whenever your dog is chewing on one of these products, you should ensure that you are always supervising them closely. This way, you can take the treat away if they suddenly start biting off and swallowing larger pieces – and you can spot any signs of choking straight away and take action immediately.
We have already talked about how rawhide chews can be beneficial for dogs, but on the other side of the coin, poorer quality products can end up breaking your dog's teeth, causing pain, and racking up a significant vet bill. Again, this is why it is so important to make sure that you are investing in good-quality dog treats.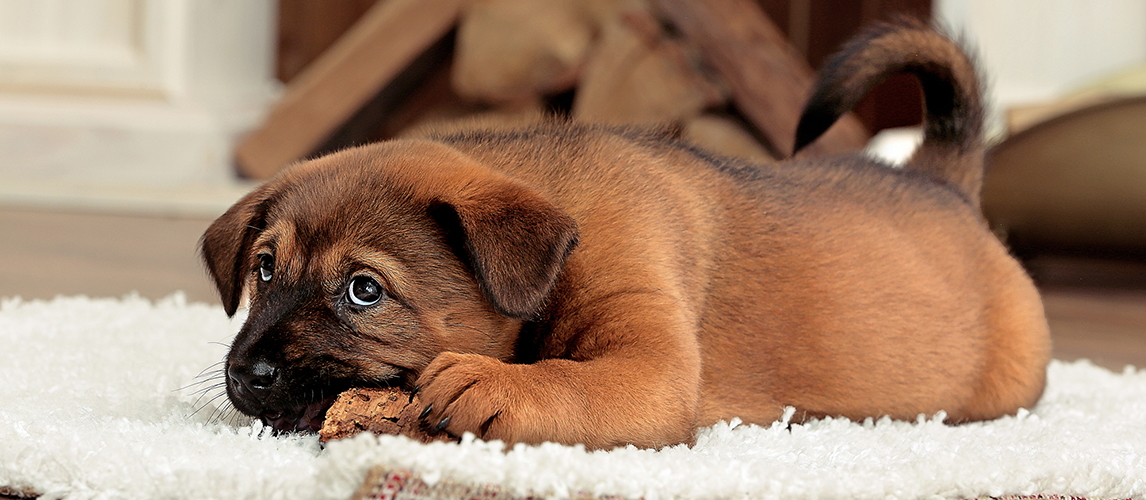 Types of Rawhides for Dogs
Different rawhide chews are suitable for larger and smaller dogs, so you need to choose a type which is appropriate. Also, if your pooch is a particularly aggressive chewer, they may need one which stops them from biting off and potentially swallowing larger chunks. Here is some more detail on a few of the most common varieties for you to consider.
These rawhide treats have been cut into strips and rolled together to resemble a thick bone. They commonly have knots at both ends which often come off in chunks when your dog starts getting his or her teeth into them. To inspect the quality before you offer them to your dog, you should take a closer look at the end of the roll. If there are neat circles, it signifies that the chews have been made from a long sheet of rawhide and are better for giving to your hound. However, if there are breaks in the circle and the layers are difficult to spot, it could indicate that the chew has been made from fragments and small sheets of rawhide. These lower-quality products are less likely to stand the test of time.
Granulated rawhide dog chews are the softest and most crumbly of the different varieties available. These are best suited to younger dogs and puppies, as larger dogs and aggressive chewers are likely to make short work of them and they won't offer the maximum benefits. Since they are not very long-lasting, it is likely that you are going to need to buy a lot of them to have a constant supply ready to go.
Chips and strips are a short-term solution to your dog's chewing desires. They often come in big packs so that you can keep giving them to your pup on a regular basis.
The other main type of rawhide dog treats are compressed together before being moulded into a special shape for your furry friend to get their teeth stuck into. These chews tend to be denser and harder than other varieties and are likely to last for a longer period of time, making them ideal for large hounds and stronger chewers.
Our Top Pick
Our top pick is this set of tasty treats from PetSafe. Compatible with several types of Busy Buddy treat ring holding toys, the combination of chew and toy helps to keep your dog engaged and interested.
You can rest assured that they have been tested for quality, safety and health properties. As well as satisfying your dog's instinctive need to chew, they also help to redirect their potentially destructive behavior, which could be directed towards your possessions.
Thousands of pets have enjoyed these rings for over a decade, and they are highly recommended by hundreds of dog owners. We are going to join in with the praise by choosing these rawhide dog chews as our number one pick of the bunch.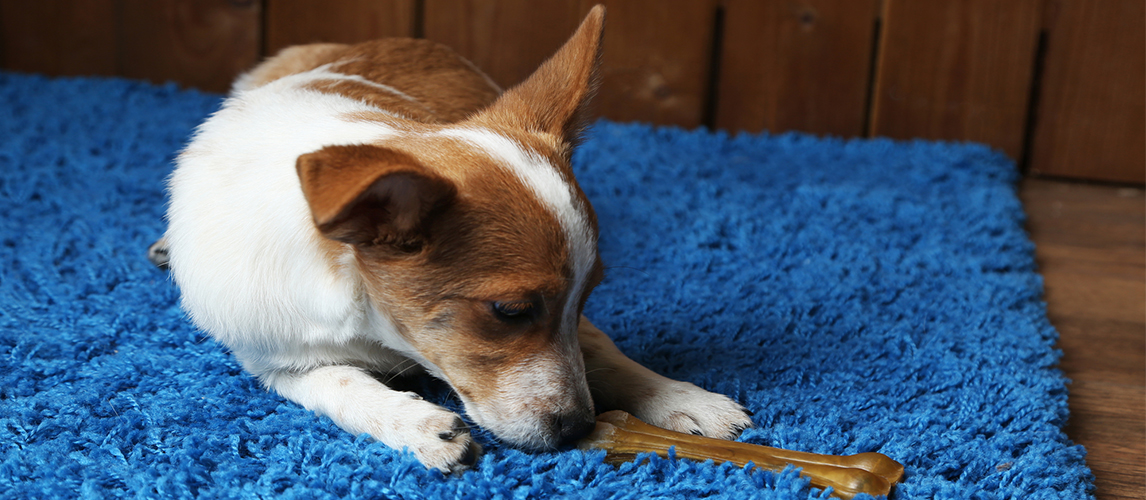 FAQ
Q:

What are rawhide dog treats made of?

A:

Rawhide dog chews are made from the inner layer of cow or horse hides. When they are manufactured, the hides are initially cleaned, before being cut or ground. Following this, they are then compressed into different shapes and sizes. To make them more appetizing for your dog, many include other appetizing ingredients such as chicken, beef or liver. Many of the best products don't include artificial chemicals or preservatives.
Q:

Are rawhide dog bones safe for my dog?

A:

While rawhide treats are safe for many dogs, there are a few points which are worth bearing in mind when you are trying to work out if they are okay for your four-legged friend. Rawhides should be long-lasting chews which break down into smaller and softer pieces over time. Issues tend to arise when larger dogs and stronger chewers break off large pieces which present a choking hazard or cause intestinal blockages. Offering a properly-sized rawhide treat will help to alleviate this risk. Bigger and chunkier chews are better for larger dogs and stronger chewers to stop them breaking off pieces. Most rawhide chews are suitable for softer chewers who are less likely to break them up into chunks. However, if you find that your dog continually breaks off large chunks, you are better off selecting a different type of dog treat. Also, if your dog has a history of diarrhea or other digestive troubles caused by rawhide, it is better to look for alternatives.
Q:

Does my dog need supervision while chewing rawhide?

A:

Supervising your dog closely is one of the best ways of ensuring that they don't bite off more than they can chew; namely, bigger chunks of rawhide. It is a good idea to separate your dog from your other pets – particularly if they are protective around their food. Once the rawhide treat is small enough to swallow whole, it is time to take it away from your dog to stop them from swallowing it whole. This way, they can relax, and it is less likely that they will try to force down pieces which are too big. A few warning signs that you need to look out for in your dog include gagging, regurgitation, vomiting, and signs of pain. If you notice that your dog is continually breaking off large chunks or they are starting to gag or choke, the time has come to check with your vet about the other types of chews and toys which are better for them. Your vet can provide guidance on how many chews they can eat on a regular basis, so you don't overfeed your dog.