The Best Kayaks for Dogs in 2022
Last Updated: January 4, 2022
PetSide may earn a small commission from affiliate links in this article.
Learn more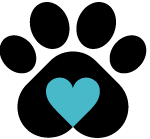 By Petside
Published 15:13 pm
So you're wanting to try kayaking with your dog, but you're not quite sure where to begin. You'll need to make sure whichever kayak you decide to go for has got a spacious cockpit or secondary space for your pup to sit in. Additionally, you want your kayak to be secure and comfortable for your four-legged friend in order to encourage them to get involved with future kayaking adventures. But finding the best kayaks for dogs can still feel like a bit of an impossible task with the sheer volume of kayaks to chose from. Fortunately, we've been able to weed out the less suitable designs, and cherry-pick those we feel would be the best choices from which to select the best dog-friendly kayak design for you and your canine companion.
The Best Kayaks for Dogs
Best Kayaks for Dogs Buying Guide
Things to Consider When Buying A Kayak for Dogs
There are a few details with each dog-friendly kayak that you will need to consider when looking at which would be the best design for you:
Size: Is the kayak big enough to comfortably fit you and your canine friend inside?
Weight capacity: Combine your and your dog's weights, along with the average weight of any equipment you might need, and use that to figure out what capacity limit your kayak will need to have.
Design: Do you want a tandem sit-inside kayak or a sit-on-tip kayak that will provide a more open space for you and your pooch. Additionally, you may want to consider the pros and cons of inflated and non-inflated kayaks.
Stability: You'll need a stable kayak so as not to make them nervous or stressed whilst you travel. A good rule of thumb would be to avoid getting a narrow design.
Durability: When looking for a kayak for dogs you need to take into account your dog's nails. A strong and durable kayak is an absolute must to prevent their claws from causing too much damage. And maybe keep your pup off any inflatable seats.
Non-slip: Not all dog-friendly kayaks have a non-slip design, but it's definitely a bonus if they do. If not then you'll want to look at getting a non-slip mat to place inside.
Types of Kayaks for Dogs
There are two major types of kayaks. This included the sit-on-top design and the sit-in design. It depends on the breed of dog that you have as to which of these designs suits your dog best. You could also divide them into sub-categories, such as tandem kayaks or solo kayak, as well as inflatable kayaks and non-inflatable designs. But for the purpose of looking at which general design would be best for kayaking with your dog, we're going to look at the seating arrangement.
Sit-in Kayaks
Sit-in Kayaks can be well suited to smaller dogs when kayaking with your dog. It's also a good design choice for dogs that are not overly fond of swimming. You can have dogs that love being near the water but don't massively enjoy swimming in it. Of course, you'll need to get a tandem kayak if you're going with the sit-in design, as your dog will not be able to fit into the footwell of a solo sit-in kayak. A tandem gives them their own seat, as well as ample leg room should they decide to find extra shelter during the trip.
A sit-in dog-friendly kayak provides your pup with security on all sides, as well as making it almost impossible for your dog to fall overboard. Unless of course, they decide that the water looks great and jump out of their own volition. So even if you've got a larger dog, if they're a more nervous personality that needs to feel secure in order to enjoy themselves, you should definitely look at sit-inside kayaks.
Sit-on-Top Kayaks
The sit-on-top kayak is pretty much a shallow and narrow rowboat in looks. They're more easily accessible for your dog, and many pet owners and dog lovers favor this design when kayaking with a dog. They're generally the best kayaks for dogs that love the water and need the freedom to jump in and out as and when they feel like it. Recreational kayaking with an open-top kayak is great for especially fluffy breeds that can use the water to cool themselves off in hot weather. It's also great for natural strong swimmers that are inclined towards the water.
The bigger the dog, the bigger the kayak. The best kayak for someone taking a large dog out with them would be something with a higher weight capacity (something capable of holding two adults would be a good choice). Smaller dogs may be fine in a solo sit-on-top kayak, so long as the weight capacity can hold them.
Kayaks to Avoid When Kayaking with Dogs
Most kayaks are fine for kayaking with canines, however, try to avoid kayaks that are especially narrow like sea kayaks. If your furry friend is a bit bigger, they may have trouble balancing their weight in a narrow kayak. As a result, there is more chance of your dog slipping overboard, or toppling out when you hit a rough patch. Most dog-friendly kayaks will have enough room for your furry friend to relax whilst you paddle. Traditional kayaks are often very narrow as well, so this would be another design to avoid.
They shouldn't feel as though they need to consciously keep their weight in one place to maintain their balance. For some dogs, sea kayaks can present this problem, especially with a large or even medium-sized dog. Both you and your dog should be equally secure whilst out and about.
Safety Tips for Kayaking With Dogs
It's not just a case of getting your dog to hop into the kayak and heading on your way. Just like with humans, you need to take certain precautions to ensure your dog's safety.
Have your dog wear a life vest: Humans have to wear life jackets, even if we know how to swim. It's common sense to take that extra precaution on the off-chance the kayak tips and you're unable to tell which direction is up. The jacket will pull you to the surface if you're unable to find it. Dogs might be naturally strong swimmers for the most part, but that doesn't protect them against losing their way in the event that you capsize. Keep a vest on them at all times. Find out more about dog life jackets here.
Stick to calm waters: Rapid water is much more high risk, especially when you've got a dog on board with you. Plot out where you will be going ahead of time and keep to calm waters. If you're new to kayaking with your dog, it would be advisable to start in shallow water as well. This will give you the chance to practice movement and balancing with an animal in the kayak.
Try to keep a repair kit with you: Especially if you're going to be using an inflatable kayak. However, having a repair kit handy is a smart move with any major equipment, just in case of emergencies. If you get any pictures or leaks you'll need to patch them up quickly to give yourself time to get the kayak back to the shore.
Be mindful of the maximum weight capacity: Ensure the combined weight of you, your dog, and your gear falls below the weight capacity of the kayak. Fishing kayaks often have high capacities owing to the need to stow gear onboard. Depending on the breed a dog can weigh similarly to a small child (or even an adult with especially large dogs.) So just be mindful of that fact and ideally have your dog weighed before looking through the best kayaks for your weight range.
Try to keep to a straight line or make gentle turns: Whilst paddling it is best to avoid any sharp changes in direction. Whilst sit-on-top kayaks may generally be the best kayaks for dogs, they are very easy for your dog to fall from if jolted. Therefore you should limit your movements to mostly straight lines and gradual turns. Which circles back round to the importance of calm water, in order to maintain proper control.
Practice loading and unloading beforehand: Before going out for the first time, you should practice getting yourself, your dog, and all your gear into the kayak. Once you're relatively confident in your technique on land, you can take it to the water. Again, do a few practice runs at the water's edge before heading out. just to ensure that if your dog decides to go for a swim, they are confident in getting back into the kayak after.
Make sure your dog will follow commands: As relaxing as it can be, recreational kayaking also has its dangers. You need to be sure your dog will listen to you when you need it to. This means ensuring it will respond to commands such as sit, lie down, and stay. That way you can paddle without the stress of worrying that they might disregard a command when they spot something in the water and potentially put themselves in danger.
Get a good traction pad for the floor: Not only will a good traction pad prevent your dog from slipping whilst you travel, but if you get a strong pad it will act as a protective layer along the bottom of the kayak. This will help to reduce the risk of damage to the kayak caused by your dog's claws. Traction pads are just an all-around smart move for wet environments.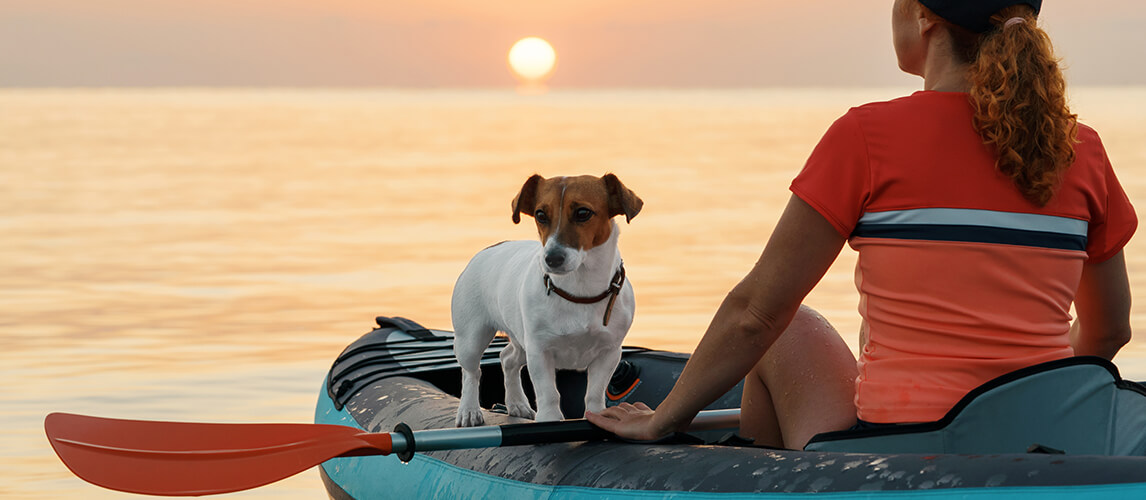 Inflatable vs Hard Shell Kayaks
Additionally, a hard-shell kayak doesn't require any real setup - just throw it in the water, hop in, and off you go. They are generally the choice for professional kayakers, as they are designed for maximum performance, making them fast and agile. However, if you're new to the kayaking game then you don't need to think that far ahead when planning your kayaking gear. Inflatable kayaks may not be as quick, or maneuverable, but when kayaking with your dog you shouldn't be in complicated waters anyway. So it shouldn't be a problem.
In terms of durability, the inflatable kayak would be the better option. Perhaps surprisingly, they are the better of the two choices when it comes to hitting obstacles. If an inflatable kayak hits a rock, it will just bounce off. Whereas the somewhat delicate framework of a hard-shell kayak can crack or break. Furthermore, inflatable kayaks are designed to be difficult to sink, and are just more single to repair should they get damaged. Whereas a hard-shell kayak would require special repairs, or in some cases, a complete replacement, depending on the severity of the damage.
Hard-shell kayaks tend to be more expensive, owing to the fact that they are used predominantly at a professional level. Whereas inflatable kayaks have a much less eye-watering price tag, making them a better choice for beginners or casual kayakers. Furthermore, an inflatable kayak is far easier to transport, and store. Especially if you don't have a storage space designed to accommodate the long bodywork on a kayak. They may take 10-15 minutes of setup time once you're at the water's edge, but it's worth it for the convenience. The only downside, however, is the fact that it needs to be fully dried before being stored away in order to reduce the risk of mold developing.
FAQ
Q:

Are inflatable or hardshell kayaks better for kayaking with a dog?

A:

It is a matter of personal preference. An inflatable kayak is easy to transport which can be good for dog parents that also need to walk their dog to the water's edge of a leash. Additionally, they tend to be more comfortable for dogs to lie in for a longer length of time. However, some dogs may prefer the stability of a hardshell kayak. Furthermore, a hardshell kayak can handle a dog's claws better.
Q:

How Do You Train A Dog To Sit In A Kayak?

A:

Lots of treats, repetition, and patience. Like any trick, dogs need to be carefully coaxed to begin with. You may need to simply let your dog explore it before trying to get them into it. Once they seem comfortable being around it you can then gently encourage them to climb inside - rewarding each small step so as to create a positive association with it. Positive reinforcement is key with training a dog, so keep telling them they're doing a good job, and eventually, they will get used to being inside a kayak.