PetSide may earn a small commission from affiliate links in this article.
Learn more
Famous for their floor-length, silky white hair the Maltese, or Maltese Terrier, has been around for centuries and adored by many through the years. Belonging to the Toy Group, the Maltese is playful, lively, sometimes stubborn yet a desirable and loveable companion dog. Whether you want a therapy dog, friend, or loved companion fit for a dog show, read on to find out more about the ancient lap dog and what it will take to care for one of your own.
Breed Overview
Breed Group: Toy
Height: 7 – 10 inches
Weight: 4 – 7 lbs
Life Expectancy: 12 – 15 years
Energy levels: Moderate
Litter Size: 2 – 5 pups
Short History The Maltese Dog
Considered an ancient breed, the Maltese is said to date back over 28 centuries and have been the subject of art, poetry, and fables. Although their exact origin is unknown, most believe that they originate from Malta, hence the name, and have been loved and admired by various empires.
The island of Malta, located south of Sicily, was a popular trading port during ancient times and was therefore visited by numerous sailors, merchants, and mariners. So these dogs were present to captivate visitors, increasing their popularity which eventually made the Maltese a trend during these times. Greeks were captivated by this dog's appearance and they were even regarded by Aristotle as 'perfect in its small size'. It is even said that the Greeks erected tombs specifically for their Maltese dogs.
In addition to the adoration given by the Greeks, Rome and Egypt also had a fondness for the dog during these times as rulers and matrons often fell victim to their adorable allure. Eventually, the breed made its way to the British Aisles, and the rest of Europe, where they were beloved by royalty. Then finally, during the 1800s, they crossed over the pond and settled down in the US where they continue to be loved and adored.
This toy dog breed survived a lot during their time, including the fall of the Roman empire and the unnecessary breeding in an attempt to make their size even smaller during the 17th and 18th centuries. However, with the perseverance of Chinese breeders, the breed grew back its numbers, and eventually, other fanciers took to help. By 1888 they were officially recognized by the AKC and the Maltese dog has thrived ever since.
Breed Facts
There are so many reasons to consider getting yourself one of these beautiful dogs but, like other dogs, there are also downsides so it's important to know what you're in for. So before we delve into the nitty-gritty, have some quick pieces of information to get you started.
Despite their long white hair, Maltese dogs are considered hypoallergenic as they shed very little
They are protective and loyal in nature
These dogs are social animals and will require socialization early.
They have a smooth and flowing gait
A Maltese is prone to tear staining
They are believed to come from the island of Malta
The Maltese are intelligent and therefore quick learners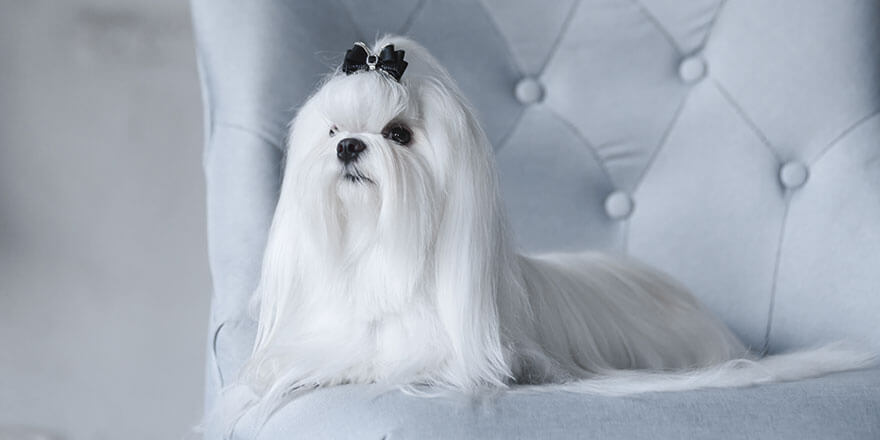 Appearance and Physical Characteristics
The Maltese are primarily known for their long, thick white coat that drapes elegantly to the floor but there are other factors that set these dogs apart from other dog breeds. This dog's body structure and appearance are composed of drop ears, coal-colored eyes, straight short legs, and a rounded skull.
Size
Maltese dogs tend to grow between 7 – 10 inches at the shoulder. Weight usually lies between 4 and 7 pounds. A healthy adult Maltese dog will be no more than 7 pounds in weight regardless of gender.
Coat Color and Markings
Maltese dogs have been found in differing coat colors however they are predominantly white with no significant markings. Their coat tends to be sleek and straight and may need trimming often as it grows continuously.
Maltese Dog Temperament
The Maltese dog breed may be small in size but their energy level makes up for what they lack in stature. These dogs make great companion dogs due to their unwavering loyalty and playfulness but have been known to be difficult unless socialized and trained early to prevent behavior issues.
Energy Level
A Maltese may have a regal and composed stature most times but due to a moderate to high energy level, they can often come across as having knocked back a few cups of coffee. However, given a good amount of daily exercise, time to play, and training a Maltese will be sufficiently stimulated and will burn a decent amount of energy.
Sociability
Like other toy breeds with a history of being beloved by royalty, it's understandable that they crave and thrive on human affection. Their lap dog nature demands cuddles and fusses at every opportunity which can make them prone to separation anxiety and some destructive tendencies. In addition to these notes, they can be known to be vocal if left alone for too long but don't let these put you off.
Given an appropriate amount of socialization at an early age, a Maltese puppy can grow into a loyal, gentle, and valued member of the family. Some obedience training will also be necessary to ensure that they will be less likely to develop destructive habits or anxieties. Some breeders and forums will recommend that Maltese be crate trained.
Children and other pets
Although this dog breed is lively and playful it is not recommended that Maltese be brought up in a house with very young children. The children themselves are not at risk however your puppy would be, as they can be very delicate and fragile. Kids and toddlers can often play rough so your pup would be at risk of serious injury if left alone to rough-house. Despite that the Maltese breed isn't commonly regarded as a family dog, they can still be introduced to families with older children however always communicate with kids that pet care is essential and they should be careful when handling puppies.
Maltese puppies who are well trained and are comfortably socialized will get on well with other dogs and cats in the household. Having said that, due to their protective and alert nature they may be wary and cautious of strangers.
Entertaining Maltese Dogs
Maltese dogs are a smart breed and love to play. Toys are a great way to keep them entertained and you can even get your hands on interactive dog toys to help stimulate your pup mentally. Hikes or swimming sessions aren't generally recommended as these dogs only require occasional exercise and do not like to swim.
Having said that, dog sports are a great way to occupy Maltese and keep them stimulated. Also, by engaging them in dog sports you can help them burn energy and can even have a great impact on obedience training.
Caring
No matter what breed of dog you opt for there will always be specific requirements to meet for them to grow happy and healthy. Raising a Maltese dog will require love, patience, and dedication but the payoff will be worth it.
Training
The Maltese dog breed is well known for being intelligent and can pick up training quickly. Learning tricks also comes easily as they are people-orientated dogs who love to please their humans. Pet parents who have owned a Maltese claim that they do have the tendency to be stubborn at times, especially when young and potty training, however, they respond well to positive reinforcement, praise, and tasty treats.
As mentioned previously, obedience training is a must for Maltese puppies as they are prone to bad behavior if left alone for too long. Pups who aren't adequately socialized or trained can become destructive and very vocal in their adult years however it can be avoided if the right steps are taken to teach good behavior.
Frequent coaching is also a great way for owners to build a strong rapport and bond with their furry friends so it's definitely worth looking into even if a dog isn't especially prone to misbehavior.
Exercise Needs
All dog breeds need some kind of daily exercise however this breed of dog only needs a 20-minute daily walk to keep them trim and fit. The exercise requirements of a Maltese dog are surprisingly low considering how energetic they are known to be. They love to go for a walk but can burn copious amounts of energy by playing in a fenced yard or dog park.
Diet
A Maltese will need a high-quality diet to provide ample vitamins and minerals needed to care for its skin, coat, and overall health. Coupled with activities to meet their exercise requirements, a nutritious diet will help to keep them in the best shape and may even stave off potential health issues.
When choosing a food for your Maltese, always make sure it is suitable for your dog's needs, and be sure to follow the recommended feeding guidelines. This way you can guarantee that your dog is getting everything that they need and will not be at risk of obesity. It's also important to note that inferior, low-quality food can lead to tear staining.
Treats are also perfectly acceptable for your dog's diet and can be used for training, however, be careful you don't become too generous as their usual dog food will be enough to suffice their nutritional and appetite needs.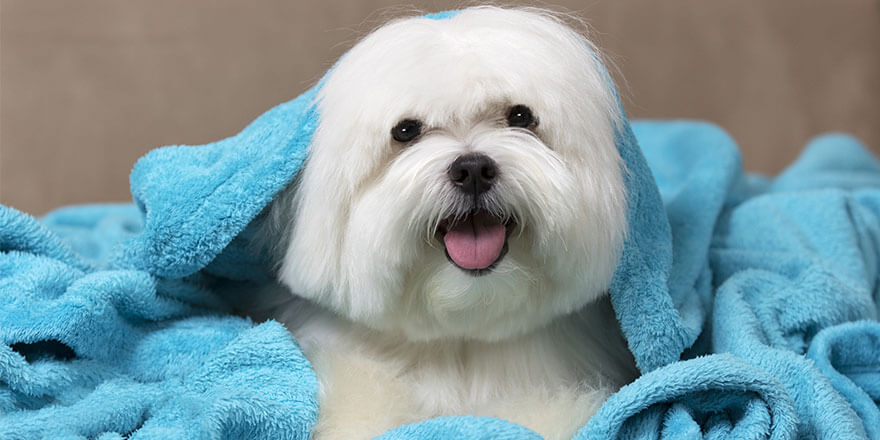 Grooming
Since the Maltese's coat grows long and silky they can be prone to knots and matting. To prevent these things from happening daily grooming will be required unless you opt to keep their hair short. However, if a long coat is one of the things that appeals to you the most, you will have to subject your Maltese to daily and weekly grooms.
To keep your dog's coat silky-smooth and dog-show worthy you will need to brush it once or twice a day to free the hair from knots and tangles. You should also bathe them regularly as their white hair can become dirty easily after playtime and walks. Pet parents should also use a dog-friendly conditioner to keep their coat looking and feeling its best. The frequent use of a dog conditioner can also help owners brush through their dog's hair easily as they are specifically made to nourish, moisturize, and soften coats.
Teeth, Ears, and Nails
Like other breeds, it's also crucial to take care of their teeth and ears to protect them from dental diseases or infections. Long nails are uncomfortable for dogs so keeping them trimmed is also vital.
Do Maltese shed a lot?
Allergy sufferers will be surprised to learn that a Maltese doesn't shed a much as you may think. Due to their lack of an undercoat, there's not a lot for Maltese's to shed and even those with long hair won't leave much behind for this reason.
Tear Stains
Tear staining is quite common with the Maltese breed which is where the fur around the eyes becomes discolored. These stains are far more prominent on the Maltese due to their pure white coat but these stains can be prevented with the right care.
Inferior food, quality of water, health problems, or blocked tear ducts can also cause stains to occur around your dog's eyes so it's crucial to look at all of these elements. Talking to a vet can help rule out more complicated reasons as to why their eyes may leak but there are also things you can do to aid your Maltese's eyes.
Daily grooming of the face will go a long way and can prevent stains. Pet owners can purchase dog-friendly wipes and even canine eyewash to help cleanse the areas around the eyes of moisture. In addition to this, you can also fend off irritation by keeping the hair around your dog's face trimmed or even pulled back with a tie for those who prefer their dog's coat to be longer.
Tell-tale Nose
A Maltese's nose can change color depending on how much sunshine it may be getting. If their nose begins to turn pink they may need a little more sun exposure however, it's important to bear in mind that females on heat can often show a pink nose.
Potential Health Problems
No breed is exempt from health concerns or issues and dogs can develop health conditions at any age or size. Generally, the Maltese is regarded as a healthy dog breed but if you're looking to purchase one from a breeder, always ensure that they are trustworthy and screen their parents and puppies for conditions that affect the heart, liver, and joints.
The conditions below don't happen often however it's important to know what your Maltese could still be at risk of them. These issues commonly affect toy breeds and can therefore still target this dog. At the end of your search, if you find that the Maltese breed is the right dog for you, always make sure that you schedule them for regular visits to the vets to ensure that their health stays in the best possible condition.
Progressive Retinal Atrophy
PRA is a degenerative disease that targets the photoreceptor cells. A lot of breeds are vulnerable to PRA which can lead to the deterioration of the cells gradually resulting in blindness.
Luxating Patella
This is an orthopedic condition that can be quite common in small dogs. This condition is likely to affect the hind legs of a dog and causes the knee joint to slide in and out of place. Although this issue isn't fatal it can be quite painful for dogs to endure.
Portosystemic Liver Shunt
Common in toy dog breeds, Portosystemic shunt results in blood not passing through the liver and can cause the liver to shrink. The increase of toxins within the bloodstream, which would usually be cleared by the liver, continues to circulate the dog's body.
Collapsing Trachea
The trachea is a tube that is kept open by the cartilage rings to allow airflow. This is a progressive respiratory condition that transpires when the tracheal rings collapse resulting in an abnormal cough and heavy difficulty breathing. It is unknown what causes this condition however some speculate that it is congenital. Small dog breeds are more commonly affected by this which is why it has a place on this list.
Life Expectancy
The life span of a dog can depend on its overall quality of life however a healthy Maltese can live anywhere between 12 – 15 years of age. If their weight and diet are kept on top of as they age, with no concerning health problems, they may even live a little longer.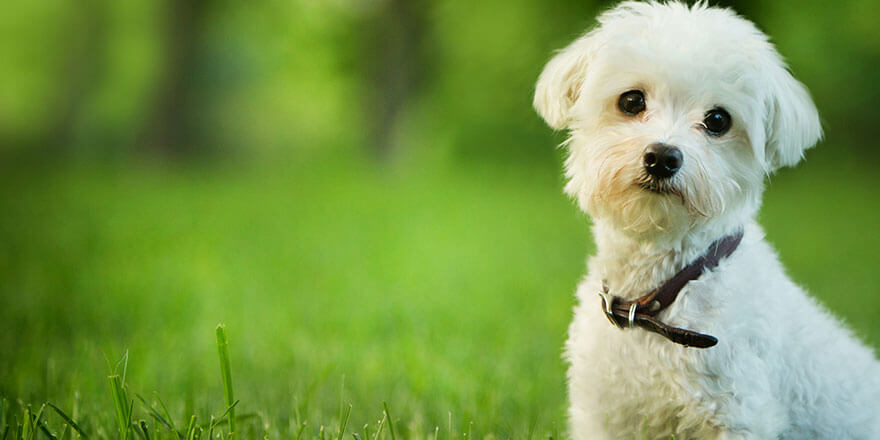 How To Find A Good Breeder
Finding a good breeder is crucial in your future dog's health. Making sure that they come from a background that provides great pet care is vital as, not only will you be getting a healthy puppy, but you can assure that you're supporting a trustworthy person and not a puppy mill.
A responsible breeder will be able to provide proof that they have taken the necessary steps to ensure that the puppy is healthy and of good stock. They will have completed the appropriate checks and tests to rule out the chances of them developing dangerous diseases later in life. In addition to this, trustworthy breeders will not continuously breed their dogs and will only intermittently offer litters when their parent dogs are recovered, happy, and healthy.
One of the best and most reliable places to find puppies is the American Kennel Club Market place as they will only list registered and approved breeders.
Top Tips
When visiting a breeder, make sure you see the parents of the puppies. When a breeder makes excuses as to why you cannot see one or both of the parents, this can be a red flag. By seeing the mother and father you will be able to see for yourself that the puppy is coming from a healthy source. Also, you can guarantee that the puppy will be a pedigree.
Adopt a Dog From a Rescue Center or Shelter
If finding a puppy breeder isn't for you, you may be able to find your new Maltese best friend waiting for you at your local rescue center or shelter. Also, plenty of websites such as the Northcentral Maltese Rescue and the American Maltese Association make finding a dog much easier with listings that are updated often. The American Kennel Club also has a rescue network available on their website.
Adopting a dog in need of a home can be rewarding for some and strong bonds can be formed between a dog owner and their rescue. However, take into account some of the risks that may come from rescuing a dog. Sometimes these dogs have come from homes that have neglected or abused them and as result, they could painfully shy, anxious, or a risk to other household pets or children.
With this in mind, always find out as much as you can about a dog before you take them home. Not only do you want a dog that will suit your lifestyle but you also want to make sure you can provide a rescue with everything they need to be content and healthy. Those who disregard their needs often return them to centers which can lead to further problems in a dog's mental well-being.
What is the Average Price for a Maltese?
Maltese puppies can be quite expensive, so if you're set on purchasing one, be prepared to get your wallet out and then some. Depending on the experience of the breeder and the puppy's pedigree starting prices are usually set around $600. Furthermore, Maltese puppies are generally in high demand and therefore they can cost up to $2000.
Additional Costs:
You should always remember that the initial cost of the puppy doesn't include the expenses you will need to pay throughout its lifetime. These extra costs include the following:
Insurance
Training (If taken to a professional)
Collars
Toys
Food
Treats
Grooming supplies or visits to the groomer
Additional healthcare supplements (if necessary)
Medical care
Sources:
Albert Ganado, The Maltese dog: a toy for ancient royalty, TIMES OF MALTA