PetSide may earn a small commission from affiliate links in this article.
Learn more
After her dog repeatedly knocked open her baby's door seemingly just to sniff her, Kelly Andrews decided to investigate after becoming impatient with her dog's behavior. Little did she know her young pup, named Henry, was intentionally disturbing the baby as he could sense something wasn't quite right with her. Shortly thereafter her parents found that she had stopped breathing in her sleep.
Andrews shared her story via her Twitter account both to show people the importance of listening to your dog when something doesn't seem right, and to express her gratitude not only to her hero pup but to the hospital staff for their part in saving her daughter's life.
The post includes a frustrated Snapchat photograph Andrews at taken at the time of Henry's odd behavior captioned "He keeps pushing open the baby's door with his battering ram head so he can sniff her."
The Twitter thread in question explaining what had happened has been retweeted over 9,000 times to date, with over 100,000 likes. Describing what had happened that night, Andrews said in the post that Henry had been breaking into the nursery repeatedly throughout the night trying to wake the young baby. According to Andrews, she had been sick, and she did not appreciate the dog trying to disturb her. "I was getting so fed up with him," Andrews said.
However, had it not been for Henry constantly nagging at the door and trying to rouse the little girl, her parents would not have been made aware of her condition. He was simply trying to wake her to make sure she was okay.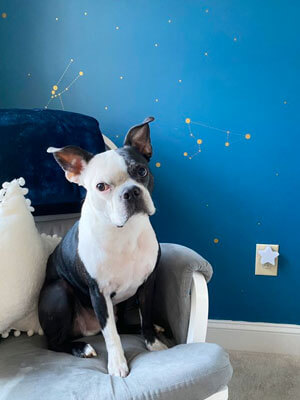 "We spent the night in the hospital. I don't know what would have happened if he hadn't woken her. We don't deserve dogs." Andrews said on Twitter.
Six and a half hours later, Andrews provided an update for the many concerned Twitter users that had shared and commented on the post. The update notifies everyone that the family is now home safely, with their daughter having been given the all-clear from the hospital. In the meantime, Henry, their brave hero, had "held down the fort" despite his well-established fear of the dark.
Further updates some five hours later were posted by Andrews to thank everyone for the kind words and to acknowledge that every single comment had been "seen and appreciated". She also expressed her appreciation for the "beautiful anecdotes of dogs and cats acting as angels for their humans," – of which there were countless.
She also goes on, with an additional later update, to use the traction her post has gained to thank the ER department at Connecticut Children's Hospital for all of their help during that terrifying time. She described them as "little heroes" not only during her family's time of need but for everything they do night after night to support families and children in need of help and care.
The most recent update from Andrews, on Wednesday 15th December, shows her giving thanks to one of the commenters on her post with a small update on her daughter's health to reassure the commenter, " thanks, friend. She's doing a lot better now!"
"We don't deserve dogs." Andrews has said in her original post. "They go above and beyond in their care, and it shows "