PetSide may earn a small commission from affiliate links in this article.
Learn more
Many people who buy or adopt a cat have a name in mind for what they would like to call it. The problem is that the name often doesn't fit their personality, so you might be left with a sweet-natured black and white cat called Cruella!
Names matter. This black and white cat will likely be a member of your family for many, many years, so you need to make sure that you choose your black and white cat name carefully.
In this article, we will look at the different approaches that you can take when choosing black and white cat names. From Charlie Chaplin to Peppermint Patty, Zebra to Panda, we have sourced the best names for your black and white cat, regardless of breed.
Read on to find inspiration and the perfect name for your cat…
How to Choose a Name for Your Black and White Cat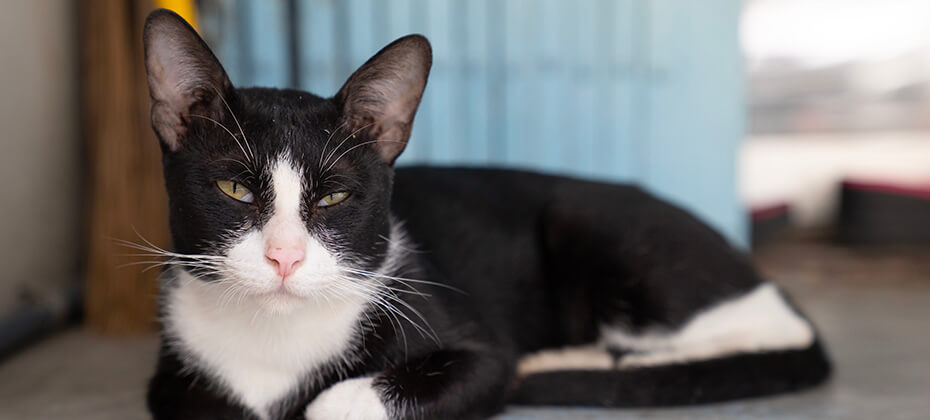 Below, we will look at the best way to choose a name for your new family member, whether it's a tuxedo cat, black and white striped cat, or kitten, we've got you covered.
Pattern & color
One of the easiest ways to find the perfect name for your black and white cat is to look at the coat color and pattern of the cat first.
Cats with white spots
A cat with white spots would suit a variety of names that refer to its markings. It doesn't matter if it's a male cat or a female cat. Many of these cat names would suit both sexes. Some of our favorite names include:
Spot
Smudge
Speckles
Freckles
Speck
Jazzy
Dot
Dotty
Tuxedo cat names
Tuxedo cats are adorable because they have special markings that make them look like they are wearing a tuxedo – often with a white chest and white paws. There are lots of famous cats, mainly found in cartoons, such as:
Tom (as in Tom and Jerry)
Felix
Sylvester
Dr. Seuss wrote a book called "Cat in the Hat", which featured a tuxedo cat, so Dr. Seuss or just Seuss would make an adorable name. If your cat has a suave personality, then James Bond makes a great name choice – everyone knows James Bond wore the finest tuxedo suits! Because tuxedo cats are renowned to have serious "cattitude", your black and white tuxedo cat or kitten will suit a variety of names relating to this, such as:
Tuxedo cat names can also be influenced by the length of their fur – cats with longer fur suit names like:
Fluffy
Cotton
Hagrid
Loki
Mittens
Paws
Boots
Socks
Snowball
Powderpuff
Tubby
Fluff
Badger
Buzz
Bear
Bean
Buster
Domino
Jeeves
Fuzz
Mickey
Personality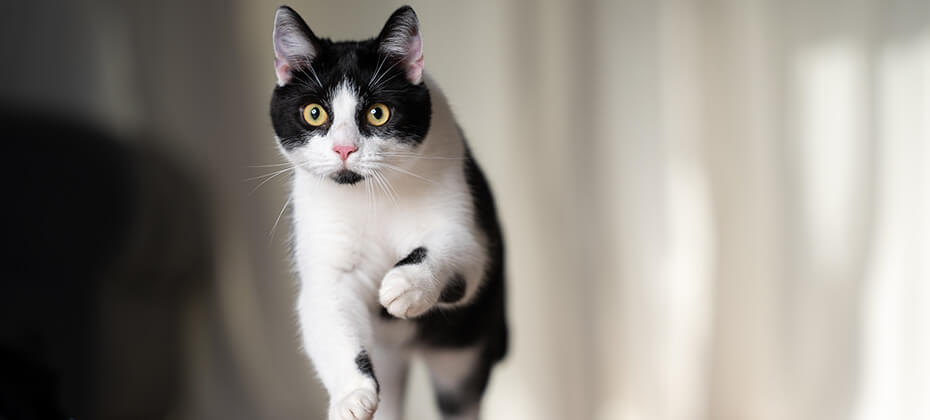 If you're looking for cute kitten names for your black and white kitten and already have an idea of their personality, then you might want to consider these black and white kitten names:
Black and white cat names for cute cats
Black and white cats suit names that reflect their gentle nature. These are our favorite super cute names for black and white cats….
Inky
Inkblot
Ash
Minnie
Peppermint Patty
Zebra
Panda
Pepper
Betty Boop
Charlie Chaplin
Cutey
Honey
Precious
Pretty
Boots
Izzy
Buttons
Yin
Yang
Romeo
Licorice
Ziggy
Lucy
Bell
Tabitha
Emma
Honey
Lady
Sweetie
Betty
Luna
Moon
Vicky
Micha
Piper
Willow
Truffles
Reece
Dusty
Oreo
Stripes
Marble
Cosmo
Spotty
Una
Blinky
Chip
Squeak
Oli
Peppa
Buzz
Lexi
Betsy
Moo
Black and white cat names for sassy cats
Cat owners looking for ideas for female or male cats that are a little on the feisty side may like these suggestions…
Cruella
Pepe le Pew
Bandit
Penguin
Michael Jackson
Salem
Witch
Bolt
Arrow
Grouch
Bullet
Freda
Trixie
Shadow
Batman
Batwoman
Vader
Minerva
Mercury
Pluto
Orion
Vega
Star
Nebula
Aslan
Icarus
Zeus
Medusa
Odysseus
Pandora
Funny Cat Names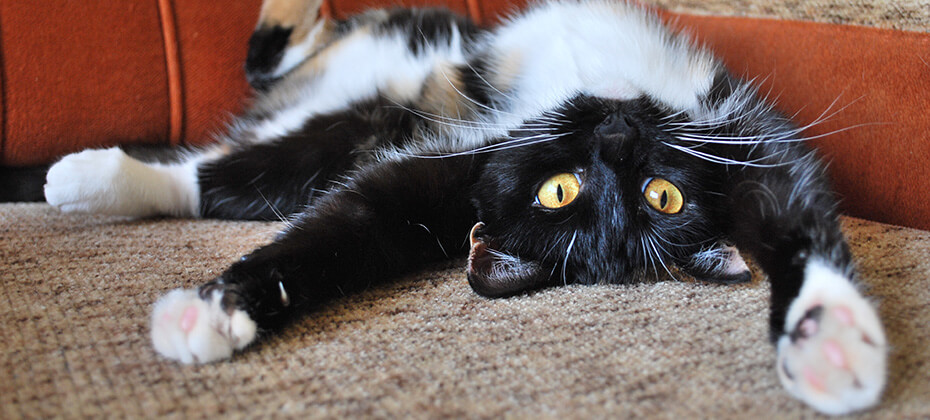 You sometimes need to think outside the box when looking at creative names for black and white cats. Some of the funniest black and white cat names are really ordinary. Human names can create the perfect name for your new kitten. If you're unsure, then why not consider these name ideas?
We think they're all super fun!
Bob
Kurt
Angus
Ethel
Mary
Sally
Max
Jack
Leo
Bella
Tilly
Molly
Rosie
Otis
Finn
Sam
Enid
Michael
Mike
Barry
Thomas
Karen
Murphy
Seamus
Harry
Frankie
Joey
George
Leonardo
Clooney
Chester
Romeo
Frank
Xavier
Jesus
Walter
Waldo
Wally
You can also choose silly black and white cat names too.
Favorite funny food names for black and white cats
We think these fun names are perfect for your new cat…
Cookie
Cracker
Skittles
Reece
Popcorn
Sushi
Tofu
Beef
Beefcake
Meatloaf
Tuna
Nacho
Taco
Tater Tot
Tot
Whiskey
Duff (as in Duff beer from the Simpsons!)
Pepper
Potato
Salsa
Carrot
Bagel
Mocha
Coffee
Jellybean
Olive
Muffin
Nutella
Noodle
Queso
Swiss
Pickle
Biscuit
Reuben
Ravioli
Dumpling
Dill
Butterscotch
Pudding
Strudel
Mango
Cheeto
Wasabi
Miso
Nori
Gumdrop
Taffy
Willy Wonka
Peach
Cherry
Tamarind
Our Favorite Names for Black and White Cats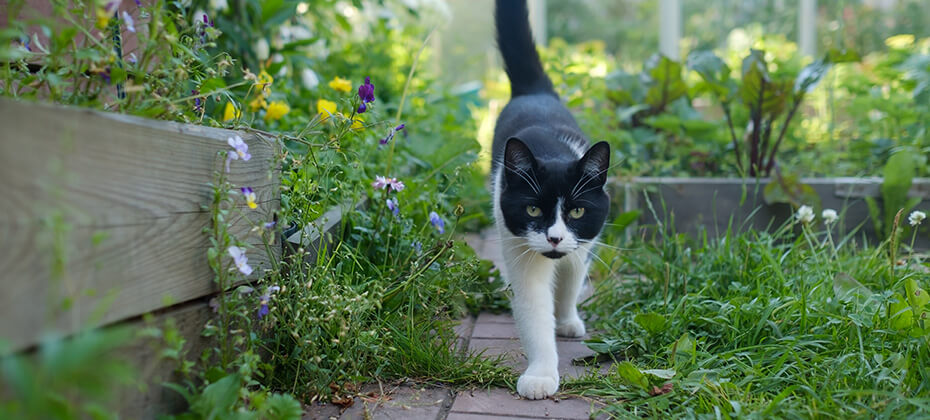 Whether you're looking for a cute name or something a little more exotic for your male cat or female cat, there are tons of names for black and white cats that we are sure will fit your cat's personality. Perhaps your cat isn't a Michael Jackson or Betty Boop, maybe they are more of a Mona Lisa or Pepe le Pew? Still not convinced that you have found the best name for your cat? We get it if you're looking for male or female cat names! Pet parents have to be 100% sure before bringing home their kitty.
Take a look at our all-time favorite black and white cat names…
Female cat names for black and white cats
Your cute animal deserves the best name possible, regardless of their coat color, fur length, and markings. These are our favorite black and white cat names for female cats: Kitty
Cher
Gaga
Fuzzy
Dorothy
Sabrina
Bellatrix
Lucky
Mittens
Mog
Nova
Echo
Tiffany
Ursula
Doodles
Raven
Indie
Wilma
Storm
Venom
Male cat names for a black and white cat
Of course, you may choose to give your male cat a female cat name and vice versa, but if you are looking for specific male black and white cat names, then these are the best for your kitty:
Blotch
Dapple
Dapper Dan
Mr. Suave
Mr. Pepper
Alfie
Sebastien
Zigzag
Puzzles
Archie
Wyatt
Twinkle
Sooty
Onyx
Misty
Jet
Slim Shady
Mr. Fox