PetSide may earn a small commission from affiliate links in this article.
Learn more
There are a lot of superstitions that fall around black cats when they are the sweetest animal companions to exist. If you've recently got yourself a new kitty with beautiful black fur and need a lovely name to match, you're in the right place!
For some, the best names for black cats come at the drop of a hat, but for others, it can take some deliberation. Picking a name for your best fur friend requires some thought, and since most cats live between 12-20 years of age, it's a name you'll be using a lot – so you need to pick wisely. Read on to find the best black cat names to name your feline friend.
Top Female Black Cat Names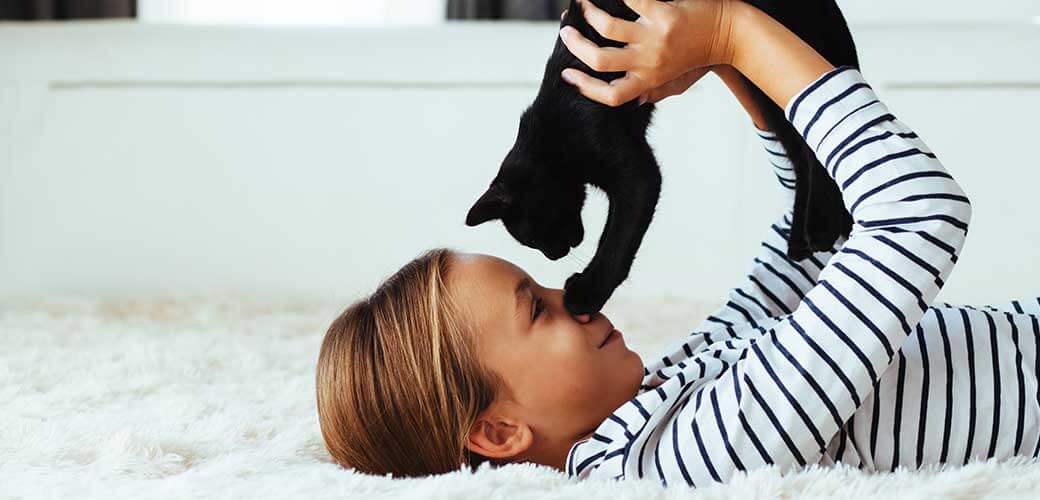 If you're someone who wants to avoid the most popular black cat names or is perhaps looking for inspiration, this list is for you. If your new black kitten friend is a girl, here are the top ten names for black cats:
Luna
Bella
Chloe
Lucy
Nala
Lily
Zoe
Stella
Cleo
Daisy
Top Male Black Cat Names
For males, here are ten of the most common names for black cats:
Loki
Leo
Oliver (or Olly)
Charlie
Simba
Felix
Milo
Max
Jasper
Jack
Top Black Kitten Names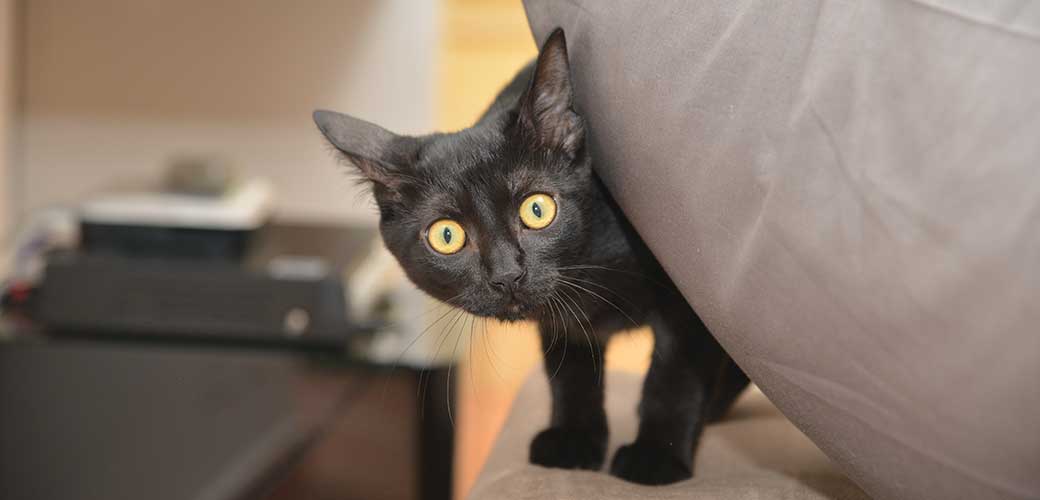 Black kittens are adorable and need names that reflect this aspect that will also suit them as they get older. Here is a list of some of the most popular/endearing names for a black kitten:
Carbon
Cinders
Coal
Harley
Jet
Kohl
Nova
Shade
Smokey
Soot (Sootie)
Interesting and Creative Black Cat Names
Looking for the perfect name with a little bit of flavor? The choices below are a mix of all things weird and wonderful:
Aster
Azalea
Aurora (Or Rory)
Cabbie
Echo
Gaia
Gaige
Hex
Indigo
Kiko
Nyx
Oni
Pooka
Sage
Umbra (Latin for 'shadow')
Willow
Yoru (Japanese of 'night')
Black Cat Names Inspired By TV Shows, Movies, and Video Games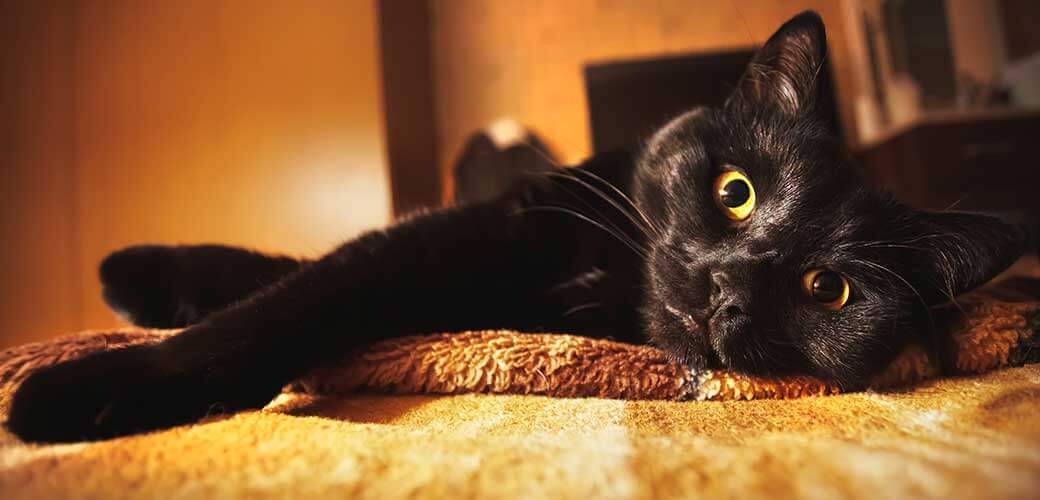 It's not uncommon for pet parents to take names from fiction for their new feline friend. Some names from famous tv shows and movies can aptly suit a cat's personality.
Darth Vader (AKA Lord Vader/Anakin)
Perhaps not the best pick for black cats that prefer the high ground. Jokes aside, Darth Vader is a primary antagonist of the popular Star Wars movies. Notorious and iconic, this name is perfect for your fur friend. A lot of names for Sith characters may just suit your kitty fine.
Salem
Salem Saberhagen is a former witch condemned to live 100 years as a black cat in the story of Sabrina, the teenage witch. In the 90s live-action series, Salem is a comical character favored by many fans who grew up during this decade.
Morticia/Wednesday/Pugsley/Gomez/Uncle Fester
All great names. The Addams family has been around for decades and is beloved by many. Many of the names featured in the comics or movies would perfectly suit your feline friend.
Bagheera
Bagheera is the black panther featured in the Jungle Book. He is considered a friend and protector of the young Mowgli.
Luna
Granted. Luna is an especially popular name at the minute for both dogs and cats. Regardless, it's still an endearing pick and perfect for fans of the animated show Sailor Moon or the famous Harry Potter movies.
Fun Fact: Luna means 'moon' in languages derived from Latin roots such as Spanish and Italian.
Lone/Ranger (AKA The Lone Ranger)
The TV and movie cowboy with a dark mask confronted outlaws in the Old West alongside his Native American friend Tonto. This name is perfect for a black male cat (or even female) that perhaps enjoys time alone.
Binx
Binx is an adorable name and is often used by fans of the movie Hocus Pocus. Thackery Binx was the name of a young boy who was sadly transformed into an immortal black cat by the Sanderson sisters
Snowball II or Scratchy
Snowball II and Scratchy are characters in the popular animated series The Simpsons. One is the pet of Lisa Simpson, and the latter is a cartoon cat from a show the children of Springfield love to watch.
Sylvester
Sylvester is a name that's been around for a long time since the black cat's appearance in the cartoon series Looney Tunes.
Mr. Midnight
Mr. Midnight is an adorable name but one that comes from a popular horror game called Fran Bow. In the game, Mr. Midnight is Fran's closest pet companion and is very sweet-natured and caring.
Toothless
This may seem like an odd name for those unfamiliar with its source. Toothless is the name of a beautiful black dragon with emerald green eyes from the animated movie How To Train Your Dragon. This name for black cats has increased in popularity over the years as new cat owners become familiar with the adorable dragon.
Other Movie-Inspired Black Cat Names: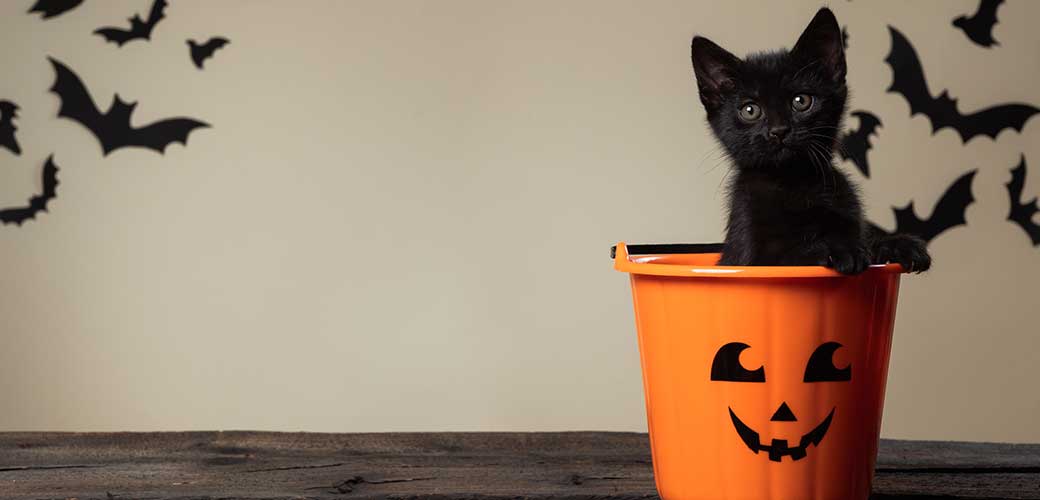 Alexei – Black Widow/Stranger Things
Aslan – The Chronicles of Narnia
Bilbo – Lord of the Rings
Dart (D'artagnan) – Stranger Things
Geralt – The Witcher
Howl – Howl's Moving Castle
Jonesy – Alien
Pippin – Lord of the Rings
T'Challa – Black Panther
Totoro – My Neighbor Totoro
Winkie – Escape to Witch Mountain
Names Inspired By Halloween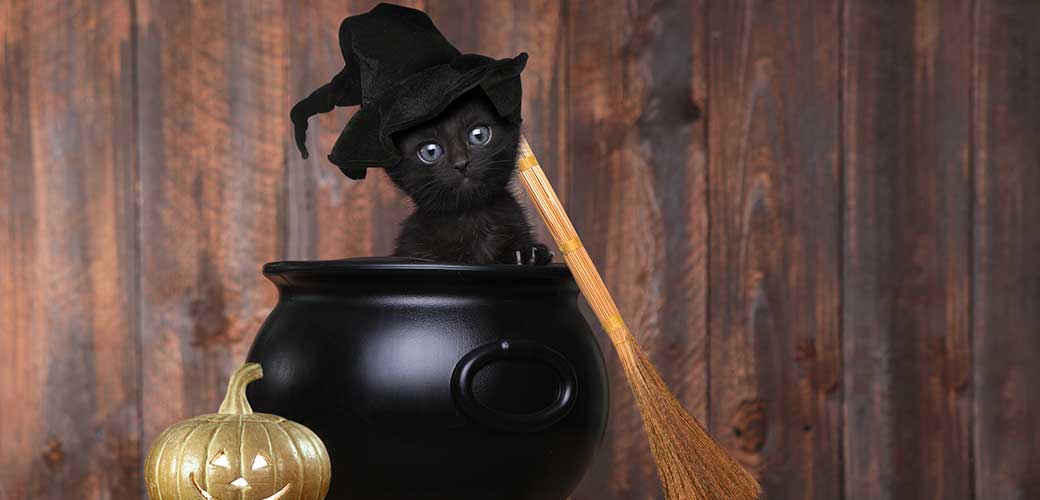 Black cats are often affiliated with the popular holiday seasons, which is why some cat owners look out for spooky-like names. Some of the names featured above, such as picks from The Addams Family, Binx from Hocus Pocus, or Mr. Midnight from Fran Bow, may fit nicely. However, here are some of our top picks for Halloween names.
Midnight
Pumpkin
Shadow
Boo
Candy
Casper
Autumn
Howl
Spider
Raven
Twilight
Warlock
Merlin
Lucifer (Lucy for short)
Ghost
Spirit
Grimm
Bones
Freddie
Mythical Names For Black Cats
Mythical names are a top choice for many pet owners, but these are common to dogs. However, some intriguing names are more than a perfect fit for your new black cat.
Aries (Based on a golden ram of Greek mythology)
Hades (God of the Underworld)
Hera (Greek Goddess of marriage, women, and childbirth)
Juno (Roman Goddess. Equated to Hera.)
Mars (Roman God of war)
Neptune (Roman god of freshwater and the sea)
Nut (Egyptian Goddess of Earth and also an adorable name for a black kitten)
Pandora (Panda for short)
Persephone (Sephy for short)
Pluto (AKA Hades. Ruler of the Greek underworld)
Osiris (Egyptian God of justice)
Styx (One of the rivers of the underworld/Titan goddess)
Black Cat Names From Other Languages
Corvo – Italian meaning 'raven'
Kopi – Malay meaning 'coffee'
Komir – Kurdish meaning 'coal'
Layla – Arabic meaning 'night'
Noir – French meaning 'black'
Shabah – Arabic meaning 'phantom'
Yoru – Japanese meaning 'night'
Funny Black Cat Names
Granted, some of these don't imply or reflect the color of your cat's black coat, but they are still names to consider if you want something to tickle the funny bone.
Taco
Shrimp
Spud
Squid
Ru-Pawl
Mr. Meowgi
Claw-dia
Rambo
Ramen
Angus
Cat Damon
Atticus (Catticus)
Michael Meowers
Food Names For Black Cats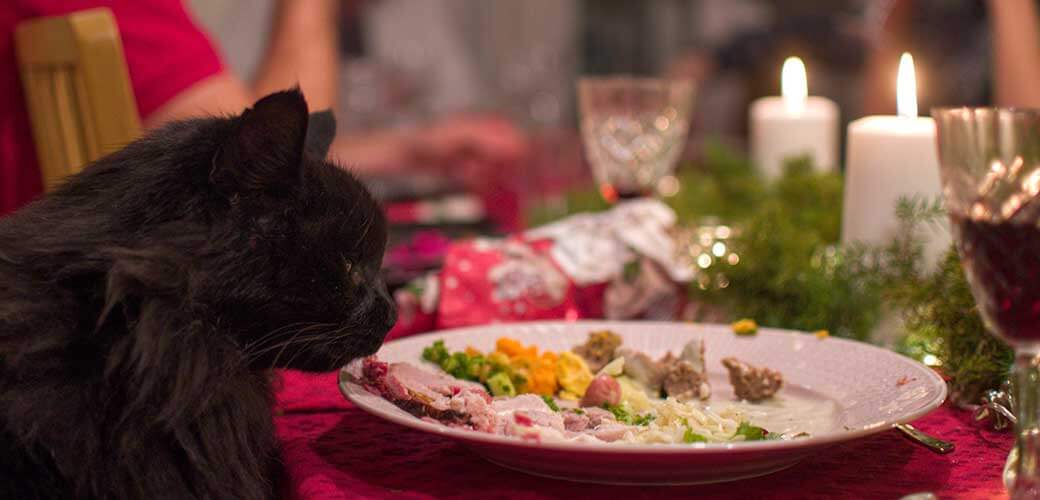 Going from funny black cat names, we have some food-related names that are also amusing and equally adorable.
Beans
Black Licorice (or just licorice)
Cupcake
Chia
Crisp (For our UK readers)
Dumpling
Fig
Fry
Honey
Jello
Nacho
Mocci
Mocha
Mochi
Olive
Pancake
Pudding
Ravioli
Sushi
Tater (Or Tater Tot)
Tuna
Whiskey
Ironic Names For Black Cats
Angel
Blizzard
Cloud
Cotton
Ghost
Ivory
Marshmellow
Powder
Snowflake
Snowy/Snowball
Sugar
Sunny
Best Names For a Black and White Cat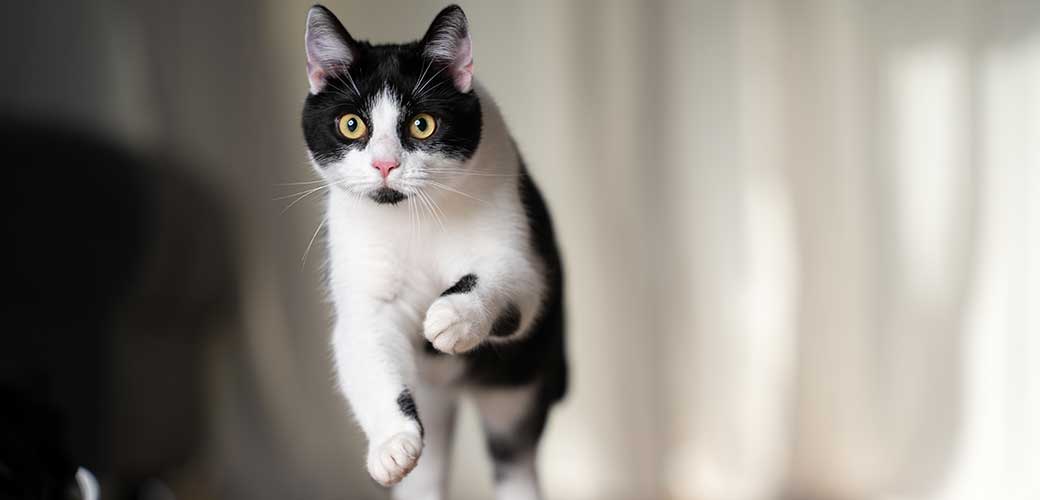 Sometimes your kitten will have a few subtle patches of white in their first that may go unnoticed at first. Fortunately, we have some adorable choices for black cats blessed with sprinkles of white fur:
Chess
Pepper
Cosmo
Inky
Dottie
Speckle
Marble
Soccer
Jester
Pixel
Smudge
Picking the Purr-fect Cat Name
If you're still unsure about the right name for your black cat, then consider getting to know more about them and what makes them unique. However, there's no shame in waiting until you have figured out what your new pet is like personally.
Facts About Black Cats
Despite being affiliated with Halloween, witchcraft, and bad luck, in Japan and China, black cats are considered good luck and may even bring wealth to their owners.
Although many black cats are depicted as having green eyes, most of these felines have amber/orange eyes due to the increased levels of melanin (which also influences their jet-black fur).
According to the Cat Fanciers Association, over 22 breeds of cats can sport the color black all over.
Despite being repressed by the gene that causes a black coat, these cats can still have tabby markings. If you look closely in certain lights, you may see dark brown tabby markings across your cat's coat.
In ancient Egypt, the black cat embodied the goddess Bastet.
Mark your calendars. Once a year, people all over celebrate national black cat day!
Why should I name my cat?
It's no secret that cats don't give the same responses as dogs do. They don't wag their tails in excitement, receive the same level of training, or, seemingly, respond to their names. So you may be asking, 'why should I name my black cat if they won't even respond?'.
Naming your cat can help you form a closer bond with them. When you give them a name, you acknowledge that they are an individual, and, from here, you will begin to associate that name with your closest fur friend. Therefore, the more you use their name, the closer you will feel to them, and the more sentimental the name becomes.
In addition, it's not always true that cats will flat-out refuse to acknowledge their names. Not every cat is aloof and standoffish. Many cats are extremely affectionate and react immediately when you call them. They just have an alternate way of communicating as opposed to dogs and other animals.
Picking the Perfect Name For Your Black Cat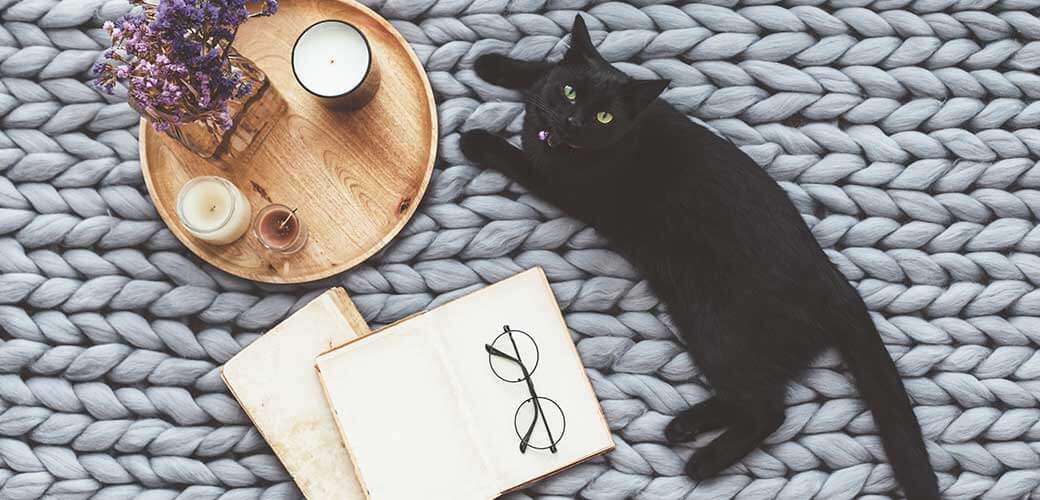 Just like naming dogs, it is recommended that you give your cat a name that doesn't have more than two syllables. Cats may not come running when you call them, but they can certainly identify the noun you use to address them. By using a short name, they are more likely to understand sooner.
As a pet owner, trying to pick the best and most ideal name for your black cat can be frustrating, but our advice is to take your time.