PetSide may earn a small commission from affiliate links in this article.
Learn more
All domestic cats we know and love today are descendants of wild cats. However, some breeds are more closely related to their wild cat ancestors than others. Some bear a striking resemblance to the wild cat species they are descendent of, whereas others have softened significantly over the years of careful selective breeding. However, there's still something special about hybrid cat breeds (hybrid felis catus) that makes them highly desirable to prospective feline owners. And here we've put together a list of hybrid cat breeds that we think to be 12 of the most interesting hybrids that can be found among domestic cats today, in no particular order.
1. Bengal Cat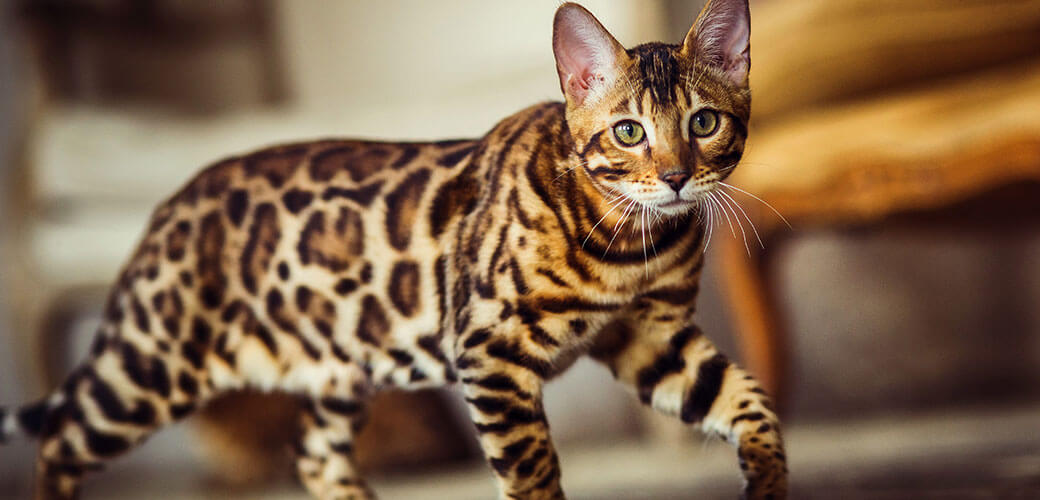 Bengal cats are one of the more popular hybrids. Crossed between Asian Leopard cats and common domesticated cats, they have a distinctive fur pattern made up of striped legs with a bold stripe running down the spine. Thigh the most unique part of this coat is the leopard spots that cover their back and sides, giving this hybrid cat breed a striking resemblance to leopard cat ancestors.
Bengal cats are generally larger than other house cats, however, they are naturally extremely agile creatures which also comes from the Asian leopard cat, making them excellent outdoor cats. Bengals are also known to be affectionate towards their owners and other trusted people as well as having some rather vocal tendencies – so meowing is pretty much guaranteed for Bengal owners.
2. Savannah Cat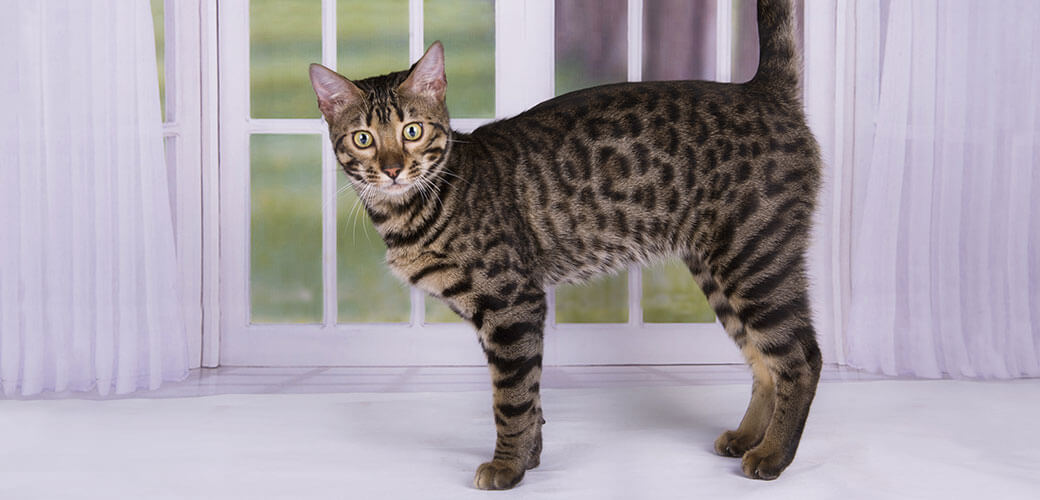 Savannah cats are the result of combining a standard domestic cat breed and the African Serval. This breed is actually named for the natural habitat of the African Serval cat, which is the Savannah. A Savannah cat has long legs, like the African Serval, making it look very long and lean. This also means that they're quick, nimble, and athletic.
The large ears of the Savannah cat are particularly endearing as it means they keep a kitten-like look about them even in adulthood. Described as the black silver spotted tabby, they also have extremely distinctive black spots in their coat with a striped pattern around their necks that almost make them look as though they're wearing a necklace. This is a kitty that needs plenty of room to stretch its long legs.
3. Serengeti Cat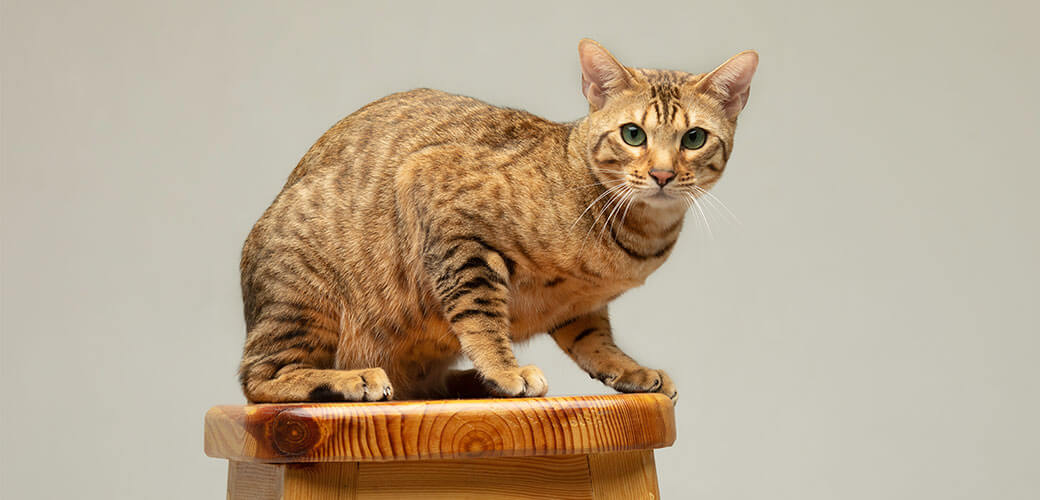 Loyal cats with a piercing stare that has been taken straight from their wild ancestor. Though Serengeti cats do bear a strong resemblance to the Savannah cat, this hybrid cat is actually a cross between Bengals and Oriental Shorthairs. This is another athletic breed, slightly smaller than the Bengal cat, with a stockier look overall than some of the other cats on our list.
Serengeti's have noticeably large paws and a stronger build than some other hybrids, however, their tall, rounded ears give them a long graceful look when combined with their long bodies. The International Cat Association (TICA) described them as squarely built, with a statuesque grace about them. As a domestic cat breed, they are self-assured but friendly and very loving to their owners.
4. Toyger Cat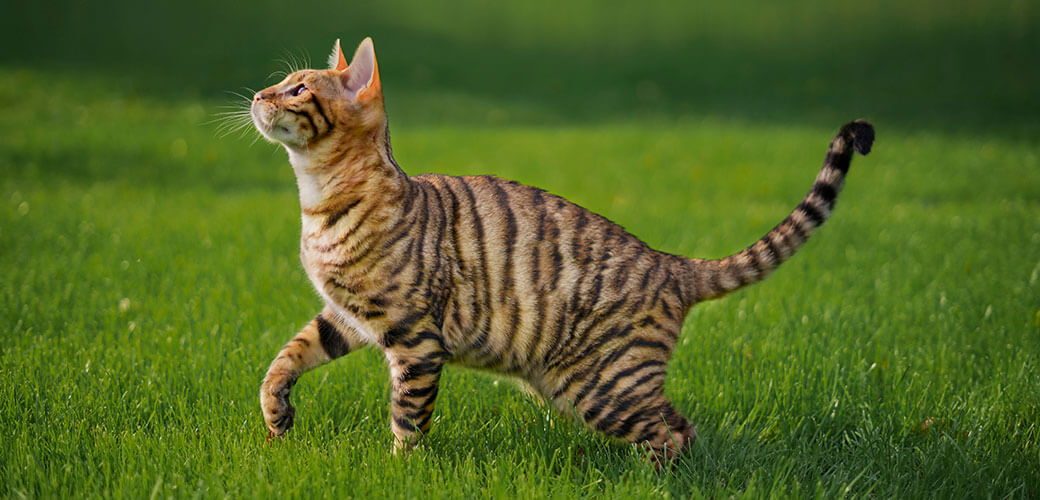 Toygers are the result of crossing the domestic Shorthairs with Bengals in order to produce a bolder striped pattern. A breeder by the name of Judy Sudgen in the 1980s initially undertook the task of creating a Toyger and was successful in creating this striking breed. The tiger-like stripes are what inspired the breed's name as they stand in stark contrast with the red-tinted fur beneath them.
They are a highly intelligent breed very much in need of a lot of exercises if you're not wanting them to become destructive or troublesome. This means they're better suited as outdoor cats so that they have the opportunity to properly stretch their legs. They also make excellent companions with a fierce sense of loyalty and dedication to their families.
5. Oriental Shorthair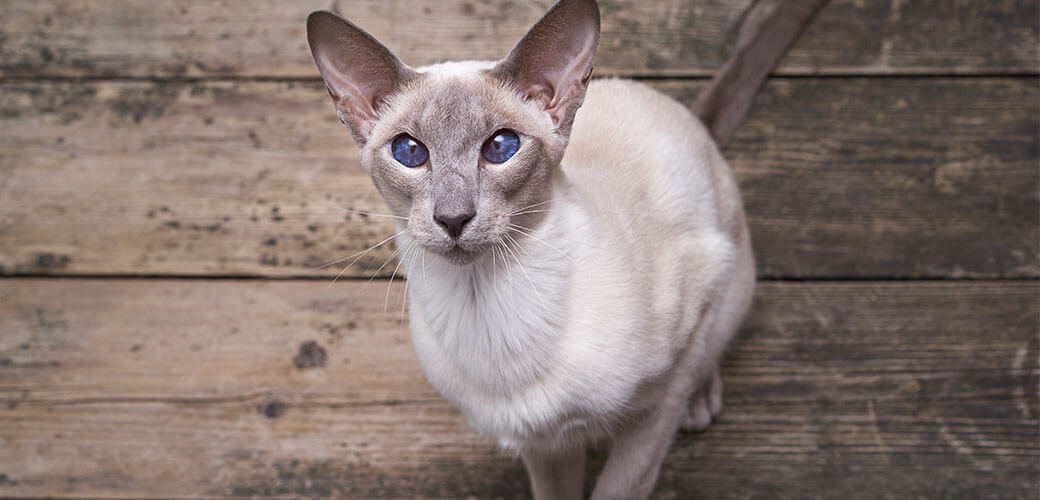 With the intent of creating Siamese cats in a different color – the Oriental Shorthair was created. This was done by mixing a Siamese cat with the British shorthair, Abyssinian, and the Russian blue. This combination resulted in a cat with a long face, neck, ears, legs, and tail. It is a tall and elegant breed with a regal appearance and proud stance, though they are much more playful cats personality than they may appear and are notoriously noisy.
They are one of the less common hybrid cats owing to the complexity of the breeding process and the number of breeds required to create an Oriental. Coveted by cat lovers, it is made even harder to get an Oriental shorthair by the fact that each litter has the chance of being made up of Oriental Longhairs, though they are even rarer than their shorthaired counterparts.
6. Chausie Cat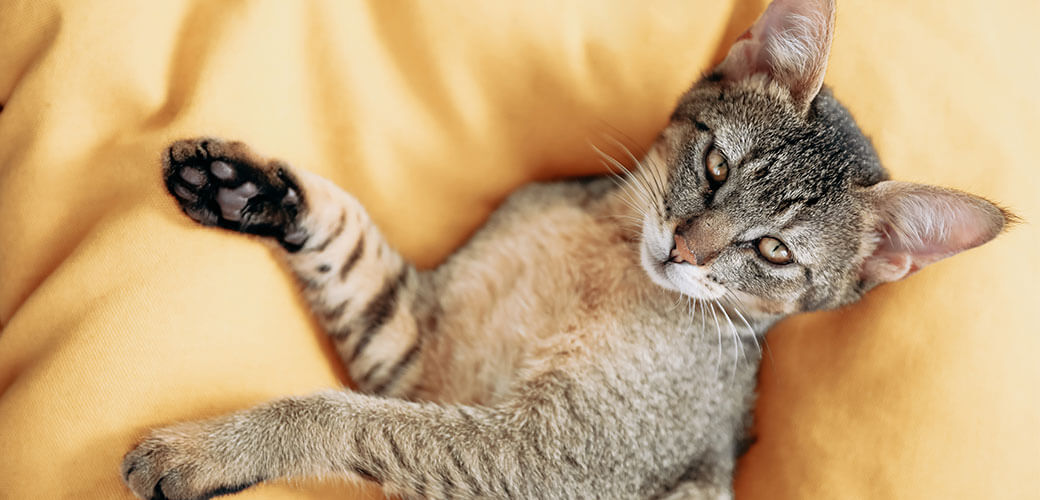 Chausies are highly alert cats that have the look of wild animals. They're powerfully built with long legs and piercing eyes. Chausies are made using a female wild Asian Jungle Cat crossed with the domestic Abyssinian. They're usually a warm, brown color with a reddish hue and relatively plain fur lacking pattern besides stripes that decorate the neck area. However, it is possible for them to develop similar spots to the Serengeti cat.
These regal kitties have a rather cold stare, but they are actually highly affectionate. They make themselves known to their owners at every opportunity and often enjoy a good cuddle. They are also spritely kitties than enough exploring the outdoors, meaning they're not exactly suited to indoor life as they still have some of the instincts of a wild animal.
7. Jungle Curl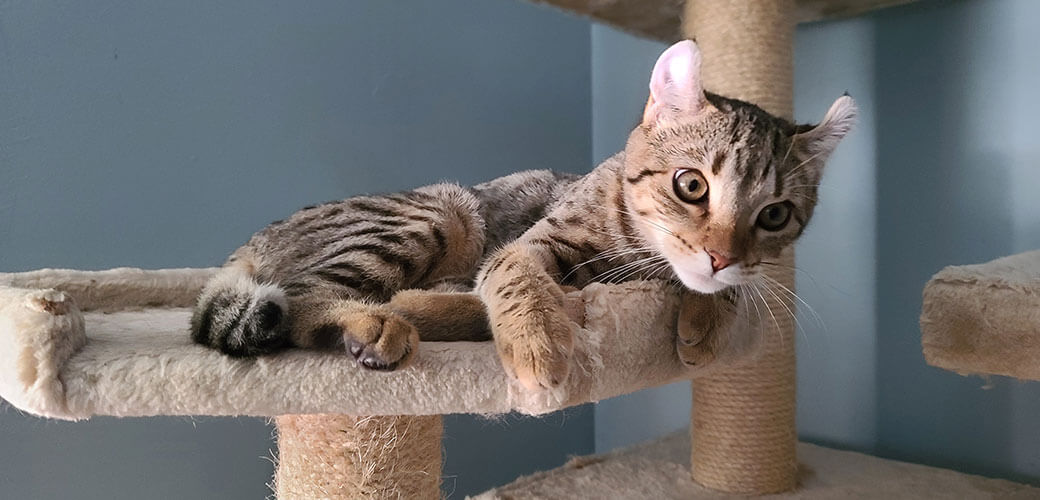 Charismatic cats with an adaptable personality, Jungle Curls are a cross between the African Jungle Cat and a domestic American Curl. This does give them a chance of being born with the highly unique curled ears of the American Curl parent. African Jungle cats on the other hand have exceptionally tall, narrow-set ears that allow them to hear a pin drop. Both types of ears are equally adorable.
Jungle Curls are intelligent and relatively easygoing. However, they do still require an ample amount of exercise as well as some form of mental stimulation throughout the day to ensure they don't become bored. Hybrid breeds take a few generations to be accepted as a domestic breed, with the Jungle Curl only being accepted after 4-5 generations – making them quite rare.
8. Cheetoh Cat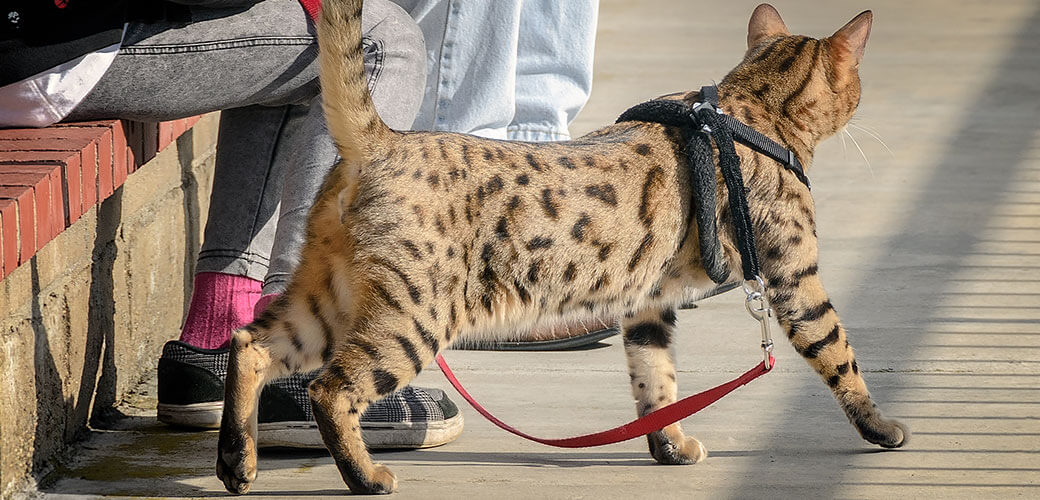 As I'm sure you'd expect from the name of this particular hybrid cat, they have a clear spotted pattern that can be likened to that of a cheetah. However, they're not related to the cheetah, but rather are a cross between Bengal cats and Ocicats. This makes Cheetoh cats a mix of several wild cat breeds that result in a playful, energetic, curious kitty with an affinity with the outdoors.
That being said, a Cheetoh cat does make a great domestic cat as do many hybrid cat breeds, because their domesticated instincts give them a sense of loyalty and a softness that is otherwise unseen in wild cats. Their energy levels also make them an excellent fit for active homes and even older children (so long as they are handled correctly).
9. Highlander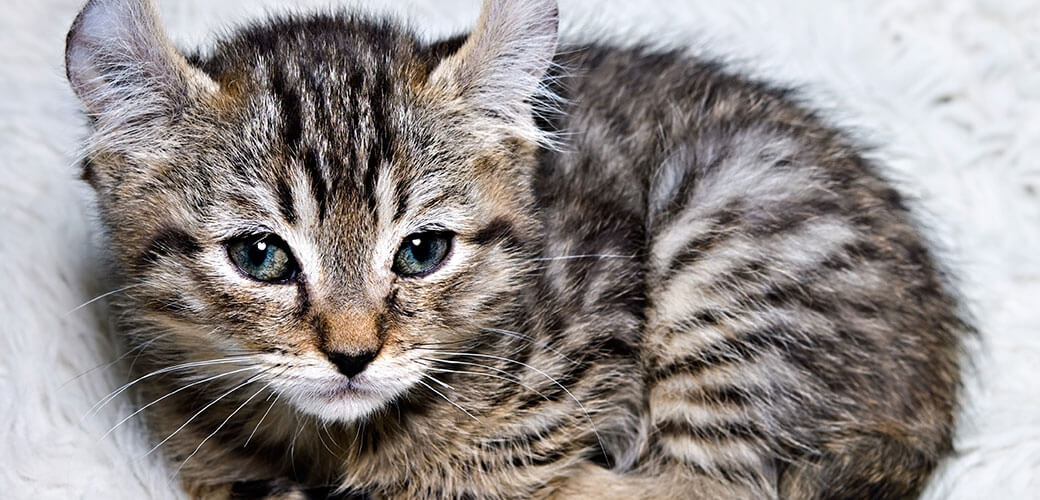 A relatively new experimental breed that has been in development since 2004. Highlanders are created by crossing a Desert Lynx with a Jungle Curl. Because the highlander is a cross between two wildcat hybrid cats the resulting breed is more distantly related to its wild cat ancestors, making them more docile and friendly than some of the other breeds on our list.
Highlanders can come in a variety of colors, and even their ears can change depending on which parent is more dominant. Jungle Curls have characteristically curled earls at the tips (hence the name), which can be inherited by the highlander on a milder scale. Highlanders very much enjoy the water and are naturally playful, though they do also shed quite a bit.
10. Pixie Bob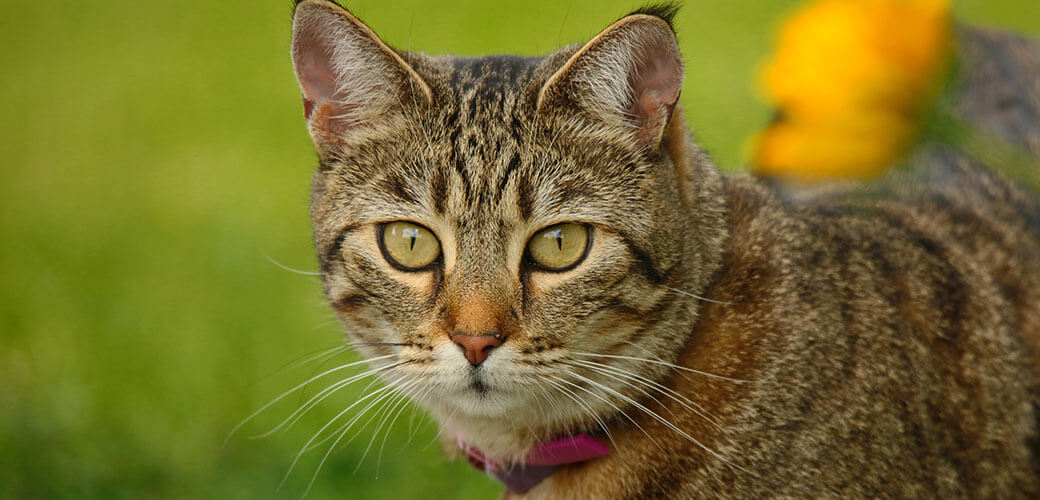 With a long, fluffy, brown spotted tabby coat, and decoratively pointed ears to match, the Pixie bob is a highly elegant cat breed. Pixie bobs first appeared in 1985 by crossing a male Bobcat with a female Domestic Shorthair. This was a totally natural occurrence with the resulting cat being adopted and named "Pixxie" – and so the breed began.
They are fluffy, stocky, and often have bobbed tails are part of a genetic mutation. Fortunately, the bobbed tail doesn't affect their movement and they can free scamper around with their family. This is one of the curious domestic breeds that are highly adept at being leash trained thanks to their high intelligence and domesticated nature. They also tend to get on quite well with other pets.
11. Ocicat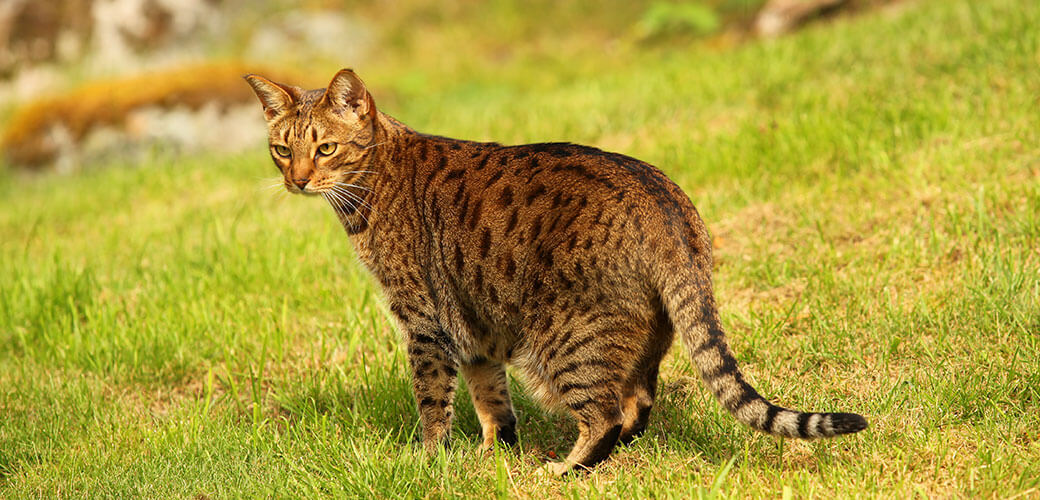 A combination of the Chocolate Point Siamese, Abyssinian, and Seal Point Siamese. These three stunning breeds combined to make the Ocicat. With many kitten-like traits such as a highly sociable and energetic personality, as well as dainty features and large round eyes. An Ocicat is one of the more likely breeds to be kept as a house cat owing to its diluted wild genes.
Their unusual, almost wild appearance makes them unique and very much sought after. Before they can be adopted, Ocicats have roughly eight generations of breeding to do to reach the appropriate domesticated level. At which point they become extremely popular with cat lovers thanks to their delicate appearance.
12. Burmilla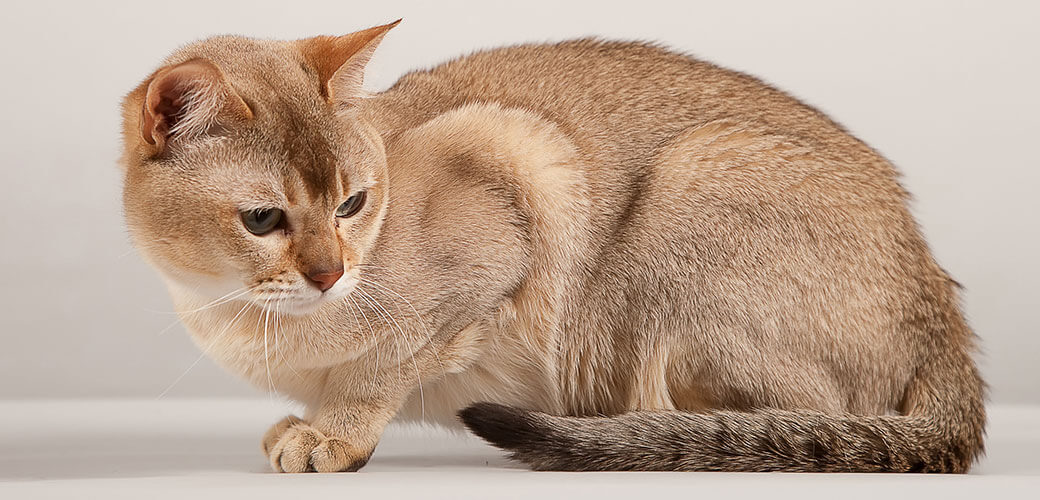 The Burmilla is the result of cruising a Burmese cat breeds with Chinchilla Persian cats. They're one of the smaller breeds on our list, growing to around 1o-12 inches in height. Their heavy-boned appearance also gives them almost a dumpy look that resembles the still-growing frame of a kitten, however, the lined pattern in the fur around their face gives them a more severe gaze than some other hybrid breeds.
Burmillas come in a variety of colors, with a short, dense coat that likes to shed a lot in warmer weather conditions. They also have small, round faces that offer them a kinder appearance than some of their fellow hybrid breeds, as well as having round-tipped ears to add to the overall softness of their look. They're relaxed, playful, and especially loving to their owners.
Honorary Mention: Liger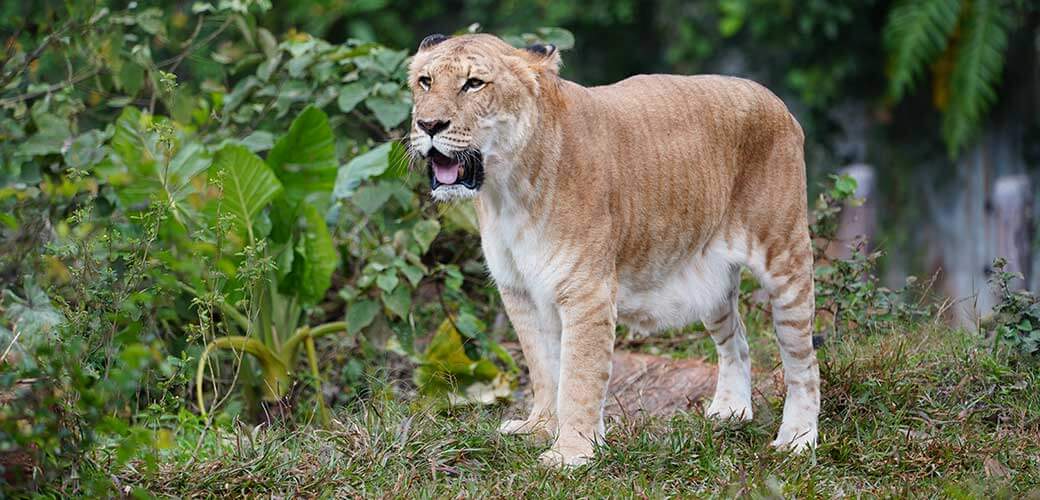 Easily the largest hybrid cat in the world. The liger is not a domestic cat breed but we think it deserves a mention for the fact that it is the combination of a lion and tiger, two of the most formidable big cats going.
Powerful and impressive, male Ligers have the mass of a lion with a toned-down version of the tiger's fur pattern, whereas the female often takes after the tiger for size.
This breed does occur naturally making it exceptionally rare as there is no human intervention at playmaking them all the more intriguing when they make an appearance.
FAQs:
Q: What is a hybrid cat?
A: A hybrid cat is the crossing of a wild cat breed with domesticated cats to create a breed that retains some of the more interesting wild features (including looks and personality) of their wild ancestors whilst still being safe enough to keep as a pet.
Hybrids require at least four generations of breeding before they can be considered safe for the home.
Q: What health issues can hybrid cat breeds have?
A: There are a couple of health problems that hybrid cats can encounter during their life, including painful irritable bowel disease (as a result of a sensitive digestive system often seen with many hybrid animals).
Additionally, some hybrid cats can experience problems with their joints as a result of their more unusual bone structure. In the case of any health problems a hybrid may seem to be having, it's best to seek veterinary advice to know how best to proceed.
Q: Can you adopt a hybrid cat breed?
A: Hybrid cats are not often available as rescue cats unless they have been seized from a breeder. Ordinarily, you would have to purchase a hybrid kitten directly from a breeder (via the appropriate cat registries to ensure an ethically bred kitten).
However, it is always worth checking with local shelters and rescues before committing to purchasing one. It's always better to adopt rather than a shop where possible.
Q: Can hybrid cats be kept as domestic cats?
Yes. So long as they have been properly bred and the cat you are looking to adopt is enough generations down the line, a hybrid can be kept with no problems.
Just be mindful that it can be a little bit more difficult to train a hybrid to use the litter box, as they're more in touch with their wilder instincts – though they are intelligent and will figure it out so long as your exercise perseverance and patience.