PetSide may earn a small commission from affiliate links in this article.
Learn more
Cats come in all shades so it's likely that when choosing a new kit, you'll have your favorite color. With black, white, ginger, and tabby frequently topping the most chosen cat colors, grey is also sought after in the feline owning world.
From pale silver to a rich grey-blue, solid color to gorgeous tiger stripes, there's a grey cat for everyone. And if you are on the lookout for a grey cat, then there are some stunning breeds to choose from.
From one of the US's most popular cats to the rare and exotic, here are 10 of the most desirable grey cat breeds.
American Shorthair Cat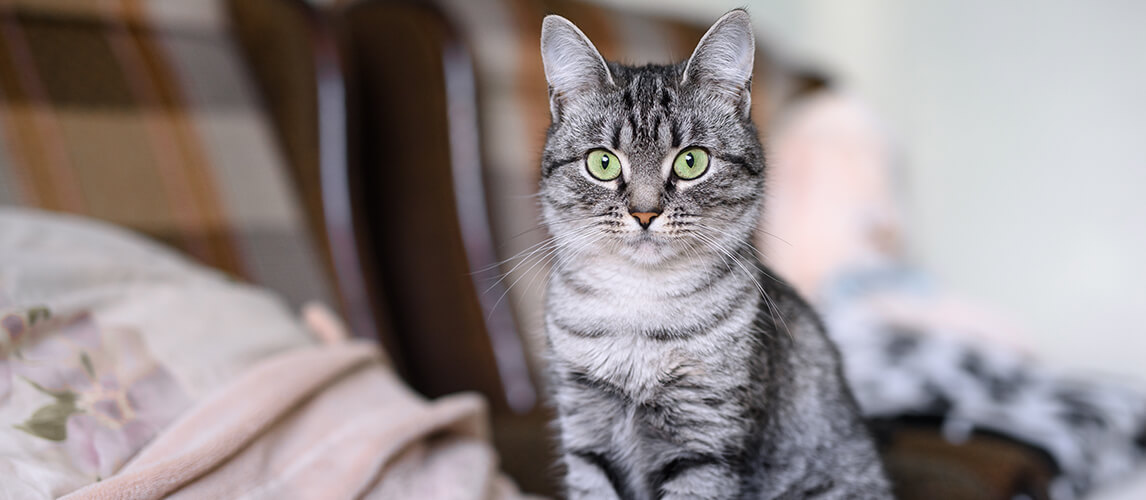 Although one of the most common US cat breeds, the American Shorthair can still surprise, and its grey tabby variety is particularly beautiful. You can trace the American Shorthair back to the 17th century and the working cats of the first settlers to arrive in North America. Today's Shorthair is the descendant of this pioneering British Shorthair Cat and is known to be a hardy breed.
The short, straight coat of these medium-sized cats is tough, dense, and weatherproof, and, as well as grey, the American Shorthair Cat comes in over 80 shades and patterns so there's plenty to choose from. But we think the grey tabby and solid grey blue are distinguished colors for the Shorthair, especially when coupled with those large round eyes.
Personality-wise, just like the British Shorthair (also known as the British Blue) and the Oriental Shorthair, American Shorthair Cats make good family pets, as they are active, intelligent, and playful although they are not great fans of being overhandled.
Chartreux Cat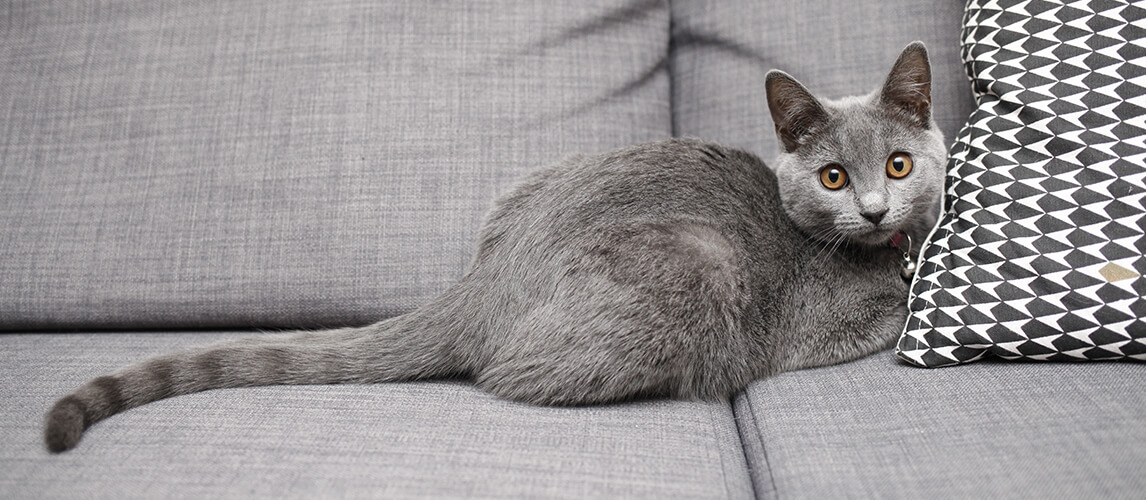 The national cat of France, the Chartreux is an eye-catching feline, with its long, thin legs and muscular frame. They are also a totally grey cat breed – typically a dark blue-grey shade. Offset by citrus eyes and a head shape that gives them the appearance of smiling, the Chartreux is a striking cat indeed.
This grey cat breed doesn't like to be a lap cat as they need a job to do – with a high prey drive, they were originally bred as mousers. And their personality is almost dog-like, with an intelligence and curiosity which is almost trainable. But only on their terms!
As a pet, the Chartreux is an affectionate and calm cat that also has an independent streak so won't be too clingy. This makes the breed a good option as an apartment cat or for a busy, working family.
Devon Rex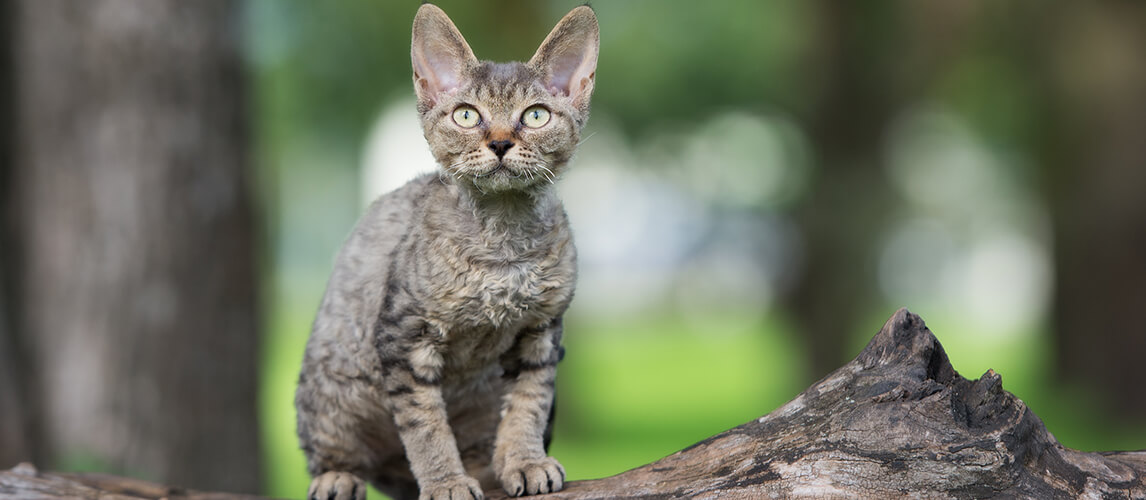 With its oversized ears and large, almond-shaped eyes, the Devon Rex is an unusual-looking cat that is starting to grow in popularity in the US. Not the largest cat in our grey cat breed guide, the Devon Rex has a larger-than-life personality.
Super-sociable, playful, intelligent, and boisterous, these grey cats thrive as part of active and lively family life. However, as active cats, they are not necessarily cuddle monsters and have a touch of the dog to their personality.
Their coat is also a little bit different; short yet wavy, their grey tabby fur is deliciously soft but also fine, meaning the Devon Rex can be prone to the cold. But his fur is low maintenance, although they may need a little jumper during the winter months!
Korat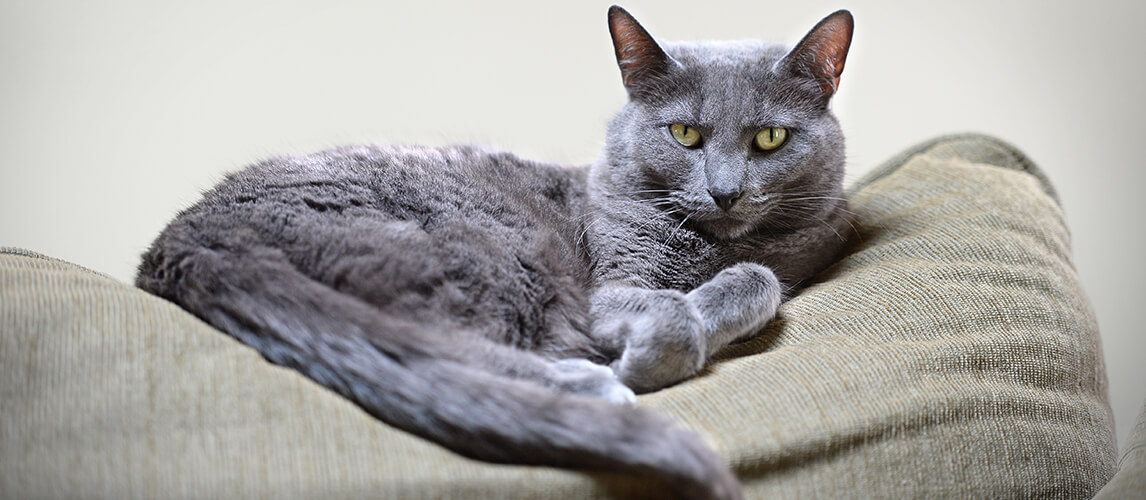 Now on to a rare grey cat breed, the stunning Korat. Originally from Thailand, the Korat boasts a short grey coat that has silver tips which makes the fur almost shimmer. Add in emerald green eyes and this is a very distinctive cat that is becoming highly sought after in the States.
In their native Thailand, the Korat is considered a lucky cat that helped bring farmers good crops, thanks to their blue-grey fur that symbolized thunder and rain. They were also often given as gifts to brides on their wedding day.
For its small to medium size, the Korat is a weighty animal thanks to its muscular body and is an intelligent, social cat. Playful and loyal, the Korat loves attention and cuddles, so bond well with their human family.
But these grey cats can also have a jealous side, especially of other cats or pets so you need to ensure you share the love evenly around.
Nebelung Cat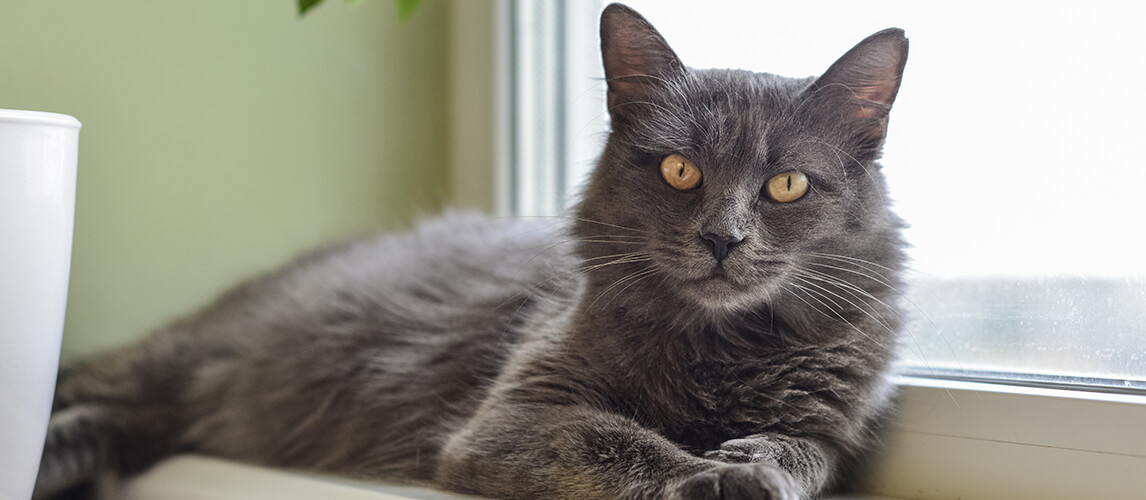 Only available in blue-grey, the Nebelung originally comes from Germany and is a relatively new grey cat breed that is technically a long-haired version of the Russian Blue. Its name in German means 'creature of the mist' which is thought to be based on its beautiful, almost hazy grey coat color.
The silver-tipped long coat of the Nebelung cat breed is soft, luxurious, and particularly fluffy around the neck and tail. This means they do need careful grooming to keep their grey double coat in top condition.
Known as a quiet, calm breed, this long-haired cat can be a little shy, which is why they are best suited to adult households or families with older children. They are also very intelligent and can open doors and turn on taps. They also enjoy playing as well as snuggle time with their favorite human.
Norwegian Forest Cat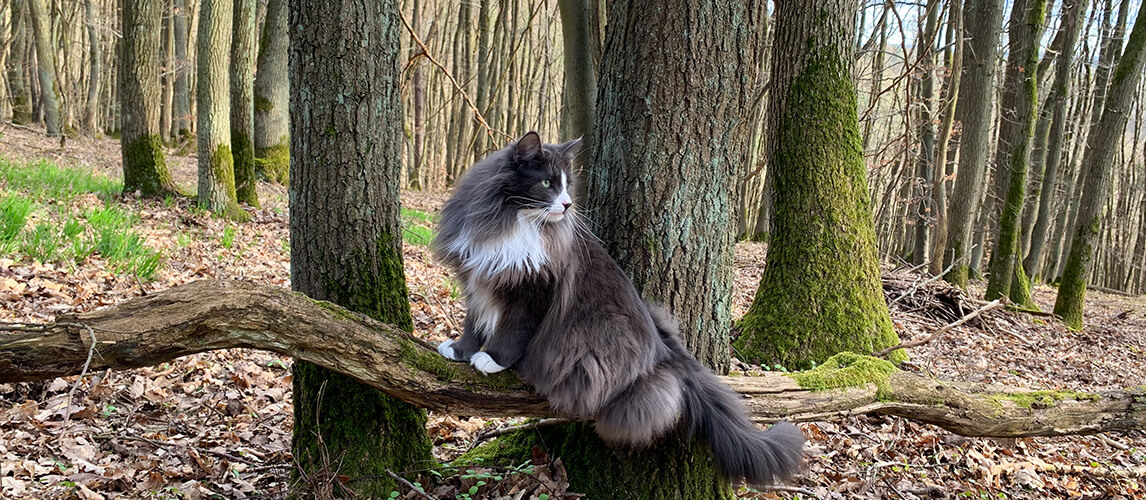 The Norwegian Forest Cat is a sizeable feline that's famous for its long and thick double coat which they originally needed to keep them warm in the cold climes of Norway. They also have a majestic, lion-like neck ruff, yellow eyes, and tufty ears that resemble the wild Lynx cat.
A relatively rare breed in the US, the Norwegian Forest is most commonly a brown tabby but grey – both solid color and stripes – can also be found. And with all that long grey dense fur in its luxurious coat, the Norwegian Forest Cat will need regular grooming to keep him neat and tangle-free.
Personality-wise, Norwegian cats can be a little aloof and independent and are known to be excellent hunters as well as climbers. But once they bond with their humans, their softer, playful side comes out, meaning they can make loyal and loveable pets.
Persian Cat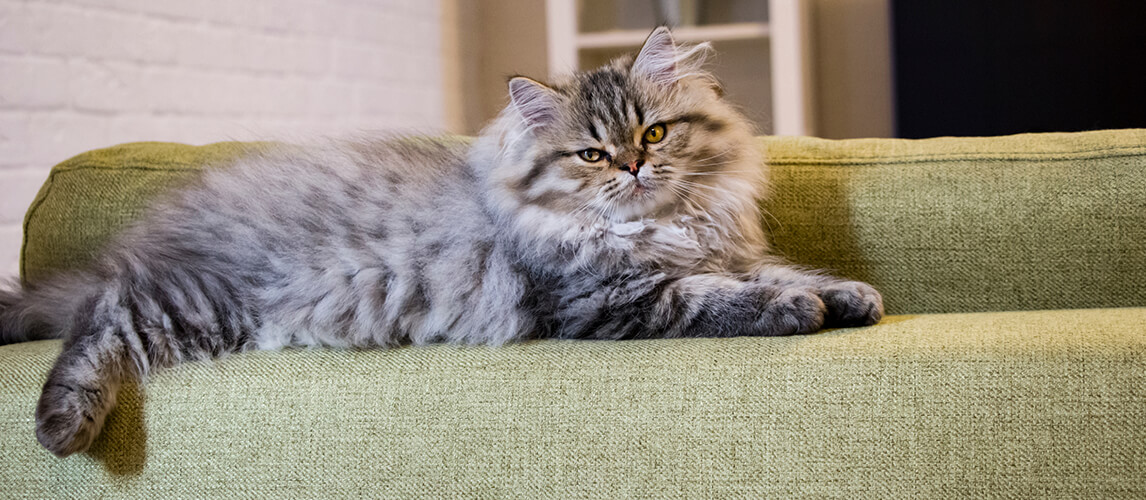 One of the most famous grey cat breeds, the Persian is an adorably fluffy cat with a distinctively smooshy 'pug-like' face. Not the most active of cat breeds, the Persian long-haired grey cat can get quite large and can be prone to numerous health issues. But they are extremely friendly and can be playful, making them super fun to have around.
While the Persian Cat comes in numerous colors, one of the most popular is a steel grey-blue that runs from shaft to tip. Their plush coat is also long and dense, which makes it difficult to groom themselves, so this is a cat breed that definitely needs a helping hand.
With a sweet persona and desire to please, the Persian Cat is the ideal lap cat as they adore fuss and attention. And the copper-colored eyes of Persian Cats make them a beautiful pet to have as part of your home.
Russian Blue Cat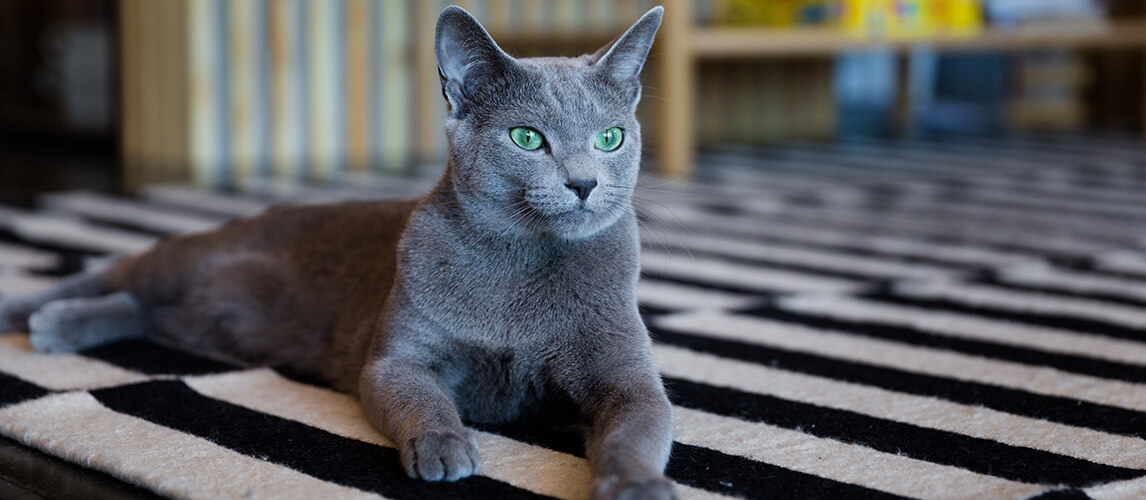 The Russian Blue gets its name from the color of its coat. While not strictly blue, their fur is a gorgeous blue-grey which can range from shimmery silver to dark grey.
Another notable feature of Russian Blue Cats is that they are not high shedding, so make a good pet for anyone with allergies (although there is no such thing as a totally hypoallergenic cat).
The fur of the Russian Blue is dense, short, and stands up straight, giving it a soft, springy feel. Their body shape is also muscular and slender, with their springy coat making them look larger than they really are. This breed also starts out with yellow eyes, which turn a vivid green as they reach adulthood.
The Russian Blue is a reserved animal and takes its time to bond with its pet owners and is best kept as an indoor pet. But once they do, they are loyal, playful, loving, exceptionally alert, and intelligent.
Scottish Fold Cat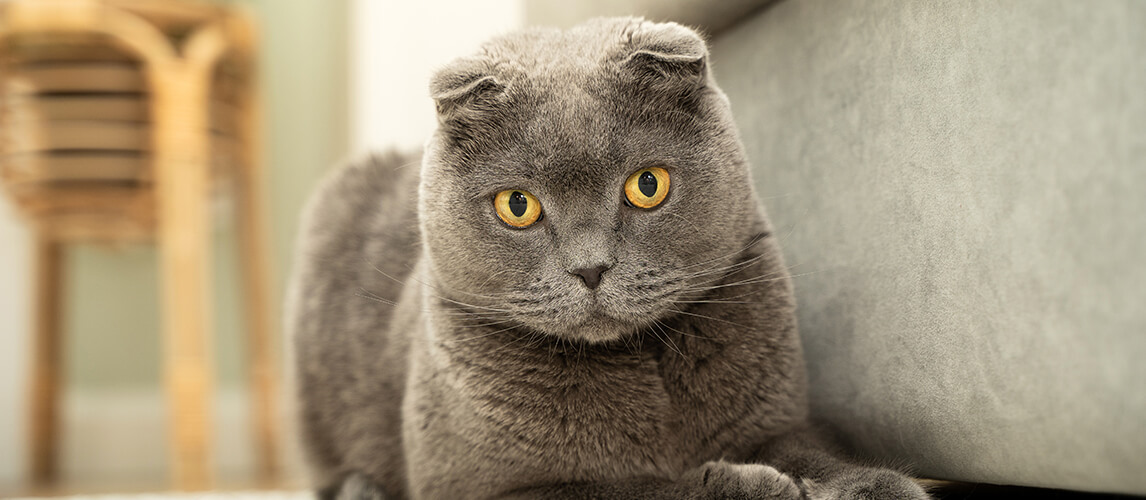 With its unusual 'folded ears' look that has become Instagram-famous, the Scottish Fold Cat is in demand and so one of the most expensive cats you can currently buy. But its origins are far humbler, as the breed is thought to originate from a farm cat in the Scottish highlands! Susie, the cat in question, dates to 1961 and thanks to a genetic mutation, was born with those distinct fold-over ears.
As a rare breed, a Scottish Fold Cat cannot guarantee to have these unique ears as all the kittens are born with straight ears. Around 50% of the litter will then go on to develop the droop to create the folded ears look.
Scottish Folds only come in solid grey or as a grey cat with stripes of silver and slate. Add in large yellow eyes and a round face with an open expression and you have a very cute cat on your hands. As a medium-sized cats, Scottish Folds are generally good-natured and love attention but can be vocal when they want to get their own way.
Sphynx Cat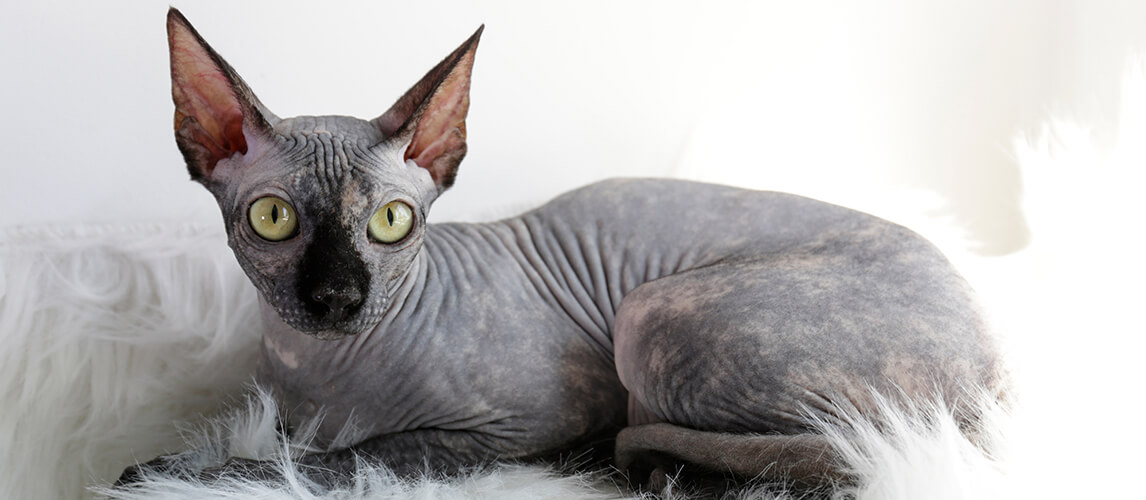 The only hairless cat breed in our review, the Sphynx can still be classed as one of the more interesting grey cat breeds. And this is because their skin shows a range of colors, with grey (or grey skin with a fine grey down) the most popular.
Interestingly, the Sphynx is not an ancient cat breed, as the name may suggest, but can be traced back to Canada in 1966 when a cat gave birth to a hairless kitten.
The kit – called Prune – was eventually bred to create more hairless kittens. The hairless recessive gene started to show up in some of the kittens, which became known as the Canadian Hairless Cat.
It was the overall appearance of these cats – lean, hairless, with overlarge ears – that gave rise to the name Sphynx, based on the famous Egyptian statue. The name stuck and Sphynx Cats grew in popularity.
Highly active and vocal, the Sphynx cat has a dog-like personality, and is intelligent, sociable, and inquisitive, making for a wonderful if not unusual looking feline pet.