Top 10 Dumbest Dog Breeds
Dogs are generally considered one of the smartest animals on the planet. Unfortunately, there are certain breeds of dog that are slower to learn than others. Some may also be innately intelligent and smart, but their stubbornness usually gets in the way. These dogs can still be trained with the correct methods and infinite amounts of patience coupled with tons of perseverance and a bucketful of consistency. And if you're wondering if your furry friend happens to belong to 10 of the world's dumbest dog breeds, you've got to check this out.
Afghan Hound
There is no other dog breed that can be more aristocratic and elegant than the Afghan hound. It has this flair of nobility and aristocracy that you won't see it following its human master or his children around the house like most dogs. No, you won't see the Afghan hound to be cuddling up to you or to seek your approval. You have got to be the one to go to the Afghan hound if you want some attention from this dog.
The Afghan hound ranks highly in the list of the least trainable dog breeds in the world. It is bred to run, having been used to run after antelopes, deer, jackals, hares, and even wolves. They're the venerable partners of hunting falcons in the plains and mountains of Afghanistan. Unfortunately, decades of misguided breeding and dog training practices have clearly eliminated the working desire of the Afghan hound.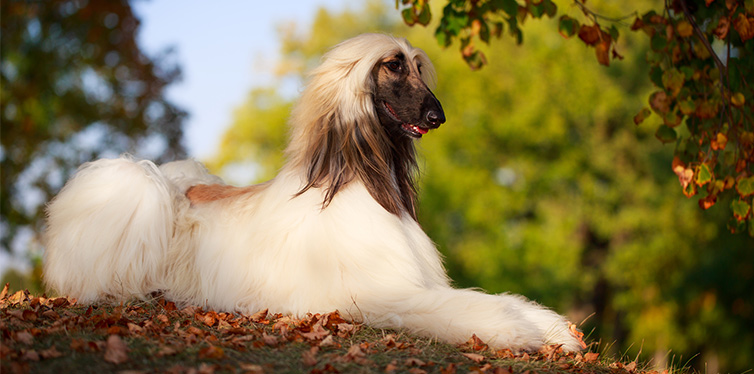 Basenji
A hilarious handful, the Basenji is both smart and mischievous. Unfortunately, its cat-like sense of independence also makes it a really stubborn hound to train that even the most patient and most persevering of dog trainers eventually give up on the dog. Its wrinkled forehead will make you think that the Basenji is forever worried. Don't be! In fact, this canine is already trying to figure out how it can rearrange the décor in your home.
The Basenji is smart; no question about that. But its level of independent-mindedness makes it so difficult to train. It is a great explorer and a great climber, too. It will try to please you for as long as you can get its interest. Otherwise, it will always find your garbage a lot more interesting than your treats.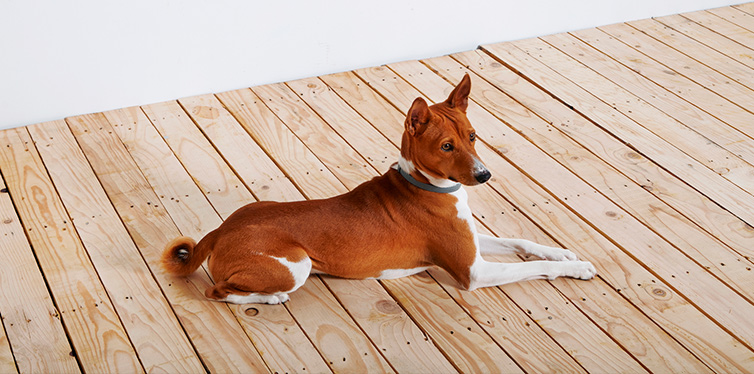 Pekingese
Being the favorite companion of Chinese Emperors and members of their royal court, the Pekingese has grown an ego that is definitely a lot larger than the dog actually is. Because of this, the Pekingese is best known for its respect-my-authority attitude. Training it to follow your commands is usually met, not with resistance, but with that why-should-I-follow-you look.
The self-esteem and self-importance of the Pekingese is gargantuan. It is as independent and stubborn as Garfield and as aloof as Dog from CatDog. Its imperial stature makes training the Pekingese mostly exasperating. You really cannot blame the poor fellow as it has lived in a very decadent lifestyle where everything that it needs is accomplished by the Emperor's servants.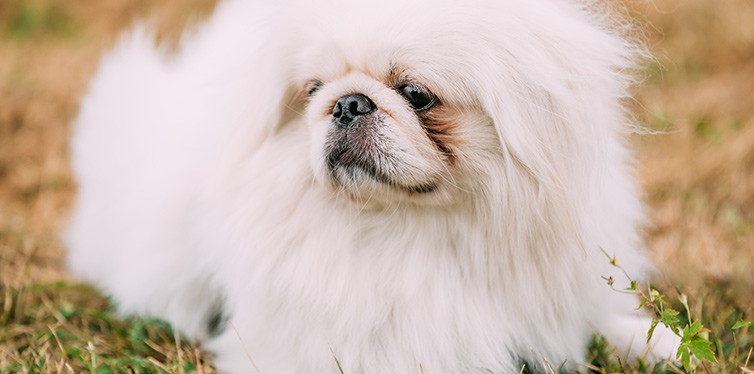 Bulldog
When people talk about the Bulldog, they're mostly referring to the rollicking family dog that is known as the English bulldog. While this hound is one of the dumbest dogs in the world, it is not really without cause. After all, these dogs are known for their good nature especially when even the youngest kid in your house plays rough with the wrinkle-faced Bulldog. It is for this reason that people consider it dumb as it really won't budge in its position despite being roughhoused by kids.
On a more serious note, the Bulldog may be difficult to train but lovers of the breed say otherwise. The key is to make the training sessions fun and full of praises and treats. That's the best way to this cuddly and amiable hound.
Related Post: Best Dog Treats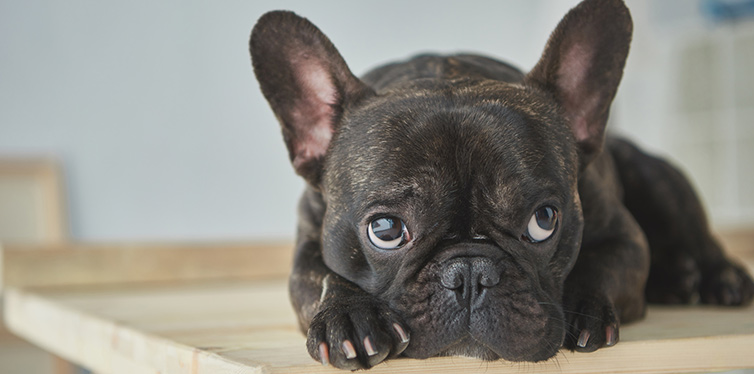 Chow Chow
Known for its teddy bear-like coat and a lion's scowl, the Chow Chow is a dignified and independent-minded breed of dog. It is known to attach itself to only one person in the family despite showing affection for the whole group. This Chinese Han Dynasty dog was primarily bred for hunting game birds, although their working genes have drastically changed over time.
The Chow Chow is not really difficult to train. Like we said in the beginning, one needs patience and perseverance in training canines. Some learn faster, others slower. The Chow Chow is obviously of the latter. But owners of the breed say this dog responds well to clicker training and the judicious use of treats and praises.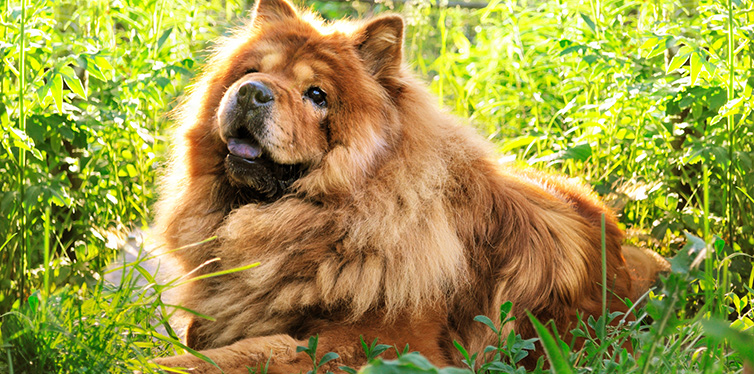 Russian Wolfhound
Also called as the Borzoi, the Russian Wolfhound looks very much like the Afghan Hound with its long, slender, and pointed muzzle coupled with a sleek and slender body plus an elegantly flowing coat. But the Russian Wolfhound is not a relative of the Afghan hound. In fact, it is more closely related to the Greyhound because of its curvy, tall, and elegant body.
Like the other breeds in this list, the Borzoi is smart yet very stubborn. It wants you to think that you cannot train it. Keep in mind that the Borzoi was bred specifically for lure coursing. They will never be able to carry out this task with remarkable efficiency if they cannot be trained. Unfortunately, modern owners of Borzoi put so much emphasis on the dog's elegant looks than its true working characteristics. This has led to the notion that this dog breed is dumb and untrainable.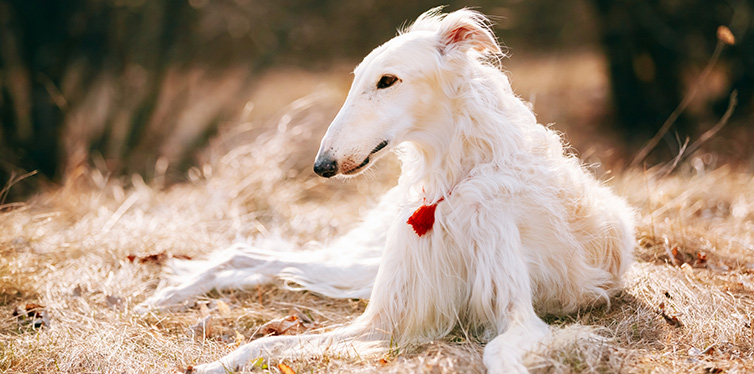 Bloodhound
You may know the Bloodhound as a prolific baying dog, especially if you're into watching crime and suspense films. But the thing is that this dog is not only prolific on the trail of the bad guy; it is lovable and sweet. More importantly, however, is that it requires deft hands when it comes to training as the Bloodhound can be especially stubborn.
We often have this notion that the Bloodhound is forever depressed with that sad, elongated face accentuated further by its drooping ears and eyes. What many of us don't know is that it has a relatively strong character that's often tempered with a clownish sense of humor. It is quite challenging to train, nonetheless. But once you've found your groove, this is one dog that will never fail you.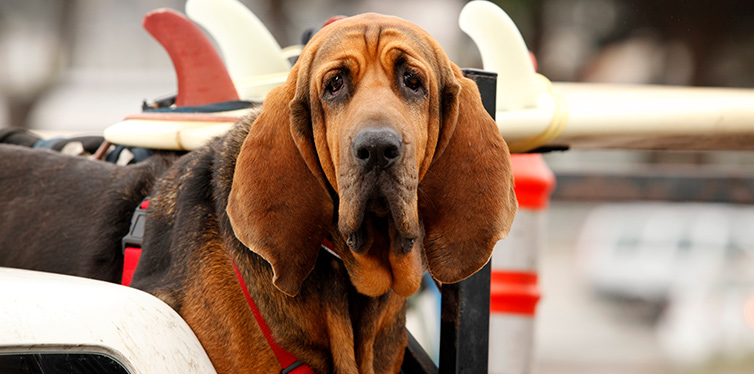 Mastiff
The Mastiff is indeed a gentle giant. The size of this dog is often enough to stop troublemakers on their pursuits. But when it comes to its family, the Mastiff is as loyal as any other dog. It won't think twice stepping in just to protect its household. They are very gentle with kids and have this peculiar behavior of going from room to room making sure that everything is in order.
Unfortunately, many folks find them to be especially challenging to train. These dogs require patience, consistency, and perseverance in training. They respond well to positive reinforcement. When fully trained and socialized, they can be the best guardians of the house and venerable playmates of your older kids. However, because of their size, they're not really ideal to have around a home with small children.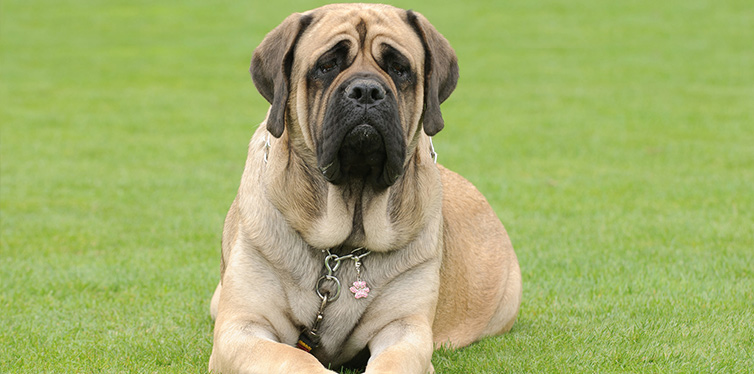 Beagle
The Beagle is smart. It is also a very tenacious hunter, using its remarkable scenting ability to track down prey. Sadly, this is also what makes it quite difficult to train. Once the Beagle locks into a particular scent, the only thing that can dissuade it from its single-minded pursuit is the introduction of a much stronger scent. It is a four-legged Houdini, an escape artist that can be quite difficult to keep in one's home and backyard. It will always try to sniff for something really interesting, whether it is your soiled socks or that delicious barbecue scent from a mile away.
This is not to say that the Beagle is untrainable. Oh, it is. But you should know the secret to training this scenthound. Since everything is centered on the dog's nose, this can be taken as a distinct advantage during training exercises. Heed this well and you'll end up with a really obedient hound. Just be prepared for occasional stubbornness, nonetheless.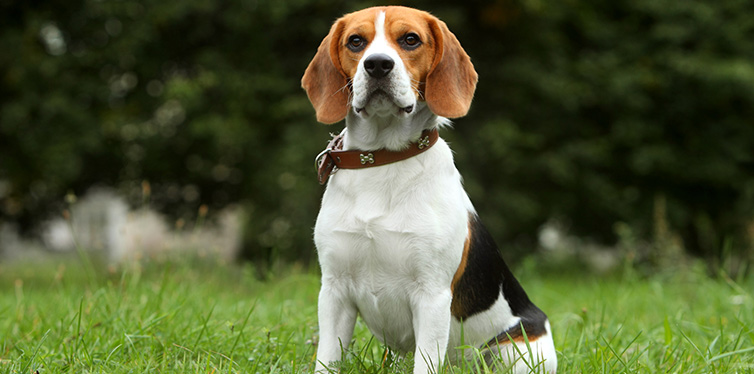 Basset Hound
This Hush Puppy is just like the Bloodhound, but with color markings that are quite similar to a Beagle's. The Basset Hound's face is not as sad and depressing as a Bloodhound, but it sure looks like it. Most of us think of the Basset as naturally lazy because of their rather sluggish movements. What many fail to realize is that it is a hunter and, like all hunting dogs, can be trained.
Basset Hounds have a clownish nature and they're best known for using their pleading gaze to get what they want. They are smart, often using the now-famous "helpless" body language to get treats, affection, and attention. They're manipulative in a sense. Like all hounds, the Basset's strongest asset and liability is its nose. Once it's transfixed onto something, there's no nudging it back to reality.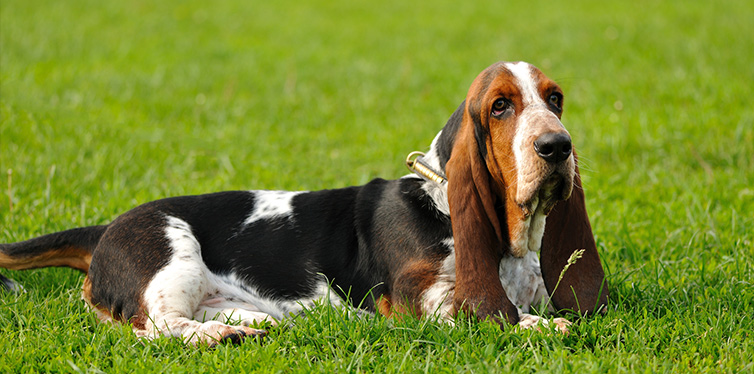 These dogs aren't really dumb in the sense that they cannot be trained. Oh, they are smart. The only issue is their stubbornness that stems from cat-like independent thinking.
Sources:
How to Test a Dog's Intelligence – WikiHow