5 Best Dog Breeds For Police Work
Dogs make excellent detectives. As a matter of fact, Bloodhounds helped in searching for Jack the Ripper in the late 19th century. While the serial killer was never caught, it did underscore the importance of police canine units. Not all canine breeds have what it takes to be a world-class four-legged detective, however. There are those that have the unique characteristics that make them most suited for the demanding role. Here are the world's 5 best dog breeds that law enforcement authorities employ in their K-9 units.
The World's Top 5 Canine Detectives
Belgian Malinois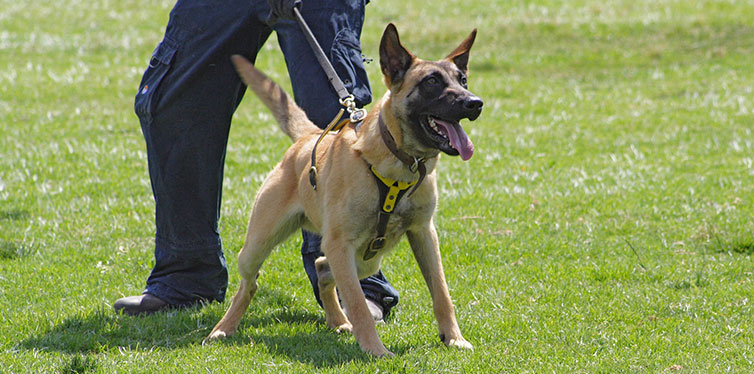 The Pastor Belga Malinois or Belgian Malinois is a medium- to large-sized canine breed that is a favorite among law enforcement units around the world. If not for its color, it is easy to mistake it for the German Shepherd. This is not surprising since the two have their origins from the same shepherd dog that once ruled continental Europe. Belgians say that the Malinois is a variety of the Belgian Shepherd, although the AKC recognizes it as a distinct breed
The Belgian Malinois is known for its intelligence, strength, and calculated aggression. It also has remarkable scenting abilities, allowing it to detect a variety of targets using its sense of smell. It can detect explosives, narcotics, and accelerants. Police officers use the Malinois in tracking criminal suspects. The US Secret Service also uses a team of these dogs in patrolling the premises of the White House.
The Belgian Malinois is not only excellent when it comes to police work. It can also be very beneficial in search and rescue operations. Their scenting abilities and intelligence can help zero-in on trapped victims underneath rubbles. In case you still have doubts about the dog's work ethic, a Belgian Malinois is part of the US Navy SEALs that killed Osama bin Laden.
German Shepherd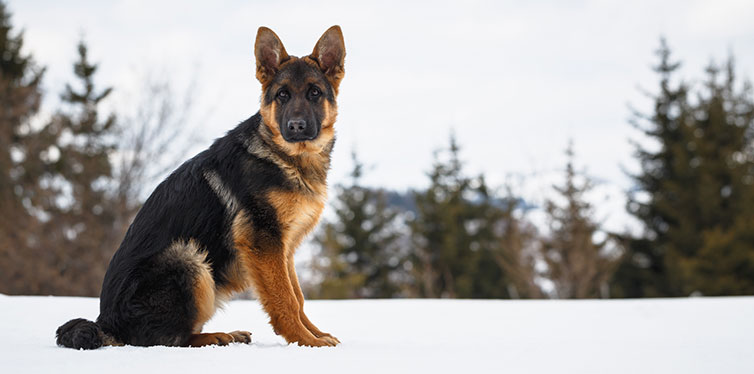 A favorite among the different branches of the US Armed Forces and other military units around the world, the German Shepherd is the quintessential police dog. The original idea behind Max von Stephanitz's creation of the GSD was to breed Germany's most beautiful and intelligent shepherd dog. However, this breed has proven its versatility across a number of professions. Whether it is acting in Hollywood films or rescuing people in distress, the German Shepherd can do it all.
Athletic and intelligent, the GSD is one of the best breeds for canine police work. It is the world's 3rd most intelligent breed, capable of learning tasks very fast. They are biddable, too. Their trainable nature makes them ideal for police work. When you combine this with their agility, speed, and strength, you have a dog that can subdue a fleeing suspect with relative ease. What is more important is that they can show a particular form of calculated aggression. They know when to show their teeth as a deterrent and when to go in for a forceful bite.
While the GSD is a formidable canine law enforcer, it does have a soft side to it. The GSD is loving, affectionate, and very loyal to its family. In this case, its loyalty is to its partner in the police force.
Bloodhound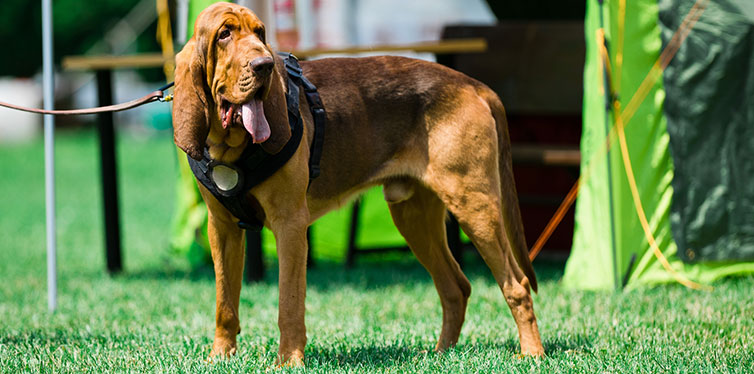 Bloodhounds may not be able to move as fast as the Belgian Malinois or be as agile as the GSD. However, when it comes to tracking abilities, no other breed can match the Bloodhound's tenacity. Despite having a sad look on its face, the Bloodhound can be very stubborn and single-minded when it comes to tracking a scent. Its main role in law enforcement is the tracking of escaped convicts and other fugitives.
Part of this remarkable ability is the sheer number and size of the olfactory bulbs of Bloodhounds. The olfactory bulb located in the brain is 40 times bigger in the Bloodhound than the human olfactory bulb. This gives the dog an astonishing sense of smell that is 40 times more acute than the human nose. More importantly, bloodhounds can have more than 300 million olfactory receptors in their noses. Humans only have about 5 to 6 million of these receptors.
Because of their remarkable scenting abilities, Bloodhounds are very useful in solving cases of missing individuals and lost pets. This breed is well known for following trails regardless of how old the scent is. The longest record is 330 hours or about 13 days and 18 hours.
Labrador Retriever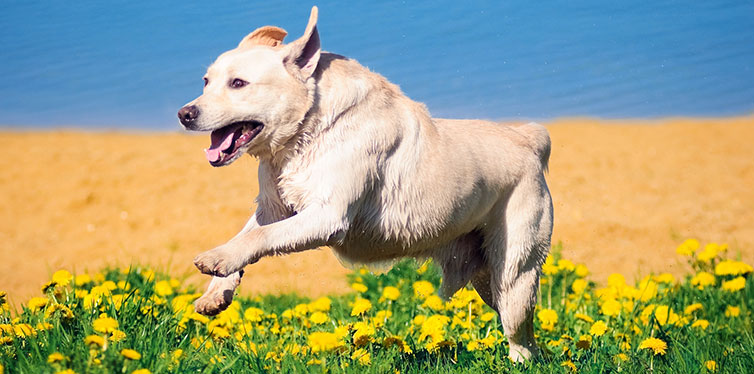 Labrador Retrievers may not be your first choice when it comes to police dogs. However, there is an increasing number of police units and military organizations all over the world that are now employing these gentle dogs in their work. It is an all-purpose dog, capable of performing a variety of roles that its human companion wants it to perform.
What makes the Labrador Retriever an ideal candidate for police work is its gentle demeanor and friendly temperament. In airports, most people will steer clear of a Belgian Malinois or a German Shepherd patrolling the floor. But when they see a Labrador Retriever, they feel more at ease. They know that this dog is not an aggressive type. What they don't know is that Labs are very intelligent and they can use their gentle temperaments to their full advantage.
Call it deception but that is what the Lab does with its charm. It puts people at ease while performing its work as a canine detective. It is a lot easier to catch crooks this way. Of course, Labs are perfect for contraband detection and screening; although they can perform other tasks as well.
Rottweiler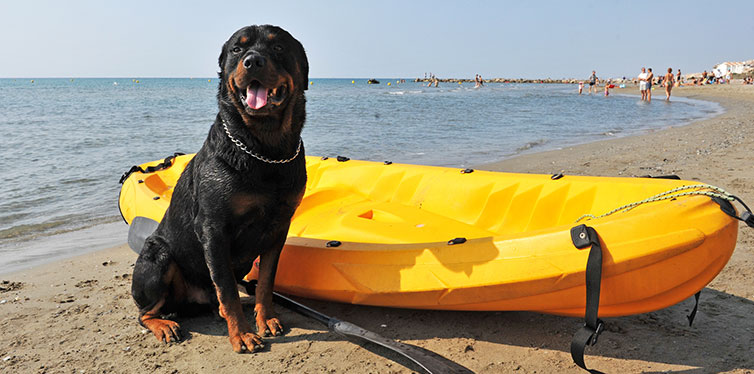 One mention of the Rottweiler and you will have people shaking in their boots. This is a breed that has been portrayed in the media as a malevolently aggressive and vicious dog. It is true that Rotties can be aggressive, but they are very trainable. What this means is that they can also show restraint when in a certain situation.
Rottweilers have a placid disposition, obedient, good-natured, and very devoted. Above all, Rotties are very eager to work. It is alert in its surroundings, a trait that it got all the way back to its Roman ancestors. And while the Rottweiler can show increased vigilance and situational awareness, it has the even-tempered nature of the Labrador Retriever. It will never go on the offense, unless under the direction of its handler.
This is why the Rottweiler is also a great police dog. Its fearsome reputation is enough to make troublemakers think twice. It has the speed, agility, and strength of a German Shepherd to subdue fleeing suspects. And it has good scenting abilities, too.
Attributes of the Best Dog Breeds for Police Work
It is easy to see why the 5 dog breeds we listed above are the best when it comes to police work. However, this does not mean that they are the only ones that can do a fascinating job of assisting law enforcement units. There are other breeds as well that can be great police dogs, provided they have the following attributes.
It is very important for police dogs to have remarkable intelligence. They must be able to assimilate new information and process it with lightning speeds. This allows the dog to make split-second action in response to a given situation. Police dogs undergo more rigid training than their human counterparts. Without the animal's innate intelligence, passing the training and a battery of tests will prove difficult for the aspiring four-legged detective.
Most of the dogs that police departments employ serve an important role in the apprehension of suspects. As such, police dogs have to show aggression when needed. You do not want a dog that is aggressive but very difficult to train or obey to your commands. What you want is a hound that you can train to bite and subdue dangerous suspects, such as those that have weapons in their hands. For ordinary wrongdoers without weapons, it is enough for the dog to show its teeth and issue a stern "growl" to the suspect. In many cases, this is enough to stop the individual on his tracks.
Subduing a fleeing suspect requires strength. A Chihuahua can bite, but its small size means a human can fling it with relative ease. But the combination of brute strength and the size of a true-blue police dog is sure to subdue any crook. Border Collies are the most intelligent canine breed in the world. However, their small frame and moderate strength are often not enough to subdue a fleeing suspect.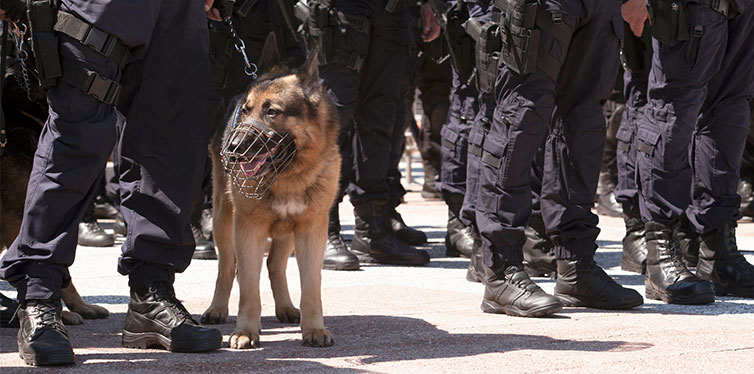 Whether it is for suspect apprehension or the detection of contraband, police dogs have to have an amazing sense of smell. While hounds are the best breeds for such a role, they may have issues with other aspects of police dog work. For example, there is no denying a Bloodhound's scenting abilities. However, when it comes to pinning down a fleeing suspect, you may need another police dog for such a purpose.
Police dogs are a special breed. They are like their human counterparts in law enforcement. Just as not everyone can become a police officer, not all dogs can become dog detectives.
Sources:
How Police Dogs Work – How Stuff Works
What Do Police Dogs Do? – American Kennel Club
Related Reads
Related Reads