The Best Cat Cone Collars in 2022
Last Updated: January 4, 2022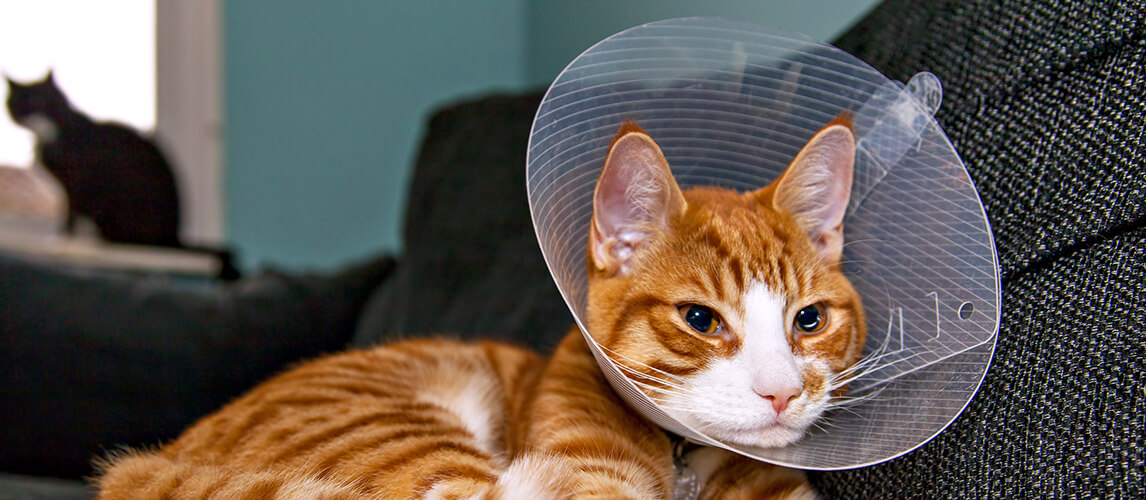 PetSide may earn a small commission from affiliate links in this article.
Learn more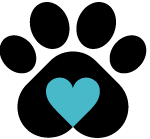 By Petside
Published 12:06 pm
While they are known as the cone of shame, a cat collar is actually an effective way of keeping your kitten from licking or chewing an injury, a post-surgery wound site, or even a patch of irritated skin. Cat cone collars may not your cat's ideal choice of headgear, but these certainly help any cat on the road to recovery. That is why we have compiled a list of 2021's best cat cone collars, to help you make the right choice for your recovering kitty.
Also known as Elizabethan or E-collars, cone collars need to fit properly to be effective. As they come in a choice of plastic, padded or inflatable, you can shop around to ensure your cat has the best comfort and fit. Check out our list below! It is sure to include some of the best cat cone collars around, and ones that passed the PetSide test.
The Best Cat Cone Collars
Cat Cone Collars Buying Guide & FAQ
What to Consider When Buying a Cat Cone
Also known as the collar of shame, a cat cone is essential to help an injured feline recover. When looking for the best cat cone, here's what you should consider:
Cone type: Cat cones are available in various types including, soft fabric, plastic, and even inflatable. You want to choose an E-collar that works best for your cat, as well as their wound location, and home environment.
Size and fit: Getting the right size and fit is essential. That means the cone will stay comfortably in place on your cat. Always measure your cat's neck or take the measurement from their collar. You need it snug enough so they cannot wriggle out, but not so secure that it restricts their breathing.
Adjustability: An adjustable cat cone collar is the best option, even after being measured to fit. Look for adjustable straps, loops, or Velcro tabs so you can fine-tune your cat's comfortable.
Comfort: This is the key factor in getting your cat to wear their collar: Comfort. Look for specific comfort aids, such as padded rims, to make sure your feels their best. Another consideration when it comes to keeping your pet comfortable is to make sure the cone doesn't excessively restrict their peripheral vision, which can cause cat anxiety.
Durability: You don't want your new cat collar to snap or trap your kitten. Look for durability in cat cones, such as with a strong yet flexible design. That way, it can give just enough when it comes up against solid barriers like fences or stairs.
Ease of use: As you are putting this collar onto a live animal, it needs to be as easy to use and stress-free as possible. Look for quick, yet secure fastenings, such as hook and loop or Velcro. That way, you can strap it on with no hassle!
Hygiene: Another important factor to consider is your cat's hygiene. You want to look for an easy-to-clean cone collar, as your cat will likely be eating and drinking while wearing it, among other things. Wouldn't want cat litter box remnants to get stuck in the collar! Don't worry- plastic collars are easy to clean. If you prefer a soft-padded cone, check that it can be washed in the washing machine before you purchase.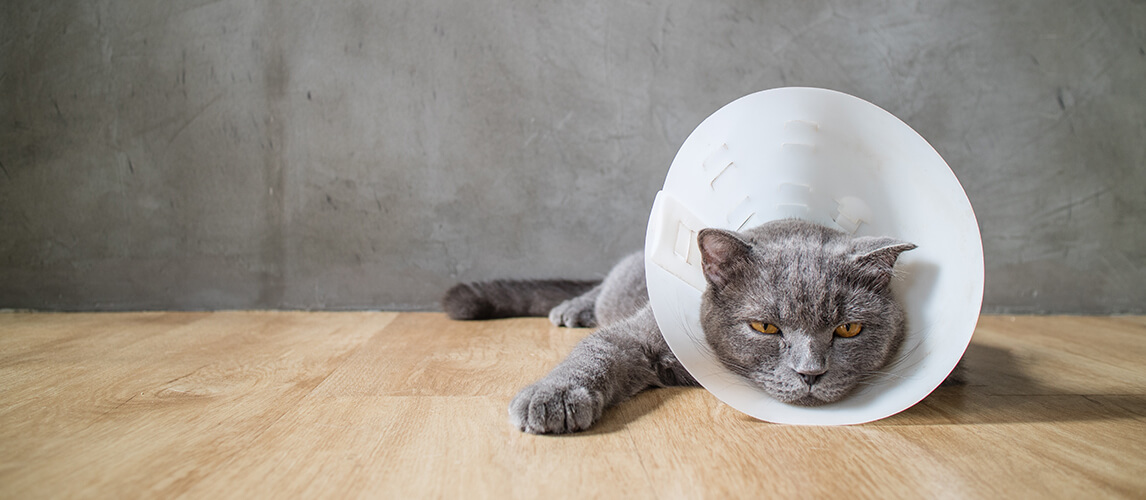 Benefits of an E-Collar for Cats
While they may not be the easiest thing to get your cat to tolerate, an E-collar is actually the best option to heal your sickly or injured cat. E-collars are typically designed for cats who have body or head wounds and cuts or skin irritations. Putting on a cone collar prevents your cat from making these wounds worse, and eventually, allows them to heal. Your cat may be reluctant to wear one, but the healing benefits of a cat collar certainly outweigh your cat's stubbornness!
An E-collar effectively keeps your cat from licking, biting, or scratching at open wounds or healing rashes, particularly if the injuries are located on their head. For this reason, cat collars play a key role in their wound's healing. A cat recovery collar will also stop an irritated and curious cat from removing dressings, bandages, or stitches, ensuring they get better faster. While at the same time, keeping potentially self-inflicted infections out!
Different Kinds of Cat Recovery Cones
Cat cone collars come in a range of designs, so you can choose the best style for your pet:
Clear Collars with Soft Edges
A step up from a basic plastic cat cone collar, these clear Elizabethean collars are an affordable alternative. They have soft-padded edges, which are kinder on your cat's neck, and won't irritate delicate or sensitive skin.
An alternative to the rigid cone collar, an inflatable collar features a durable inner tube that inflates to create a donut shaped E-collar. This shape is more comfortable for your cat to wear. Good for multiple uses, (such as a travel pillow), inflatable collars won't mark your furniture should your cat bump into it.
A fully padded cone collar is an Elizabethan collar that is covered in soft fabric. It is a good choice if you want your cat to be able to comfortably rest in their collar. They are quite substantial! However, the padded fabric can get easily damp and so are not the best choice for sloppy, playful kittens.
Recovery Suits for Cats vs the Cat Cone of Shame
The full body recovery suit vs the cat cone collar – which one is best for your cat? Let's take a look at both:
Recovery suits for cats: These recovery suits go over the torso and can be used to cover a wound or skin irritation. These suits prevent your kitten from biting or scratching the wound. They are designed so your cat can still eat, drink, and use their litterbox while wearing them.
Pros – Breathable, lightweight, and don't obstruct movement or vision. Machine-washable.
Cons – They don't offer as much protection as a hard cone collar does against a persistent licker or chewer.
Cat cone of shame: These are hard, padded or inflatable, E-collars thare a good go-to for most cat owners. Recovery collars work to keep your cat's head away from body wounds, and their paws from any healing areas on their head.
Pros – Provides durable and effective protection. They are scratch and chew-resistant. They are also well-priced and convenient to use.
Cons – Restricts movement. Not all cats are open to their "charms". You also need to supervise your cat when they wear one.
Our Top Pick
The Comfy Cone E-Collar is one of the best cat cone collars you can buy. It is available in six sizes, so you'll be able to find the ideal fit for your pet. Comfort is also a key factor. The whole collar is not only padded but foam-backed. The clever design means you can remove some of the plastic stays, if you need to dial down the rigidity of the collar, that is. The Comfy Cone is a good fit and easy to clean. It is a great buy for any cat riding the road to recovery.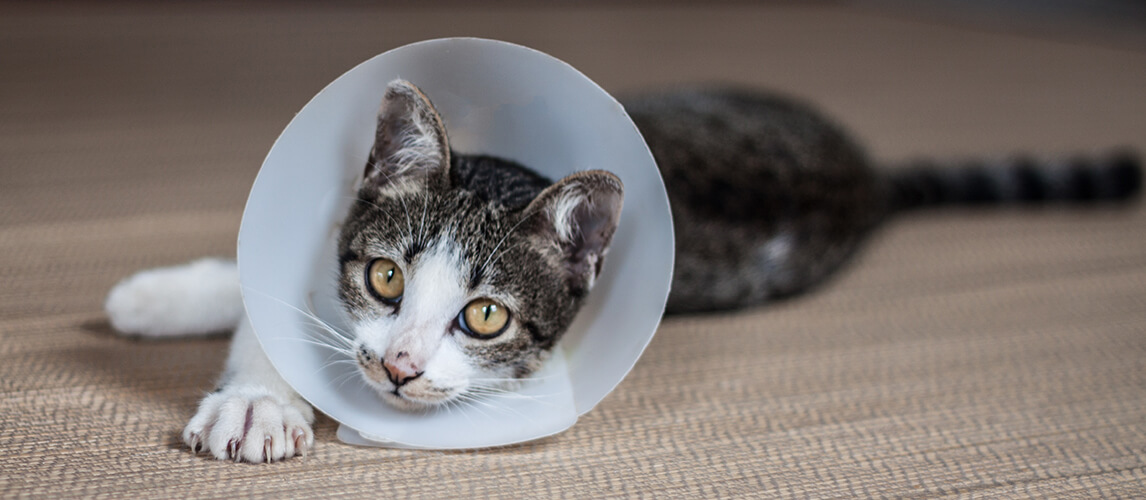 FAQ
Q:

What is an Elizabethan collar for cats?

A:

Also known as an E-collar, an Elizabethan collar looks similar to the ruff worn by people during the Elizabethan era. They are designed to prevent your cat from pawing, licking, chewing, and scratching an injury to their head or body. The collar is typically made from plastic or fabric. It has enough rigidity to stay flexed and shield your cat's head.
Q:

What if my cat won't wear a cone?

A:

Not all cats will take to the cone straightaway, but with a little patience, it's possible to get them to wear one. First, you want to ensure they are comfortable. However, if your cat is anxious or agitated, then take the following steps to try and get them used to the cat cone collar:

Make sure it's the right size and fit. When wearing their collar, you should be able to comfortably fit 1-2 fingers between the collar and your pet's neck.
When bringing the collar home, let your cat sniff and explore it first by placing it on the floor near to them.
When you feel they are ready, put the cat collar on. Be confident, but also be sure to reassure your cat the entire time.
Step back from your cat and let them get used to the collar. It's also worth moving back any furniture or household items which could obstruct your cat's space. This will give them more room to get used to navigating and moving around with the collar.
Keep the collar on your cat for as long as prescribed by your vet. Only remove it for mealtimes and if they struggle to feed.
Always keep an eye on your cat. Whenever they are wearing their collar, you must monitor their behavior so that you can help if they get stuck or the collar comes loose.
Q:

Is there an alternative to a cat cone?

A:

If, after all your best efforts, your cat is simply not willing to wear the E-collar, then there are a few other options you can consider:

Neck collars – These collars work in a similar way to a neck brace for humans. A cat neck collar is smaller than a recovery collar and is typically made from foam and flexible plastic. When properly fitted, it will prevent your cat's neck from bending, making them unable to reach a wound on their torso.

Recovery suits – A full body alternative to the cone or bandage, a recovery suit is designed to fit your cat's torso and legs. It is similar to a baby romper. They can still move around, but it fits more closely to their body.

Pet clothing – You could also use pet clothing as an alternative. Pet clothing includes a small dog sweater over the affected area. If your kitten's injury is on their upper body, then a cat "onesie" will also do, as it can cover their legs.

The art of distraction – If your cat is simply not the clothes or collar wearing type, you can always just keep a close eye on them and draw away their attention when you see them heading in for a lick. It's the most labor intensive option, but can certainly still work. Just make sure you have an ample supply of cat treats or toys ready for when you need to intervene.