The Best High-Accuracy, Low-Cost Aquarium Thermometers in 2022
Last Updated: January 4, 2022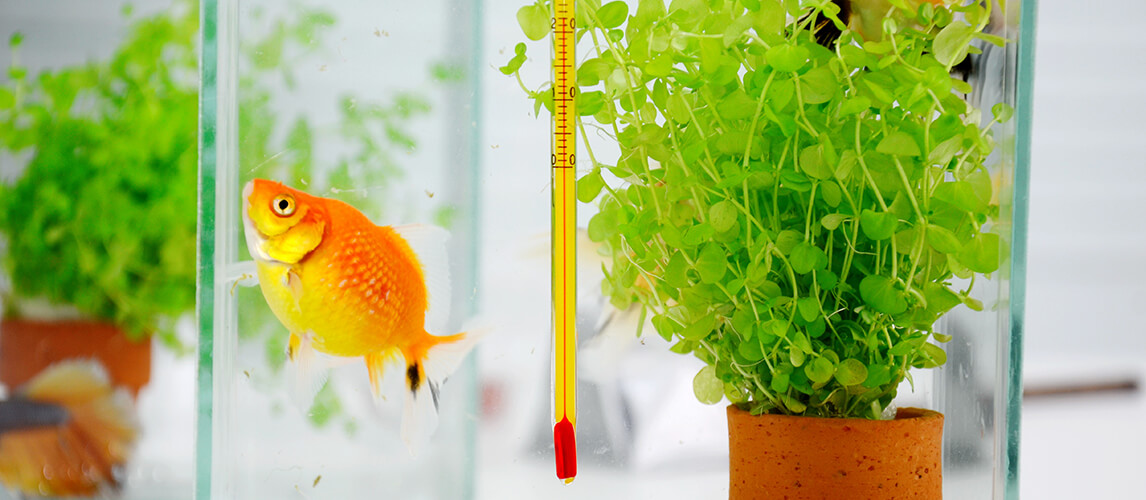 PetSide may earn a small commission from affiliate links in this article.
Learn more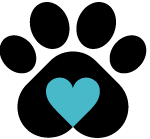 By Petside
Published 13:45 pm
Getting the environment right inside your aquarium is essential for the health and wellbeing of your fish. And monitoring and maintaining the correct water temperature should be at the top of your list. While most temperate and coldwater fish can thrive in water that is a consistent room temperature, external influences can cause the water temperature to fluctuate. And tropical fish come with the essential expectation that their water is correctly heated so they remain happy and healthy.
Key to managing and monitoring the water temperature in your fish aquarium is a thermometer that has been specifically designed for the job.  Fish tank thermometers work within the temperature ranges your fish need and offer accurate readings so you can create the right aquarium environment. We can help to take the heat out of choosing the best aquarium thermometer for your fishes' needs with our informative buyer guide.
The Best High-Accuracy, Low-Cost Aquarium Thermometer
High-Accuracy, Low-Cost Aquarium Thermometers Buying Guide
What is an Aquarium Thermometer?
Simply put, an aquarium thermometer is a tool you can use to accurately measure and monitor the water temperature inside your fish tank. It works in the same way as an ordinary thermometer but a fish tank thermometer has been designed for in-water use so you can ensure the water is perfect for your fish. Aquarium thermometers come in a choice of designs (more on this later) and are easy to use and install.
Benefits Of Aquarium Thermometers
As you need to create optimum conditions for your fish inside their tank, an aquarium thermometer is an essential piece of fish care kit. There are numerous benefits to using a fish tank thermometer:
They are easy to use and install
You get accurate readings at any time so you can monitor any temperature fluctuations which may be detrimental to your fish
They enable you to ensure your tank heater is working at its best
Some thermometers can be set to track the ideal temperature and alert you to any issues
An aquarium thermometer ensures your fish are happy, healthy and thriving in their temperature-controlled water environment.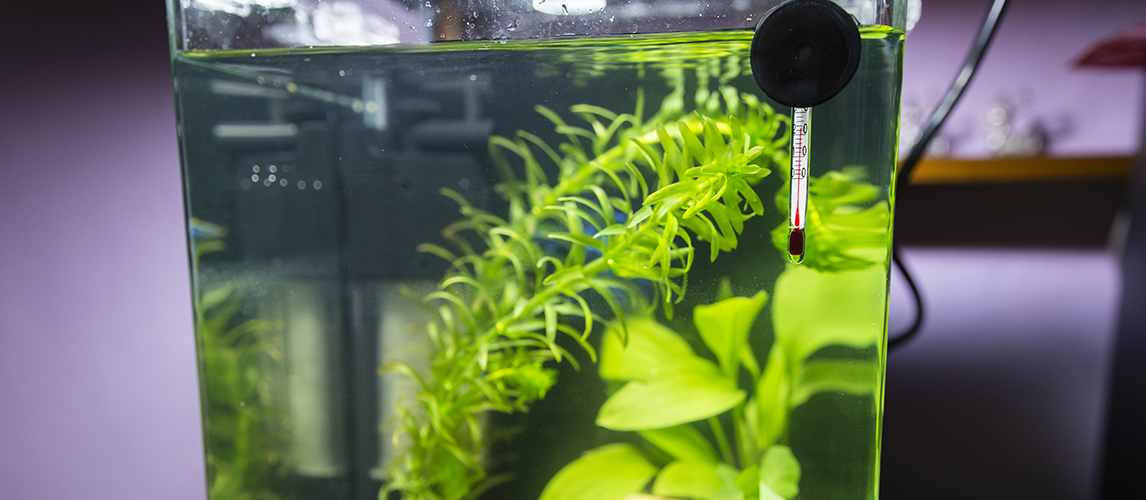 Features to Consider When Choosing an Aquarium Thermometer
Getting the right aquarium thermometer for your fish and tank set up is essential. Here are key things you need to consider:
Thermometer type: Choose the type of aquarium thermometer that suits your budget as well as your aquarium and type of fish you intend to keep. There are three main types – digital, standing or floating and stick on. Digital aquarium thermometers are the most accurate and a good choice if you have more temperamental and water temp sensitive tropical fish while the classic standing mercury or crystal thermometer is easy to use and when fully submerged, is suitable for a range of tanks and fish.
Durability: Not only does your aquarium thermometer needs to be built enough but it needs to be durable enough to be safe for use with live fish. Digital thermometers should include a probe so it can be safely used in the water and if you are opting for a classic standing style, it needs to be made from crack resistant materials, so the mercury contents don't enter the water.
Accuracy: As the temperature of the water can have a significant – and potentially fatal – impact on your fish, the accuracy of your aquarium thermometer is a crucial consideration. The more accurate the fish tank thermometer, the better so always look for a thermometer that is able to give a reading within +/- 1 degree Celsius. Digital aquarium thermometers with an LCD display tend to be the most accurate, and so offer the best aquarium thermometers but they can also be the most expensive.
Temperature range: As well as accuracy, check that the temperature range of your fish tank thermometer meets the needs of your aquarium inhabitants. If you keep tropical fish, then the thermometer will need a larger range - in both Celsius and Fahrenheit - than a thermometer used for cold water fish.
Readability: A thermometer you can't easily read is not going to be a helpful piece of kit so always opt for a thermometer with a clear display, especially if it is submerged under the water. Thermometers with LCD displays are the easiest to read, as are large display standing styles.
Easy to install and use: Try to avoid an over-complicated fish tank thermometer as it will take more time to use and with more components, is more likely at some point to go wrong. Even with a digital thermometer with a probe, you want to be able to quickly set it up and go.
Why You Should Avoid Thermometer Sticker Strips
Many aquarists prefer not to use the stick-on option when it comes to fish tank thermometers, despite how easy they are to fit and use. And the reason is that as these sticker-like thermometers have to be affixed onto the outside of the tank. And this can cause issues with the accuracy of the temperature readings. This is due to the external influences such as direct sunlight, central heating and general fluctuations in air temperature which can cause the stick-on thermometer to give an inaccurate reading of the water temperature inside the tank. And they are not that long-lasting either and tend to eventually peel off. So, for the health and water temperature safety of your fish, opt for another style of aquarium thermometer instead.
Different Types of Fish Tank Thermometers
There are three different types of aquarium thermometer commonly used inside fish tanks, with some more effective than others. The three types are:
Digital: Designed with a probe that sits underwater in your aquarium, and a display that fits above the water on the outside of the tank, digital aquarium thermometers are the most accurate as they are not affected by ambient temperature. However, they can be the most expensive to buy. The digital display is easy to read and can be set to either Celsius or Fahrenheit; most are powered by batteries and you can also choose between wired and wireless operation. Added features include an alarm if the water drops below the desired temperature and on the whole, digital thermometers are great value as they are durable and long-lasting.
Standing or floating: This type of thermometer needs to be totally submerged in the tank for it to work. As a result of this submersion, there is no digital display and the whole thermometer looks similar to ones you may find in your medicine box. Typically cheaper than digital thermometers, a standing or floating device is typically made from glass or plastic and you need to read the temperature display in-water. For security, most come with suction cups so you can stick them on the inside of the tank glass, while you can also get free-floating designs. Easy to use, there are downsides too – the glass can be fragile, they are not always as accurate as digital, but they do the job.
Stick-on: With a basic LCD display, stick-on thermometers need to be located on the outside of the tank and so are not as accurate as their readings don't come directly from the water temperature and can be affected by the room air temperature too. Their accuracy can also be hampered by direct sunlight, air vents and any heaters in the room. A basic way to measure water temperature, stick-on thermometers are not recommended, especially if you are keeping warm water fish.
The Best Temperatures For Various Kinds of Tank Inhabitants
As a basic guide to the temperatures you should be maintaining, depending on your aquarium and your chosen fish tank inhabitants, we've together the below:
Fish type Ideal temperature range
Saltwater tropical 75-85°F (24-30°C)
Freshwater tropical 65-85°F (18-30°C)
Reef tank 70-82°F (21-27°C)
Temperate water 59-82°F (15-28°C)
Cold water 60°-75°F (15-24°C)
Our Top Pick
For price, ease of use and quality, the compact Zacro LCD Digital Aquarium Thermometer comes out best in our aquarium thermometers review. Despite its small size, this is a big performer, with an excellent temperature range that covers both cold and warm water fish. With a suction cup fitting, it sits securely and the display is easy to read. We think this is a thermometer that both you and your fish will really warm to!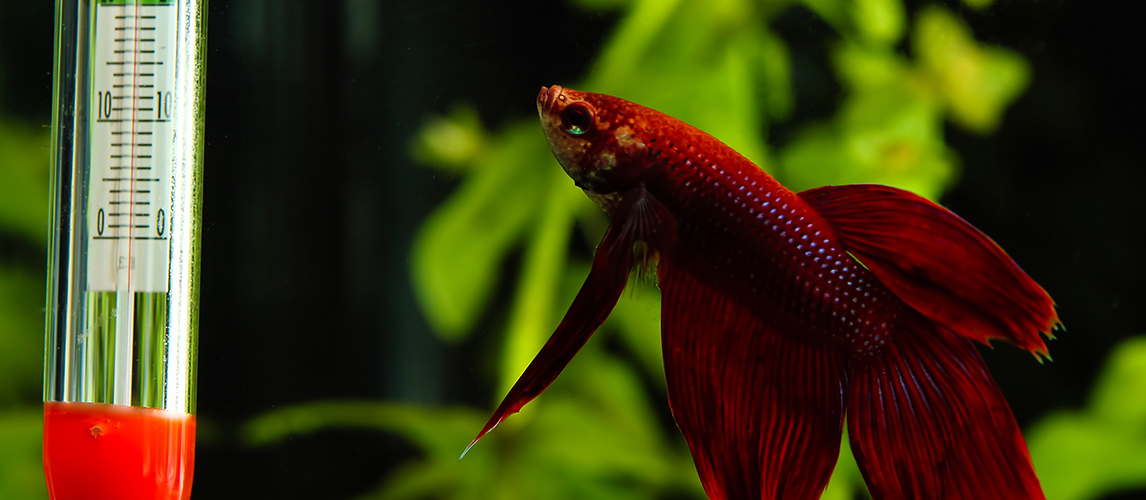 High-Accuracy, Low-Cost Aquarium Thermometers FAQ:
Q:

Where is the best place to put a thermometer in a fish tank?

A:

The location of the thermometer depends on the type of device you have. But in general, the best aquarium thermometers fully submerged in the tank water are going to give you the most accurate reading of your fishes' environment. Most digital thermometers include a probe which you place in the tank water, while standing thermometers are a classic design that goes directly inside your aquarium. The location of the thermometer when submerged is also key to getting the most accurate reading – it needs to be above the gravel line and on the opposite side of the tank to the heater, so the temperature reading is not artificially raised.
Q:

Can you use a regular thermometer in a fish tank?

A:

A regular thermometer, of the kind you would find in your medicine cabinet is not designed for use in water and so is not suitable to be used in your fish tank. Regular thermometers are not durable enough, meaning they could break and leak mercury into the water. They also don't normally have the right temperature range you need for tropical as well as cold water fish. To be safe, always opt for a fish thermometer that is specifically designed for aquarium use.
Q:

Are digital aquarium thermometers more accurate?

A:

Overall, Digital aquarium thermometers that come with an LCD display and an in-water probe tend to be the most accurate. They also usually have the widest temperature range – ideally you need a range from 50 degrees F (10 degrees C) to 104 degrees F (40 degrees C).
Q:

Are sudden changes in temperature harmful for my fish?

A:

Most fish are known poikilothermic, which means that when the water temperature changes, their body temperature changes to suit. And this can make them vulnerable to any sudden changes in water temperature that is outside of their normal range. Fish can detect even the smallest of temperature changes – some fish can sense changes as minute as 0.03C – and if left unrectified these temperature changes can cause stress and illness amongst your fish.
Q:

Can fish die if the water is too cold?

A:

Particularly if you keep tropical fish, if the water is too cold it can seriously affect their health, and even result in death if not caught in time. The first signs that their aquarium water is below their tolerance level is if your fish appear sluggish or start swimming very slowly, so it is essential that you regularly monitor and maintain the correct water temperature for your aquarium pets.