PetSide may earn a small commission from affiliate links in this article.
Learn more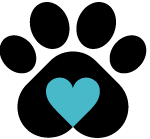 By Petside
Published 10:44 am
The fish bowl certainly has an interesting history. Its humble origins supposedly go back at least 4,000 years to Chinese culture and their long experience of keeping fish as pets in their homes. Allegedly, the invention of the glass fish bowl goes back to Versailles before the outbreak of the French Revolution when the product was invented by Countess Dubarry, Mistress of King Louis XV (1710-1774). As the human race thankfully began to take animal rights seriously over time, this versatile product has evolved from a bowl in which to store small fish to holding beautiful floral arrangements, homemade cocktails, and delightful party gifts. Although their function has changed, the high demand for fish bowls certainly hasn't.
Due to their acclaimed versatility, fish bowl manufacturers have competed against each other for years to produce the most innovative designs in a bid to impress prospective customers. Yet what one is right for you? To help you arrive at a conclusion, we've assembled the products that are undoubtedly the best fish bowls out there, so you can take a peek at their unique shapes and features in order to ultimately decide which one you want to flaunt as a centerpiece in your home.
The Best Fish Bowl
Best Fish Bowl Buying Guide & FAQ
Features to Consider When Buying a Fish Bowl
Does my bowl have a lid?: Bettas – the only types of fish that should ever be kept in a fish tank –must have a lid on their fish tank. Why so? Otherwise known as "Siamese Fighting Fish", betta fish are able to jump pretty high – around two to three inches out of the water, to be exact.
How many gallons of water can my fishbowl hold?: For bettas, a round fish tank able to hold at least 2.5 gallons is the bare minimum. You could not consider keeping your fish, even temporarily, in a fish bowl smaller.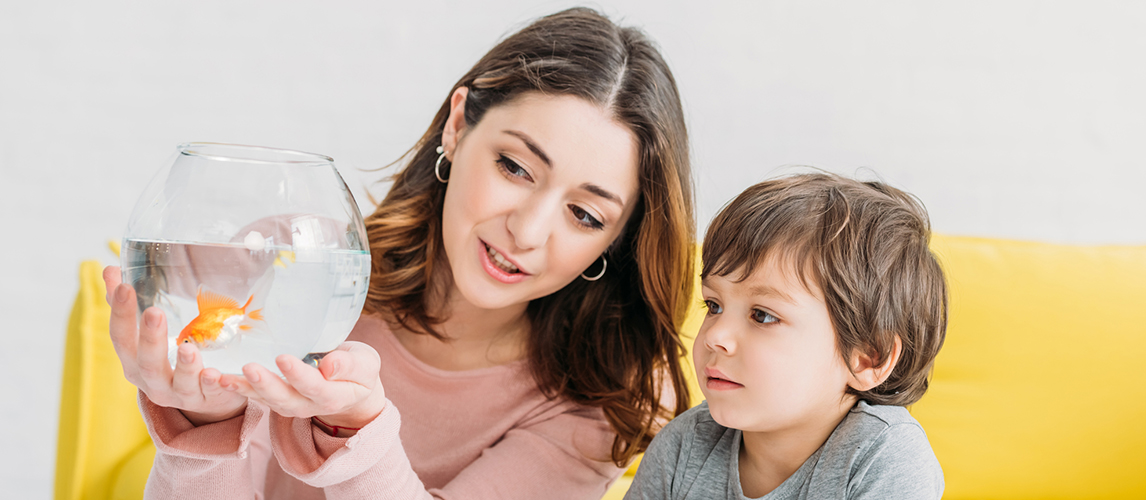 How to Set Up an Aquarium Bowl
We absolutely adore planted aquarium bowls. These adorable little gardens – containing no fish for obvious ethical reasons – is a great way to entertain your inner gardener, especially if you live in a small flat with no outdoor space to experiment in. We're no experts in this field, so we've taken the advice of Mari over at Aquariadise as well as commenting on a few of our favorite aquarium plants to include below.
To start, you'll need to gather a few essentials:
A fish bowl (for obvious reasons)
Substrate - A solid layer of potting soil with a compact layer of pool layer or play sand should do the trick.
Lighting - As aquarists tend to opt for low-maintenance plants in their plant bowls, lighting isn't too important. Rather than save up for top-of-the-range aquarium lights, simply rummage about for an old desk lamp.
Low-maintenance plants - When it comes to aquarium bowls, the easier the better. In particular, we're just obsessed with Java Moss. This plant is certainly a crowd pleaser as a result of its speedy growth and ability to grow along driftwood, rocks, and other hard surfaces. Likewise, the intriguingly named Dwarf Baby Tears plant amazes buyers due to the intricate small bubbles that form on their leaves whenever they happen to be producing oxygen.
Plus, there is always the option to add a few invertebrates to your tank. Both nerite snails or dwarf shrimps would be delighted to call your nifty homemade aquarium their new home!
Now that you've gathered the required goods, it's time to take on the challenge of setting up your plant bowl. After adding your substrate to the bowl, plant your plants before adding your water. Now all you've got to do is plonk your brand new bowl near a power socket, turn on the light, and leave the contents of your bowl to blossom. Be patient and wait a couple of weeks until your plants have grown before adding any aquatic shrimps and snails to their new dig.
Related Post: Automatic Fish Feeders
Our Top Pick
Out of all the stylish and innovative fish bowl designs exhibited in this buying guide, what brand and shape would we select to accentuate the decor within our own home? We believe Koller Products' Panaview 1-Gallon Globe Fish Bowl would function as a focal point in any living space. Its panaview design is surprisingly made from shatterproof plastic rather than the glass it appears to be. Yet in households containing boisterous pets and children who appear to enjoy nothing more than knocking over your ornaments, this bowl's durable construction will prevent any accidents from occurring. All in all, it's the perfect addition to any family living space.
Related Post: Aquarium Heaters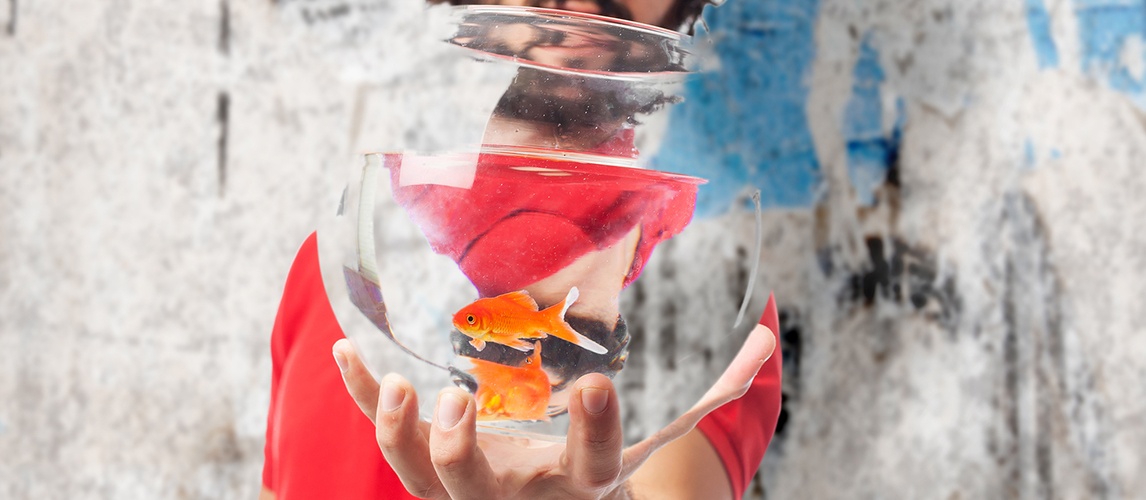 FAQ
Q:

What fish can survive in a bowl?

A:

Picture a bubble fish bowl in your mind. We guarantee that fish you were imagining was a goldfish, right? In fact, goldfish should never be kept in fish bowls. These large, messy pond fish should be kept in an environment with optimal filtration, unlike small fish bowls who don't even contain enough space for a goldfish, never mind a protein skimmer to filter their waste!

Bettas (Betta splendens) are the only type of fish that you should even consider keeping in a fish bowl – if this arrangement is temporary, that is. This is due to bettas' preference for living in freshwater as well as their territorial nature towards other betta fish. Yet the atrocious treatment of betta fish poses by fish shops and owners alike poses several problems. Firstly, one common misconception is their ability to survive in "complete ecosystems" that only contain one solitary plant for them to feed off of. This is not a suitable environment for any fish to survive in! Especially for bettas; if a plant is placed at the top of a fish bowl, it may restrict a betta's ability to obtain oxygen, as this breed obtain their oxygen from the water's surface.

Secondly, as betta fish are native to Asia and commonly reside in slow-moving streams or ponds, they thrive when their water temperature is heated between 76-82 degrees Fahrenheit. Likewise, these steams and ponds contain an abundance of real ecosystems to explore which a tiny fish bowl is unable to offer.

Finally, as betta males become incredibly territorial when placed in a fish tank with another of their kind, another common fallacy is that they should be kept alone. Accordingly, many owners isolate them away from any other species of fish for the rest of their days. This is actually a misconception – bettas enjoy the company of other species like snails to keep them entertained. Yet fish bowls aren't large enough nor possess the correct conditions for other species to keep betta fish company. This leads to the a betta being sentenced to what PETA accurately depict as "a dull, lonely, and slow death from starvation".
Q:

Can fish live without a filter?

A:

Yes; fish that live in ponds such as algae eaters and kois can survive without a filter, whereas fish who commonly reside in streams and rivers in the wild cannot. However, there is a substantial difference between fish surviving and fish thriving. Regarding fish bowls, their minuscule size means it's even more essential that a good water filter is in place, as the small amount of water means the water becomes dirty on account of bioload faster.
Q:

How do I increase oxygen in a fish bowl?

A:

There exists several ways to manually increase the amount of oxygen entering a fish bowl. Our favorite oxygenation method, largely on account of its simplicity, requires only a clean cup, some water, and your fish bowl.
Taking a reasonably large cup or container, scoop water out from your fish bowl.
Holding the cup containing the aquarium water a fair distance above the tank, simply pour it back in – anything that moves the surface water increases oxygenation!
Scoop, aim, and repeat several times.
Q:

How many fish can be kept in a glass fish bowl?

A:

Honestly, you shouldn't keep any number of fish in a small glass fish bowl indefinitely . If you've ever witnessed a fish held captive in a small bowl 'glass surfing' – that is, when they swim over and over again up and down the glass of the tank – this is because they're bored out of their minds due to a complete lack of stimulation. Worse still, if a fish often partakes in "glass surfing", this may mean that they're stressed out – especially if their fish bowl is overcrowded.