PetSide may earn a small commission from affiliate links in this article.
Learn more
When purchasing a puppy it can be difficult to know what questions to ask, dog breeder reputations can feel quite intimidating, and as a result, inexperienced dog owners feel they shouldn't ask questions for fear of insulting the breeder's intelligence. However, a reputable breeder will welcome questions from prospective puppy owners, and even ask some in return.
So if you're thinking of purchasing a new puppy directly from the breeder as opposed to a shelter, we have put together a nifty list to help you understand what to ask when buying a puppy. Hopefully, the questions below should help you to work out whether you're dealing with a responsible breeder or just another puppy farmer.
1. Can I See Both of the Parents?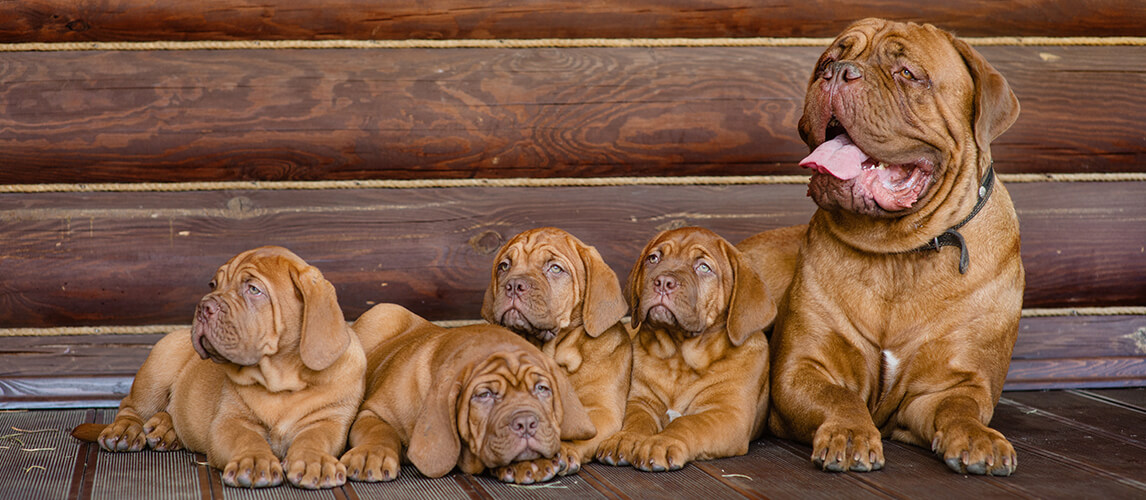 It might be that the breeder doesn't actually own the father, however, they should have images and documented evidence of the stud dog used to inseminate the mother. Breeding dogs is often a game of the breeder having to source a stud from another owner as opposed to owning their own stud.
Most breeders of good standing will have carefully vetted the stud before committing, which means they should have evidence of the arrangement (usually a contract) and full medical information for the health of the stud. By seeing both parents you can ensure that the puppies are truly purebred dogs.
2. Can I See the Puppies with Their Mom?
Getting to see the puppies with their mother doesn't only allow you to see how they interact with their parent, but you will also be able to check the health and wellbeing of the mother. Ideally seeing both of the pup's parents will help you to paint the entire picture, but if only the mother is available, be sure to examine her closely.
Many puppy farms will have false environments for welcoming prospective customers, with the mothers being kept elsewhere. This way you can ensure that the mother is being well cared for alongside her pups and decide for yourself whether the mother looks healthy enough.
3. How Old are the Puppies That are Being Adopted?
A puppy should never be adopted out earlier than 8 weeks of age, with the ideal weaning and adoption age being between 8-12 weeks. A puppy that is weaned too early can develop severe attachment issues and suffer depression upon being taken away from its mother.
The 8-12 week timeframe for puppy adoption allows the puppy to separate from its mother more steadily and be better prepared for adoption.
4. Are the Puppies Weaned from Their Mother?
A puppy must be fully weaned from its mother before it is adopted. An unweaned pup would require bottle feeding and hand-rearing for several weeks upon being taken home if it's not weaned in time.
Furthermore, if a puppy is not weaned in a natural timeframe they run the risk of lacking essential nutrients that they get from the mother. Responsible breeders will always ensure the puppies they are selling are carefully weaned and happy before you bring your new puppy home.
5. How Old is the Mom?
The mother should be no younger than 1 year of age (preferably two), and should absolutely not exceed 7 years of age. If a bitch is bred too soon she is considered a marginal mother dog who is still very much a puppy herself.
Dogs don't reach adulthood until they have surpassed the 1-year mark, meaning the mother would still be developing in small ways and potentially still growing depending on the breed. Therefore it is absolutely crucial that the mother sits within the 1-7 year age range.
6. How Many Litters has the Mom had so Far?
A mother dog should never be overworked when it comes to breeding. A good breeder will be mindful of this fact and make a point of not breeding a bitch too frequently or too many times in her lifetime. If the mother has had more than four litters you should exercise caution.
The legal limit is currently set to six litters per mother. However, the AKC has decided on its own limit of four litters to a female owing to the possibility of more than four litters having a negative and potentially lethal impact on the mother's health.
7. Have the Puppies Been Wormed and Checked?
It is the responsibility of the breeder to have the puppies wormed and checked over by a vet before they leave for their forever homes. You should request proof that the puppy has been checked and wormed before agreeing to purchase a puppy.
It can be easy for a non-trustworthy breeder to say they have had the puppies checked, therefore asking for proof is vital to ensure you have a healthy puppy. If you want to ask a dog breeder these types of questions, any good breeder will encourage you and be prepared to prove anything you need them to.
8. Have the Puppies had Their Vaccinations?
The first vaccines for a puppy should be done around 6-8 weeks of age. Great dog breeders go out of their way to ensure this is done for you, with the health certificates and vaccination certificates to prove it as it tends to be the breeder's responsibility.
However, if you are planning on adopting the puppy as early as possible, there is a chance that they may not have had to opportunity to get the puppy vaccinated before they're taken home. If this does happen a legitimate breeder will be completely transparent about it and be able to provide advice as to how to proceed.
Additional Things to Consider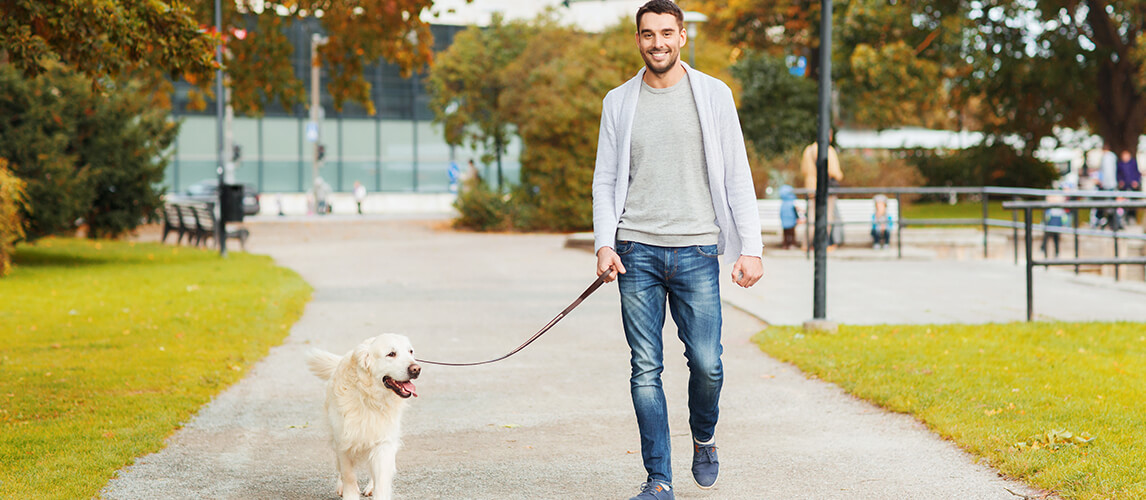 On top of the types of questions, you should be prepared to ask the breeder directly, you may also want to consider a few additional points for your own reference later down the line.
The apparent health of the puppy
A puppy shouldn't be struggling with any obvious health conditions so early in its life unless it is being kept in poor conditions. This means checking if they have:
Clean eyes (no gumming up, swelling, crusting, or significant watering)
Clean ears (no seeping, bad smell, reddening, or crusting)
A normal stomach (not bloated or distended)
A clean rear end (no dried fecal matter, sores, bald spots, or reddening)
Healthy skin (no flaking, sore spots, bald patches, seeping sores)
A healthy mouth (pink gums and white teeth if they have any)
Healthy fur (shiny, not brittle or dry)
A strong gait (able to walk well with no obvious difficulty – depending on age)
Ideally, you should be provided with a health guarantee by the breeder anyway, but be sure to check the puppy closely yourself. A trustworthy breeder won't mind you taking your time.
The apparent health of the mother
As we mentioned with the questions you should be asking the breeder, you should take into account the health of the mother upon seeing her. You should also check that she is the actual mother. This can be done by checking to see if she has enlarged nipples and a sagging stomach from having recently given birth and been feeding her puppies.
Generally speaking, you should also look for any clear signs of mistreatment or neglect. Generally, these signs correspond with the red flags listed above.
The overall impression from the breeder
If you were made to feel uncomfortable, pressured, or otherwise uneasy by the breeder, then they may not be the one for you. A good dog breeder will have plenty of experience with previous puppy buyers and will respect your right to ask as many questions as you wish and closely examine the dog if it will put your mind at ease.
There should be no pressure and you should not be made to feel as though you are being an imposition. It shouldn't matter how many dogs you want to look at or how long it takes you so long as you find the right puppy for you.
How readily available was important info?
If a potential breeder is unwilling to produce paperwork or evidence of health tests, paternity, vaccinations, or worming then it could be a red flag to indicate that they don't actually have that information available.
Responsible breeding means documenting everything for prospective buyers to look over. You should ensure that the breeder can produce the information requested before committing to a purchase or they might not be the right breeder for you.
Questions a Breeder Should Ask You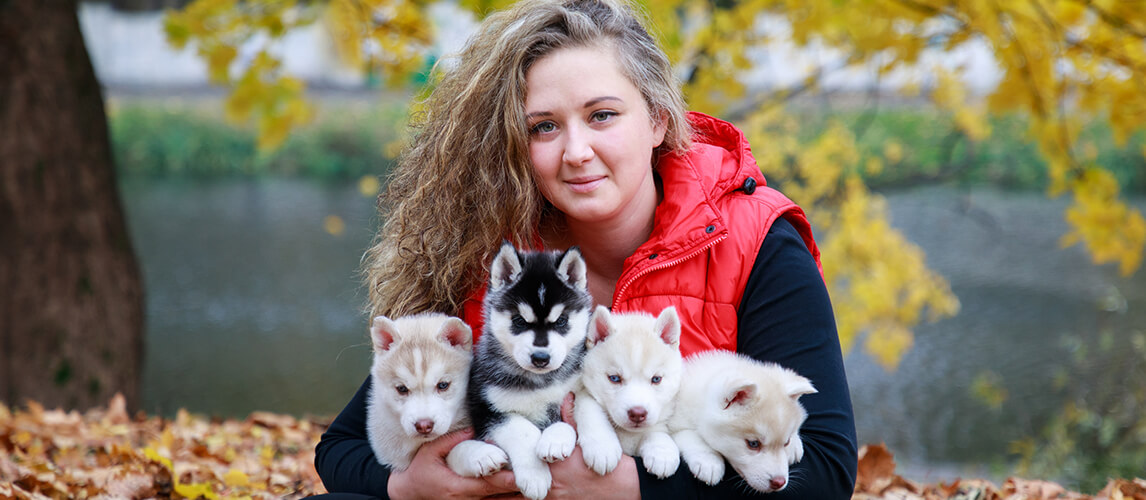 Reputable breeders put a heavy focus on ensuring a good life for their puppies. If a breeder truly cares about the well-being of their puppies, they should want to ask you questions to ensure that the puppy is going to a good home. So when buying a puppy, be prepared to have to sell yourself to the breeder as much as they need to sell themselves to you. Here are some of the key questions you should expect a breeder to ask you:
Have you owned a dog before?
They will likely want to know if you've owned a dog before in order to gauge how familiar you are with the requirements for proper dog care. This is a great question for a breeder to ask as it shows they are concerned about the puppy's wellbeing.
What are your reasons for adopting a puppy?
This is another fantastic question to weed out the prospective buyers that are only looking to buy a dog as a placeholder until something better comes along. Many good breeders won't necessarily agree to sell someone a puppy if the puppy is a gift for another person, as it suggests the prospective buyer hasn't put much thought into the puppy's future care.
Why are you interested in this particular breed?
There are many things a wannabe dog owner should research before committing to a specific breed and bringing a new puppy home, including:
The breed's temperament
Possible genetic diseases or any other serious health problem likely to arise
The ideal exercise regime
What activities the breed is best suited to – companionship, work, hunting, dog sports, and other dog-related activities
The puppy's diet requirements
Grooming requirements
The proper socialization techniques
If the breeder is asking about your reasons for selecting a particular breed, they are checking whether you are prepared to take on everything that the breed needs. If you feel like you're not 100% sure of the requirements for the puppy in question feel free to ask the breeder anything you need to know.
A professional breeder would rather you go away with the correct information than feign knowledge that could later prove detrimental to your new puppy's wellbeing.
Do you have other pets? If so, what do you have?
Many breeders ask this question to try and understand the environment the puppy will be entering. They may also be able to advise whether or not the puppy you are looking to get will mesh well with your existing pets, as some breeds are known to have difficulty with small animals, children, or other dogs, though this isn't the be-all and end-all by any means.
Who will be looking after the dog most of the time?
If the person that will be spending most of their time with the dog is not available at the time of viewing the puppy, the breeder is within their rights to request that they meet the other members of your household before agreeing to a sale. This is also recommended so that all future owners of that puppy can be confident in their relationship with it.
Where will the dog be kept during the day?
A responsible breeder will show interest in the dog's living situation. Some dog owners may intend to crate-train the dog in order for them to spend the middle of the day in said crate until they return home.
Any and all information about where the puppy will spend the majority of its time will help the breeder to understand your intentions and perhaps advise on the best course of action.
How long will the dog be left alone during the day?
So many dogs are purchased and then left to their own devices for a large portion of the day. As a result, you can find that adult dogs may be undersocialized or become stir crazy which can lead to destructive behavior. Some breeds also have a natural tendency to develop separation anxiety or become stressed by isolation.
By knowing the amount of time your puppy will spend alone, the breeder will be able to advise whether or not this puppy is the right fit for you.
What is your home like? Is the garden fenced? Is there space?
A fenced-in yard is imperative for all dog owners as their leisure space should be completely secure and escape-proof. Additionally, the dog breeder may want to see the size or state of your home before agreeing to a sale.
For example, if you are looking to adopt a large breed dog but live in a small apartment with no garden, the breeder may turn you down or at least ask additional questions as to how you plan to entertain and exercise your new furry friend.
Finding a Reputable Breeder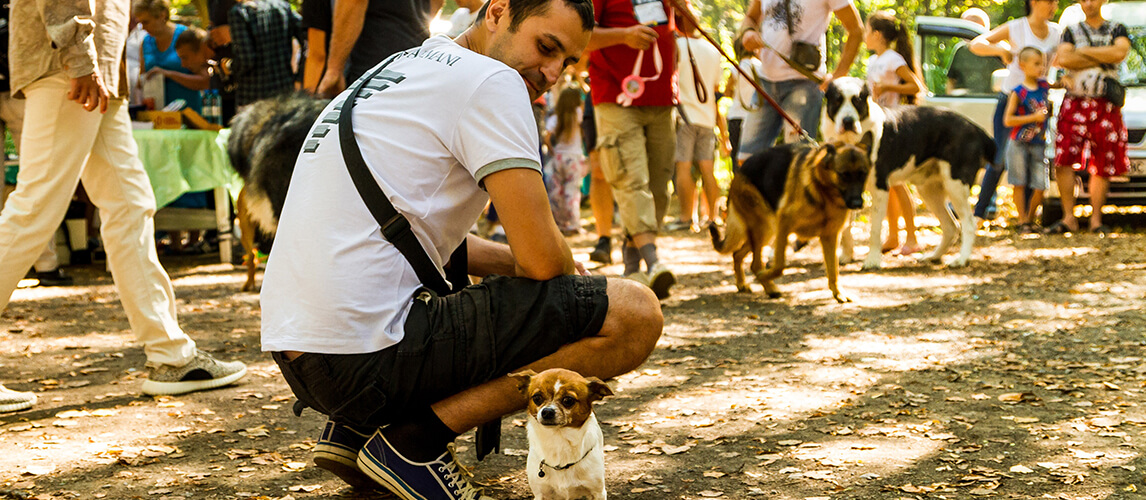 It can be difficult to find a responsible dog breeder when the puppy market is flooded with home breeders and puppy mills breeding solely for profit. Our best recommendations for finding responsible breeders are as follows:
Check the American Kennel Club marketplace
All of the breeders listed with the AKC marketplace have been carefully vetted to ensure you are guaranteed well cared for puppies. Additionally, the puppies bred by sellers in this marketplace are registered with the American Kennel Club. As a result, you're able to read up on the puppy's parents and trace its heritage back as far back as the bloodline has been registry.
Puppies registered with the AKC tend to have more guarantees as to their behavior in adulthood and potential health problems owing to the breeder's ability to provide proof of the puppy's immediate and extended family history. AKC breeders are also required to have a health certificate and proof of any health testing (including how many shots the puppy has had) available for any potential owners to look over.
Though it must be stressed that breeders cannot provide veterinary advice, they can only provide paperwork to prove any veterinary care the puppy has had by a licensed veterinarian. You can ask a dog breeder about their personal experiences with the breed but this is not professional medical advice.
Check with a breed club
If you have a particular breed in mind, you may want to look into the official breed-specific club and ask their advice as to where you could procure a healthy, legitimate puppy. Many breed clubs will have trusted breeders that they will send prospective dog owners to, which can usually be trusted to provide a professional service.
However, these breeders should not be taken on blind faith and we would still recommend asking all the right questions are carefully examining your puppy before committing to adopting them.
The Importance of Asking The Right Questions
The questions you ask a dog breeder can have a tremendous impact on your dog's life in the future. Knowing the right questions to ask when buying a puppy can help you to highlight not only any potential problems with the breeder but also any gaps in your own knowledge that might need filling with the help of the breeder.
Asking questions should go both ways with a reputable breeder to enable you both to feel comfortable with the transaction, so don't be afraid to get stuck in and ask as much as you need to to be happy before giving your beautiful new puppy a loving forever home.