PetSide may earn a small commission from affiliate links in this article.
Learn more
You may have never heard of the Red Golden Retriever, which would be perfectly understandable as they're not the most common breed going, especially when the classic Golden Retrievers are so well known. But these beautiful mahogany-toned pups are growing in popularity owing to their unusual coat color, trainability, and beautiful temperaments. If you're thinking of adopting a Red Golden Retriever puppy, we've put together this guide to help you better understand this charming breed.
Breed Facts
Red Golden Retriever puppies are bred from a line of Golden Retrievers that are more closely related to their Irish Setter ancestors.
The Red Golden Retriever's color can vary from a more golden-fawn to deep mahogany.
The main difference in appearance tends to be the fur length, which can be short than standard Golden Retrievers.
They are not recognized by the American Kennel Club or World Canine Organization.
They are classed as purebred Golden Retrievers, but the red coat color is unacceptable in the Golden Retriever breed standards.
Red Golden Retrievers have been steadily gaining popularity since the mid 20th century.
History of The Red Golden Retriever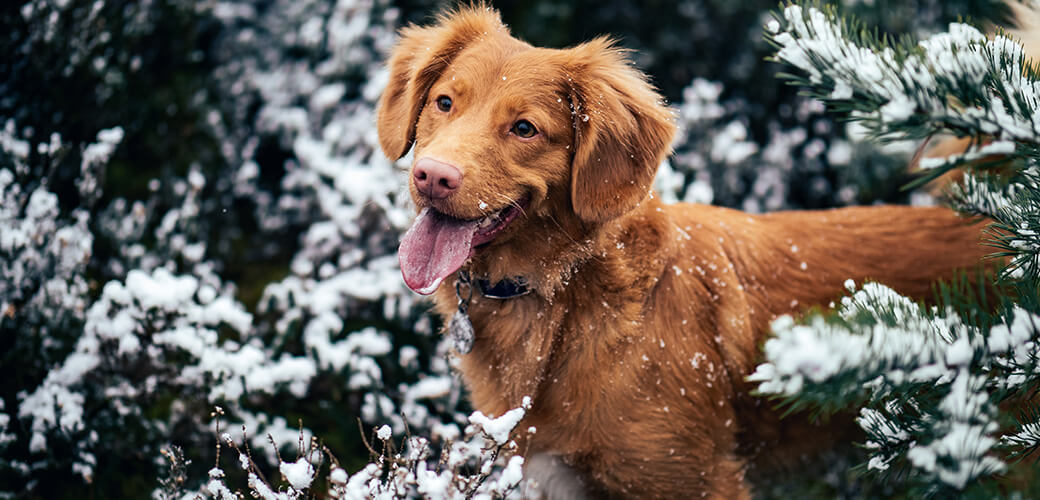 First of all, we should start off by saying that the Red Golden Retriever is a pure-bred Golden Retriever that has just got a little more color to its fur than its Golden siblings. As a result, they have a shared history.
Golden Retrievers were originally bred for hunting in the Scottish Highlands in the 19th century. The breeding of the Golden Retriever can first be attributed to one man by the name of Lord Tweedmouth.
He had decided to he would take it upon himself to engineer the ideal gun dog using the Golden Retrievers of the time combined with the Bloodhound, Irish Red Setter, and the now-extinct Tweed Water Spaniel.
Over a period of 50 years, Lord Tweedmouth created a canine that had the long coat necessary for the harsh highland climate. Furthermore, this breed now had the finely tuned nose of a bloodhound to sniff out prey, and the self-discipline of retrieving prey without mauling it.
This "soft-mouth" as it was named in gun-dog circles is a trait that Golden Retrievers are very much still known for to this day, with people photographing their Goldies holding delicate objects such as eggs in their mouth with ease.
In 1908 the Golden Retriever was shown in Great Britain, where it rapidly gained popularity as the perfect gun dog. It then traveled to America shortly thereafter where the American's not only adopted the Golden Retriever for its ability as a gun dog but it also became one of the most popular dog breeds for families due to its gentle nature and dignified temperament.
Red Goldens are believed to have been bred at the same time, but not as openly recognized as a part of the breed owing to the preference for people to own a dog whose color matches the name. The red coloring of dark Red Golden Retrievers is thought to be directly linked to their Irish Red Setter ancestors.
Red Golden Retriever Breed Profile
There are a couple of minor differences between the Red Golden Retriever and a typical Golden Retriever, as well as one rather major difference that gives it its name. Here we've put together the appearance information for a Red Golden Retriever along with some of the more general information you might want if you're thinking of adopting one of your own.
Appearance
Red Golden Retrievers are considered large dogs and typically have the same measurements as typical Goldies (as listed below), with the major difference being in the coat.
Weight: 55-75 pounds depending on the gender with the male dog being larger
Height: 21.5-24 inches depending on the gender with the male dog being taller
Build: Slender, lean, and muscular. The neck can sometimes be longer
Coat Color: between dark golden-fawn and mahogany
Coat Length: Medium however Red Golden Retrievers can have slightly shorter fur
Coat Type & Texture: Double coat with a wavy texture
Temperament
The Red Golden Retriever has a naturally strong urge to please its owner, much like their Yellow Golden Retriever siblings. As a result, they are much easier to train than other highly intelligent dog breeds as they don't tend to have the same amount of stubbornness.
Red Golden Retrievers are not particularly loud dogs, which means they're a good fit for families with young children where one might worry about the dog getting wound up and causing a scene. Though this does also mean that they're not natural guard dogs either.
They're affectionate, empathetic, gentle dogs that will love their family deeply and be extremely loyal for their entire lives. Anyone lucky enough to own a Red Golden Retriever is going to be getting a friend for life.
Exercise
Most Red Golden Retrievers are not overly demanding when it comes to requiring exercise. They are of a moderate energy level, so it would mean that any owner would need to plan around a couple of half-hour to hour-long walks a day in order for them to stretch their legs.
In that time it would be well worth bringing a ball along and training the Red Golden on recall so that they can get a little extra exercise in the form of a game of fetch. Their natural tendency to want to retrieve makes fetch the ideal game to play.
Mentally they are highly intelligent dogs (hence their regular use as working dogs), so anyone thinking of owning one needs to be prepared to do some regular training sessions and provide plenty of puzzle toys for them to pass the time. A bored dog can easily become a depressed dog.
Feeding
Being a large breed Golden Retrievers require a diet that can provide them with the adequate protein and nutrients necessary to support the rapid growth phase. Whether you decide to feed your Red Golden Retriever wet or dry food, be sure to check the protein content and try to stick with food that either specifically caters to the breed, or is formulated for large breeds.
Large breed puppies have a tendency to develop in an unusual manner if they're not provided with the right amount of minerals, vitamins, and nutrients that they need. Some large breed puppies can develop a deformity known as knuckling. Knuckling is when the tendons are not able to grow at the same rate as the skeleton, causing the joints to buckle and the feet the be tucked underneath their body instead of holding their weight properly.
Work
Though they were originally bred to work as hunting dogs, Red Retrievers are extremely easy to train and can also be used for a variety of other roles such as:
Search and rescue dogs
Therapy dogs
Most service dog jobs – Including but not limited to guide dogs, hearing dogs, epilepsy dogs, and diabetes dogs.
Tracking dogs
Contraband detection dogs
Each of these rolls utilizes some area of the Red Golden Retriever's natural ability, be it their highly sensitive sense of smell, soft mouths, responsiveness to training, or gentle, empathetic temperaments. They are particularly favored as service dogs because they are so personable and often form fantastic bonds with their handlers.
Grooming Requirements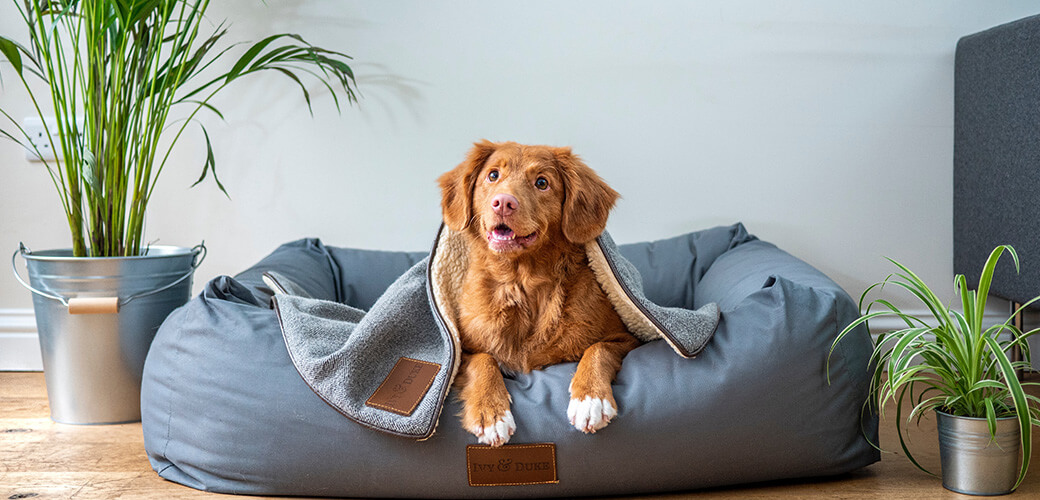 These are truly beautiful dogs, however, the Red Retriever does require quite a lot of grooming to keep that flowing fur in check. Here is a list of grooming requirements you will need to keep in mind if you're thinking of adopting a Red Golden Retriever puppy.
Constant Brushing
That long wavy coat can get some nasty mats if left unattended for too long. Make sure you get yourself a high-quality grooming brush and maintain a regular brushing routine – ideally every morning just for a few minutes, but be sure to get every part of their coat including the thick shaggy hair that covers their ears.
An Occasional Haircut
The fur around the ears, tail, feet, and neck can get quite long and wild on Red Golden Retrievers. If you're wanting to keep them looking smart and limit the possibility of matting you'll want to get them trimmed a couple of times a year just to keep on top of it.
It is possible to do this yourself as they are generally calm when being trimmed, though many Golden Retriever owners turn to professional groomers for the task to ensure a neat cut.
Bathing
Not exactly the favorite activity of most dogs, but your Red Retriever will require a bath from time to time, just to keep their hair sleek and manageable, as well as to maintain proper hygiene. It's essential that you pick the right canine care products for the job that are specifically designed to nourish the coat of a medium-long-haired dog breed like this.
It's best to start bathing with Red Golden Retriever puppies as opposed to when they get older if possible, as you can condition them to accept a bath more readily with positive reinforcement.
Where to Get a Red Golden Retriever Puppy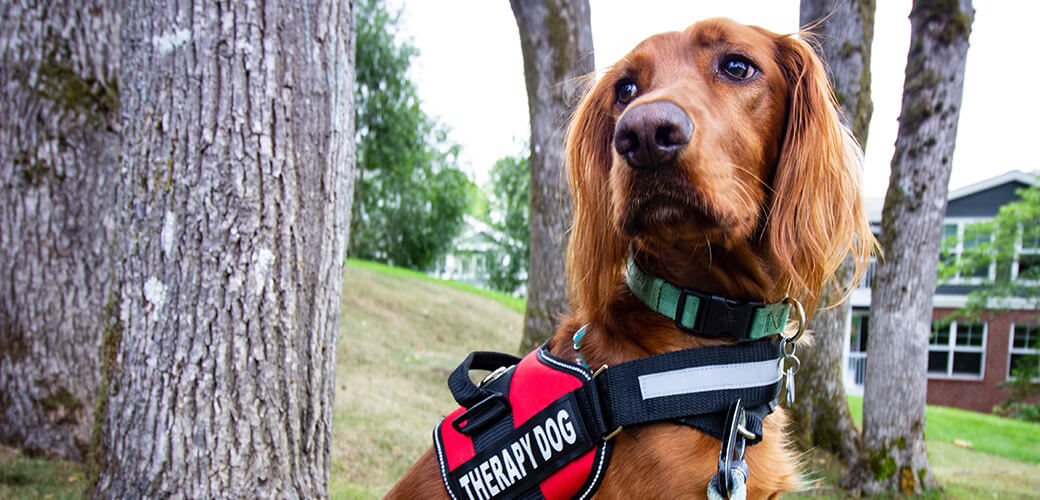 Finding reputable breeders is paramount to ensuring the health and wellbeing of your Red Retriever. We would ordinarily recommend searching the American Kennel Club Marketplace for a breeder as each of their breeders go through rigorous checks before being allowed to see on the AKC website. Though you may find it hard to find a Red Golden Retriever breeder on this marketplace seeing as this Retriever type is considered unacceptable by breed standards.
We would therefore recommend getting in touch with local shelters and Golden Retriever rescues or charities to ask for their advice as to how to move forward with your puppy purchasing process. Red Golden Retriever breeders are few and far between, hence the high price for this rare breed.
Adopt Don't Shop
Adopting a rescue dog is not only a noble pursuit, but it provides that pup with a new life that they otherwise may never have gotten. Adopted Red Retrievers may potentially be more work, but you will never find a more loyal companion once that bond is built. Adoption keeps lost dogs off the streets and out of shelters in addition to saving lost dogs from potentially being euthanized when space is no longer available.
If you're thinking of adopting a Red Golden Retriever we would recommend contacting your nearest Golden Retriever rescue or charity – they will be the most likely source of information as to where you could find yourself a Red Retriever in need of a forever home. We would also recommend contacting your local shelter to check whether or not any Red Retrievers have been bought in. (this is extremely rare, but always worth checking).
Red Golden Retriever Health
The Red Golden Retriever is generally quite a healthy dog much like yellow Golden and Labrador Retrievers. However, like every living creature, there are certain health problems that can affect Red Golden Retriever throughout their lives – especially with them being a large breed which makes them more prone to skeletal and joint problems.
Hip and Elbow Dysplasia
Commonly seen in large dogs, this happens when there is a growth abnormality that is stopping the joints from fitting together comfortably. When this happens there is usually a heightened chance of dislocation. There is also swelling that can develop around the joint which can cause pain and discomfort.
However, it can be treated and your dog could live a relatively normal life with a few adjustments made for comfort. Hip and elbow dysplasia can be spotted in Red Golden Retriever puppies when they are in the rapid growth phase, which can make it easier to treat later on.
Heart Problems
The AKC recommends that Golden Retriever owners have their dogs undergo a cardiac exam at around 1-year-old to ensure their heart is functioning properly. Heart problems can be prevalent in large breeds, so it is important to monitor them for signs of any complications.
Golden Retrievers are particularly susceptible to conditions such as dilated cardiomyopathy (DCM) which causes the heart to become enlarged and weakened – preventing proper blood circulation.
Sight Loss
Though this can naturally happen during old age with most dog breeds, sight loss in Red Goldens is one of the bigger concerns as they can develop an almost exclusive disease known as pigmentary uveitis. This is inflammation of the uveal tract which includes the iris. This disease can cause severe damage to the eye and lead to blindness if left unchecked.
Ear Infections
Dogs with floppy ears are particularly susceptible to developing yeast infections which can cause dizziness, discomfort or pain, swelling, hearing loss, puss-like discharge, swelling, and loss of balance. A bad ear infection can lead to the eardrum being perforated, which may require surgery to rectify.
However, if you catch an ear infection early it can be easily treated with antifungal medication. Your vet may then recommend that the ear canal be fully cleaned once the infection has cleared in order to prevent it from returning.
Side note: This list of potential health conditions does not constitute pet medical advice. It is purely for the purpose of providing base information that will give you the knowledge you may need to encourage you to seek professional medical advice from your veterinarian.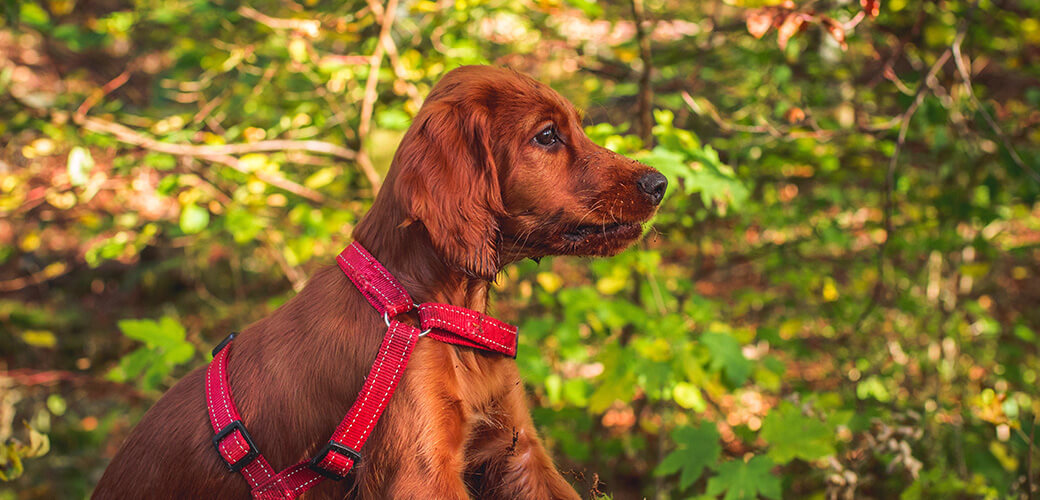 Frequently Asked Questions:
Q: Are Red Golden Retrievers rare?
A: Yes. Red Golden Retrievers are a specific bloodline that is descendent of one of the Golden Retriever ancestral breeds that have been selectively bred to keep their beautiful mahogany coats. As a result, the bloodline is significantly reduced when compared to standard purebred Golden Retrievers, making them quite rare and difficult to find. The dark Red Golden Retriever is particularly hard to come across.
Q: Are Red Golden Retrievers more expensive?
A: Yes. Due to the rarity of the Red Golden Retriever, they are significantly more expensive than their pure Golden counterparts. Typically a standard Golden Retriever can cost between $800-1,000 depending on the bloodline. However, people looking to purchase a Red Golden Retriever can expect to pay a healthier sum of as much as $3,000 for a puppy.
Q: What is the rarest color of the Golden Retriever?
A: Red Golden Retrievers are certainly the least-common Golden Retriever color going. It's believed that Red Golden Retrievers get their color from their Irish Setter ancestors, with Red Golden Retriever breeders working to maintain the Red bloodline for future Golden Retriever owners to enjoy.