PetSide may earn a small commission from affiliate links in this article.
Learn more
If you're a fan of Terriers then you might want to look into this adorable and well-loved 300 hundred-year-old breed: The Dandie Dinmont Terrier. Unlike other terrier dogs, the Dandie has a long body, short legs, and long ears, and is covered head to toe in a soft double coat. To add to their lovable appearance, Dandie Dinmont has a strong personality. Brave, intelligent, and doting, this dog has a lot to offer their families.
Many dogs have many adoring qualities but if you want to find out what makes the Dandie Dinmont Terrier dog breed unique read on to find out everything you need to know and more.
Dandie Dinmont Terrier Breed Overview
Dog Breed Group – Terrier Group
Height – 8 – 11 inches
Weight – 18 – 24 pounds
Life Expectancy – 12 – 15 years
Short History Of The Dandie Dinmont Terrier
Dandie Dinmont Terriers have been around for around 300 years. It was during the 1700s that the unnamed terriers were used to work specific types of terrain across the border country of England and Scotland. As part of their work, they would tirelessly hunt badgers and otters as their small and agile stature would allow them to pursue the animals in hard-to-reach places.
Interestingly, the Dandie Dinmont is the only terrier breed to have been named after a fictional character. Dandie Dinmont was the name of a farmer in 'Guy Mannering', written by Sir Walter Scott. In the novel, the aforementioned farmer was the owner of a number of terriers and was based on a real-life breeder named James Davidson. This led to the naming of the dog which was initially 'Dandie Dinmont's terriers. However, over time, the apostrophe was eventually dropped and the remaining name stuck around.
Davidson owned a number of Dinmont Terriers that he also used to hunt with. These pooches had some unique names and are referred to as the 'immortal six' amongst Dandie Dinmont lovers. Their names were: Little Pepper, Young Pepper, Old Pepper, Little Mustard, Young Mustard, and Old Mustard.
Dandie terriers have caught the eye of people from all walks of life and in 1875 a club, residing in England, formed known as the Dandie Dinmont Terrier Club. Shortly after, in 1886, the terrier breed was recognized by the American Kennel Club.
Breed Facts
The Dandi Terrier is considered a hypoallergenic breed due to its low shedding.
The Dandie Dinmont Terrier Club is the third oldest breed club.
Due to its working heritage, the Dandie has a high prey drive and also enjoys digging.
These terriers have a watchful and protective nature.
They can be considered vocal dogs especially if they are particularly protective over their home.
Dandie Dinmont Terriers are one of the rarest purebred dog breeds.
Queen Victoria had a Dandie Dinmont.
Before the world war, there were many kennels responsible for breeding the Dandie Dinmont. Sadly, a lot of these were destroyed during the fight, killing many innocent dogs.
Dandie Dinmont Appearance
Dandie Dinmonts have a similar stature as other terrier breeds. They are small dogs overall but have long bodies with long hanging ears and large heads. These dogs also have hind legs that are a little longer than the front legs. Typically Dandies have silky hair with feathered-like fur on the tips of their ears.
Size
Healthy, full-grown Dandie Dinmonts will be anywhere between 8 and 11 inches in height and will weigh between 18 to 24 pounds. There is also no significant difference in size according to gender like other dog breeds.
Coat Color & Markings
Dandie Dinmont Terriers have two significant recognized colors: Pepper and Mustard. Pepper is described as a dark bluish-black to a light silvery gray whereas mustard resembles a pale fawn, cream, to reddish-brown. Either coat color will come with streaks of white situated elsewhere on the body including the stomach, paws, and head.
Dandie Dinmont Terrier Temperament
On the outside, the Dandie Dinmont Terrier dog is tough, sturdy, and agile. On the inside, this small dog breed is highly intelligent with the air of confidence that larger dogs typically possess. So what this terrier breed lacks in size, he makes up for in personality.
Overall Dandie can be described as clever and courageous. As they were originally bred to be hunting dogs you can expect as much. Due to their working background and nature, they are inclined to bark to alert their owners of something but they don't tend to wear out their vocal cords in the process. Once you've inspected the reason why they're barking – they'll be content and stop.
Sociability
When it comes to strangers this breed can be watchful and alert as they take in the person they are unfamiliar with. Generally, Dandies are independent dogs but they are far from cold or distant from their families. In fact, a Dandie Dinmont is incredibly affectionate and playful at heart. It's safe to say that these dogs fit in with a lot of families as they are easily a friendly breed overall with an eagerness to please their humans.
Children and Other Animals
To touch on a later point, it's important to know that Dandie Dinmonts will need socializing at a young age so that they are familiar with children and animals. If not, they may become somewhat territorial or wary of others. It's also important to understand that these terriers also have a high prey drive, so homes with other pets such as birds, rodents, or reptiles may not be suited for the Dandie Dinmont.
However, although these dogs seem to come across as headstrong, they are far from confrontational or aggressive. If raised appropriately, Dandies will love to play and run around with young children and the same can be said about other dogs or pets. Just because they have a working background doesn't mean they don't like to kick back with a game of fetch.
Entertaining Dandie Dinmont Terriers
The Dandie Dinmont Terrier is considered to have a moderate energy level with no immense urge to be stimulated at all hours of the day. Having said this, it's still crucial that these dogs are provided with mental and physical stimulation.
Interactive toys are a great way to keep Dandies occupied. A lot of these toy options can be great for solo play as well as a tool to help you bond with them. In addition to this, daily walks or participating in dog sports can also help.
Outdoor Activities
However, they don't make the best running or swimming partner for those looking to get themselves an exercise companion. The Dandie Dinmont may be fast but he may not have the best stamina compared to other breeds. He may also require constant supervision when allowed to dip his paws into bodies of water. This is because this breed isn't accustomed to or built for water-based activities. They can certainly be taught to swim a little but it's not recommended to allow them into deep water or to be left alone.
Caring For a Dandie Dinmont Terrier Dog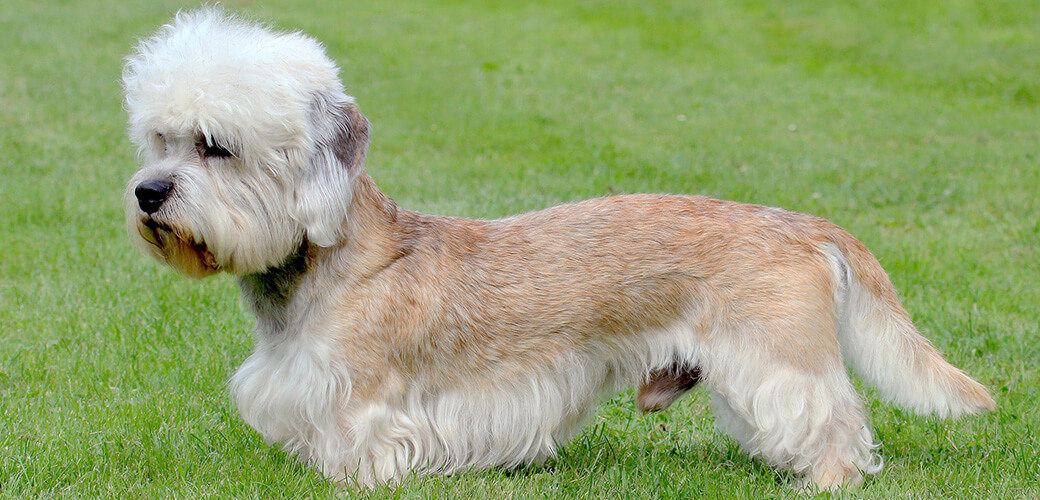 If by now you're heavily considering getting yourself a Dandie Dinmont Terrier, take a look at the information below. This section will provide you with everything you need to know to be able to care for your Dandie dog.
Ideal Living Conditions
The Dandie Dinmont Terrier dog is adaptable in nature. This means that he's well-suited for almost any size home whether that's an apartment or large family home. To add, this also means that the Dandie can be a great addition to large families, couples, and even those who live alone.
If you have a home with a large garden, you will need to ensure that the area is appropriately fenced off. Dandies can often shoot off in pursuit of potential prey so it's important to ensure that they will be unable to get out. Don't be tempted to install an underground electronic fence as this will do little to deter them and may result in injury.
Training
It's recommended that the Dandie Dinmont Terrier begins socialization and obedience training from the minute you bring them home. As they are intelligent and adaptable dogs they can pick up on training quickly. However, make sure you use a positive approach. Dandies can sometimes be stubborn and won't respond well to scolding. Therefore, it's imperative that positive reinforcement is used offering rewards and verbal praise for their accomplishments.
Not only will training allow them to socialize effectively and calmly but it will also reduce the chances of them developing bad habits. Dandie Dinmont terriers can take to digging up gardens and terrorizing furniture for hobbies so it's important to teach them good manners and where to direct their energy.
Diet
Like a lot of other canines, the Dandie Dinmont Terrier dog breed will need a high-quality diet with plenty of protein and other added nutritional ingredients. A great diet means a healthier dog. As tempting as it can be to throw them a treat or allow them scraps from the dinner table you must refrain!
An unhealthy diet and frequent access to non-nutritional foods will lead to weight gain and can open up the door to unwanted health conditions later in life. With this in mind, you will want to ensure that the food you give a Dandie Dinmont is appropriate for their age and breed.
How much you feed a Dandie Dinmont Terrier will depend on the factors mentioned previously (age and breed) but it will also depend on their current weight.
Take a look at our guide for the best food for small dogs here.
Exercise
The Dandie Dinmont is not a high-energy dog but will need moderate exercise to help fend off obesity. Generally, they will need to be exercised between 30 and 60 minutes a day. This can be a walk or a generous game of fetch in the yard.
Note: Since Dandie terriers have high prey drives you must keep them on a leash when on walks to prevent them from pursuing squirrels and other smalls animals that catch their eye. It's also recommended that accessible yards are fenced off to prevent them from breaking out and going on the lamb.
Shedding
A Dandie Dinmont Terrier has a medium-length double coat composed of an upper, coarse layer and a smooth, waterproof undercoat. They can be considered high-maintenance in terms of grooming but you may be surprised to learn that Dandies are small dogs that don't shed.
Grooming
Despite their low shedding, Dandie dogs require frequent grooming. Regular brushing will help to remove loose, dead dog hair from their coats and prevent matting. In addition, their coats will need trimming intermittently and they will also need stripping once or twice a year. As a pet owner, you can learn to do this yourself, alternatively, you can take a trip to a professional groomer to get the job done.
Other Grooming Necessities
In addition to trimming and brushing, it's recommended that you bathe your Dandie when necessary to fend off bad odors and to help release the coat of dead hair. A Dandies long ears will need to be cleaned often to prevent ear infections.
Also, nail trimming is imperative, as long nails can be uncomfortable for dogs and can even affect their gate and posture. It's also recommended that you take steps to ensure their dental hygiene is looked after. Dog owners can find an array of dental products in a local pet store or even online.
Health Problems
Generally, the Dandie Dinmont Terrier is considered a healthy dog overall. However, no dog breed is safe from damaging conditions/potential genetic health problems. The issues below have been found in this breed in the past but it's also important to consider that not every dog will fall ill to them.
Glaucoma
Although not common, Glaucoma has unfortunately affected Dandies in the past. The condition causes pressure around the eyes to increase resulting in incredible pain and discomfort. If left untreated, this condition can cause dogs to go blind.
Symptoms of glaucoma are redness in the white of the eyes, squinting, watery eyes, and irritation causing dogs to paw at them. Fortunately, vets are able to provide medication and eye drops to treat the issue.
Epilepsy
This condition doesn't just affect humans but dogs as well and it's reported that Dandies have been known to develop it. This neurological issue can cause involuntary seizures in dogs and is believed to be genetic.
General Health Conditions
Not only can Dandies fall ill to the health problems listed above but it's important to know that there are conditions that can affect your pooch if they are not looked after adequately. Making sure that their mouth and body weight is in good order can ensure that they live a long healthy life.
Dental Disease
As with other dogs, poor dental hygiene can also lead to oral issues as your Dandie Dinmont ages. By allowing tartar to build up your dog can be at risk of tooth loss and problems affecting the kidneys, liver, joints, and heart.
If you want to know more about how to maintain your dog's teeth and gums, we have a whole section dedicated to it. Take a look at this division to find the best tools and guides for taking care of your dog's mouth.
Obesity
Weight gain can affect most breeds, especially if their diet and exercise aren't the best quality. Dogs are more likely to start putting on weight as they get older as they will become less active. This is why it's important to monitor their food and exercise regime and adjust them accordingly depending on their age and size to ensure they remain at an appropriate weight.
Health Tips For Future Dandie Dinmont Terrier Dog Breed Owners
If you're looking to get yourself a Dandie Dinmont puppy from a breeder, make sure you check that the pups have been screened for health conditions. The breed may be considered healthy however there are still a number of issues that can affect them. For example, ask the breeder if the puppy's parents have been certified by the canine eye registry foundation. If the parents have proven healthy eyes, your pup may be less likely to develop eye conditions in the future.
Simply ask the breeder for proof of appropriate health checks. If they flat out refuse to provide you any, this is a major red flag and you should think about going elsewhere and potentially reporting them.
In addition to the information above, it's crucial that you take your dog, no matter what breed, to the vets for regular checkups. By doing so, you can be sure that they are either happy and healthy or be made aware of a problem early so that treatment can start as soon as possible.
Life Expectancy
Overall, the Dandie Dinmont Terrier dog breed is a healthy pooch and it's worth noting that a lot of small dogs tend to have a longer life span compared to other breeds. The average, healthy adult dog can live up to 15 years.
How to Find a Good Breeder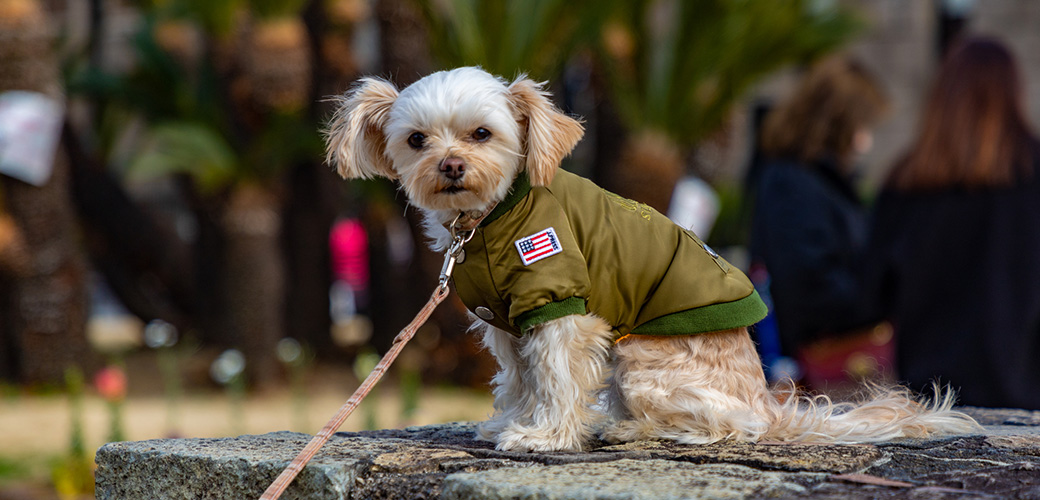 Finding one of these friendly dogs can prove difficult in this day and age as the Dandie Dinmont is considered a rare breed. You may also find that the price of a Dandie pup is quite expensive compared to other dogs.
To find a Dandie pup, take a look at some breed clubs in your area as well as the AKC marketplace or even the Dandie Dinmont Terrier Club of America. These two sites are a great starting point and can provide additional information on finding a reputable breeder.
However, if you're looking for an adult or older dog it may be worth getting in touch with breeders that can point you in the direction of one that needs a new home or is perhaps retired from a life of show business.
Finding a Reliable and Trustworthy Breed Club
As mentioned earlier, a trustworthy breeder will provide you with all of the information you need about the pup and its parents especially documentation of their health checks.
Reliable breeders of purebred dogs will also allow potential puppy parents to view the breeding dogs and the pup's siblings. This way, you can be sure that the puppy you are getting is 100% Dandie Dinmont and not a hybrid. Furthermore, by seeing the other dogs and their living conditions you can be sure you are buying from a professional and principled person and not supporting a puppy mill.
Adopt a Dog From a Rescue Center or Shelter
Although this canine is an uncommon breed that doesn't mean to say one won't pop up in a shelter or rescue center. In fact, there are rescue clubs dedicated to exposing puppy mills and rehoming these lovable, sweet dogs.
It can be immensely rewarding to rescue an animal that needs a loving home so it's always worth checking your local shelters and rescue centers. You may not find one on your first couple of visits but don't let that stop you from checking again.
For Dandies in need of a loving home, why not check the Dandie Rescue League. You may also find the AKC Rescue Network a valuable resource in finding a Dandie.
What is the Average Price for a Dandie Dinmont Terrier?
Brace yourself. Like other purebred dog breeds, you can expect to pay a decent amount for a Dandie Dinmont Terrier. A standard Dandie puppy will cost anywhere between $1500 and $3000. The price may be influenced by the breeder's experience and tools.
The prices may also vary depending on the demand for Dandie Dinmont pups in their current area. If lots of dog owners are looking to buy a pup and there's only one reliable breeder in the area, it's possible for the prices to skyrocket.
To Sum Up – The Dandie Dinmont Dog
The Dandie Dinmont Terrier dog breed is a rare pooch with a lot to offer and it's safe to say that they will be a loving, devoted family member. Generally, these dogs are a great fit for most homes and can be easily trained using the right methods. In addition, they seldom fall victim to major health conditions but that shouldn't hinder you from taking great care of your furry friend.