PetSide may earn a small commission from affiliate links in this article.
Learn more
Also known as the Tora Inu in Japan, the Kai Ken is a rare breed of medium size that is considered one of Japan's most ancient breeds. Though they were originally a hunting breed, used to track down deer and wild boar, today's Kai Kens are more likely to appear in dog shows and are often used in dog sports. In this guide, we'll be explaining the ins and outs of the Kai Ken dog breed, and taking a quick dive into their history.
Breed Overview
Height: 17 t0 22 inches
Weight: 25 to 45 pounds
Life Expectancy: 12 to 16 years
Personality traits: Loyal, affectionate, intelligent
A Short History of the Kai Ken
It is believed that the Kai Ken is one of the most ancient dog breeds in Japan. Of all native Japanese breeds, they are the purest and have the longest history. The Kai Ken was first discovered in the mountains of the Kai province, which is right by Mount Fuji. Kai is a mountainous region in today's Yamanashi district; it is surrounded by mountains, which caused the breed to remain isolated and wild.
Once domesticated by humans, this moderately active breed spent its time hunting. They are highly intelligent, prey-driven, and have high energy levels. They were known for swimming and climbing trees to catch prey when necessary!
Between 1990 and 1992, eleven Kai Ken dogs were taken over to the U.S. to be bred and kick-start the population of the breed in America. But no land other than Japan, their native land, has as many Kai Ken. It's estimated that up to 14,000 of these medium-sized dogs live in Japan.
Breed Appearance
The Kai Ken is one of six native Japanese breeds that are Spitz-type dogs. Spitz dogs are characterized by their long, thick fur, pointed ears, and pointed muzzles. Their fur is often white, but it is not the only color fur a Spitz dog can have. Their tail often curls, which is a trait most recognized in the Japanese Shiba Inu. The Shiba is also a Spitz dog, so they're a good point of reference because the wider population is more familiar with this Japanese dog than any others.
The Kai Ken certainly shares traits with other Japanese Spitz dogs, from their wedge-shaped head and prick ears to the appearance of white in their coat. The major difference is that Kai Kens are often brindle in color, rather than white, which is what earned them their nickname of "Tiger dog".
Coat colors and patterns
The typical Kai Ken will show one of three variations in their coat. These are black brindle coats, brindle coats, and red brindle coats.
In Japan, these are called Kuro-Tora, Chu-Tora, and Aka-Tora, respectively.
The Kai Ken is a double-coated breed, so they need to be carefully groomed, and cannot have their coats shaved. We'll talk more about this in the grooming section of this guide.
Interesting Facts About the Kai Ken
In 1934, the Japanese Government classified the Kai Ken breed as a Living Natural Monument. This classifies them as a natural feature of outstanding or unique value in Japan.
In the 1950s, it is said that some service men from America took some of the dogs back with them, but no one knows what happened to them.
The Kai Ken earned the name "Tiger Dog" because of their distinctive coat colors.
Kai Ken are one of the six Nihon Ken, which also include the Siba Inu, the Akita Inu, the Shikoku Ken, Kishu Ken, and Hokkaido Ken.
Kai Kens share many behavioral traits with the other native Japanese breeds.
They are a skilled hunter and will climb trees to catch prey. Their hunting instincts are very impressive.
The name of the Kai Ken breaks down into two words. "Kai", which refers to the old name for today's Yamanashi prefecture, and "Ken", which literally means "prefecture". The dog is named after its origin location.
Reasons Why Kai Ken Dogs Make Great Pets
The Kai Ken's personality makes them a good breed to have in a house with young children. They are very patient and have a family-friendly nature.
Because of their double coat, they just need occasional brushing to remove loose fur. In terms of grooming, they're very low-maintenance.
They come from steep mountainous terrain, so they will enjoy hiking with more active owners.
They can naturally regulate their own food intake, which means they can be free-fed without owners worrying about them gaining weight.
They aren't as independent as other native Japanese breeds, and will often look to their owners for guidance. This makes them a good dog to train.
They make excellent guard dogs.
The personality of the Kai Ken
If you have any prior knowledge of Japanese Spitz dogs, you'll be aware that they are often considered very stubborn and somewhat stoic. Though Kai Ken are affectionate dogs, they aren't lapdogs, and they will not go out of their way to jump up on you to say hello.
Instead, you can expect your Kai Ken to comfortably share your space with you. It will be prudent to place a dog bed or their dog cage in the same room that you often spend time in because this will encourage your pup to sit with you and socialize.
Kai Kens are incredibly loyal. They show special attention to their owners, but will happily bestow small affectionate gestures on any member of their family. They will bond more with whichever human takes care of them the most and will stick to that person's side quite often. Because of this, be sure to keep up with your Kai Ken's consistent training, or you may be encouraging the wrong type of behavior.
Kai Ken are not prone to becoming physically aggressive, but they will make plenty of sounds when they believe there is danger.
Sociability
Expect your Kai Ken to be affectionate and friendly towards their family and children, fairly friendly with other dogs, and okay with strangers. Kai Ken aren't a dog breed who will attack or immediately go on the offensive around people and animals they don't know, though they may keep their distance or act aloof.
Children
There's no cause for concern if you're considering adopting a Kai Ken while you have children in your home. This breed is known for being endlessly patient with young children, though they should still be supervised. Often, when there are issues between children and dogs, it is because the dog isn't properly trained and the child did something that the dog didn't enjoy. Young children often pull on dogs, which can cause them to become frustrated.
Do not leave young children unsupervised if your dog is in the room. Kai Ken may be patient and loving dogs, but it's always best to be around when your kids and playing with their canine companion. When in doubt, consider investing in a pet cam, which will show you exactly what goes on when you aren't at home.
Other pets
If they are introduced properly, Kai Ken will have no issues with other pets. Whether the other pets are cats, dogs, or something else entirely, you just need to spend time socializing your pets and introducing them to one another.
Without proper socialization, your Kai Ken will never get along with your other pets. If you didn't introduce them properly at first, and your pets are showing signs of aggressive behavior towards each other, seek advice from professional dog trainers.
Energy levels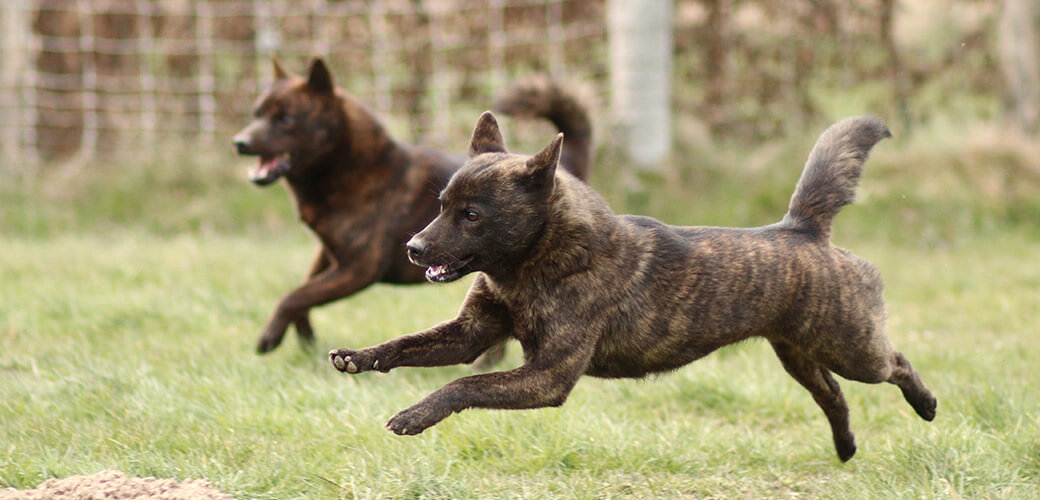 Kai Ken have exceptionally high energy levels. They are used to being active, but they aren't particularly playful. It would be best to take them on long walks and provide them with toys for mental stimulation at home.
Keeping Your Kai Ken Dog Entertained
Keeping a Kai Ken entertained isn't as difficult as one may think. What pet parents need to understand about this breed is that they are more suitable for active dog owners, rather than dog owners who don't have time to play with their pups or take them on long walks. If your lifestyle provides you with time to go on long strolls, and hikes, and give your dog a lot of attention and care, this is the breed for you. They aren't really suitable for people who work long hours and can't commit to the care of their dog.
The Kai Ken enjoys climbing and swimming, which makes a large, open backyard the perfect area to play in. They can entertain themselves to a certain point, but they may do better with a playmate at home for when their human companion is busy. These are highly intelligent dogs, they'll need toys, scheduled walks, playtime, and more.
Care and Health: Kai Ken Needs
Your Kai Ken has similar needs to any other dog. They require regular veterinary check-ups (at least once a year), vaccinations, parasite treatments, and proper, high-quality dog food. Though they shouldn't overeat, some Kai Ken are prone to weight gain, though this typically happens if the pup isn't getting the right amount of exercise to balance what they're eating.
Not that, despite enjoying exercise and the outdoors, this breed prefers to live indoors. They can make great apartment dogs if given enough time outside.
Diet and nutritional needs
Feed your Kai Ken with high-quality kibble that doesn't contain any meat meals, meat by-product meals, or filler ingredients. You'll also need to watch for potential allergens in case your pup has intolerances to something in the food you're giving them.
A good rule of thumb is this: If your dog's bathroom habits change, they've eaten something they shouldn't have. There are, of course, other causes for changes in stool, but it's more likely that your pup has picked up a piece of human food or licked something weird. If the change in your dog's bathroom habits persists, try changing their food.
Don't feed your pup any food that has artificial colors or flavoring, or any additives. They should be eating a food that is formulated for high-energy breeds of medium size, and fed twice a day according to the feeding instructions provided on the back of the packaging.
Training your Kai Ken
Training your Kai Ken shouldn't be too arduous. For a dog used to mountainous regions, this pup will be happy to run around just about anywhere. When training, be sure to take into account any health issues that your Kai Ken has.
Training can include games like hide and seek, which can be another excellent source of exercise that can keep your canine at a healthy weight. Get your family members involved in your dog's training so that your pup can get used to everyone and not just you. Most breeds respond to standard dog training and can be trained at home with enough effort. If you find that you're having trouble, seek advice from a professional dog trainer.
Early training will help your Kai Ken settle in and stop them from picking up any negative habits or behaviors. Obedience training from a young age is very beneficial to all dog breeds, even the ancient breed that is the Kai Ken.
Grooming
As a double-coated breed, the Kai Ken will not require as much grooming as other dogs. Occasionally brush your pup to help them get rid of loose hair, and brush them more regularly during shedding seasons. Double-coated dogs should never, ever be shaved. You'll mess with their temperature regulation and make it harder for them to cool off in hot weather. Additionally, they will become more prone to sunburn and bug bites.
Be sure to check their ears for debris and pests every day, and clean their ears with advice from your vet.
Your dog's nails should be trimmed as required. This is usually once or twice a month. If you hear their nails clicking against your floor, they're too long and need to be cut.
If you're uncomfortable cutting your dog's nails for the first time, head to a groomer and ask to watch so that you can learn.
Be sure to brush your dog's teeth daily, too.
Common Health Conditions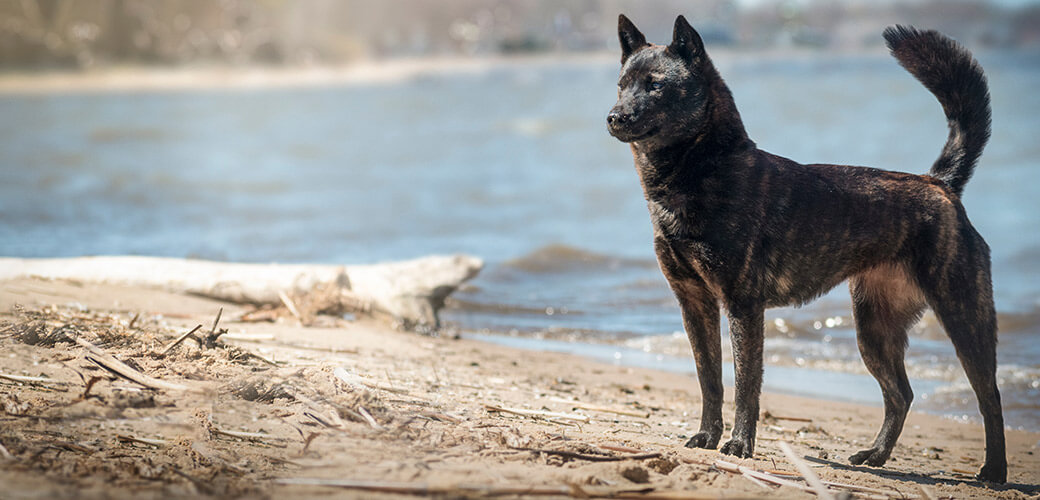 Allergies
Among the common health concerns of the Kai Ken are allergies. A dog can experience sensitivities to food, issues with fleas, and rashes. It's important to combat these by feeding your food the right food, looking out for signs of intolerance or allergies, and keeping up with their parasitic treatments to avoid fleas.
HSA
A form of cancer known to appear in Kai Ken dogs is Hemangiosarcoma. This highly invasive form of cancer is a blood-filled tumor that can grow in a number of places (though, commonly, the spleen, kidneys, and skin of the dog). The tumors appear as red, irregular lumps, and can spread if left untreated.
Symptoms include almost white mucous membranes, sudden collapse, excessive panting, drooling, an irregular heartbeat, and a bloated abdomen, Treatment is the removal of all tumors and aggressive chemotherapy.
Luxating patella
A dog with Luxating Patella will have a kneecap that moves out of its socket. Luxating literally refers to something that is dislocated or out of place. Dogs with this condition may dislocate their knee while walking or running, and then have it pip back into place moments later.
PRA
Progressive Retinal Atrophy is an eye condition that can be a health concern in Kai Ken dogs. It initially shows itself as a poor vision in low light conditions, which then leads to worsening vision over time. Your dog may bump into things or seem to have issues figuring out where you are.
PRA is a genetic condition that causes the retina of the eye to degrade over time. It's not painful, but there is no treatment or cure.
Transitional vertebra
A condition that has a history of popping up in this breed, Transitional Vertebra is a spinal deformity that causes the dog's vertebrae to be asymmetrical where it fuses to the pelvis. In some breeds, it can cause plenty of issues. In others, they aren't particularly bothered by it.
Dogs with this condition may also experience hip dysplasia, spinal degeneration, or spondylosis.
Adopt (don't shop)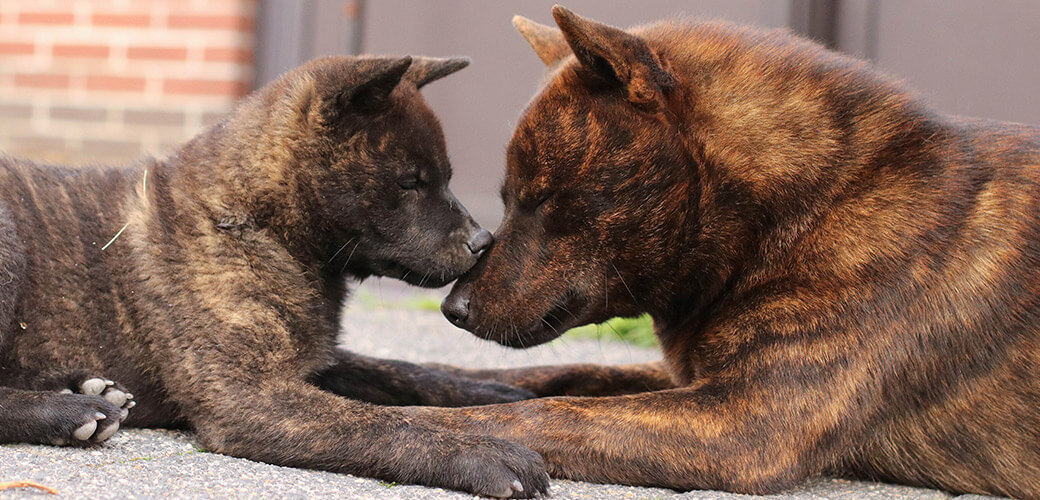 Where possible, it's always important to try and adopt your pet dog rather than buying them from a breeder. There are a lot of difficulties that come with buying from breeds – with the most concerning one being purchasing from backyard breeders and encouraging the industry to continue.
By adopting a Kai Ken from a shelter, you're giving a dog another chance at finding a home. It can be difficult to find this breed in local shelters, but it's always worth checking rescue groups and shelter websites to see if there is one before you buy a Kai Ken puppy.
Where to find Kai Ken puppies
Looking for Kai Ken puppies for sale? The most trusted place to find them is almost certainly the American Kennel Club website. AKC has its own marketplace where its members can register their dogs and available puppies, and they are subject to strict guidelines before they can be on the marketplace. You don't need to sign in to look for puppies, and you can save the search to be notified when puppies of particular breeds become available.
Price
When you start searching for a Kai Ken for sale, you might be surprised by some of the prices you see.
Kai Ken puppies from trusted breeders start at $1,500 USD. But, if you want a pup that has the potential to become a show dog, you may be looking at spending around $3,000.
FAQs:
Q: Are Kai Ken dogs aggressive?
A: Kai Kens are not an aggressive breed of dog. They are very good at decision-making and extremely intelligent, which makes them more likely to back away and bark at a threat than to try and attach the threat. It's very rare for this breed to physically attack anyone or anything.
Q: Are Kai Ken good dogs for new owners?
A: It really depends on what an owner wants in their dog, but a Kai Ken can be a good choice for new dog owners as long as they research the breed's needs and tries to understand the dog before they bring one into their home. Kai Ken dogs are great for active owners that have yards with climbable surfaces (though you might want to put up a fence).
Q: Is the Kai Ken hypoallergenic?
A: There are no true hypoallergenic dogs in the world, and the Kai Ken certainly isn't suitable for allergy sufferers. They shed, and they have a lot of fur. They also love spending time outside, so pollen can get trapped in their coat and set off a human's allergies on two fronts.