PetSide may earn a small commission from affiliate links in this article.
Learn more
The Spanish Water dog is an interesting breed with some unique qualities that make them stand out. These wooly-coated water dogs are made for physical activity and are also highly intelligent and sweet-natured. From herding sheep, coaxing, and retrieving water game to standing out as show dogs, this clever canine has a lot to offer pet owners. Not only are they quick to train and great running partners they are also an affectionate breed that aims to please. Here, you can find everything there is to know about the Spanish Water Dog.
Spanish Water Dog Breed Overview
Group: Herding
Height: 15-20 inches (depending on gender)
Weight: 31-49 pounds (depending on gender)
Lifespan: 12-14 years
A Short History of the Spanish Water Dog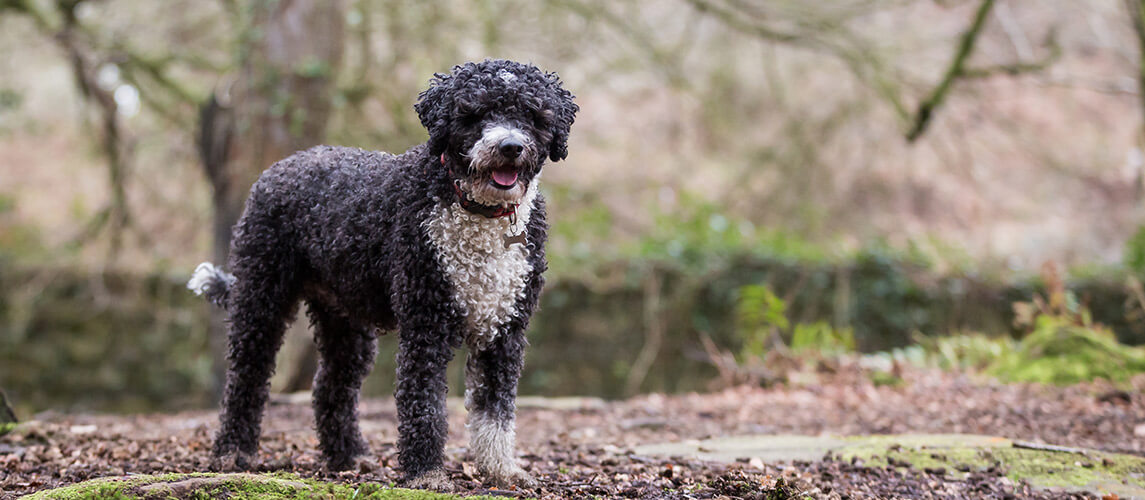 The precise history of the Spanish Working Dog is unknown. What we do know is that this breed has a rich working history from herding, protection, pest control, and even retrieving. It is also mentioned that the Spanish government has employed the Spanish Water dog for search and rescue efforts.
It is also believed that the Spanish Water Dog is an ancient breed and speculated to have descended from Asian, Turkish, and Hungarian origins. However, others theorize that the breed's ancestors originally came from North Africa in the 8th century.
Currently, the AKC Parent Club, The Spanish Water Dog Club of America is committed to the welfare and safeguarding of the breed. It's thanks to clubs like these that breeders and enthusiasts are educated and supported in maintaining the Spanish Water dog and its unique qualities.
What is a Water Dog?
For those that are wondering, water breeds are those that are perfectly suited to flush and retrieve game that lives in water. Typically, these dogs are medium height, natural swimmers, and tend to have a waterproof coat.
Breeds That are Considered to be Water Dogs:
American Water Spaniel
English Water Spaniel
Lagotto Romagnolo
Portuguese Water dog
Spanish Water dog
Tweed Water Spaniel dog
Spanish Water Dog Quick Facts
Spanish Water dogs were once known as 'The Turkish Dog', as it was believed they were introduced to Spain by Turkish traders.
This breed received full recognition from the American Kennel Club in 2015.
The Spanish Water Dog is a versatile breed known for water retrieving and sheepherding.
Although no dog is considered truly hypoallergenic, the Spanish Water Dog is considered better for those who suffer from mild allergies as they shed very little and don't have a tendency to drool.
Until 2011, the SWD was originally part of the American Kennel Club's Sporting Group.
Spanish Water Dog Appearance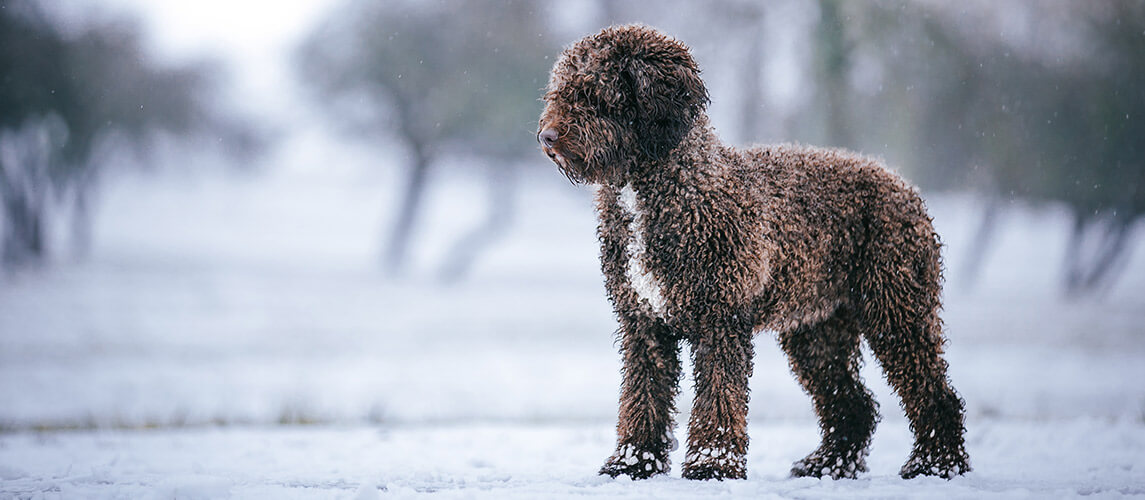 The Spanish Water dog is a medium-sized dog with an almost unique appearance complete with expressive brown eyes. Due to their working heritage, these dogs are sturdy with powerful muscles. Most notably, they have a distinctive curly coat that surprisingly requires little maintenance.
Weight & Height
As with many other breeds, males and females will grow to different heights and may also weigh differently. Generally speaking, males can grow to be anywhere between 17-20 inches whereas females will stand anywhere between 15-18 inches.
In terms of weight, a healthy adult female can weigh anywhere between 31-40 pounds and a healthy adult male 40-49 pounds.
Coat Color & Markings
The AKC's breed standard states that only tan points are recognized markings with Spanish Water dogs. However, this dog breed can come in an array of colorings which are listed below, the combinations of which may vary:
Black
Black and white
White and brown
White with a black or brown nose
Brown
Beige with a black or brown nose
Beige and white with a black or brown nose
Spanish Water Dog Temperament
Understandably, learning about what makes a dog tick and the type of dog they will turn out to be are things you must learn about before getting yourself a puppy. This includes how they interact with those around them and general personality traits.
Intelligence
First of all, you may be pleased to learn that Spanish Water dogs are famously intelligent which is a given with breeds from the working or herding group. As a result, you may find they pick up tricks and training quicker than other dogs.
However, this does come with a drawback. Especially intelligent dogs tend to require more mental stimulation and more than enough exercise to stay content otherwise they can develop or resort to undesirable behaviors when left without.
Personality
Following on from the previous statement, since these dogs are incredibly clever, they will be eager to work and maintain a strong work ethic. In addition to this, you may find that the Spanish Water dog is a curious rare breed that will likely want to accompany you wherever you may be going.
Since the Spanish Water dog comes from a long line of herding dogs, you will most certainly find that their instincts are still very much intact. For those looking for a working dog, this is perfect but for others, you may want to invest in training unless you want family members arranged neatly into rooms for your convenience.
Typically, Spanish Water dogs aren't vocal but can bark in an attempt to get your attention. You may also find that your dog is moderately wary of people it is unfamiliar with but with some time and patience they will soon warm up.
Children & Other Animals
Despite their hard-working nature, the Spanish Water dog is an affectionate breed. Their love for their family is sincere and they will relish the time spent with them.
The same can be said for children and other pets that this breed knows well. Spanish Water dogs love to play so they can be a great friend to young children. That being said, you must always supervise your dogs when in the company of other dogs and children. Moreover, it's important to ensure your Spanish Water dog is socialized from an early age to ensure they can appropriately behave with others.
Caring for a Spanish Water Dog
Moving on, this section details how to care for your Spanish Water dog including grooming needs, dietary requirements, training methods, etc. No matter what breed you get, it's important to understand what specific requirements they have to ensure they are happy and healthy.
Entertainment
As mentioned previously, Spanish Water dogs will need a lot of entertainment and mental stimulation to stay happy. Since The SWD is a high-energy dog you may find it difficult to provide adequate entertainment unless you have prior experience with the same or a similar breed.
It's recommended that first-time dog owners, enroll their Spanish Water canine in dog sports such as flyball, obedience training, herding, or water work. Regular participation will ensure that they burn off their energy in a healthy way and will keep them content and away from any destructive behaviors.
In addition to this, you can also occupy an energetic dog with interactive dog toys which will keep them ticking and focused when you don't have time to play with them.
Exercise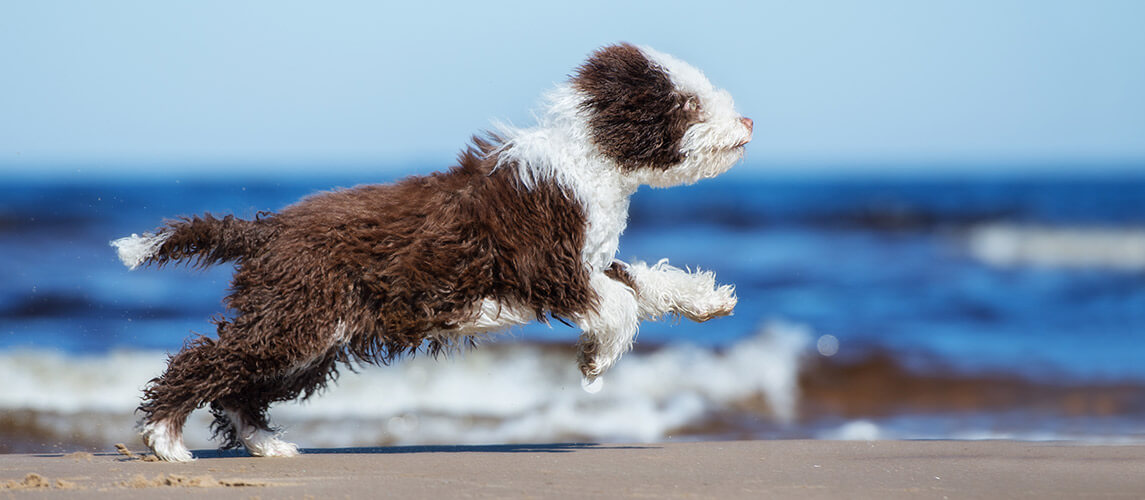 Spanish Water dogs will need daily exercise to keep them in great health. As well as the variety of dog sports mentioned prior, they are perfectly made for swimming due to their webbed feet and will also love running. Both are great methods to release pent-up energy.
In fact, compared to some breeds, Spanish Water dogs can engage in many forms of strenuous activity in their adulthood. Since it is an athletic dog, you may want to provide them with at least 90 minutes of exercise per day.
Training
Since they are immensely intelligent and energetic, Spanish Water dogs crave learning, problem-solving, and activity. Not only will training help you bond with your canine companion and teach them to obey you but it will also provide them with the stimulation they thrive on.
The best way to train your Spanish Water dog is by using positive reinforcement. This is because they especially love pleasing their owners and will show immense enthusiasm. If you opt for a harsher approach, this can cause them to lose their passion and over time, they will close off.
Early socialization is imperative for Spanish Water dogs as they will need to learn and understand how to appropriately interact with those around them.
Diet
It's necessary to complete some research into what food to give your Spanish Water dog. Every dog deserves a high-quality and delicious diet but this breed is known to develop allergies.
With this in mind, always talk to your vet about the best diet to feed your Spanish Water dog. Furthermore, you should always consider that your dog's nutritional needs will change as they age.
Living Conditions
Spanish Water dogs must have access to an outdoor space that's big enough for them to play in. Moreover, it's generally not recommended to own this breed if you live in an apartment as they are generally not big enough to accommodate them.
If you are considering getting yourself one of these dogs and already have access to a sizeable yard, you must ensure it is fenced off to avoid escape. Since these dogs have a high prey drive, they are likely to pursue small critters so having a fence will make sure that your dog (and smaller unsuspecting animals) are safe.
Grooming
The Spanish Water Dog's coat is quite unique. To start, it is single-layered and will shed very little. To add, it's crucial to know that their coats will not require brushing or blowdrying as this can damage the fur. Instead, you must check the curls for matting and knots and work them out of the coat gently with your hands.
It is recommended that you bathe your Spanish Water dog when they get dirty but it's vital to remember that you must be gentle. Use a mild shampoo and work it through gradually. Once they are squeaky clean, you must always squeeze the excess water from their coat instead of rubbing it with a towel or blow drying them.
Spanish Water Dog Health Problems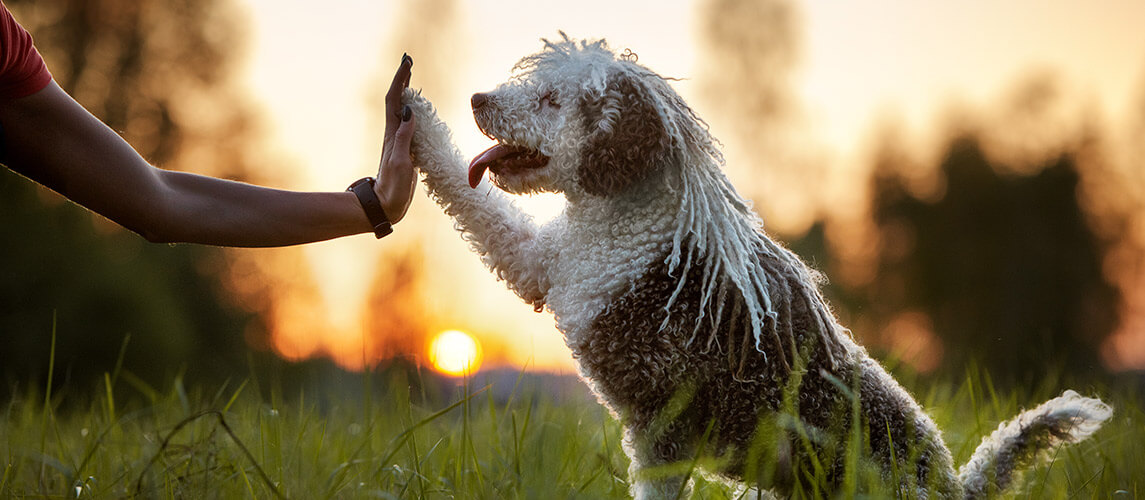 Sadly, the Spanish Water dog is not immortal and can fall ill to a number of health conditions. This isn't to say that your SWD will inevitably develop an issue but it's worth noting that there are particular conditions that can affect your dog.
Hip Dysplasia
Hip dysplasia is common in a lot of dog breeds and can, unfortunately, develop in Spanish Water dogs too. Fortunately, this condition can be managed better with the assistance of a veterinarian and you can even take steps to potentially prevent this from developing including managing their exercise regime and diet.
Glaucoma
This condition involves increased pressure within the dog's eye and can cause irreversible damage and even blindness. This condition is rare but can still occur at some point later in your dog's life.
Progressive Retinal Atrophy
PRA is a degenerative disease that causes dogs to go blind. This is due to the deterioration of the cells over time. This is another condition that affects a lot of breeds but is also considered uncommon overall.
Allergies
Like humans, many breeds can also develop allergies that result in itchy skin and respiratory complications. Allergies are common in canines and can appear before your dog has reached one year old. These allergies include food, seasonal, inhalant, and even flea allergies.
Addison's Disease
This disease can have dire consequences for dogs if left untreated. Essentially, this disease is when the adrenal glands do not develop the hormones that influence the body, including cortisol and steroids. Without these hormones, your dog's body can deteriorate, resulting in serious problems and even death.
Life Expectancy
As mentioned in the breed overview above, a healthy Spanish Water dog can live anywhere between 12-14 years old. However, their quality of life can greatly influence their age. If your dog is fed the appropriate diet and gets the exercise they need, it's highly possible that it can live beyond 14 years.
Where Can I Find Spanish Water Dog Puppies?
If you're certain a Spanish Water dog puppy is for you then finding a Spanish Water dog for sale can be quite easy with plenty of resources available online. First and foremost, you can always take a look at the American Kennel Club marketplace or the breed's national breed club for a reputable breeder.
Tips for Finding Spanish Water Dog Puppies
When looking for a puppy, you must always make sure to choose a breeder carefully. A trustworthy breeder will ensure that the pups, and their breeding dogs, are perfectly healthy and have been screened for necessary conditions.
Additionally, a good breeder will be very willing to answer any questions you may have regarding the breed. If you are refused information about the pups and are not able to meet the parents, this may be a red flag. If you feel as if there is something wrong, it's always worth querying.
Spanish Water Dog Puppy Price
Since the Spanish Water dog is a popular working breed, you can expect to pay a high price for a single puppy. Generally, you will be paying anywhere between $1500-$2500.
The price can differ depending on particular factors. For example, you can expect to pay more if the breed is in demand when you're looking to get a puppy. In addition, a breeder may charge more as they have more experience and resources at hand to breed the pups.
Other Expenses for Your Spanish Water Dog
To add to the initial cost of the puppy, you will need to remember the other expenses that you will continuously have to pay for throughout their life. This includes the items and resources listed below:
Food
Treats
Supplements
Collar/Tag/Leash
Bedding
Toys
Grooming products
Medications (such as wormers/vaccinations)
Neutering/Spaying
Microchip
Pet Insurance
The prices of the above resources can differ depending on what you need or opt for but you might be paying more depending on the size of your breed. Since the Spanish Water Dog is of the medium size you may be paying more for insurance, food, etc.
Adopt Don't Shop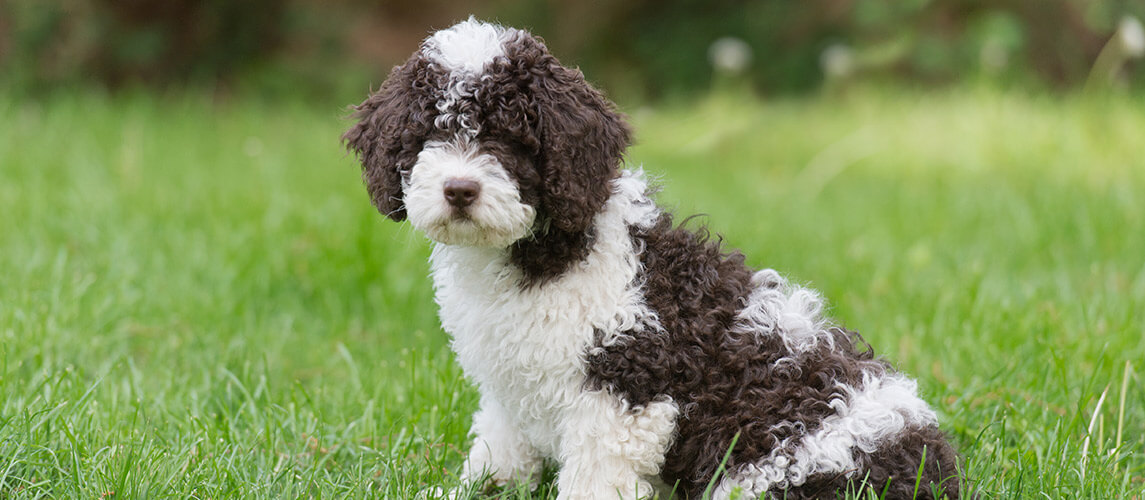 When finding your new best friend, you don't necessarily have to go to a breeder. Instead, try your local animal shelter or center. It's unlikely that you will find yourself a puppy and will often come across an adult dog first, but this isn't necessarily a bad thing. Adult dogs can still be trained and can be just as rewarding to rescue. To add, this versatile dog breed is highly intelligent and craves praise and activity. If these are things you can give in the boatful, you and your rescue companion will be inseparable in no time.
However, remember that the events that took place in a dog's life before they came to the shelter are not always known. Due to this, they may need to dedicate more time to adjusting to a new home.
It may take some time to come across a Spanish Water dog in shelters but keep checking as rescue dogs are always worth investing in and deserve a second chance
Useful Resources for Rescuing a Spanish Water Dog: