PetSide may earn a small commission from affiliate links in this article.
Learn more
The 94th Academy Awards ceremony is one that not a lot of people will forget. If you look it up online you'll find mountains of articles detailing the night's dramatic events but did you happen to see the heartwarming tribute to Betty White made by Jamie Lee Curtis?
Animal Rights, Pet Adoption, and Betty White
Honoring Betty White and animals in need, Curtis introduced the audience to an adorable pup desperately in need of a new home. The pup, charmingly named Mac N Cheese captivated the crowd and viewers which ultimately pushed Curtis's point further.
Initially, Good Dog Animals, a production company for animals, had plans to provide Curtis with a trained pooch specifically for the Academy Award segment. However, Curtis, being well aware of Betty White's stance on animal rescue, insisted that she have a rescue animal on stage with her.
After acknowledging her request and understanding the reasoning behind it, Good Dog Animals got to work looking for a suitable pup to accompany Jamie Lee Curtis on stage at the Oscars. After reviewing some profiles provided by their good friends at Paw Works, Curtis and Good Dog Animals found the perfect pup: Mac N Cheese.
In addition to her appearance on stage, Curtis actively posted on her Instagram page about the rewards and power of pet adoption to continue to drive her point across. She especially goes on to praise those who dedicate themselves to rescuing and finding forever homes for animals in need.
Who is Mac N Cheese?
The tiny guest of honor was left on the doorstep of a California shelter: Avenal Animal Shelter along with her mother and three siblings. Paw Works, an organization that works closely with the shelter, took in the family to complete various healthcare checks and find them foster homes.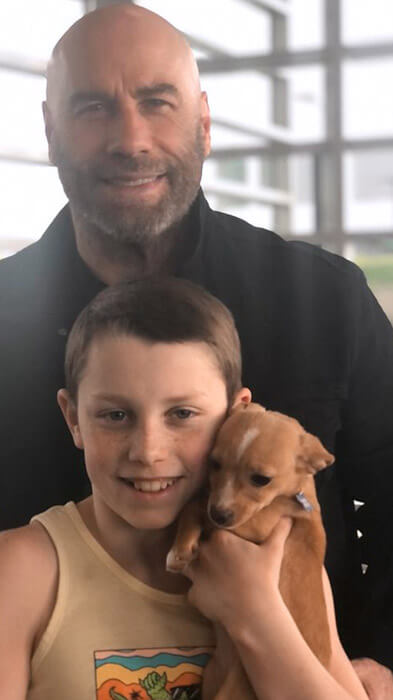 After some time had passed, all three pups as well as their mother had found loving homes which left poor Mac N Cheese without a family or home of her own. However, it wasn't long until the Hollywood actress's eyes fell upon the puppy and the decision was made to take her onstage.
Following the beautiful speech to Betty White, it wasn't long until Mac N Cheese found her new home. Many people fell in love with the precious pooch but only one actor and his family were lucky enough to get to take her home.
Settling into Her New Home with the Travoltas
Not long after Mac N Cheese made her appearance at the Oscars she was adopted by none other than John Travolta and his 11-year-old son, Ben. Travolta made a post about his new furry family member via Instagram where he thanked Curtis and Paw Works.
#BettyWhiteChallenge
Betty White wasn't just known for her TV and film work. For the longest time, White was an animal lover dedicated to advocating for animal rights. This was apparent through her involvement with the Morris Animal Foundation as well as the Greater Los Angeles Zoo Association.
January 17th, 2022 would have been Betty White's 100th birthday, and to honor the animal rights advocate, people all over the world have been taking part in the Betty White Challenge. Within a matter of days, thousands of people donated to animal shelters and, according to sources, over 12 million dollars has been raised.
Making a Difference
The decision to take a puppy in need of a home onto the stage was a wonderful one that will hopefully encourage many to find their new fur friends in shelters. So many animals are currently waiting for their new best friends to take them home so with an increasing number of celebrities raising awareness and praising adoption we can only hope that more and more people will choose to rescue them.
As Jamie Lee Curtis said in her Instagram post from late March 'People who rescue animals are heroes.'
Featured image credit: Paw Works