PetSide may earn a small commission from affiliate links in this article.
Learn more
A cat cafe in Ukraine has decided to continue operating as normal – providing hot food, drinks, and feline companionship, through the ongoing Russian invasion.
The cafe, called Cat Cafe Lviv, is based in a small city in western Ukraine called Lviv (hence the name). It is operated with the continued presence of 20 cats that are kept and cared for by the staff and cafe owners, Serhii Oliinyk and his wife Marta. Oliinyk spoke with Newsweek about the decision, explaining that the cafe will be continuously open for twelve hours a day between the hours of 9 am to 9 pm.  The intent behind their decision is to provide struggling citizens with a hot meal and some "positive emotions" to those that need it.
According to global reports, the war currently taking place in Ukraine, which has been ongoing for the past week, has caused over one million people to flee the country in order to protect themselves and their families.
Oliinyk has described the city of Lviv as being calmer than the majority of Ukrainian cities. Where other cities that are significantly larger, such as Kharkiv and Kyiv, have experienced attacks by Russian troops and heavy shelling, Lviv has not yet been directly hit. However, he has explained that areas near Lviv have been hit by missiles in recent days.
Oliinyk also explained that air raid sirens can often be heard in Lviv as a precaution, but as of yet, they remain safe. He told Newsweek "We don't have a panic, we stay with the kitties and are ready to defend our city."
After discovering that Russia has invaded and that war had officially begun, Oliinyk and his wife made the decision that they would not abandon their home country. They had built their lives in Lviv and only envisioned their future running their own business within the city. "So, we tried to continue doing the things we did every day—doing our job," said Oliinyk.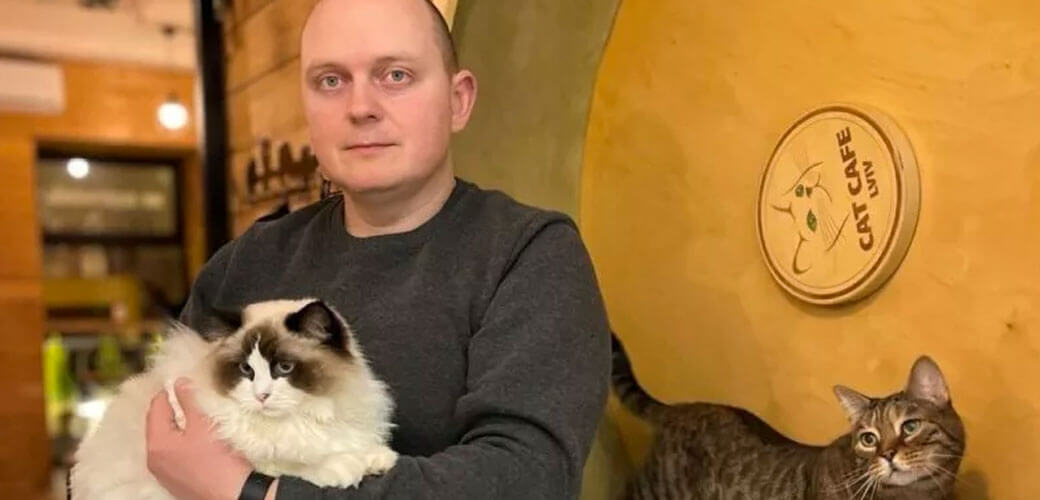 Image credits: Cat Cafe Lviv
The 20 cats currently residing in the cafe are extremely adjusted to meeting new people and are very comfortable around them. Cats are naturally attuned to the emotions of others, much like dogs, and have the ability to lift a person's spirits – even if it's only a little bit.
Cat Cafe Lviv describes itself as a place for "cat therapy" where people can come to rest with their many felines wandering the cafe space. It is suggested that the sound of cats purring and the overall experience can have leaking properties – soothing anxiety and lifting spirits.
As it stands, there are a few regulars that visit the cafe frequently. However, as people are fleeing the larger neighboring cities to escape the invasion, the cafe is steadily growing in popularity. Additionally, the city of Lviv is situated very close to the Polish border, making it an ideal destination for humanitarian organizations to bring some much-needed supplies to Ukraine.
Serhii and Marta have also announced that they plan to put part of their proceedings towards supporting the Ukrainian army, who "need the support now more than ever."
Humanitarian organizations monitoring the situation are becoming incredibly concerned about disruptions to supply chains that could result in a food shortage and a shortage of other necessities. However, Oliinyk has reassured potential customers that they are currently well stocked with food to feed themselves, the cats, and any customers that come calling. "But we don't know what will happen tomorrow," Oliinyk said.
Furthermore, offers of help for abandoned pets or struggling pet owners are pouring in from all over the world. Not only are people donating food, blankets, and toys, but the Polish government along with a large number of volunteers are actively working to assist Lviv with the sending of provisions both for humans and animals.
Oliinyk has also explained that they have taken the stance of hoping for the best but preparing for the worst. Though the optimistic couple is firm in their belief that their homeland will return to a peaceful state, allowing them to continue as they had planned.
Featured image credits: CNN