PetSide may earn a small commission from affiliate links in this article.
Learn more
A stunned TikToker managed to capture the moment that her cat dragged home some rather unusual prey. With 45.3 million American households owning a cat, many of us are used to our cats bringing us small rodents or even birds as gifts but this was on a different level. Her cat, named BC, came trotting into the house with a real, live puppy in its mouth!
TikTok fan AmayaSO managed to capture the super cute moment for us all to share and her video has gone viral – scoring 2.5 million views. It has the caption and voiceover "Our cat just brought this home. I literally thought the dog was a huge rat because the cat was carrying it in his mouth." You can see it for yourself here. The story is reported in News Week with some cute pics of the new pup.
AmayaSO explains that, at first, she thought her cat had brought home a fat rat but when she had a closer look she could see that it was a tan-colored puppy which she later called Peco.
The little pup looks a little stunned after the experience but soon settles in and there are regular updates on TikTok reporting how he is getting on. The video has really captured the imagination of TikTok users and several have left witty comments including Frederick Quinlan who wrote: "That cat stole someone's entire puppy." And Mary Lopez who joked: "The cat said: 'Finders Keepers'." Whilst Krystal-Bella Shaw quipped "So this is how you get puppies…"Mama Tali gets involved with "Did your cat just kidnap someone's puppy?!" but our favorite is from Alyse who says: "I'm going to buy a puppy and tell my partner the cat brought it home. Thanks for the idea."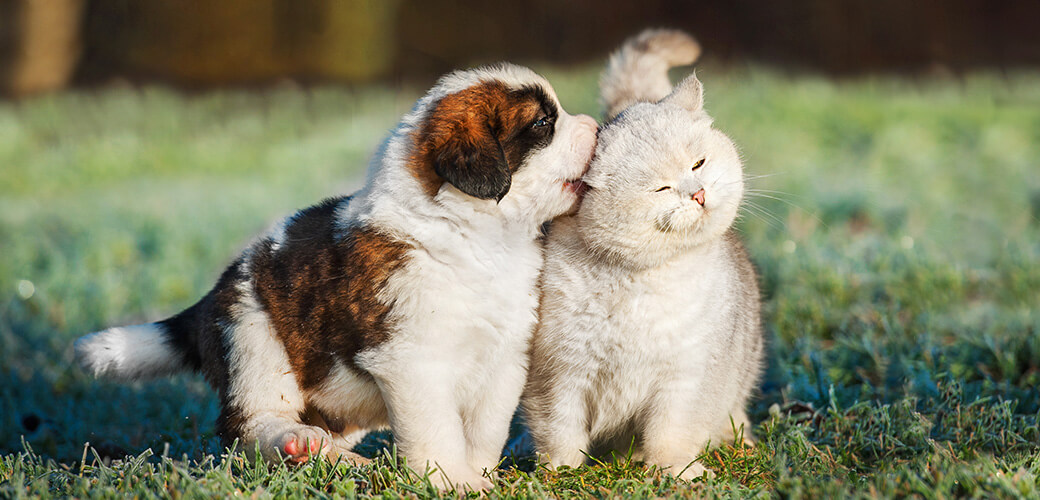 AmayaSO later gives us some updates on how the pup is doing, "Peco has been given meds for worms for everyone asking. This little guy is doing great. Eating, drinking, and playing just fine."
Of course, the thing that everyone wants to know is where the pup came from and are his owners looking for him? AmayaSO shares that he now has a smart blue collar and "My niece named him Peco. He chose his home. Or at least our cat BC chose his home for him."
It turns out that the pup lived at her neighbor's house, and that her neighbors were also her relatives so no harm was done.
BC obviously decided that the little pup would fit in with his family. His owner explains in one of her updates that they have a small farm which she refers to as a "funny farm". It turns out that they adopt plenty of strays from the neighborhood and that they had even adopted a pig a few weeks before. In fact, in one of the clip updates on the social media channel, we see Peco chilling out with some chickens! It's super cute to see that BC selected the newest member of the family and that the humans just went along with it. We look forward to seeing more updates on how he is getting on.