PetSide may earn a small commission from affiliate links in this article.
Learn more
The Blue Heeler mixed with the Australian Shepherd sees a hybrid wonderfully suited for active households and ranches across the US. Recognized by the American Canine Hybrid Club, they are known to be energetic, lean, and incredibly intelligent dogs that dote on their humans.
The Australian Shepherd mixed with the Blue Heeler is not a common hybrid and one that you may not be all too familiar with, but we're here to fix that. Below is a detailed guide on what to expect of this cunning crossbreed.
Australian Shepherd Blue Heeler Mix Overview
Parent Breeds: Australian Shepherd & Blue Heeler (AKA Australian Cattle dog)
Height: 17-23 inches
Weight: 35-65 pounds
Lifespan: 12-16 years
Note: Above is a brief overview of the Blue Heeler mixes' general breed aspects. If you're interested in this designer dog, you may have come across conflicting accounts about the height and weight, but it is important to remember that you must take this with a pinch of salt.
Since this mix comes from two different parent breeds, there is a chance that your Australian Shepherd Blue Heeler mix won't grow as tall or heavy. However, this is no cause for concern as long as your vet tells you they are healthy during your check-ups!
Australian Shepherd Blue Heeler Mix Top Facts
Although the AKC does not recognize them, Aussie Heelers are recognized by the ACHC, ARF, and even the DRA.
Aussie Heelers are fantastic herding dogs.
Texas Heelers are good family dogs as long as their physical needs are met.
They are known to get along well with children after proper socialization.
They are not suitable for small homes
What is an Australian Shepherd Blue Heeler?
An Australian Shepherd Blue Heeler mix is the offspring of two very underrated dog breeds. Although we say underrated, they are well-known to farmers and ranchers because they are talented and intelligent herding breeds.
Their very lovable offspring, the Aussie Heeler mix, often falls under the radar, meaning not many dog lovers are aware of their existence. However, we're here to fix that and tell you everything about this adorable cross.
Common names used for the Australian Shepherd Blue Heeler mix
Mixed breed dogs can go by an array of names, so we've listed the most common below to avoid confusion. Throughout our article, we may switch to one of these alternatives:
Aussie Blue Heeler
Australian Shepherd mix
Aussie Heeler mix
Aussie Shepherd Blue Heeler mix
Texas Heeler
Border Heeler Aussie mix
Cattle Dog Australian Shepherd
Australian Heeler
Aussie Heeler Breed History & Notable Attributes
We have broken down some interesting information regarding both parents to understand the Texas Heeler better. This includes breed overviews, a brief history, and any notable attributes that may be passed down to their offspring.
The Australian Shepherd parent breed
Group: Herding
Height: 18 – 23 inches (depending on gender)
Weight: 40 – 65 pounds (depending on gender)
Lifespan: 12 -15 years
History
Despite being named the Australian Shepherd, this breed is said to originate from Europe. Australian Shepherds came from dogs known as Pyrenean Shepherds that were used as herding dogs near the Pyrenees Mountains.
Eventually, the Australian Shepherd was introduced into Australia during the 1800s, during which they were bred with Australia's British imports such as Border Collies and Collies.
Notable Attributes
Australian Shepherds are known as tough and athletic dogs. This breed is commonly affiliated with the cowboy lifestyle as they are often put to work on ranches herding livestock. This means that these dogs typically have strong herding instincts, which can seep into their day-to-day life if they are not trained appropriately.
Due to their exercise needs and high intelligence, Australian Shepherds are not recommended for rookie dog owners as they can often attempt to pull the wool over their eyes. However, those who can provide them with everything they need to develop and thrive can make excellent canine companions.
The Australian Cattle dog parent breed
Group: Herding
Height: 17 – 20 inches (size may vary depending on gender)
Weight: 35 – 50 pounds
Lifespan: 12 – 16 years
History
The Blue Heeler, officially known as the Australian Cattle dog or the Queensland Heeler, is a popular and well sort-out herding dog from Australia. This well-known working dog breed goes back to the 1800s and was originally bred from Smithfields and was later combined with Dingoes, Border Collies, and Dalmatians, to name a few.
The purpose of intertwining so many breeds was to develop a herding dog that could easily traverse the terrain and withstand the heat of Australia. Over time, breeders achieved just that, and we now have the Australian Cattle dog that we know and admire today.
Introduced to the US in the 1940s, this smart and loyal breed was finally accepted and recognized by the American Kennel Club during the 1980s.
Notable attributes
This parent breed of the Blue Heeler Aussie Mix has several notable traits that your mixed breed pup may develop as they grow. To start, the Blue Heeler is known to be a loyal and intelligent dog. In addition to this, they can also be incredibly playful, making them great playmates for children and other dogs.
As you can imagine, these herding dogs spent most of their days taking commands and working hard over the years. This note only solidifies that this breed is incredibly intelligent and energetic. However, the drawback here is that they generally require more mental and physical stimulation than other dogs.
Another worthwhile note is that Blue Heelers can be somewhat vocal dogs. This is a trait that is past down due to their working heritage, as they would often bark as a way of communicating with their owners. But, again, this aspect is something that you can work on with training.
Other Blue Heeler mixes:
Blue Heeler dogs are much more sought after than you may think and are bred with several other breeds to get the perfect working dog. Popular Blue Heeler mixes include:
Bringing Both Breeds Together
Since both parents of the Australian Shepherd Blue Heeler mix are commonly used as working dogs, there's no surprise that this hybrid is put to similar uses. Thanks to their heritage, Aussie Heelers have strong natural herding instincts that combine well with their incredible intelligence.
Australian Shepherd Blue Heeler Mix Appearance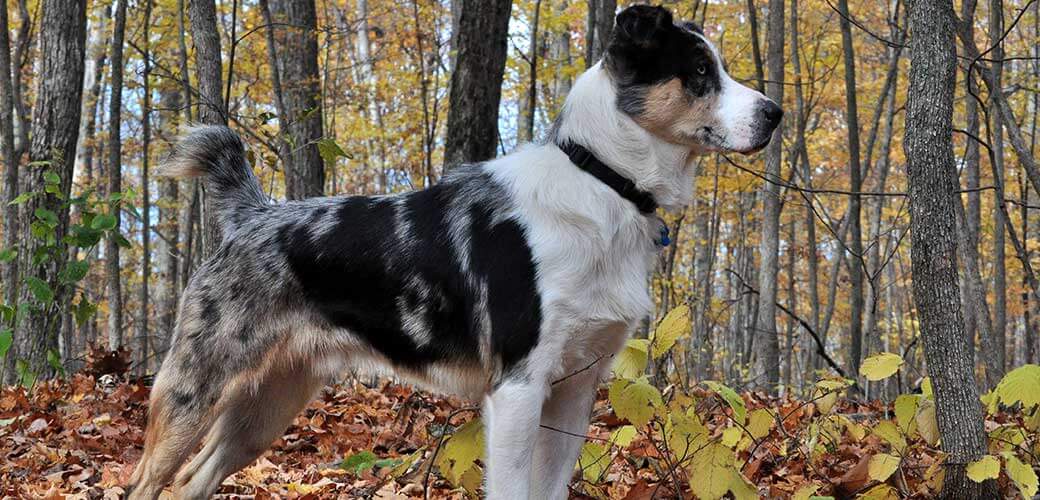 A full-grown Australian Shepherd Blue Heeler mix will stand between 17-23 inches in height and weigh between 35-65 pounds. Since height and weight can differ depending on the gender of the parent dog breeds, the same can be said about the Texas Heeler also.
Occasionally, a Texas Heeler may be smaller than either parent, making them medium-sized dogs. Since they are active hybrid dogs, they will have a lean and strong build that can sometimes border on a stocky appearance, but this won't hinder their mobility.
Coat
Since both parents have a double coat, you can expect the Aussie Blue Heeler mix to have the same. Typically, their coats will be short-medium in length as they need to be able to withstand a harsh environment.
Shedding
Due to their double coat, an Australian Shepherd Blue Heeler mix will shed a moderate amount daily but considerably more during shedding seasons.
Colors and markings
Black
Brown
Tan
Grey
White
Blue Merle
Red Merle
Since an Australian Shepherd and Australian Cattle dog mix is commonly bred with a Blue Heeler, not a Red Heeler, you can commonly expect to see blue in their coats. However, that doesn't mean that red tones cannot come through.
Australian Shepherd Blue Heeler Mix Personality
Before getting yourself any canine shadow/best friend, it's crucial to understand their personalities and needs. This is not only so you can see whether they're a good fit for your home but also because you will need to ensure that you can provide them with everything they need to be happy and healthy.
Energy levels
As expected, this medium-sized dog can carry boats of energy. Since the Australian Shepherd Blue Heeler mix was primarily bred for herding and derived from other herding breeds, they are naturally energetic and need plenty of exercise to help them stay fit and burn off energy.
Intelligence
Much like their parents, Blue Heeler mixes are incredibly smart dogs. As such, they will require mental stimulation and plenty of time outdoors.
Sociability
It's important to note that Australian Shepherd Blue Heeler mix dogs will need to be socialized when they're young. Although they can be very social canines, they can become somewhat overprotective of their home and family.
Children and other dogs/pets
If socialized well from an early age, Aussie Heelers will get along very well with children and other pets. Since these dogs are energetic, they will sometimes love nothing more than to help wear the kids out during the summer.
However, we don't recommend them to homes with small children, as one can excite the other easily, resulting in a few nasty bumps and scrapes.
Caring For an Australian Shepherd Blue Heeler Mix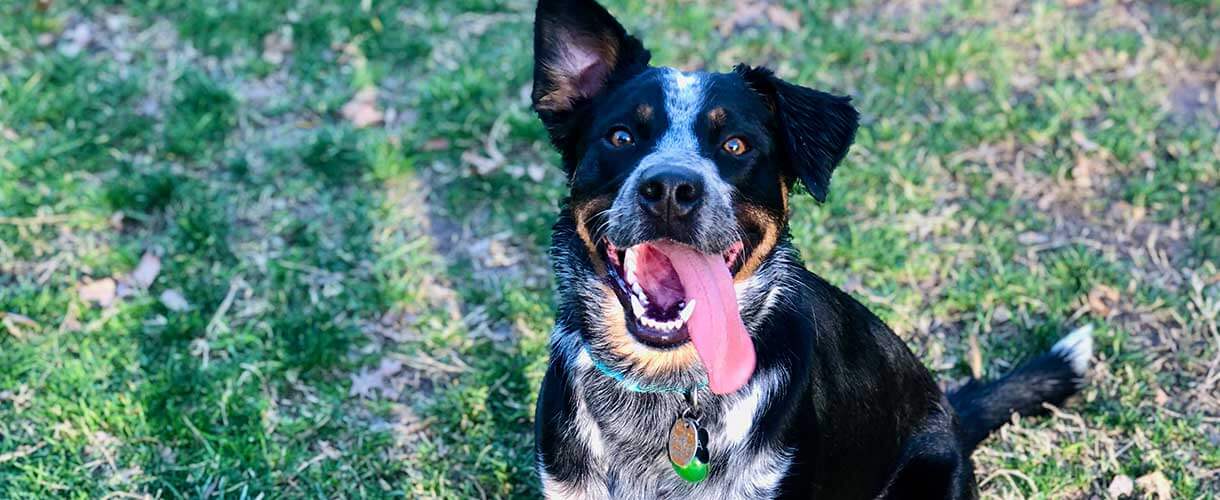 Next, we'll look at what it takes to care for these incredible dogs. As you can imagine, looking after an Australian Shepherd Blue Heeler mix won't be easy, especially when they're young. So if you're looking into this crossbreed, thoroughly read what is expected to keep them healthy and happy.
Grooming
Since a Texas Heeler will shed year-round and significantly more during shedding seasons, you can expect to find a lot of hair around your home. To combat this, you will need to groom them frequently.
It would help if you brushed your Heeler Australian Shepherd mix twice a week to help remove dander, debris, and loose/dead fur from their coats. It's also worth bathing Blue Heeler Australian Shepherds more frequently, especially if they're working dogs. This will also help to free excess fur and debris from their coat.
Diet
As expected, Blue Heeler Australian Shepherd mixes will require high-quality dog food to keep them fueled and their immune system.
Since Texas Heelers are athletic and energetic dogs, they will need a recipe high in protein and specifically formulated for medium to large breeds.
Exercise
Since both the Australian Shepherd and Blue Heeler are immensely active breeds, it's expected that any offspring they have will have similar physical needs. Texas Heelers will need around 60-90 minutes of physical activity daily to keep them occupied and healthy.
Entertainment
It's no secret that intelligent and active breeds need a lot of mental and physical stimulation to keep them in good shape. So, in addition to a lot of exercises, your Australian Blue Heeler will need a lot of activity to keep their mind healthy.
If you're short of ways to do this besides interactive dog toys, you can easily enroll your Texas Heeler in agility training or dog sports. Not only are these fantastic ways to entertain your canine companion, but they can also help you bond with them.
Important note on exercise and entertainment needs:
If your dog doesn't receive the appropriate activities and physical ventures they require, they can resort to bad habits and destructive tendencies in an attempt to entertain themselves. Therefore, taking the above recommendations seriously is crucial unless you want to replace your carpets and furniture monthly.
Living conditions
This smart and active breed cannot be confined to the walls of an apartment or a home without a decent outdoor area. An Australian Shepherd Blue Heeler mix needs a big outdoor space to play and run around.
You must also ensure that your garden or outdoor space is adequately fenced off to avoid a jailbreak. Since an Australian Shepherd Blue Heeler mix has strong herding tendencies, they are likely to take off in pursuit of wild critters in an attempt to organize them.
Training
Last but not least, we come to perhaps the most valuable advice we have for your future Australian Shepherd Blue Heeler mix. You must take the time to train your canine effectively. This includes obedience and socialization training.
Positive reinforcement is key when training a Texas Heeler as they do not respond well to scolding but will fight and persevere for praise and treats. Fortunately, since they are especially clever dogs, they typically respond to lessons quickly and effectively.
Australian Shepherd Blue Heeler Mix Health
Like many other hybrid dog breeds, an Aussie Shepherd Blue Heeler is rarely born unhealthy or with any condition. They are generally considered a healthy breed with very few concerns.
However, this doesn't mean they are indestructible, as some are known to develop conditions that can be detailed below. Also, as your dog ages, it's normal to expect a few health concerns, but a great exercise regime and a healthy diet can help fend off many potential issues.
Hip and elbow dysplasia
Both Australian Shepherd Blue Heeler parents can develop hip dysplasia, but the Australian Cattle dog is not prone to elbow dysplasia. Regardless of the latter fact, it is still possible for your Aussie Blue Heeler mix to develop both.
Eye problems
Since the parents of an Australian Shepherd Blue Heeler can develop eye issues, your pup can gain a condition. Progressive Retinal Atrophy, as well as the Collie Eye Anomaly, are two conditions that can occur.
Deafness
It's known that both the Australian Cattle dog and Australian Shepherd can become deaf. Of course, it's not common for this to happen, but it's certainly something that an aspiring Aussie Shepherd Heeler owner should be aware of.
The Pros and Cons of Owning an Australian Shepherd Blue Heeler Mix
To sum up, we have highlighted some information that may assist you in your decision-making. Below, you can find some pros and cons regarding an Australian Shepherd Blue Heeler
Pros
Can pick up training quickly
Fantastic working dogs
Great family dogs
Perfect for incredibly active dog owners
Generally, a healthy hybrid
Cons
Only suitable for active households, including farms
Not suitable for the elderly or those living alone due to energy and mental demands
Can resort to bad habits if not trained properly
Tendency to herd smaller pets and even children
Not suitable for small homes
Where to Find Blue Heeler Aussie Mix Puppies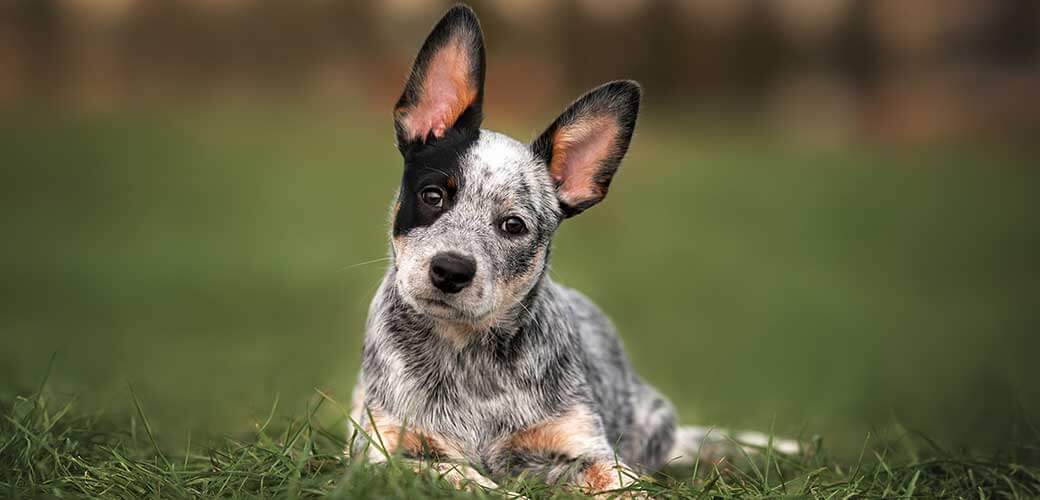 Finding yourself a mini Aussie Blue Heeler mix can be difficult but far from impossible. You may have luck finding many breeders residing in Texas. Some breeders can be found via social media or general web pages, but proceed with caution here.
If you're new to dog ownership, it's important to know what to ask when approaching a breeder. For example, always ensure you meet the pups and the pup's parents to get the same litter as advertised.
In addition to this, make sure you ask for documentation/proof that the parents and puppies are healthy. Ensure that this document provides clear proof that the Cattle Dog Australian Shepherd pup has been screened for the appropriate conditions that their parents are prone to.
Blue Heeler Australian Shepherd Mix Puppy Price
Since Australian Shepherd Blue Heeler mixes are surprisingly not in demand, you won't be paying as much as you might think. Some sources claim that prices can be between $400-$600, although some breeders have been known to start prices at $800.
Keep in mind that the price can be affected by many factors. For example, if the demand for Australian Shepherd Blue Heeler mixes increases, the price may increase. Furthermore, a breeder may charge more or less depending on their experience in the field and the resources they have at hand.
Potential breeders to look at:
Adopting a Blue Heeler Australian Shepherd Mix
Adopting a canine companion can be a tough yet significantly rewarding experience, though you must be able to ensure that you can provide them with everything they need. Rescuing a canine can be tough enough, but there might be some underlying issues that you will need to consider.
However, if you're confident that adopting is the right way, you can check out many sources that point you in the right direction. Additionally, you can always keep an eye on your local rescue organization and shelter.
Consider checking online the Australian Cattle dog rescue association, the Australian Shepherd Rescue, and even the Texas Cattle Dog Rescue pages. At times, you may only find their purebred parents, but you are also likely to find mixed offspring and even additional resources and contacts to help; you narrow down your search. Links for these pages can be found below:
Frequently Asked Questions:
Q: Are an Australian Shepherd and a Blue Heeler the same breed?
A: No. Blue Heelers are also known as Australian Cattle dogs. Both breeds are registered separately on the American Kennel Club's registry.
Q: Are Australian blue heelers good with other dogs?
A: An Australian Shepherd Blue Heeler can get along very well with other dogs as long as they are given socialization training from a young age.
Q: Are Aussie Heeler mix dogs good with kids?
A: Texas Heelers can be great companions for children but are not recommended for families with small kids as they can sometimes become overexcited.
Q: Do they bark a lot?
A: An Australian Shepherd Blue Heeler mix can develop barking tendencies as it's in their nature to use it as a form of communication which means they can act as a guard dog to some. However, you can combat this through training.
Q: Are blue heeler Aussie mixes hard to train?
A: Since Texas Heelers are intelligent dogs, they can pick on training quickly and effectively using positive reinforcement.
Q: Are they protective of their owners?
A: Aussie Blue Heeler mixes are bred to be herding canines, so it's not in their nature to guard or protect. However, once a bond is established with their family, they can be known to become protective of their humans.