PetSide may earn a small commission from affiliate links in this article.
Learn more
A Pyrador is born when Great Pyrenees mixed with Lab Retriever breeding is successful. As a hybrid breed, this is the only way that Pyrador puppies can be obtained naturally. Pyradors have all of the most desired traits of both their parent breeds, which makes them a highly sought-after designer dog breed. But why were Pyradors created in the first place? Continue reading to find out all about the Great Pyrenees Labrador mix and where they came from.
Breed Overview
Height: 23 to 28 inches
Weight: 60 to 100 pounds
Life Expectancy: 10 to 21 years
Personality traits: Friendly, loyal, loving
Other names: Great Pyreness Lab mix, Labreenes
A Short History of the Labrador-Great Pyrenees Mix Breed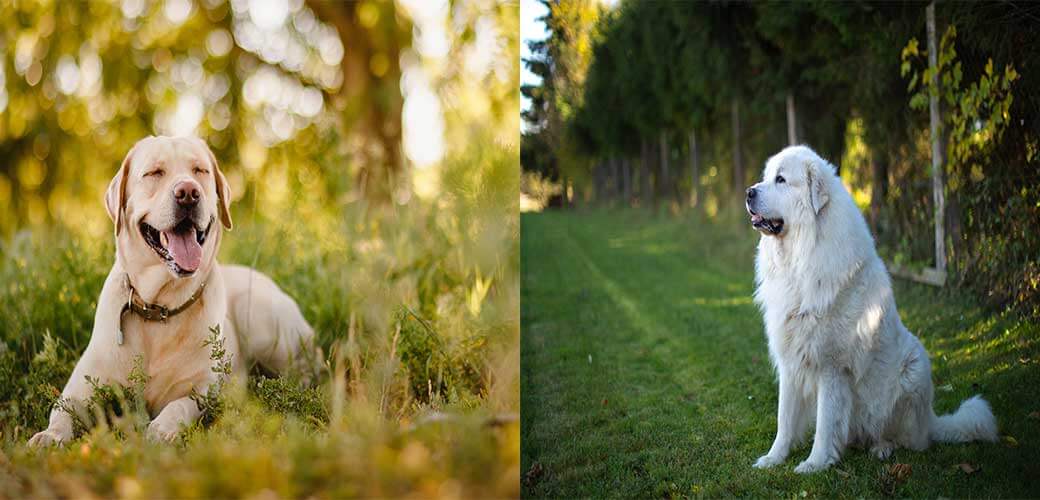 To begin understanding why this breed came to be, it's important to understand why hybrids exist at all. Humans cross-breed dogs to bring out the desired traits of both parent breeds in the new pup. Over the years, this has created faster, stronger, and more loyal dogs, but it's also left many modern breeds with health issues from bad breeding practices. An example is the breathing issues that Pugs experience.
The Labrador Retriever was first bred in Newfoundland, Canada, during the 16th century. They were bred to be working dogs and hunting dogs, often used in areas with bodies of water because of their great swimming ability. The Labrador parent passes on their friendly nature and love of the outdoors to their pup, along with other traits that breeders find necessary in Pyradors.
The Great Pyrenees, on the other hand, is a more ancient breed. They worked in the Pyrenees Mountains in Spain and France, becoming known for their bravery, instincts, and loveable nature. Great Pyrenees are purebred dogs, used for guarding and protecting livestock. They're strong, and would fight off bears and wolves!
Now, the exact origin of the Pyrador is difficult to trace, but it's certainly a modern and more recent breed. They are a designer mixed breed dog, with either one Great Pyrenees parent and one Labrador parent or two Pyrador parents. No other dogs are used to create this breed.
It's known that the Pyrador came from the United States, but not when the first of the breed was brought into the world. It's possible that Great Pyrenees and Labradors were bred together soon after Labrador Retrievers became popular in the United States in the early 1900s, but this is just a guess.
Since their conception, Pyradors have been seen as a luxury or designer dogs for dog owners. Often brought as family dogs, Pyradors make excellent guard dogs and are very fluffy. They're great with kids, which just adds to their popularity with families looking for a friendly, protective dog.
The American Kennel Club
The American Kennel Club does not recognize the Pyrador as a breed, though both the Great Pyrenees and the Labrador are registered breeds with the organization. Great Pyrenees dogs were registered in the club's working group in 1933, and Labradors were added to the sporting group back in 1917.
More Great Pyrenees mixes include
Breed Appearance
A full-grown Pyrenees Lab mix may reach up to 28 inches in height and 100 pounds in weight. They are considered large dogs but are certainly not the biggest around. Their size can be intimidating once they are fully grown, particularly for new owners who aren't used to handling heavy dog breeds.
An excellent selling point of these dogs is their floppy ears. As a companion pet, floppy ears just add to a Pyrador's cuteness. They have thick coats, fluffy tails, and large chests. They are, for all intents and purposes, a slightly smaller version of their Great Pyrenees parent.
Once they reach their second year, the mixed breed is fully grown. The female of the Pyrador breed is naturally smaller than the male, which is why there's such a large difference between their average weight range.
Coat Colors and Patterns
White
Brown
Beige
Black
Gray
Yellow with white markings
Black with white markings
Though the black Pyrador is a striking color, you'll most often see white Pyradors. It's possible this is because of the popularity of yellow and white Labrador Retrievers, which pushes breeders to try and get the same color from their Pyrador puppies. But, it could also be because white/cream/yellow Labs and Great Pyrenees are more common, which makes it easier for breeders to procure these coat colors of the breeds and get the same coat colors in the puppies.
Interesting Facts About the Pyrador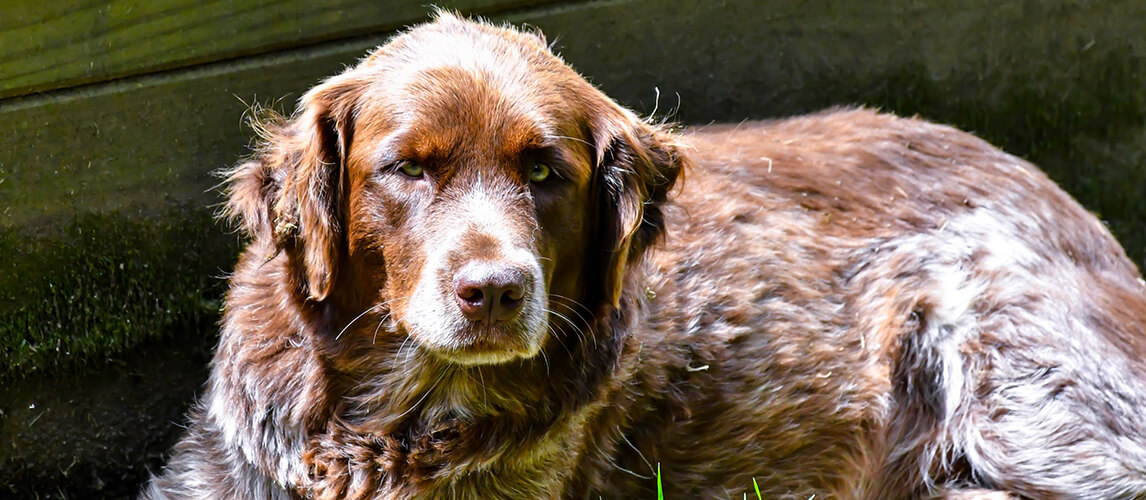 No one knows when the first Pyrador was bred.
Because of their designer breed status, the AKC won't register them as a breed.
One of their parent breeds – the Great Pyrenees – is known as an ancient dog breed, which means they've existed for more than 500 years. It's thought that some version of the Great Pyrenees has walked the earth for around 5000 years.
Pyradors grow rapidly when they are puppies, so they need special food to help with their rapid bone growth.
Despite not being a member of the AKC, Pyradors are recognized by the Dog Registry of America.
Reasons Why Pyradors Make Great Pets
They are happiest when spending time with their owners and other members of their family.
They're great around children of all ages, though they should be supervised with younger children because of their size.
They have low separation anxiety, so can be left at home without a dog sitter for several hours at a time. With check-ins, you could easily go on holiday without worrying about your pup.
They aren't destructive.
They don't bark a lot during the day but may bark to alert you at night. You can train your pup to bark appropriately.
They are easy to train.
The Personality of the Pyrador
The Labrador influence given to Pyrador dogs ensure that the breed is excessively friendly and affectionate. Pyradors have inherited plenty of attributes from their parent breeds that make them a great dog to own, including alertness, loyalty, obedience, and the ability to learn quickly.
Because of the breed's inherited traits, they may try to herd younger family members to protect them, and will bark at strange noises to alert their owners. The prey drive of this breed isn't too bad, but they will have a tendency to chase smaller animals that they don't see as part of their pack. This behavior can be trained out of a Pyrador, just like it can for any breed of dog.
Sociability
Sociability starts from a very young age for all puppies, whether they're a Pyrador puppy or some other breed. As a pup, they will play with their littermates and learn about their biting strength. Their mother will teach them other life skills that they will need in the first few weeks, but once they leave them, it's up to their human family to train the pup.
When introducing your new Pyrador (no matter their age) to any other dogs or cats in your household, remember to do so slowly. Start by keeping your Pyrador separate from the rest of your pets and let them settle in before you begin introducing them. Exchanging scents and letting them eat together are great ways to socialize your dog.
Children
Pyradors are often purchased or adopted to be guard dogs for families with children. They see children as young members of their pack and will help steer them away from danger and protect them if need be.
This hybrid dog is fine with children of all ages. The only issue is that they are a large dog breed, and they won't understand that they need to watch how they throw themselves around near a toddler. Supervise any interactions that your dog has with your younger children until your children are old enough to not be thrown to the ground by the force of an overexcited dog.
Other pets
Other household pets shouldn't pose a problem if you want to bring a Pyrador into your home. Provided that you spend time properly introducing them before letting your Pyrador roam around your property and that you also train your new Pyrador properly, they will seamlessly fit into any family dynamic.
Energy levels
Pyradors are high-energy dogs that are more suited to humans that have an active lifestyle or families with enough members to keep the Pyrador mentally stimulated and fit. They will need to be involved in indoor and outdoor activities, including playtime and long walks. Consider taking them to the dog park to tire them out by letting them play with other friendly dogs.
Keeping your Pyrador entertained
Though they make good family pets, you need to keep your Pyrador entertained. The Pyrenean Mountain Dog and the Labrador are both working dogs who are used to staying busy. You'll have a high-energy dog to deal with every day and you need to be prepared for that. These dogs may not be naturally destructive, but any dog who isn't getting the correct amount of mental stimulation is going to play up to try and get their owner's attention.
Try playing games in your backyard with your Pyrador or build them a home obstacle course that they can run. These are intelligent, strong dogs with a lot of energy to spare. They need several play sessions a day, whether you go out with them and play tug of war or start training them in desired dog skills and tricks.
Intelligence
Pyradors are one of the more intelligent dog breeds available. Just look at their parent breeds – Great Pyrenees dogs have been guard dogs for longer than most dogs have existed, and Labrador Retrievers are often employed as working dogs to aid humans. These are dogs that are highly trainable and will enjoy learning new skills.
Do Pyrador dogs like water?
You're in luck if you'd like to take your dog to the beach or just give them a bath. One of the traits that Pyradors inherited from their Labrador parents is their love of water and swimming. Labs are excellent swimmers and were often used as doggy aids for fishermen who were working.
That doesn't mean that it's a good idea to immediately put your Great Pyrenees Lab mix in a pool and see what happens. Start small and help your dog learn that water is safe because it's unlikely that they've encountered much of it beyond a bath before. If you want to take your dog somewhere they can swim, it's always a good idea to purchase a doggy life vest that will allow you to help them out of the water in an emergency and keep them safe if they get tired while swimming.
Diet and nutritional needs
To make sure that your Pyrador is a healthy dog, you will need to feed them dry dog food that is specifically created for large dog breeds. Large dog breed kibble is often formulated to help larger breeds with their joint issues and is can help protect your large breed puppy while they're going through rapid bone growth.
Avoid high-calorie and high-calcium food because these will harm your dog and have a negative impact on their mobility and overall health. Large breed dogs don't need a lot of calories because many of them are prone to bloat and obesity (two health conditions that do affect Pyradors). Stick to the recommended feeding allowance for your dog's size and weight, and only buy high-quality large-breed dog food.
Be sure to include Glucosamine supplements in your Pyrador's diet. Glucosamine is a supplement to promote healthy joints, and the Pyrenees Lab mix often suffers from joint issues in their hips and elbows.
Exercise
Exercise can be as simple as combining playtime with dog toys and taking your dog on a long walk every day. Be cautious of small dogs that may barrel towards your dog to play or larger dogs that are off their leash. You should avoid crowded areas if your adult dogs aren't fully leash trained or are nervous around other animals. Thankfully, the Labrador breed, which shares genetics with the Pyrador, is a relatively calm and friendly dog. You may see that same calmness in your own pup.
Your Pyrador needs at least one hour of daily exercise. Get creative with it!
Training your Pyrador
With professional training, you can turn your Pyrador into an excellent guard dog for your family. But that's not all doggy training can help with. Standard dog skill training will help your dog be more obedient in public situations and at home, and it will curb any bad habits that you don't want your dog to have.
Even just a little bit of positive reinforcement goes a long way when you're training your dog. If you want the best dog possible, you need to remember to be kind to them. Humans who earn their dog's love and loyalty will have a companion for life.
Grooming
Beware of shedding season when you own a Pyrador. These long-haired dogs will get fur on everything even outside of the times they go through full sheds, so they need to be groomed often.
Pyradors are considered high-maintenance. They must be groomed every day, and twice a day during shedding season. They will also need weekly ear cleaning because of their ear type.
We advise investing in some lint rollers to pick up dog hair from your clothes and furniture.
Common Health Conditions
Hip Dysplasia and Elbow Dysplasia: Both Hip and Elbow Dysplasia are common health concerns for this wonderful family companion. The hip and elbow joint of the dog is prone to inflammation, soreness, and pain. Both conditions are often seen in large dogs, particularly those with ancestors that were working dogs. The pain is caused by the hip and/or elbow joint of the dog being underdeveloped or dislocated. The joint swells and can cause your dog to walk with a limp.
Deafness: Deafness in dogs can be partial or total loss of hearing. It can also be temporary. With dogs that have floppy ears, there is often wax build-up, which can affect their hearing. There can be other causes, but this is certainly a reason to have your pup's ears cleaned every week.
Hypothyroidism: This condition occurs when your dog's thyroid isn't producing enough thyroid hormones to regulate their metabolism. This makes your dog's metabolism slow down and can lead to weight gain and obesity.
Adopt (don't shop)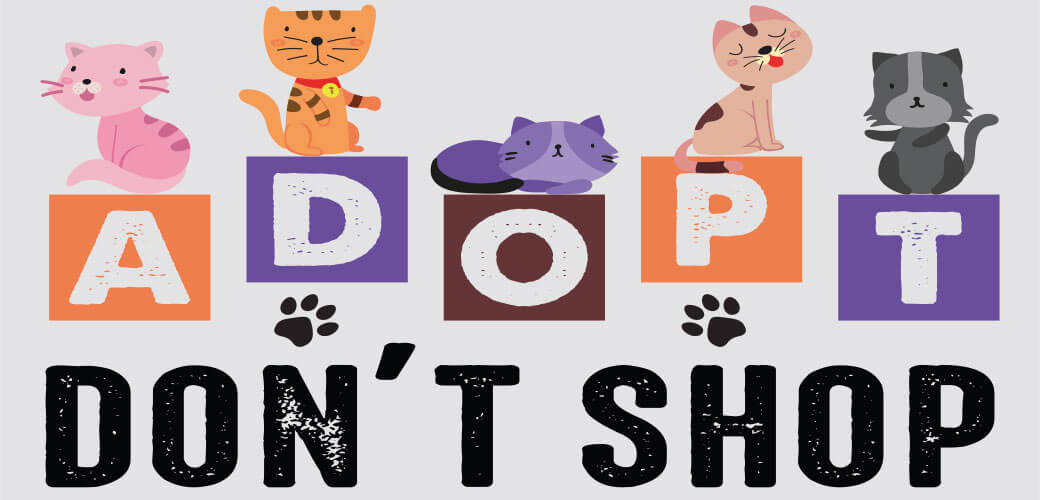 You can definitely try your local animal shelter to locate a Pyrador but they aren't a very common dog and may be mistaken for a small Great Pyrenees.
If you don't have your heart set on a Pyrador, why not look into another popular breed? Labrador Retrievers are often employed as everything from companion and service dogs to regular family pets. You can find them just about everywhere, especially if you aren't fussed about adopting a purebred dog.
Thousands of dogs are waiting for homes in shelters right now, and you could be giving a loving dog another chance at finding their forever home.
Where to find Pyrador puppies
If you're looking for a Great Pyrenees Lab mix puppy, you may have some trouble. There is no organization or place on the AKC marketplace set up for puppies of this breed, which means that you're going to have to look at other sources.
When looking for a Pyrador puppy, avoid sites like social media marketplaces, selling websites, and the like. These are rife with backyard breeders.
Remember to meet the parent breeds and ask for vet records. Either the parents of a Pyrador need to be the Great Pyrenees and a Labrador Retriever or each parent breed should be a Pyrador, themselves. Any other dog breed genetics mean that you aren't looking at a true Great Pyrenees Lab mix.
Where possible, look for specific puppy sale sites that allow reviews and have breeder checks in place. Never pay anything online, always meet the puppy first and take someone with you.
FAQs:
Q: How long do Pyrador dogs live?
A: The Pyrador dog, which is a hybrid dog bred from Great Pyrenees and Labrador breeds, can live an average of 10 to 12 years, depending on their overall health and any medical conditions that they have.
Q: How big will a Great Pyrenees lab mix get?
A: If you own a Pyrador or Great Pyrenees Lab mix, you can expect them to grow anywhere between 23 and 28 inches from their paw to the top of their shoulder. They're a large dog, but certainly not unmanageably large, even for new dog owners.
Q: Are Great Pyrenees Lab mix cuddly?
A: Being part Labrador, who are a breed known for being extremely friendly, you can expect your Great Pyrenees Lab mix to be very loveable and cuddly. They enjoy snuggling with their owners and will often socialize by coming to sit by them when the day is winding down.
Q: Are Great Pyrenees Lab mixes easy to train?
A: Thanks to their personality and the breeds that they come from, Great Pyrenees Lab mix dogs are very trainable. You'll experience little difficulty in working with your Pyrador pup, especially if you start teaching them from a young age. Older dogs can be harder to train, but even a senior Pyrador can shine under the right conditions.
Q: Do Pyradors bark a lot?
A: Because they come from protective dog breeds, the Great Pyrenees Lab mix can show some tendencies towards barking at night. This habit comes from their Great Pyrenees parentage, while it is tempered by the lesser barking tendencies of the Labrador. Pyradors don't bark much, but they will alert you if they hear something strange or new. You can work with your pup in training to help them understand when it's appropriate to bark and bring out the best qualities of a guard dog in them.
Q: Are Pyradors good with kids?
A: The concern that a lot of new dog owners have with larger breeds of dogs is letting big dogs be around children. It's not an unfounded worry, as a large dog may accidentally knock over a small or young child. As such, it's better to adopt or buy a Great Pyrenees Lab mix if you have slightly older children, rather than toddlers. Pyradors are very protective of children and will watch over yours like an extra babysitter.
Q: How much does a Great Pyrenees lab cost?
A: This hybrid pup is actually one of the more reasonably priced crossbreeds. You can expect to pay around $500 USD for a Pyrenees Lab mix puppy, though this is an average figure because it can change depending on your location and other factors like the coat color of the pup.