The Best Toys For Hamsters in 2022
Last Updated: February 1, 2022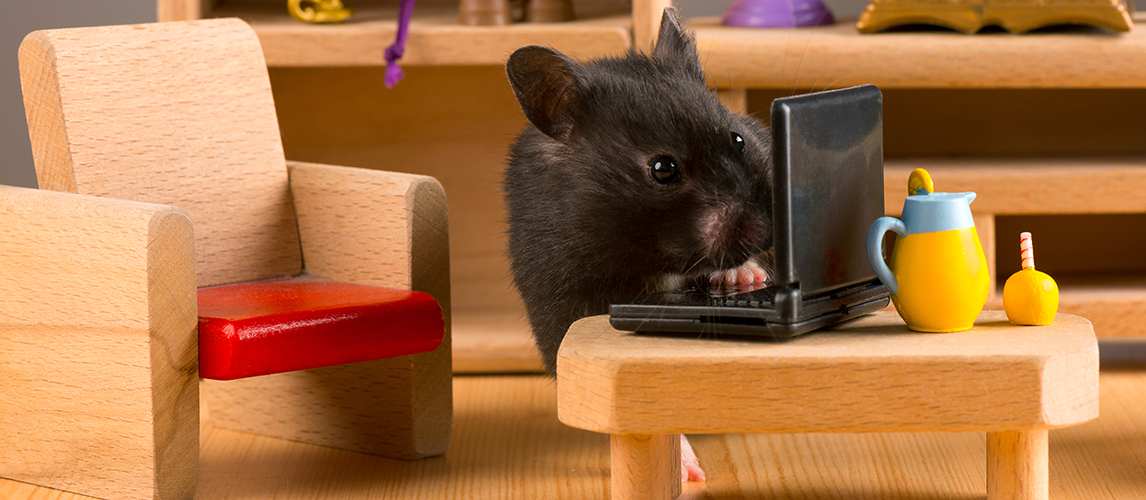 PetSide may earn a small commission from affiliate links in this article.
Learn more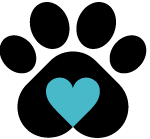 By Petside
Published 07:48 am
Hamsters are inquisitive little fellas, and we love them for it. However, due to their nocturnal nature, it's important that they have a wide assortment of toys for them to play with when you're off in dream land. Not only will a variety of toys keep their teeth neatly trimmed and prevent them from becoming bored, your young hamster's brain development actually relies on mental stimulation to remain healthy.
So, what toys for hamsters will encourage them to play all night long? We've compiled an assortment of ten of our favorite hamster toys – ranging from chew toys to cage climbers – that will keep your little rugrat mentally stimulated and coming back for more.
The Best Toy For Hamster
Best Toy For Hamster Buying Guide & FAQ
Why Hamsters Need Toys
With only an average lifespan of three years, every day with our pet hamster counts. Not only does playtime allow for bonding time with your furball, but mental stimulation is also necessary for brain development.
A study conducted by the University of Tennessee about the brain development of young hamsters when barred from playing with each other found that as adults, hamsters deprived of playtime were more prone to the effects of an acute social stressor.
Similarly, consecutive analyses of the same dataset established that hamsters who played as juveniles were less aggressive than their counterparts.
Both conclusions weren't merely deduced from observation; the dendrites of neurons (dendrites being the pathways that communicate with other cells, resembling a tree-like structure) in the rodent prefrontal cortex were altered from a lack of play. Therefore, buy your hamster toys to ensure their development resembles that of a happy and healthy rodent.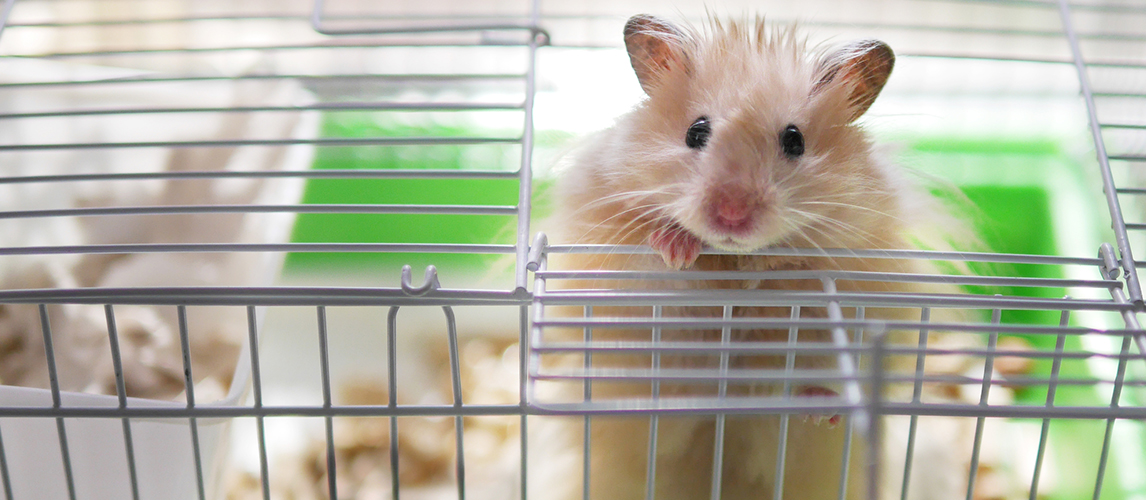 Things to Consider When Buying Toys For Hamsters
Due to the vast number of safety and design perks and flaws that must be considered before purchasing a new toy for your fluff ball, we recommend asking yourself these three questions below to ensure your hamster's new toy is a product that will bring much joy for many years to come.
Is This Toy Made of Natural Wood?
As hamsters love nothing more than to chew every toy that comes into their path, why not buy them one designed for this very purpose?
Toys made from apple or pear wood are favored, whereas deadwood and cedar are not due to the potential that they carry parasites or may cause a respiratory upset. Likewise, although it may be tempting to buy colorful wood that would brighten up your hamster's cage, the toxic chemicals could be lethal if consumed.
Let's face it; a hamster doesn't care if its toys look aesthetically pleasing. All they care about is if their new toy will entertain them and allow them to curb their desire to chew.
Will it Fit into My Hamster's Cage?
Hamsters are nocturnal, meaning that letting them out to play around your house at night could be dangerous without you supervising. Therefore, check the product dimensions of the item before attempting to stuff it into a hamster cage.
Does the Toy Contain any Sharp Corners?
Commendable hamster toys always have polished edges so your hamster doesn't receive any cuts and scrapes. The same goes for malleable wooden ladders that maintain their shape due to flexible metal wires. Ensure no wire ends stick out to keep your hamster safe before placing their new toy inside their cage.
Related Post: Hamster Cages
Our Top Pick - Kaytee's Comfort Wheel
Out of all the diverse and stimulating hamster toys flaunted in our buying guide, Kaytee's Comfort Wheel walks away with our prestigious top pick title. This toy epitomizes what a hamster's playtime should contain – plenty of physical exercise and mental stimulation. The sturdy, 'tail safe' running surface provides a safe place for your hamster to have unsupervised fun. The perfect toy for both dwarf and syrian hamsters, it's an impressive addition to any hamster cage.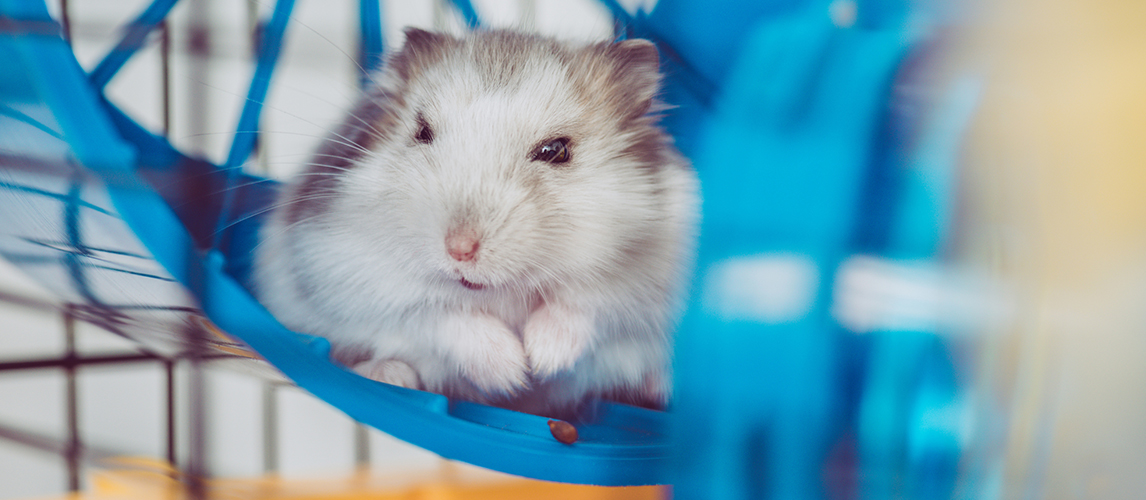 FAQs:
Q:

When is the right time to play with a hamster?

A:

Depending on when you're free, either play with your hamster at night or early in the morning. As hamsters are nocturnal, scheduling a play session for midday will most likely result in you being greeted by a very grumpy fluff ball.

However, since the majority of hamsters wake up between 7-9 pm, playing together when they awake is positive for you both: your hamster will start their day off on the right foot and you'll go to bed with a smile on your face.
Q:

What kind of toys do hamsters like to play with?

A:
Exercise toys: Picture a hamster. We guarantee the image that popped into your head was of a quintessential Syrian hamster happily running around their exercise wheel, did it not?
Unlike several stereotypical images circling around the pet industry, the amount that hamsters are believed to love these types of toys isn't a misconception. Hamsters love to run and a wheel encourages them to exercise.
However, many small exercise wheels are detrimental to a hamster's back, as they force pets to arch their backs as they run.
Similarly, investing in an exercise ball is a great way for your hamster to achieve their recommended amount of exercise. However, don't force your hamster to play with this toy if they appear uninterested; the RSPCA claims that exercise balls restrict a hamster's access to resources such as water and bedding, their inability to perform natural behaviors may cause them to feel considerable amounts of stress.
Climbing toys: Hamster climbing toys provide the perfect playground for your hamster. Dwarf hamsters, in particular, adore this kind of toy on account of the climbing mimicking the way in which their ancestors scrambled through tunnels and vegetation to acquire food.
Related Post: Hamster Food
Q:

How many toys should a hamster have?

A:

To ensure your hamster isn't bored, what you need to be concentrating on isn't the number of toys you have for your hamster, but how often do you alternate their toys.
All hamsters will become bored of playing with the same toys every night – even their beloved wheel – so offering them a change of pace by throwing a new toy into the mix every so often is good for them.