PetSide may earn a small commission from affiliate links in this article.
Learn more
There's no denying the bond between a cat and its human. But have you ever wondered why your kit likes to invade your personal space come bedtime? Regardless of their own plush cat bed, some kits just prefer duvet time with their owner. And while it is a lovely way to connect with your cat, if it's becoming a habit, you may be questioning whether you should do something about it. Before you make up your mind, it can be helpful to understand some of the reasons behind your cat's human bed-loving behavior.
To help, we try to answer the question – just why do cats like to sleep with their owners?
How a Cat Sleeps
If we are to understand your kit's human bed preference, the first thing to consider is that cats have a different sleep patterns from their cat owner.
Rather than sleeping in one solid block, cats sleep in several naps throughout the day to keep their energy levels topped up. And this links to their natural hunter instinct to be ready to either defend themselves or attack their prey.
These 'cat naps' are not deep sleep territory, but light sleeping during which your kit's hearing and sense of smell are still primed to react and spark them into action. So, when your cat wants to cuddle next to you on your bed, there are, as any cat behavior expert will tell you, more than a few reasons at play.
Reasons a Cat Wants to Sleep with you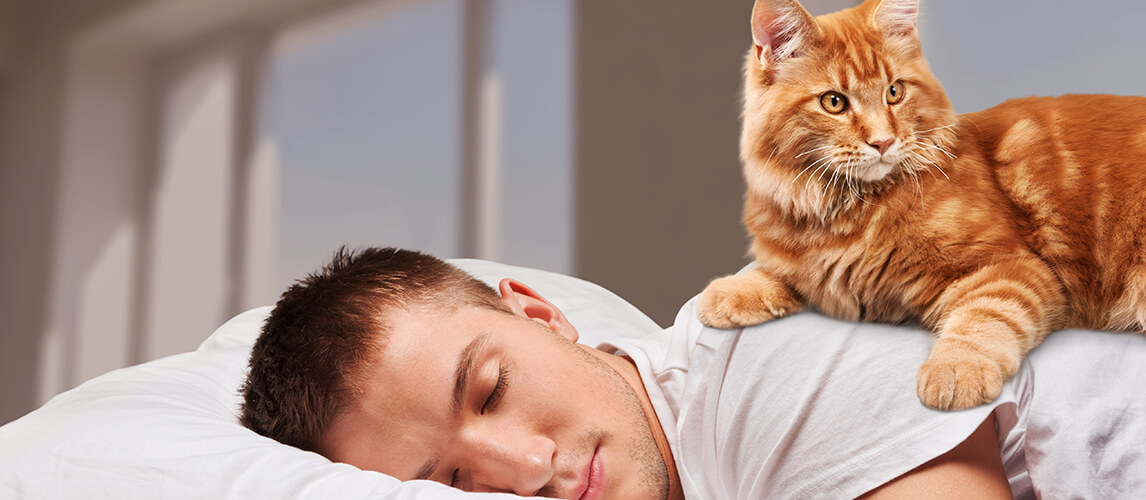 If your cat is napping throughout the day, then what's motivating them to sleep in your bed with you? Here are the most common reasons why your cat's sleeping habits also include snuggle time:
You're Family
One answer to the question, 'why does my cat sleep on me?' is that you are family, and they want to spend quality time with you or other human family members. In fact, some cat experts believe that your kit just sees you as another cat.
Security
If your cat is always poised and ready for action, it's understandable that they need some deep sleep downtime. But deep cats' sleep is when they are at their most vulnerable. Most cats get around this need to seek extra protection and security by cuddling up to their favorite human in a place where they feel secure and safe.
To Keep Warm
As well as making them feel less vulnerable, you also represent one of their favorite warm places to relax. And the duvet on your bed makes it a very tempting resting space for extra warmth.
Your cat's body temperature is 3-4 degrees higher than the human body temperature and so they are more likely to seek out heat to keep themselves warm. Think of yourself as a human hot water bottle for your cat seeking warmth and you won't be too far off the mark! Another interesting fact is that they like to sleep on your head as it gives out the most heat.
Companionship
If your cat loves to sleep with you at night, take it as a sign that they really do trust you. To go into a deep sleep, a cat likes to feel both safe and comfortable.  But many cats are by nature, independent creatures. So, for your cat to snuggle up with you at night, then they are not only looking for company but are certain that you are the right person to spend time with.
Your Scent
With their sharp sense of smell, your cat's behavior is driven by scent. Which can mean that if they like to snuggle up close to you in bed, you smell really good to them. Your scent can be a source of comfort and stress relief to your cat, which makes them feel relaxed.
The Sounds you Make
Rhythmic sounds are a source of comfort to cats, which is another reason why they like to get so close and even sleep on their owners. Your heartbeat, your breathing, and even the rhythmical sound of snoring can all calm and soothe your cat and help him into a lovely deep sleep.
Hormones
We, humans, know the soothing, feel-good benefits of a cuddle, and it appears cats know too! Research has shown that cats release a feel-good hormone, called oxytocin when they are in close contact with their human.
Marking Their Territory
Our final reason is that they are marking their territory, which is one of the typical cat behaviors. If your cat bonds with you, he will see you as his own and is reliant on you for love, shelter, and food. So, when you wonder why my cat sleeps next to me, he is looking to protect you.
Should You Let Your Cat Sleep with You?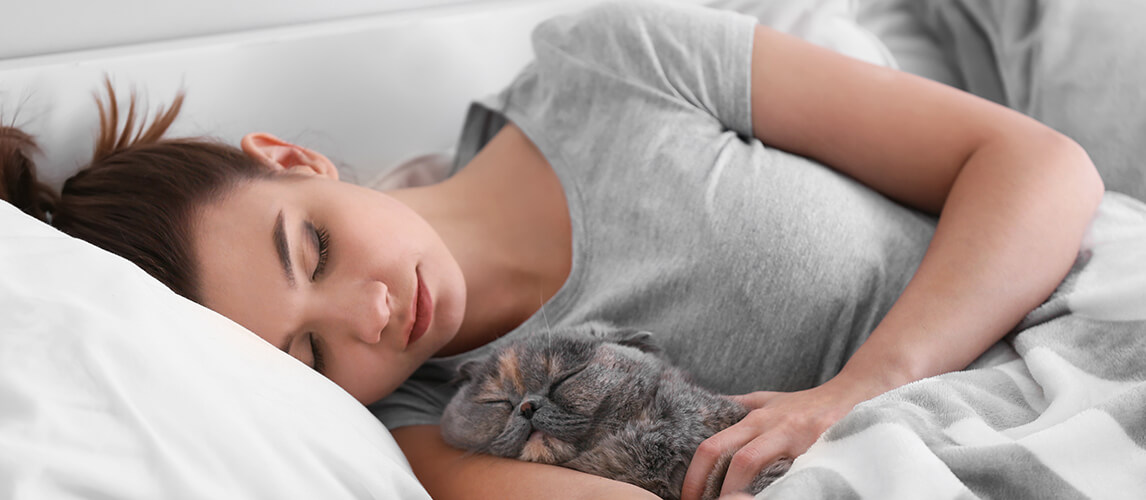 If your cat prefers to sleep on your bed, then letting them do so is a very personal choice for all cat owners. However, there are both benefits and issues associated with a cat sleeping with you.
Pros
You get to bond – catching some Zzzzzs with your cat gives you a great chance to strengthen your bond. While cats are known for being independent, they are also social creatures that crave love and attention. And if you are out at work all day, then night-time snuggles are perhaps what you both need.
Helps you destress – petting and getting physically close with our pets releases feel-good hormones that help to decrease levels of the stress hormone, cortisol. Studies have also shown that pet ownership can help beat depression and loneliness, which is a good reason to welcome your kit into your bed.
 It can be good for their health – sleeping with your cat can not only make them feel calm and secure, but it can also be good for their physical well-being too. Their body restores and repairs itself during deeper cat sleep so giving them the chance to slumber can be good for their health.
Cons
Hygiene – particularly if you have an outdoor cat, then sleeping with your pet is not the most hygienic thing to do. Outdoor cats bring in mud and dirt into your bedsheets, and even indoor cats can carry debris from their litter tray. Cats can also carry parasites, bacteria, and worms into your sleeping space, so ensure your kit is up to date with its worming and vaccine program.
Sleep disturbance – cats are nocturnal and so have active periods during the night, which means you can expect to have disruptions to your own sleep, especially if you are a light sleeper.
Can trigger allergies – cats shed their fur and so a build-up of pet hair in your bed could lead to an allergy or exacerbate an existing one.
What to Do if They are Interrupting Your Own Sleep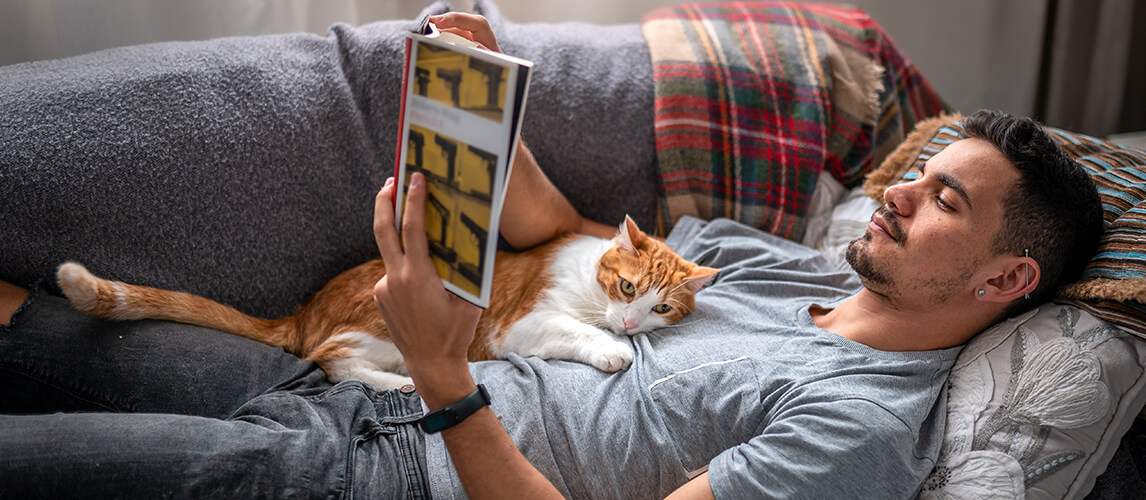 If you find the experience of your cat sleeping on your bed more negative than positive, then there are steps you can take to give your pet an alternative.
Self-warning cat beds can offer all the comfort and security your kit is craving. And if your kitty is a night-time feeder, then investing in an automatic feeder can be a good idea. Adding in an extra playtime session with your cat before you go to bed may also give them the attention they are looking for.
And if all of this doesn't work, then there's one simple solution that makes sense – shut your bedroom door!
Source:
How many hours do cats sleep? – The Sleep Foundation