PetSide may earn a small commission from affiliate links in this article.
Learn more
Cats may come across as fearlessly strong creatures but an actual fact is that can be prone to conditions such as stress and anxiety. It's worrying to think that your fur baby can fall victim to such troubling issues so whether you're simply curious or concerned for your feline, we have taken the time to detail vital information about stress in cats.
Here, we've got everything you need to know including why cats become stressed as well as some useful information about how to help your cat relax.
What Causes Stress in Cats
Cats are typically adaptable animals and can adjust well to changes made around the house or in their general home life. A piece of furniture that was once in one spot but recently moved into another may spark curiosity in your feline but they won't hate it to the point of unbearable anxiety.
So why is my cat stressed?

That being said, there are a number of things that can trigger a cat's stress response. These are listed below:
1. Moving home
Moving homes can be a stressful time for everyone but it can also affect your pets in almost the same way. Changes to your cat's environment can trigger stress as the new area is completely unfamiliar to them. The process of moving will also contribute to this as they will have absolutely no idea of what's going on. The unfamiliar area, moving, and break in their daily routine can begin the onset of chronic stress.
2. Home renovations/a bustling home environment
The constant movement of the people around her coupled with frequent loud noises can deeply and negatively impact your cat's well-being. As a result, your cat will probably try to find the quietest place possible to retreat to.
3. Traveling
No matter how far you're going, traveling can often cause cats to become stressed. Being confined in a carrier for too long and being moved about can make them increasingly uncomfortable and put them on edge.
4. A new household addition
New additions such as a new baby or new pet, can leave cats uneasy. Not only can the noise and presence of new family members make cats uncomfortable but it can also mean that they won't get the attention that they used to receive.
5. Unwelcome guests
Unfamiliar human guests can also put cats on edge. If your home doesn't often get visitors the sight of a new face may cause a domestic cat to become tense.
In some cases, unfamiliar cats can sometimes enter through a cat flap and make themselves at home. If your kitty is not used to interacting with other cats this can cause them to become territorial and/or stressed.
6. Shortages or lack of resources
Competition with other cats may also have an impact on their mentality. A home with more than one cat and not enough litter boxes or food bowls may leave cats fighting to use them. This is why it's important to purchase more than one litter box and food/water bowl if you have a number of felines.
7. Unsolicited or unsuitable petting/handling
Knowing what your cat likes and doesn't like is crucial. It's also worth understanding where their boundaries lie. Some cats hate being picked up, not being picked up, pet too much, or even too little.
For more information on interacting with your cat and how to pet them – take a look at our guide here.
What Can Happen If Your Cat Deals With Long Term Stress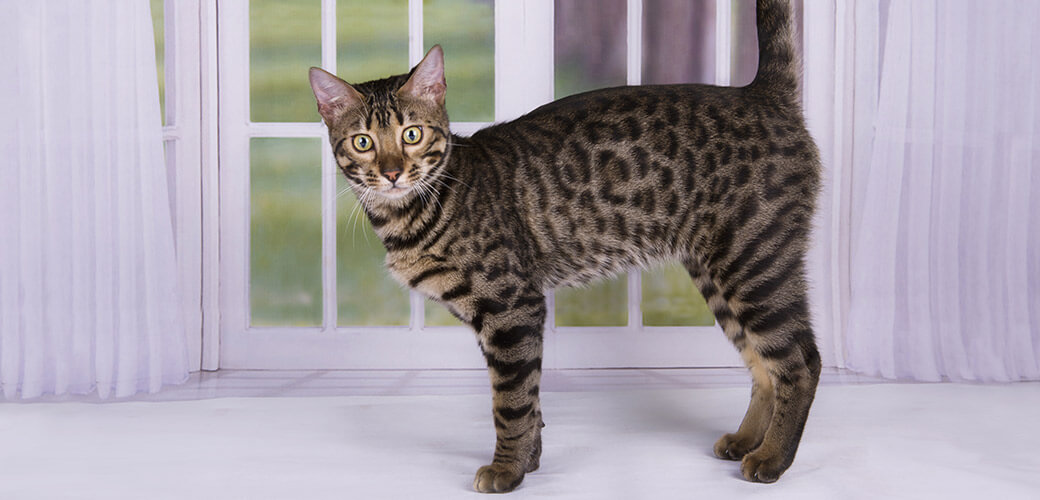 Over time, stress and anxiety can have a negative effect on your cat's physical health. Primarily, a stressed cat may lose its appetite which can result in weight loss. In addition to this, they may also not drink as much water which can leave them dehydrated. Both cases can lead to severe illness.
Writer's note:
My own cat, Bruce, struggled hugely with stress during 2020. During this time, his appetite declined and he refused to drink water. He eventually developed a urinary tract infection. The good news is that we were able to identify why he was stressed and what we could do to help in addition to treating his medical problems. Now, Bruce is back to being the happy and healthy cat he was before and we do everything we can to make sure that he, and our other cat Rory, are comfortable and happy at home.
Signs of Stress in Cats
So, if you're cat seems to be dealing with stress, don't fret! There are plenty of things you can do to help them. One of the most important things is to be able to spot the symptoms of stress early so that your cat won't become physically unwell. However, since felines can be aloof some signs can often go unnoticed but there are other sure-fire ways of spotting stress in cats.
Cat stress symptoms
One simple incident can increase cats' stress levels. In such instances, you may be able to spot some signs of stress easily. However, other symptoms may be more difficult to spot as they can develop slowly over a period of time. This is known as chronic stress and may be more difficult to identify. Also, cats can be talented at hiding signs of anxiety as it's in their nature to cloud weaknesses from predators.
So if you're wondering what cat stress might look like, take a look at the most common signs listed below.
Behavioral changes:
Withdrawal/lack of interaction with family and other pets
Increased dependency on those around them
Uncharacteristic meowing
Excessive grooming
Relieving themselves outside of their litter trays
Constantly on edge/reacting uncharacteristically to movements or sounds
Not wanting play sessions/lack of interest in toys
Aggressive towards other animals, visitors, or even their own family
Excessive scratching of furniture
Spraying
Not being able to settle or relax for long periods of time
Growling or hissing
Physical symptoms:
Poor appetite
Hair standing on end (especially up and down the tail)
Weight loss/weight gain
Deterioration of coat condition
Runny nose
Runny eyes
Vomiting
Diarrhea
Bald spots/sores from excessive grooming
Sleeping more/less than usual
Eating more/less than usual
Eating non-food items
Painful urination
How to Help a Stressed Cat
Once you have spotted the signs of stress, you will then be able to confidently move forward with a plan of action. Take a look at the tips below and weigh up which of the following could help keep your cat calm and content.
Create a safe space/safe room
For cats living in busy homes, a safe room or space can make a big difference. Offering felines a quiet place to relax if things are getting too overwhelming can significantly reduce stress especially if you're moving home or doing some renovations.
Using a safe room can also help you safely and gradually introduce your cat to new additions to the home. New cats or dogs can bring new smells into the house and since a cat's sense of smell is more intense and has significant meaning to them, a gradual introduction may be necessary.
Have multiple resources throughout the house
If your home has multiple cats, try increasing the number of food and water bowls you have. By doing so your resident cat won't feel as if mealtimes are a competition. Similarly, try adding another litter tray.
Try catnip
Catnip is a naturally occurring non-toxic herb that can have a calming effect on cats. Not only this but it can also elevate their overall mood. If you're considering catnip as an option, take a look at our catnip toys and treats guide here. We also have a guide detailing the benefits of the catnip banana toy, an effective and popular toy to help relieve tense felines.
Chew toys and other tools
Toys, especially chewable toys, are a great source of mental stimulation and a way to satisfy a cat's hunting instincts. They are also the perfect option for cats that have taken to scratching and tearing up furniture or for those who feel stressed due to boredom.
Calming sprays are also incredibly helpful for stressed cats as they have been proven to help cats with short and long-term behavioral issues. These sprays are a popular pick so if you want to know more take a look at our buying guide found here.
Take a trip to the vet
It's always worth getting the advice of veterinary professionals when stress affects your feline as it can sometimes lead to health issues. In extreme cases, your vet may advise prescription medications.
Additional tips to relieve a stressed cat:
Encourage their appetite by gradually changing their diet.
Try getting them a tent bed as the enclosed space can make them feel comfortable and safe, especially for older cats.
Take the time to give your kitty some extra attention as this can help them feel secure.
Rather than use a water bowl, switch to a fountain as cats often prefer to drink running water.
Clean their litter box daily.
Introduce regular play sessions.
Pay close attention to your cat's behavior and body language when giving them affection. Knowing when to give your cat attention or when to stop stroking them can be crucial when reducing stress. Sometimes, simply let your cat choose when they want a fuss.
If you've moved home, let your cat explore during quiet times so that they become accustomed to the space. You can encourage their curiosity by leaving treats around the room.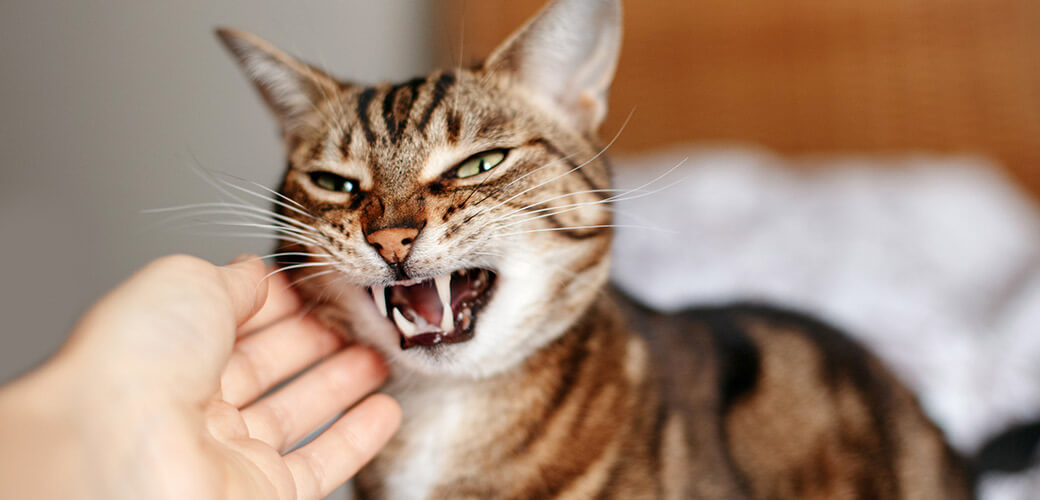 Frequently Asked Questions:
Q: Will cats get stressed out if they can't hide?
A: Yes. This is why we suggest giving them a safe space so they can feel safe and have their own area to seek refuge in during troubling times.
Q: Can cats die from stress?
A: Most cats can develop health problems when dealing with stress but it's rare that a cat will pass away due to it.
Q: How can I relieve my cat's stress?
A: Pet owners can find a helpful list above detailing the most effective methods to combat cat stress. However, always make sure to seek help from a vet to look after your cat's health needs.