PetSide may earn a small commission from affiliate links in this article.
Learn more
The Pekingese dog breed, otherwise known as the Lion dog, are stunning, regal pups with a rich history. Initially bred as companion dogs for Chinese royalty, Pekingnese dogs are known for their loyalty, affection, empathy, and relatively calming temperament. They have a reputation as ideal companion dogs and loving family pets.
For anyone interested in adopting a Pekingese puppy or even someone who simply admires this beautiful breed, we have created this nifty guide chock full of interesting information from general care to fun facts for you to peruse.
Breed Overview
Size: 6-9 inches
Weight: Up to 14 pounds
Life Expectancy: 12-14 years
Temperament: Playful, Protective, Adaptable, Affectionate, Stubborn, Intelligent, Empathetic, Dignified, Good-Natured.
Energy Level: Moderate
History of the Pekingese
Pekingese are an established part of Chinese history and are recorded as far back as the Tang Dynasty in the 8th century. In particular, the Chinese Imperial Palace was the only place where a Pekingese could be owned at the start of the breed's lineage. The purest Pekingese line remained within the Palace even after the breed became better known to the general public. Interestingly, the theft of any royal dogs was punishable by death.
An ancient Chinese legend about the Pekingese also explains their nickname as lion dogs. According to the legend, the first Pekingese was originally a lion that was shrunk down to standard dog size by the Buddha.
Myth vs. fact
This mythical explanation for the creation of the Pekingese may not be scientific fact. However, very little is known about this breed's true origin of this breed, and so it could be assumed that this myth holds some truth – especially when it comes to the breed's resizing over time.
It is more than likely that the Pekingese was first a much larger dog breed selectively bred to shrink it to a more manageable companion size. It is known that the Chinese emperor and his courtiers spent centuries fixating on the breeding of small flat-faced dogs. Some other surviving examples of this breeding process are the Shih Tzu and Pug.
The popularization of the Pekingese
Until 1860, the Pekingese were completely unknown to the western world. It was only during the Opium Wars and the British troops' invasion of Beijing, during which they stormed the Emporer's palace, that five Pekes were found. The invasion was brutal and was accompanied by looting and burning of the palace. During this invasion, the imperial family tragically ordered their Pekes to be killed, as they would rather this than see their beloved dogs fall into enemy hands.
During the Peke cull, several of the pups managed to escape and find refuge behind a curtain before one was discovered by Captain John Hart Dunne and taken back to England as a gift for Queen Victoria. The dog was named Looty after how it was found. It was from that point that they rapidly grew in popularity.
The first Pekingese ever recorded in Ireland was given to Dr. Heuston. Dr. Heuston had established clinics in China for the smallpox vaccine and received a pair of Pekingese named Chang and Lady Li from the Chinese minister Li Hongzhang. He later founded the Greystone kennel.
Pekingese arrival in America
It didn't take long after the imported Pekes gained recognition in England before they became known in America, with the first Pekinese recorded in the 1890s. It took over a decade before these historically sacred dogs were registered by the American Kennel Club in 1906.
Breed Highlights
Pekingese dogs are not hypoallergenic.
Pekingese love companionship and can struggle with separation anxiety.
Their coat needs constant upkeep as it can matt easily and grow very long.
Pekingese can do well in agility-based dog sports.
Pekingese Breed Appearance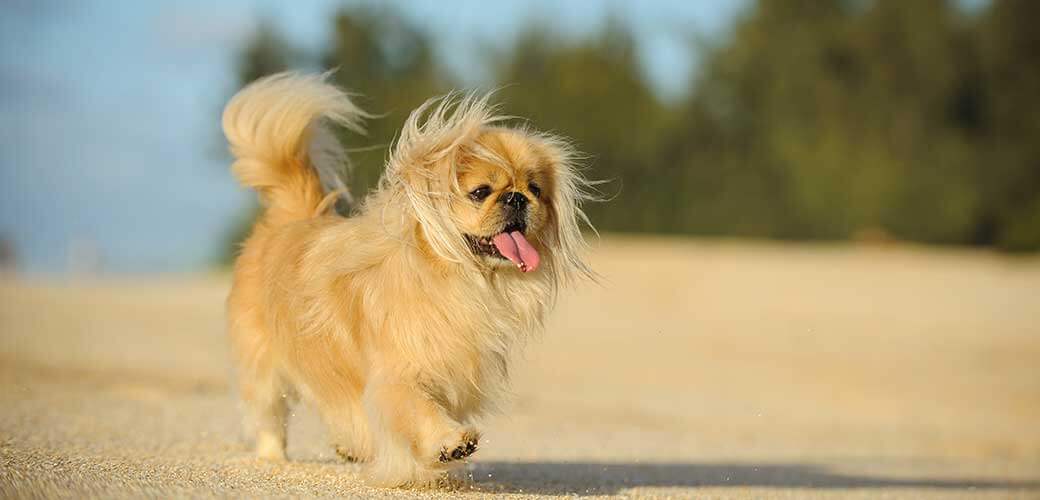 Pekingese bear a striking resemblance to their flat-faced counterparts, the Shih Tzu, with the main differences being in the overall bulk of the Pekingese and the flatness of its face. A Pekingese typically has a flatter, wider face than the Shih Tzu, meaning they have more wrinkles.
They're also stockier than the Shih Tzu, carrying more weight at their front end. Pekingese also have more textured coats than Shih Tzus, making them more high maintenance in grooming.
Size & body
Length: Long (constantly growing)
Color: Biscuit, Black, Black & Tan, Cream, Fawn, Gray, Red, Red Sable, White, Fawn Sable, Gray Sable
Texture: Coarse
Markings: Black Markings, White Markings, Parti-Color
Thickness: Thick Undercoat and Stand-Off Outer Coat
Coat Type: Straight
Notable Features: Much thicker around the neck and shoulders (like a mane), shorter everywhere else. Feathering on the back of the thighs, toes, and forelegs. Fringing on the tail and ears. The color must always be black on the exposed skin of the nose, eye rims, lips, and muzzle.
Coat
Height: 6-8 inches (from ground to withers)
Weight: Up to 14 pounds
Head Shape: Broad and flat head, wide-set eyes, broad lower jaw, and cheekbones. The skull should be wider than it is deep. The face should be flat with a slight slant backward from chin to forehead.
Body Shape: – A compact, pear-shaped body that's low to the ground. Heavier in the front end with a broad forechest. A narrow waistline and straight topline.
Tail Shape: A high set tail that arches over the back without curls or kinks.
Gait: A strong, dignified, smooth walk with a slight shoulder roll. Minimal bouncing, jarring, or prancing.
Fun Pekingese Dog Facts
Pekingese are also known as Lion Dogs, Sun Dogs, Sleeve Pekingese, and Sleeve Dogs.
Ancient Foo Dog idols that resemble the Pekingese have been passed down through generations.
The Pekingese breed are can be traced as far back as the Tang Dynasty (8th century).
The theft of one of the royal family's Pekingese was punishable by death.
An imperial palace was raided in 1860, leading to Pekingese's Western discovery.
A Pekingese was one of only three dogs to survive when the Titanic sunk.
The Pekingese Club of America didn't join the AKC until 1909.
A legend about the Pekingese says it was created from a lion by the Buddha.
The Pekingese Dog Breed Personality
Pekinese are known for being extremely dignified dogs. Their history with royalty makes them renowned for their patient and calm demeanors. As companions, they are beloved for their affection, empathy, and good-natured approach to companionship.
Pekingese temperament
Pekinese are known for being extremely dignified dogs. Their history with royalty makes them renowned for their patient and calm demeanors. As companions, they are beloved for their affection, empathy, and good-natured approach to companionship.
That being said, there are a couple of downsides to owning a Pekingese, as there are with any dog breed. They are extremely intelligent dogs, so this often comes with a certain amount of hard-headedness, especially at a young age. As a result, many Pekingese owners can find them difficult to housebreak as they can have a defiant streak. This can often be rectified by taking a Pekingese pup to doggy obedience classes to reinforce their basic training.
Entertainment
There are a variety of ways in which a Pekingese can be entertained. As they are small dogs, they don't tend to need excessive amounts of exercise, though they are moderately high energy and still require daily walks to burn off some of the excesses.
Around children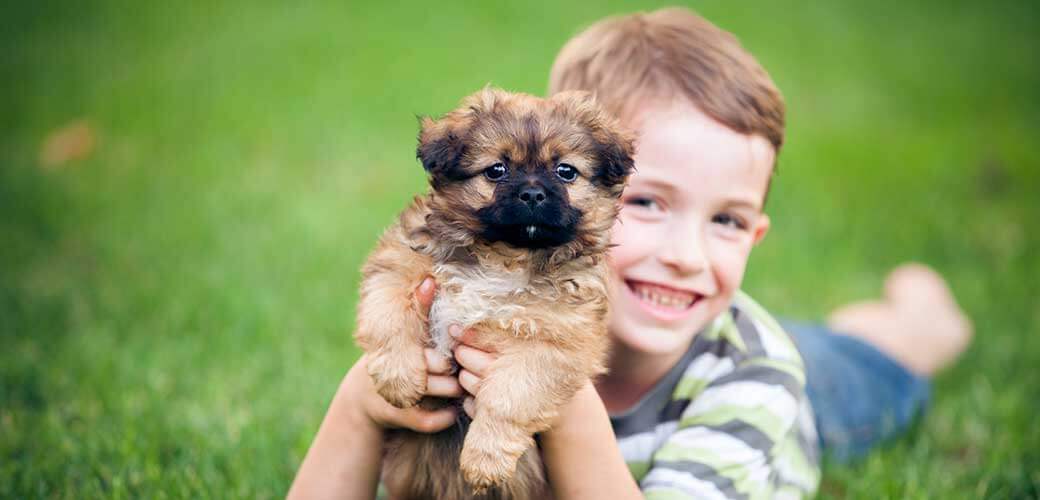 Because they are companion dogs, Pekingese are naturally sociable and gentle around humans. Therefore, naturally, they make excellent family dogs. They are kind-natured, patient, and loving. All features one's desires in a family pet.
Additionally, they have a natural desire for companionship, seeking out a family member to spend time with – and if there's one thing children know how to do, it's to play and spend time with others. Particularly older children that can understand the dog's needs.
The main point we need to highlight here is that it's imperative that any child that comes into contact with your Pekingese (or any dog for that matter) should be aware of how to handle a dog properly. Dogs require respect just as much as humans and will lash out if they feel threatened.
Children have a tendency to be unintentionally heavy-handed which can elicit an unfortunate response if they cause the dog extreme stress. If a child is respectful and gentle, they shouldn't have any problems.
Around other animals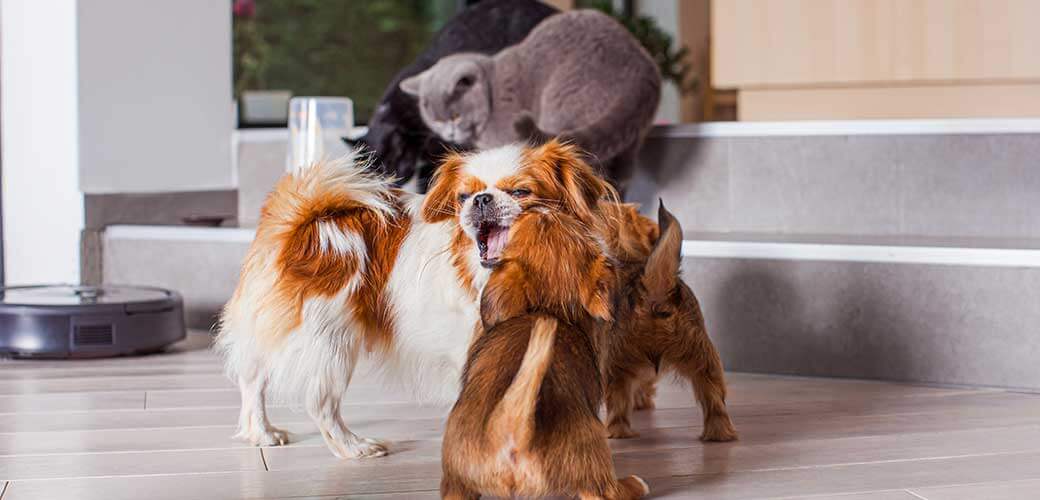 Pekingese usually get along fine with other dogs so long as they are properly socialized. Though many small dogs can exhibit some defensiveness around larger dogs as a natural response to the threat a large dog can pose – if you notice your pet Pekingese showing defensive aggression towards another animal, it is best to remove them from the situation and slowly reintroduce them in a controlled setting where both can feel safe.
Large cat breeds are fine with Pekingese as they don't offer much of a threat and are often a similar size. It helps that many Pekingese pups are naturally mellow, especially as adults, so they're less likely to have the overexcited response to a cat that might freak them out.
All of this being said, it is always a good idea to proceed with caution when introducing animals to one another. They are still animals with strong instincts at the end of the day and should be treated with respect.
Quick Pekingese Personality Facts
Pekingese can be difficult to house train in their early years.
These little dogs are generally calm and dignified.
Pekingese generally get along well with other dogs so long as they don't feel threatened.
Pekingese can benefit from going to a puppy kindergarten class for early socialization.
This toy breed can struggle with separation anxiety.
They do well around young children as long as they know how to handle a dog.
They require a good amount of mental stimulation to help them pass the time.
They are adaptable but cautious when being introduced to new people.
They can be quite protective, which may lead to barking at strangers.
Pekingese Care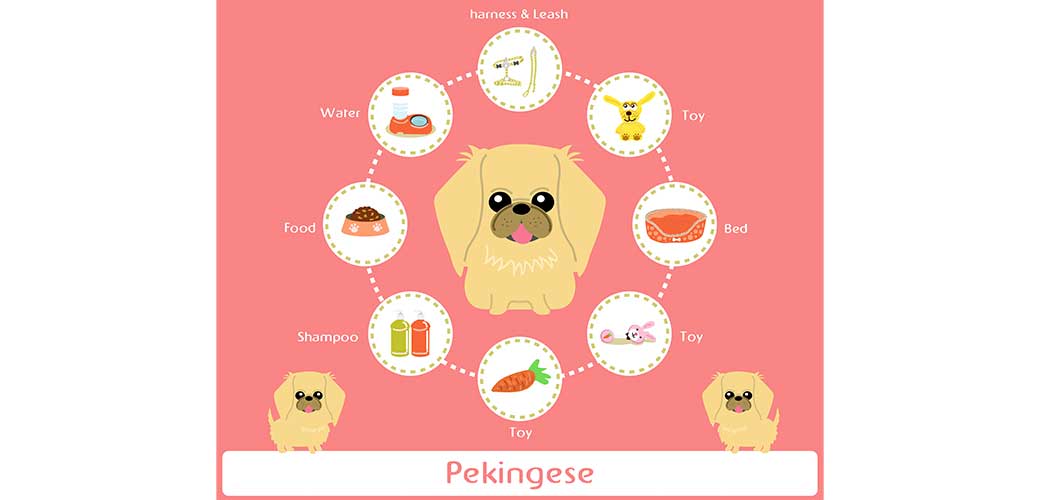 Caring for a Pekingese can be challenging, especially regarding grooming. Their tendency to be stubborn during the early training phase can be tricky to get past, but once basic training is in place, things get much easier.
After that, it's simply a case of ensuring they remain happy, healthy, and comfortable. Here is some basic advice and things to consider regarding successfully raising and caring for a Pekingese.
Pekingese training
Due to their high intelligence, Pekingese can be trained well and understand a surprising variety of commands. However, that same intelligence can also be a hindrance during basic training, as they have a reputation for stubbornness. This could be due to them not trusting you yet or adolescent defiance.
Either way, puppy obedience training classes usually help to iron out the kinks of your training regime and create an understanding that will make future training go much more smoothly. Additionally, with Pekingese being companion dogs, they need to bond with their owners to want to behave for them.
Potty training
As with basic training, potty training can be difficult with a Pekingese. This is another part of raising a Pekingese that requires patience, perseverance, and positive reinforcement to get the desired outcome.
For any new Pekingese owner, our advice would be to maintain a steady potty training regime (consistency is key) and be prepared for quite a few indoor accidents before they finally start to listen to you. Potty training is a messy business with any dog, but stubborn dogs, in particular, tend to take a couple of extra months to get it down.
Suitable work
Pekingese are typically kept as companion dogs. They are highly empathetic, patient, and attentive, giving them the calming air many people need in search of a companion. Additionally, their loving playfulness can be uplifting and a welcome distraction. Pekingese are fantastic dogs for elderly homes, families, busy households, and single individuals.
Due to their intelligence, it is possible to train a Pekingese to perform several jobs. They're not suited to outdoor working environments, but they are perfectly capable of learning to become alert dogs for the sight impaired, alert dogs for the hearing impaired, or even watchdogs. Their naturally protective instincts, strong bonds, and loyalty push them to protect their families as much as possible, so these jobs cater to those instincts.
Feeding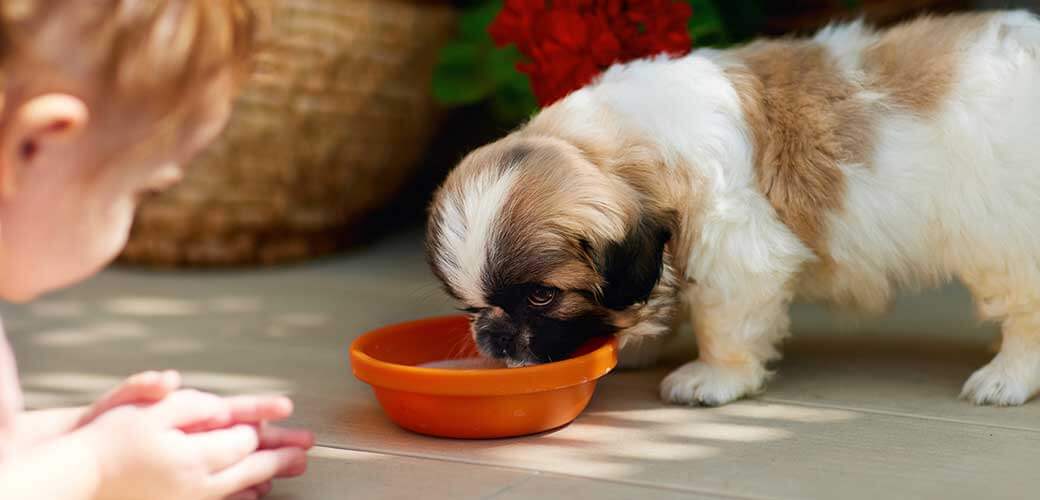 Pekingese can vary quite a lot in body weight (the breed standard weight for an adult Pekingese is anywhere up to 14 pounds), and the amount of food they should be eating with each meal can also vary. Our best advice when trying to plan out your Pekingese's diet would be to contact your vet, have your dog weighed, and use the feeding guides provided by your chosen food brand to create the ideal diet plan.
It is worth noting that Pekinese can be susceptible to weight gain, so it is vitally important that their food is carefully measured to avoid excessive weight gain (which can put a lot of strain on their tiny frames and affect their long-term health). Furthermore, treats should be low-calorie and moderated. Many Pekingese owners use fresh vegetables as alternative treats to keep the calorie-count low.
What food should my Pekingese eat?
When trying to decide what type of food to go for, there are three main food types you could choose from, each with its pros and cons:
Raw dog food is easily loved by most dog breeds as it is natural and minimal and caters to their instincts to hunt and eat raw meat. It can have excellent health benefits, including strong muscle development, healthy bones, lean muscle mass, and easy digestion. However, raw food is the most expensive option and requires a lot of pre-thought, prep, careful storage, and exceptional hygiene practices to ensure your dog doesn't get sick from bacteria that can develop not only in their food bowl but in the area surrounding where they eat.
Biscuits/dry kibble – Biscuits are easily the most affordable option of the three food choices. Additionally, good quality kibble can be chock full of nutrients, minerals, vitamins, and additional supplemental support for various areas of development. However, kibble also has its downsides, such as fussy dogs not taking to dry food, the possible need for more specialized grain-free or poultry-free food, which can bring the price up, and the fact that finding a good-quality, trustworthy dry dog food can be quite difficult and require a lot of research.
Wet food is certainly flavorful and delicious for our canine companions. Using gravy or jelly adds a decedent layer to already-tasty meat and vegetables that dogs simply can't ignore. However, like raw food, wet food is costly, and like dry food, finding good-quality wet food does take careful research. Additionally, wet food can be quite fatty, so be careful of the calorie content of each meal and be sure to watch your dog for any changes in their weight. But if you can find the right food for your pup and have the budget to maintain it, this is certainly an unbeatable diet plan both for convenience and enjoyment.
Grooming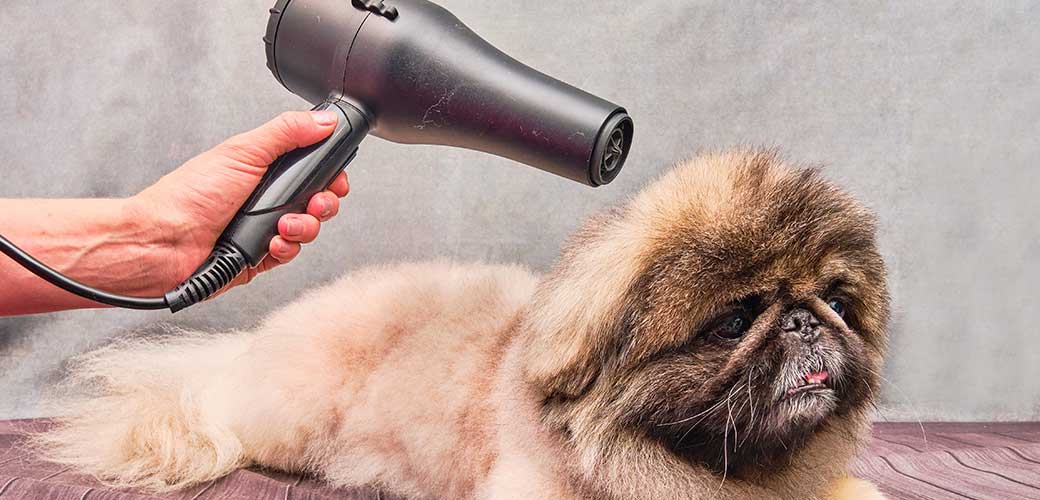 The dog hair on a Pekingese is long, textured, and continuously growing. This is a high-maintenance breed when it comes to grooming. They do most of their shedding seasonally, during which time you would need to ramp up your grooming regime. Without regular grooming, you risk your pup developing mats and tangles that can be exceptionally difficult to remove.
Additional grooming includes trimming their nails regularly to keep them from growing too long and breaking (potentially causing injury). You should also keep in mind that Pekingese have a lot of folds and excess skin around their faces that need to be kept clean and dry as much as possible.
Managing shedding
A Pekingese has a thick double coat, sheds constantly, and needs regular trips to the groomers to maintain its coat. Some Pekingese owners keep their coats short with regular trimming at the groomers to keep them looking tidy, while others enjoy keeping the coat long and sweeping.
The shorter coats still need to be brushed weekly and will shed just as much as a long coat. Long-haired Pekingese should be brushed thoroughly 2-3 times a week to avoid tangling. Pekingese have a double thickness coat, so it may be worthwhile to get a comb specifically designed for the job as they are excellent at removing excess undercoat hair.
Additionally, your Pekingese should be bath at least once during shedding season to help them shake loose some of the more stubborn dead hair and remove debris that could cause irritation to their skin. Shedding is an itchy endeavor, and going the extra mile for your pup can help to keep them comfortable.
Health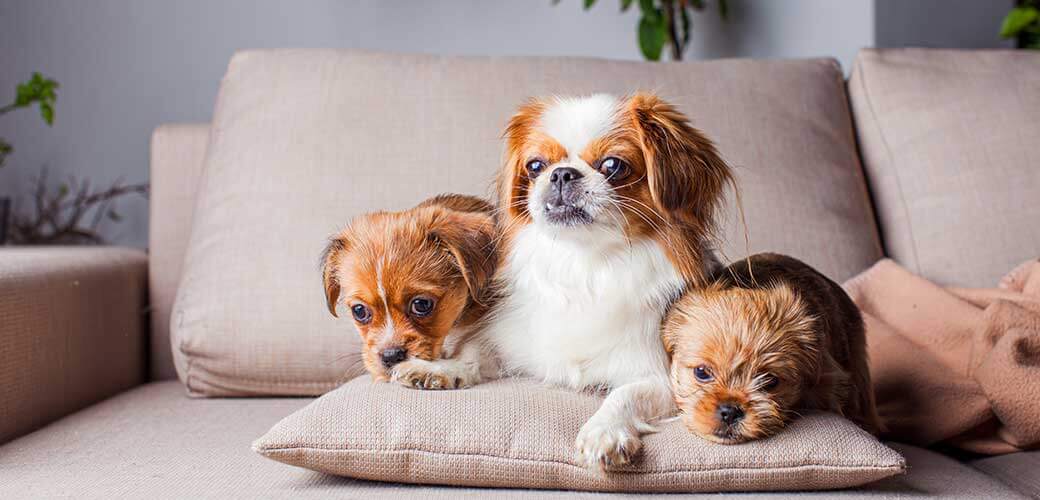 Like all pure breed dogs, Pekingese are susceptible to certain hereditary conditions and diseases that can impact them in various ways. Their short snouts can result in difficulty breathing if they are not bred properly. These short muzzles also mean Pekingese's eyes are at risk of damage from their surrounding as they don't have a long muzzle to act as a barrier.
Here are a few of the most commonly seen health problems with the Pekingese breed:
Intervertebral Disc Disease – This disease is characterized by the degeneration of the dog's back vertebrae, resulting in a change of gait, discomfort or pain, difficulty moving, or even lameness. The prevalence of IDD in Pekingese is high, especially in females. It is possible for vets to perform a Hemilaminectomy to relieve the spinal cord compression.
Glaucoma – As Pekingese is a brachycephalic breed, they are prone to developing eye problems. Glaucoma causes the eyes to become mist, which can severely impact their sign in the long term as this particular condition often gets worse with age. Surgery can remove the Glaucoma should it begin to impact your dog's daily life.
Keratoconjunctivitis Sicca (KCS) – This is also known as dry eye and is often seen in dogs with particularly pronounced eyes, such as the Pekingese. It can cause inflammation of the cornea, chronic inflammation, sight loss, and scarring. Fortunately, it can be treated.
Other Eye Problems – There are several other eye conditions and complications Pekingese can experience, including trichiasis (inturned eyelashes), corneal abrasions, and distichiasis (extra eyelashes). If you are worried about your Pekingese eye health, you could contact the Canine Eye Registry Foundation (CERF) for further advice.
Stenotic Nares – It is possible for a Pekingese's nares (nostrils) to be narrowed or pinched from birth. Being born with pinched nostrils can cause severe breathing problems, severely impacting their ability to handle exercise, hot weather, or anesthesia.
Birthing Complications – It is noted for anyone looking at breeding dogs from a Pekingese that they are often incapable of giving birth naturally, with most Pekingese puppies being born via C-section.
Skin Fold Dermatitis – Probably one of the most common health issues for a compact dog breed like that is dermatitis in the skin folds. Many compact breeds have excess skin that can sweat and rub, causing hot spots and sore patches. This is easily treatable with the right ointments and proper preventative care.
Yes, healthier dog breeds out there are less likely to develop these conditions and diseases. However, it's not all doom and gloom if you have your heart set on a Pekingese. We have simply created this list to keep you aware of the genetic health problems that could face, which simply means you will be better equipped to deal with them should one of these issues arise.
There is every possibility that your Pekingese may never encounter any of these complications, especially with healthier puppies bred carefully by reputable breeders as they carefully monitor the puppy's parents and will have a full history of health problems throughout the bloodline.
Exercising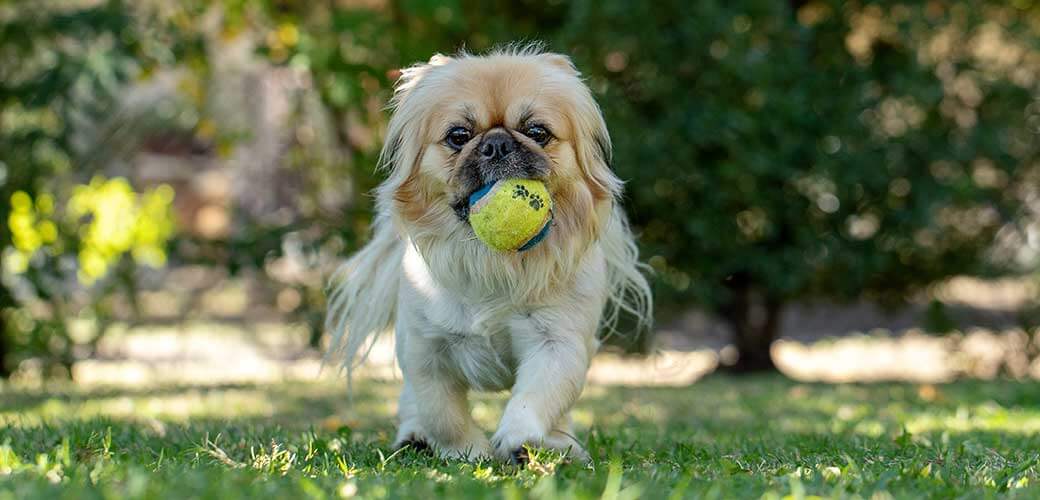 As with humans, the Pekingese life span can be lengthened simply by ensuring they are exercised properly. A well-exercised dog is a fit dog; a fit dog is stronger, more energized, happier, and able to process its food much more easily, ensuring they absorb the proper nutrients and vitamins from their means.
Pekingese are relatively low maintenance when it comes to exercise. A daily half-hour walk tends to suffice unless you have a particularly energetic puppy that requires a little bit more of a runaround. However, remember that they are rather playful little dogs that benefit and appreciate more personal interaction, such as a good game of fetch.
Where Can I Get a Pekingese?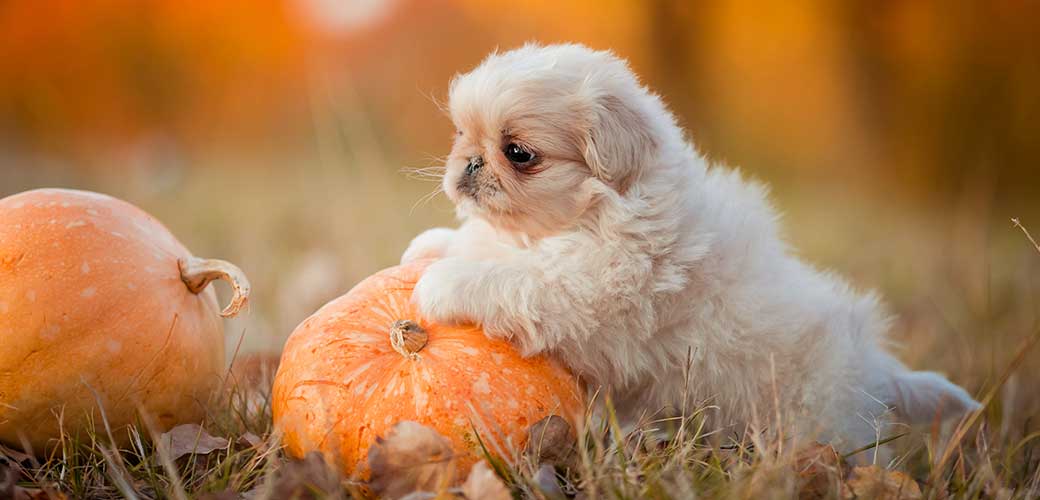 If you are considering purchasing a Pekingese puppy, you need to ensure you are purchasing it from a reputable breeder with proof of the breeding process and the puppy's health and try to avoid the pet store if possible. The AKC marketplace would be the best place to look for such information as it contains only American Kennel Club-registered litters from pre-checked and AKC-approved responsible breeders.
Adopt Don't Shop
adoption helps to significantly reduce the amount of improper and inhumane breeding taking place as well as reducing the likelihood of Czech pups ending up in dog shelters. In recent years the number of dogs in households has risen exponentially. Therefore it is important that we try to keep to the dogs that have been rescued or abandoned to give lost pups a new forever home and a chance at happiness.
Pekingese rescues & national breed club
Should you decide to adopt a Pekingese, you can find a good range of Pekingese rescue groups all around the country that might be able to offer you a hand in your search. Before looking too far afield, however, be sure to check with your local shelter. There's every possibility they might know of someone looking to surrender a Pekingese to the right person or a local breeder that could help.
We have also listed below a couple of potential options for Pekingese rescues that may be worth a look:
How Much Do Pekingese Dogs Cost?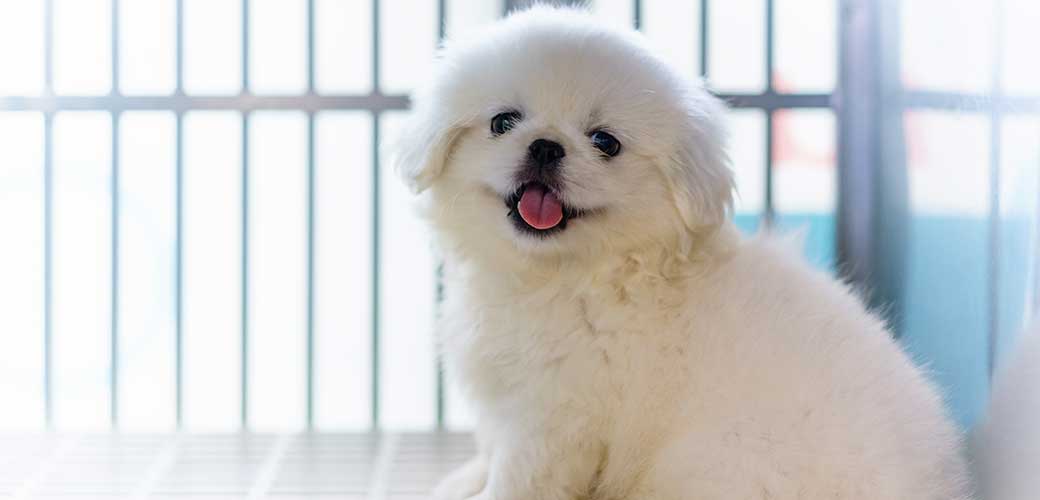 Pekingese are expectedly expensive dogs. Their imperial history and coveted status can be hard to come by, especially if you're looking for a healthy pup to bring home. Pekingese can sell for anywhere between $1,000 to $1,500. If you're considering adopting a Pekingese with AKC registered lineage, you could be looking at closer to $3,000.
However, a puppy being more expensive doesn't necessarily mean healthier. If the breeder cannot provide proof and healthy parents or proper veterinary checks before you adopt the puppy, it would be better to look elsewhere.
Additional expenses
Where purchasing a dog might be the most expensive part, it is not where the expenses end. Owing a dog is a lot more than just feeding it – they require constant care, health assurance, medical care, entertainment, and a comfortable bed. Listed below are some of the expenses you may expect you have after buying your Peke:
Toys and training equipment
A collar and ID tag
Microchipping
A crate (if wanted)
Food and water bowls
Monthly food cost
Monthly supplement cost (if needed)
Pet health insurance
Medical care
Treats
Grooming
Pekingese Club membership (if wanted)
Are Pekingese Good Pets?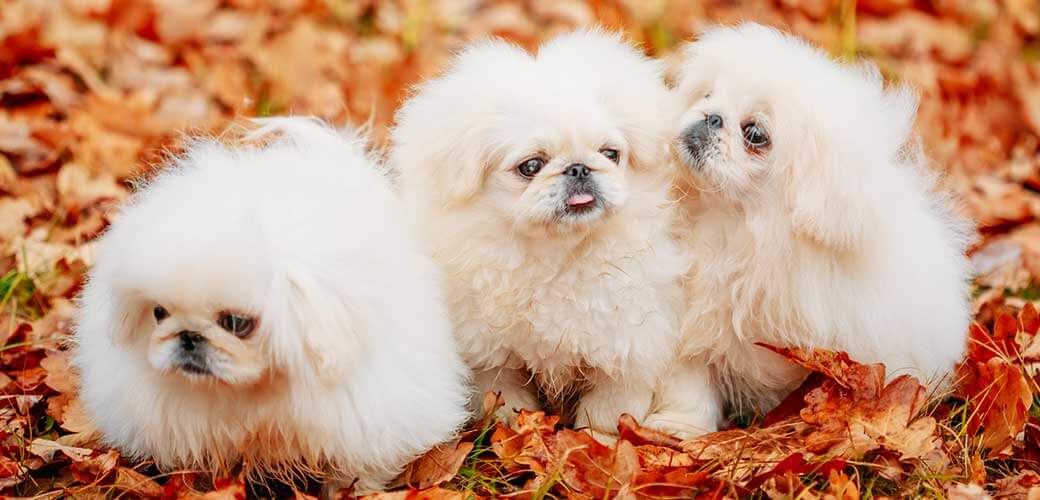 Absolutely! Pekingese have earned their reputation after hundreds of years of perfect companionship in the Imperial Chinese court. They are calm, loving, affectionate, friendly dogs. They develop very strong bonds with their families and are fantastically adept at various tasks. For anyone looking to adopt a little dog, you would certainly be making an excellent choice with the Pekingese.
FAQs:
Q: Why are Pekingese called Sleeve Dogs?
A: Pekingese were historically kept inside the sleeve of the Chinese royal family – even an adult dog would be held in this fashion. Plain and simple, this resulted in them being nicknamed Sleeve Dogs by the royal subjects.
Q: Is a Pekingese a good family dog?
A: Yes. Pekingese were purpose-bred for the task of being companions to Chinese royalty. They are one of several toy breeds designed for this purpose, they are known to be gentle, loyal, affectionate, empathetic, and playful – making them excellent family dogs.
Q: Do Pekingese dogs bark a lot?
A: They can. Though they might be small and sweet, they can also be quite excitable, barking when they get overexcited. This is a common trait amongst small dog breeds as they often feel the need to make themselves known as part of a natural defense mechanism.
Q: Is the Pekingese hypoallergenic?
A: No. The Pekingese dog breed is not hypoallergenic. They can produce quite a bit of dander and shed regularly. The best way to maintain a dog allergy is to keep them as clean as possible to reduce the dander they shed. If you have a severe dog allergy, don't get a Pekingese.