PetSide may earn a small commission from affiliate links in this article.
Learn more
Small, powerful, and bred to work, the Lancashire Heeler is a rare canine. The breed has been on the UK's Kennel Club endangered list since 2003. But, thanks to its happy, affectionate nature, 'chatty personality' and trainable attitude, the Lancashire Heeler is a wonderful family companion.
Originally bred to hunt rats, the Lancashire Heeler has a great work ethic, and its smaller size makes it a versatile dog that can adapt to many situations. We take a deeper look at this rare breed and explore just why, for the right family, they can make the ideal pet.
History of the Lancashire Heeler
Also known as the 'Ormskirk Terrier', 'Lancashire Terrier', and 'Ormskirk Heeler', the Lancashire Heeler is a bit of a mystery perhaps, which is part of its appeal. The breed dates back to the northwest of England in the 17th century and can be traced back to two other breeds, the Pembroke Welsh Corgi and the Manchester Terrier. Other breeds, including the Dachshund, are also thought to be an influence.
The Lancashire Heeler was originally bred in Great Britain to drive cattle to market as they were small enough to nip at the heels of cattle and sheep to move them along. And their diminutive yet stocky size meant they were agile enough to keep safe from stray hooves or feet!
As well as being 'heelers', the breed was renowned as a ratter, helping to manage vermin and rabbit populations on the farm.
The versatility of this feisty little dog meant they also became popular further afield, with the breed gaining ground in Australia, Europe, and the States. But it was as a companion dog that the modern Lancashire Heeler as came into its own.
With the Lancashire Heeler Club formed in 1978, the dog was acknowledged as an official breed by the UK Kennel Club in 1981t. The United Kennel Club and the American Kennel Club (AKC) eventually recognized the breed as part of its Herding Group in 2009. Despite all this recognition, the Lancashire Heeler breed has experienced a downturn in recent years and has been formally acknowledged as a rare canine breed – it is currently on the endangered breeds list – with what is thought to be less than 5,000 Lancashire Heelers worldwide today.
Essential Breed Facts
Small in stature, the Lancashire Heeler is certainly not small in presence or personality. Maxing out at 12 inches to the shoulder as an adult, the Heeler can be expected to weigh between 9 and 17 pounds. He also has a good life expectancy of 12 – 15 years.
Here are a few other essential breed facts about the lovable Lancashire Heeler.
The Heeler is a smart breed, and that can mean mischief! They are always on the go and renowned as escape artists, so you must ensure your backyard is secure!
The Heeler smile – the Lancashire Heeler also has a unique characteristic of being a smiler, thanks to its distinct ability to draw back their lips when happy or content, to create what looks like a super-cute smirk.
The Lancashire Heeler has a short, durable weatherproof coat that is relatively low-shedding and easy to maintain.
This breed is also a multi-tasker – the Lancashire Heeler is renowned as a show dog, agility star, obedience competitor, and a whizz at herding trials.
While the Lancashire Heeler is considered a good companion for other dogs, they have the terrier instincts to hunt and drive livestock, so they are not a good choice if you have cats or other small animals.
Key Characteristics of the Lancashire Heeler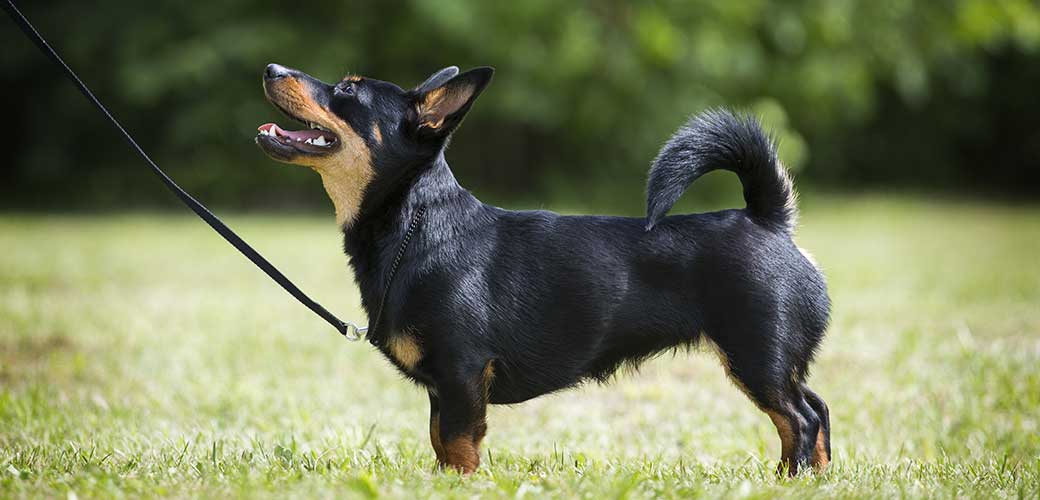 Short and stocky, the Lancashire Heeler has a big personality inside his little body. Here are the key characteristics you need to know about this loveable breed.
Appearance
The Lancashire Heeler closely resembles its cousin, the Welsh Corgi but has a distinct black and tan terrier colorway which is a nod to its Manchester Terrier genes. His weather-resistant coat is thick and soft and can also be found in liver and tan. Non-recognized colors also include brindle, tricolor, and sable.
An adult Heeler grows up to 12 inches to the shoulder and can appear as wide as they are tall! Their stocky build means this is a strong little dog, with short yet fast legs and a sturdy tail with a slight curve over their body. He also has alert, pointed ears and intelligent, almond-shaped eyes.
Temperament
When it comes to the Lancashire Heeler temperament, the first thing to note is that they are smart cookies that learn fast. But the downside to all that smaller dog intelligence is that they can also be prone to stubbornness and mischief. They also have loyal and brave personalities and will bond with their human, although they can be wary of strangers. And this breed is no stranger to barking, so you need to be prepared to have a chatty pooch on your hands.
With a generally friendly and happy disposition, the Lancashire Heeler makes a good family dog, although as they are prone to herd, including nipping at heels, they are best suited to older and more confident children.
They also love to keep you on your toes and are known to be proficient escape artists, so a secure yard with plenty of space to play and run is a must. When it comes to other pets, they can live happily with dogs and tolerate cats, although they may have an in-built tendency to herd them.
How to Care for Your Lancashire Heeler
As tough working dogs breed built for outdoor life, Lancashire Heelers are relatively low maintenance. However, there are some essentials you need to know if you are looking to welcome one of these energetic dogs into your home.
Training
A quick learner, the intelligent Lancashire Heeler can also have a stubborn mind, so a consistent approach is needed when it comes to training. Firm, kind, and positive training is the way to go, as the Lancashire Heeler respond well to rewards and loves to please their human.
And, as they are a tad independent of thinking, early training and socialization is a must for this breed. But the payoff is worth it, as the Lancashire Heeler can also excel at dog sports, including agility and obedience.
Exercise
The Lancashire Heeler is an enthusiastic little chap who loves exercise and playtime. But they also need plenty of mental stimulation in their games and interactions. Daily exercise can help keep that Heeler exuberance in check and keep him physically fit. Add in plenty of play, including fetch, frisbee, and catch, even swimming, for extra mental stimulation, and you'll have a happy Lancashire Heeler on your hands.
Feeding
As a medium to high-energy dog, the Lancashire Heeler needs high-quality dog food that is calorie-appropriate for their age and activity levels. With their stocky body shape, the Heeler can be prone to weight gain, so you also need to be mindful of excess treats.
A dog food fed at regular meals with a good protein source is life-stage appropriate and provides all the nutrients, vitamins, and minerals your Lancashire Heeler needs is ideal. And don't forget they need access to plenty of fresh, clean water.
Grooming
As a hardy working dog, the Lancashire Heeler has the coat to match. Their flat, short, almost hard coat is also dense and waterproof, which means low maintenance. He will shed his coat when the seasons change, but it isn't excessive. And in-between, you only need to groom his coat with a firm bristle brush once or twice a week. And when he does get mucky, the occasional bath will get his shiny coat back to its best.
Trimming their nails is essential for the Lancashire Heeler to prevent overgrowth, cracking, or splitting. And their ears need a regular check, as they can be prone to wax build-up.
Health
The Lancashire Heeler is a generally healthy breed and has a lifespan that can take them to 15 or more. However, like other pure dog breeds, there are a few health issues and inherited diseases that can affect this Lancashire dog and that you need to look out for.
Primary lens luxation (PLL): This inherited eye disease was discovered in the Lancashire Heeler breed in 2006. And while remedial action by breeders since, as well as veterinary research, has reduced the incidence of PPL, it can still occur. PPL causes the eye's lens to become loose and can eventually displace, causing irritation and pain. Left untreated, it can develop into glaucoma and even blindness. When buying a Lancashire Heeler puppy, you are strongly advised to ensure the pups and their parents have been eye tested for this health condition.
Collie eye anomaly: Also known as Collie Eye Defect, this inherited health condition sees mutation in the eyes, leading to underdevelopment in the retina's blood vessels. It can, in time, also result in a detached retina.
Cataracts: Lancashire Heelers can also be prone to cataracts, where the lens becomes cloudy due to changes in the water balance or proteins within the lens. Cataracts can impair vision and eventually result in blindness.
Patella luxation: As well as conditions that can affect the Lancashire Heeler's eyes, the breed can also be prone to joint issues, particularly patella luxation. This congenital condition sees the patella, or kneecap, dislocate out of place in the knee joint. This results in an inability to extend the leg, causing an odd skipping gait. The condition is one of the most common causes of lameness in canines.
Welcoming a Lancashire Heeler Into Your Home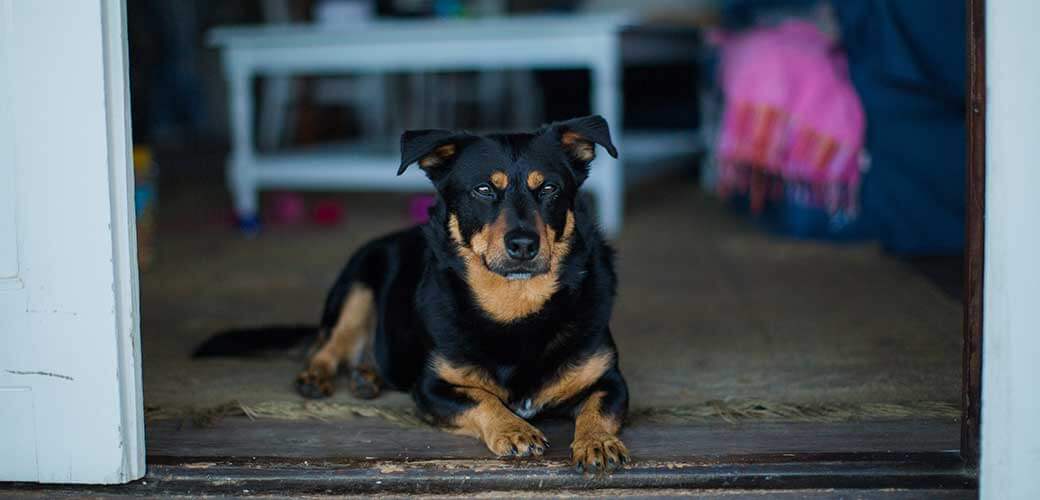 As a rare breed, owning a Lancashire Heeler is a good way to keep the breed alive and raise awareness of this gorgeous, intelligent, and fun dog. But this also means it is rare to find a Lancashire Heeler rescue. But that doesn't mean it is impossible, or you may be able to find a Lancashire Heeler mix breed to adopt.
If you are looking for a Lancashire Heeler pup, buy from a breeder recognized by the American Kennel Club (AKC) or the Lancashire Heeler Club. Expect to pay between $1,000 and $1,500 for your new Lancashire Heeler puppy. And don't forget to factor in the cost for the first year of your new pup's life, including food, equipment, insurance, vaccinations, and essential vet care.
The Bottom Line – Is the Lancashire Heeler the Right Dog for You?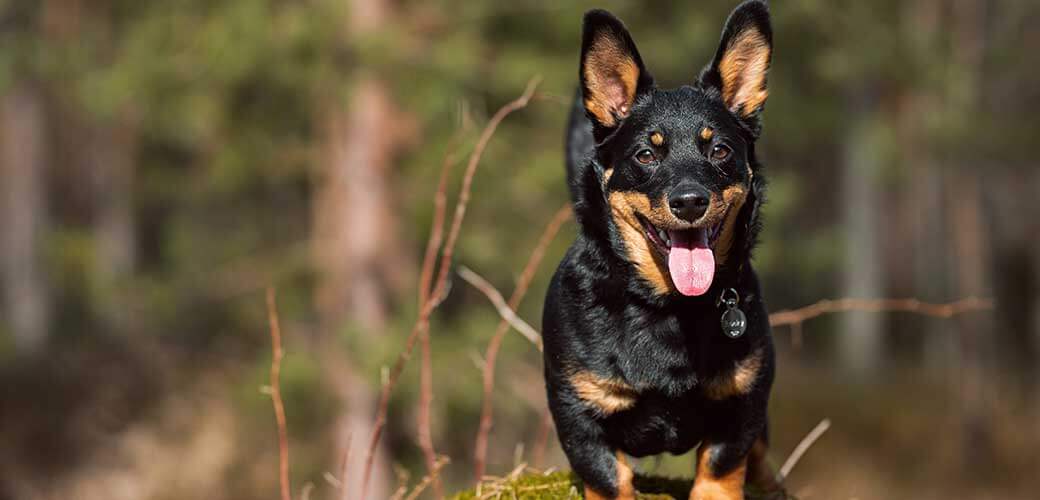 As a rare breed, the Lancashire Heeler might be a challenge to find, but is worth the effort if you want a big, fun dog in a little canine's body! Sturdy and with a strong work ethic, this clever breed loves to play and is loving and loyal to his family. They may be a barker and wary of unknown faces, but for an active family with older children, the Lancashire Heeler is a great dog to have by your side.
FAQs:
Q: What breeds make a Lancashire Heeler?
A: The origins of the Lancashire Heeler still seem shrouded in mystery, and little definitive is known. But it is thought that the breed results from a cross between the Welsh Corgi and the Manchester Terrier, with a few other breeds, including the Dachshund, possibly thrown in for good measure.
How many Lancashire Heelers are there?
A: The American Kennel Club has classified the Lancashire Heeler as a rare breed, and it is thought there are only around 5,000 in the world. In the US alone, there are an estimated 250 Lancashire Heelers in ownership. The breed was put on the Endangered Breeds list in 2003.
Q: Are Lancashire Heelers smart?
A: Yes, the Heeler has a smart brain and a switched-on personality. However, while this makes the breed both engaging and trainable, they have a stubbornness that can cause mischief. Consistent training treats and plenty of games and exercise, even dog sports, will help to keep the Lancashire Heeler intellect focused and a happy, fun member of your family.