PetSide may earn a small commission from affiliate links in this article.
Learn more
Whether you've got yourself an unfortunate rodent problem or are simply curious whether house cats will actually hunt a trespassing mouse, we've done the research and can provide some valuable information as to whether or not a cat will provide great mice control in a home.
Can Mice Sense a Cat in the House?
Mice can absolutely smell cats and other predators which might make them think twice about invading homes. In some cases, this is enough to scare mice completely but in other instances, they may hide better and for longer in an attempt to avoid/fool the feline.
Can mice smell cat urine?
Cat urine holds a stench like no other and you won't be surprised to learn that if a mouse smells it, it will be instantly repelled if they sense a cat nearby. However, cat urine may not work as well if the mouse has been exposed to the scent's compounds from an early age.
Will a Cat Keep Mice Away?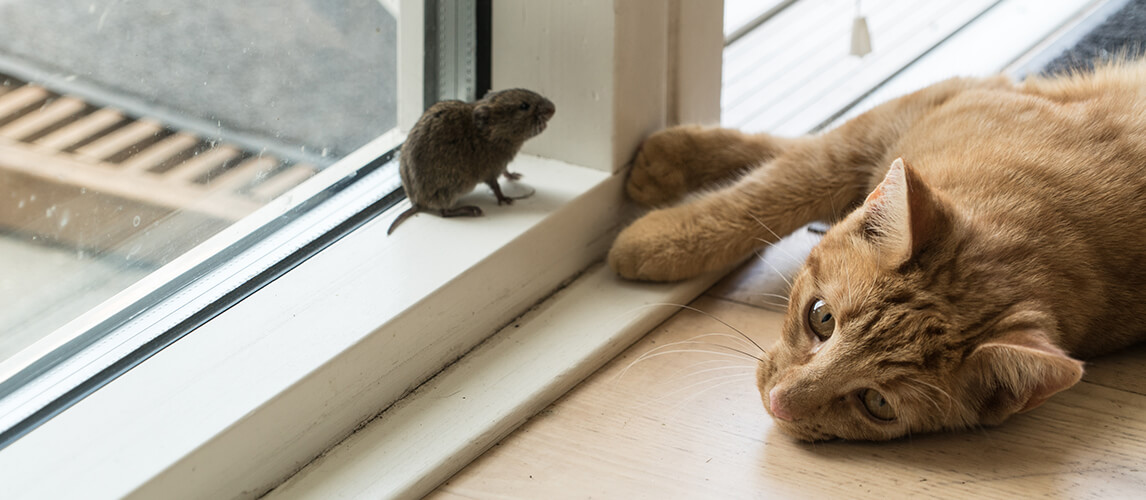 In essence, yes. Sometimes the mere presence of a feline is enough to send mice scurrying but rodents can easily remain hidden, simply giving the impression that they are no longer present.
In addition, there are several other pieces of information you should take into account if you're looking at getting yourself a cat to deter mice. This is because a cat may not actually be the best option for those looking for rodent control.
Why Cats May Not Make Mice Stay Away
Although cats may come across as perfect little hunting machines, there are still factors that mean they can't always repel mice and solve the issue altogether. Catching mice can be more difficult or dangerous for cats than you might think especially when you factor in the below points.
Mice Can Harm Cats
The most worrisome aspect of cats hunting mice and other rodents is that it can damage your cat's health. Rodents carry diseases such as HPS (Hantavirus Pulmonary Syndrome) and Lyme disease that can transfer to your feline. This can then easily be transmitted to humans.
In addition to these diseases, your cat can also contract fleas and other parasites. Either problem can wreak havoc on your cat's health which can then leave you with a hefty vet bill so it's best to be cautious if you find you see evidence of mouse activity.
Cat nature and temperament
Most cats are well intuned with their hunting instincts and will see small, squeaking, objects or animals as targets that need to be taken out. However, not all cats are as close to their instincts as you may think. Some don't hunt mice at all. In fact, unlike many outdoor cats, some felines may merely see mice as a toy rather than hunt them as prey, and others will just ignore mice altogether.
Cats can't always track or reach nests
Although cats can do a great job of keeping mice away they may not always be able to reach any hiding spots or nests. These spaces tend to be tight and compact and your pet cat will have no way of accessing them or reaching hiding rodents.
Mice reproduce quickly
Although cats are seemingly able to catch mice effectively, they might not always be able to catch and put a stop to any more mice that might be present in the home.
To add, mice reproduce fast which significantly boosts the number of rodents your cat hunts for. This is troubling considering there may be plenty of spaces where mice can run away to, hide in, and nest more babies.
How many litters and babies can a mouse have?
The reason why mice infestation can get out of hand quickly is those female mice can have a litter every three weeks with each litter containing anywhere between 3 – 10 babies.
Cats can potentially make the mouse problem worse
If you live in a rural area and plan on getting an outdoor cat, you need to consider that they could potentially make matters worse. Outdoor cats with a high prey drive may not just chase mice away but actually, bring them home to toy with or as a gift for their human (which is probably why you might find a dead mouse on your porch once in a while).
Measures You Can Take to Get Rid of Mice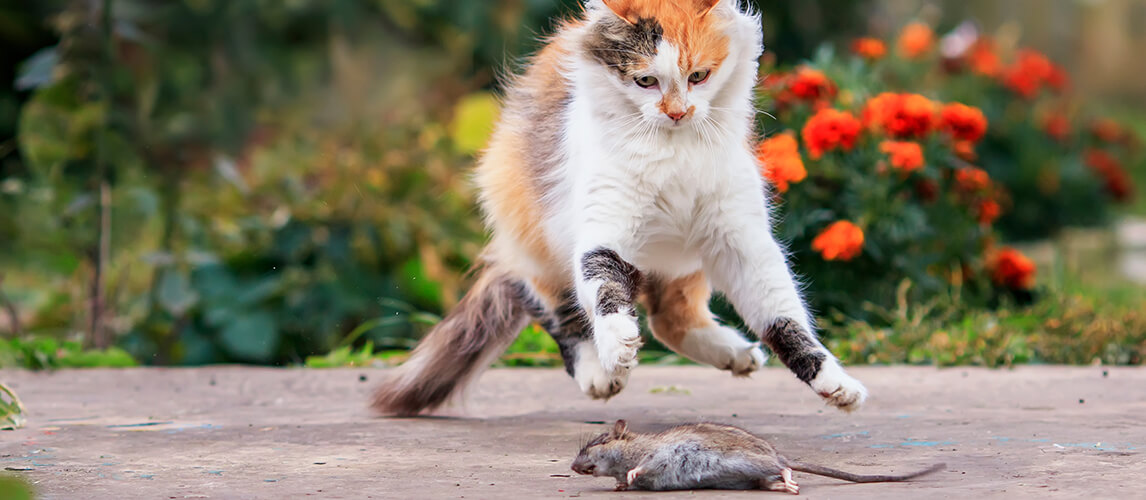 Your feline friend isn't your only hope as a mouse infestation can be controlled by utilizing any of the options below. A pet cat can only do so much and there are so many other and more effective methods to use when deterring mice.
Call pest control
Of course, the most effective way to eliminate mice is to seek help from pest control services. A properly trained exterminator will be equipped with everything they need to get rid of the pest as well as other rodents such as rats. Some services will even offer homes a free inspection so make sure to explore all of the options available.
Traps and bait
Although pest control services can come equipped with traps and bait, you can easily get hold of these things yourself. The important thing to bear in mind is to find the most effective options and strategically place them around the home.
Declutter
One of the best ways to deter mice is to remove clutter. Mice are instinctively drawn to warm homes that are cluttered as they typically nest using any materials available such as clothing, loose paper, etc.
Even if your home is tidy, you may have other cluttered rooms such as a garage, storage room, or pantry that mice will be attracted to. It's also important to properly store and contain easily accessible food sources as the smell may attract them again and again.
Seal entry points
Sealing the house is a great way to prevent mice from entering and nesting in your home. Mice can fit through small holes in walls and not just gaps beneath doors so it's important to fill these areas with something that they can't chew through. Sealing small places will also mean that they will have nowhere to go when trying to escape a cat as mice hide in these small cracks and crevices to get away.
Tips if You're Set on Getting Cats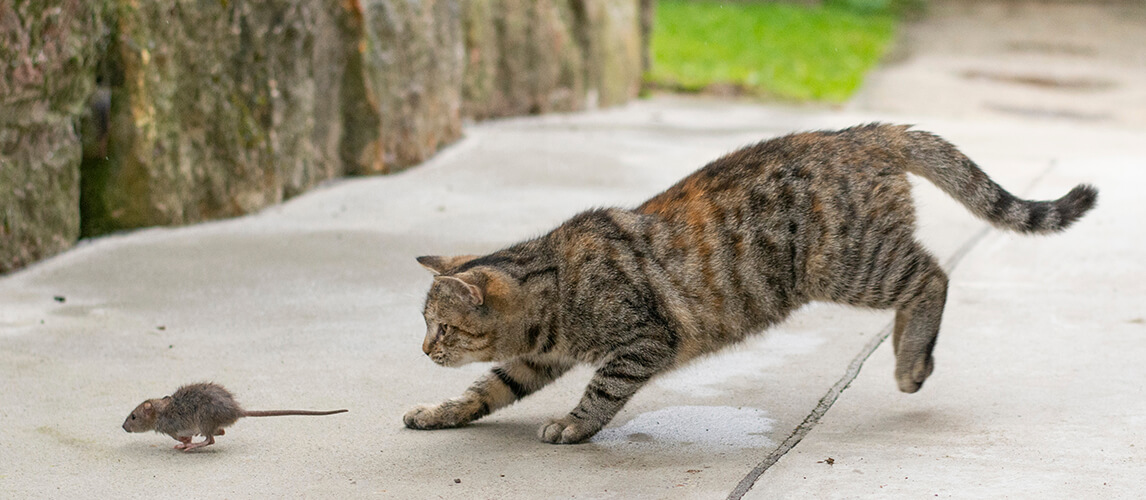 If you're set on getting yourself a new cat to help reduce the rodent population, the best place to look is at an animal shelter or rescue. Staff will be able to inform what felines may have high prey drives and what cats hunt regularly. Similarly, you may be able to get hold of a barn cat in need of a new home as these cats are specifically bred for hunting rodents.
Getting a kitten
Getting yourself a kitten for mouse control is a risk. A kitten's mother will teach her young how to hunt but for some domestic cats, it doesn't come easy or they will lack the interest altogether, so getting a kitten will not guarantee.
Bottom Line – Does Having a Cat Keep Mice Away?
Cat enthusiasts will agree that felines are great hunters but they are not generally the best method to use to rid you of a mouse problem. Domesticated cats may love acting as mice control but others are not used to that way of living. A lot of indoor cats may lack the instinct altogether and prefer to be pampered at home rather than be put to work keeping mice away.