Why Are Cats Afraid Of Cucumbers?
You may have seen online videos of cats getting all jumpy whenever they see a cucumber nearby. You may have had a good laugh, too, at the expense of these hapless pets. But why do cats get skittish whenever a cucumber sneaks up on them? Is it even right to subject these pets to such a situation for the benefit of human comedic relief? Here's what every cat-loving person needs to know.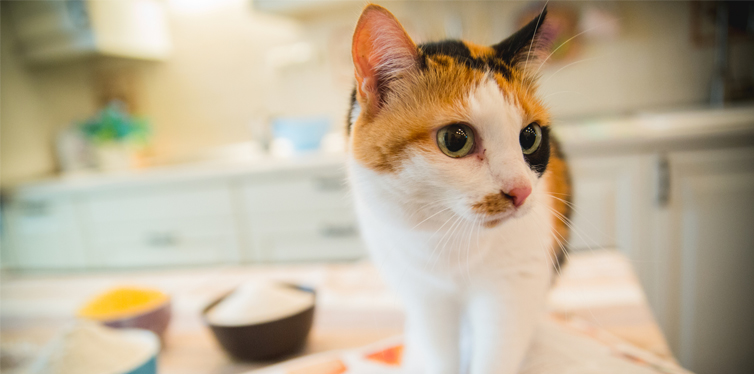 The Shape of Cucumbers
It is very difficult to establish the real reasons why cats seem to be afraid of cucumbers. However, one of the most important theories that people have about such a feline behavior is related to the shape of the cucumber. If you take a closer look at the shape of this vegetable, it resembles a short yet stubby snake. Its elongated and shiny body somehow mimics some of the physical characteristics of serpents.
The prevailing notion is that cats are afraid of snakes. Their brains are hardwired to avoid, as much as possible, any type of snake. It is this natural instinct that kicks in the moment cats see a cucumber. This vegetable resembles the body of a serpent.
But hold onto your thoughts. Cats also eat snakes. They love to pounce on and kill wriggling things. This includes small snakes that are no longer than 3 feet long. They are also non-poisonous or non-venomous. The thrill of the kill (pun intended) is what makes cats very happy. You'll never see a full-grown cat shy away from the confrontation. They're able to utilize their predatory instincts to the fullest.
However, when it comes to big and venomous snakes, cats will often consider themselves as the prey. So, if it sees an anaconda, a boa, or a python within a considerable distance, the cat will do what any other prey animal would. It will run as fast as it can and find the safest place to seek refuge.
Going back to why cats are afraid of cucumbers, the obvious reason is the cucumber's size and shape. If you were to sneak a small and thin cucumber behind your cat, there is a chance that it may not get jumpy and afraid. This is mere speculation, of course. But if our understanding of cat behavior related to snakes is correct, then their fear is more related to the size of the snake. The bigger it is, the greater is its potential as a predator.
The Nature of a Sneaky Predator
There is another possible reason why cats are afraid of cucumbers. This is not related to its size, however. It's more associated with the manner in which the cucumber entered the scene.
In the viral online videos, one determinant is very common. Every time the cat's attention is on something else, humans place a piece of cucumber behind the cat. When the feline turns around, it sees the big, fat piece of cucumber and gets startled right away.
Almost any organism can get jumpy because of this "sneaky" situation. Humans love to pull pranks on others by employing the same technique. This only requires distraction and the uncanny placement of a "shocking" object or person.
If there is one thing that cats hate, it's a predator sneaking up on them. Make no mistake, cats are excellent hunters. But this doesn't mean there aren't any bigger and more ferocious predators out there. Cats are not on the top of the food chain and they know this. Hence, when they see an animal that belongs to the upper levels of the food chain, they will also seek refuge like any other prey.
So, you can almost imagine the "heart attack" you're giving your cat if you sneak up a cucumber behind it. The moment it gets a glimpse of the shiny green skin of the cucumber, the instant reaction is to jump and scurry away. It no longer thinks. It's an automatic response.
Why You Should Never Startle Your Kitty
We may have a good laugh every time kitties get frightened over something that's so ordinary like cucumbers. What many do not realize is that this can have substantial implications on the health of the cat.
First of all, it can suffer from broken bones. One can never be too sure how the cat will land once it gets startled and jumps as high as it can. Sure, cats are famous for landing on their four paws from a considerable height. But this is often done with preparation. Getting startled is more of a reflex action. There may be injuries to the cat's bones that we'll never see.
Second, when a cat scampers to safety, it may bump into objects in your home. It can hit a sharp object and hurt itself. There are many things that could go wrong when people pull pranks on their pets. It is true that it's a good source of laughter, but no one is looking at the possibility of injury in these pets.
Third, there is a possibility that you are leaving a permanent scar on your cat's psychology. This is very difficult to prove, of course. But, given the uncanny resemblance of pet behavior with human behavior, it is not far-fetched that cats can also suffer from psychological trauma. In short, continuous exposure to such a prank can cause extreme stress on the cat.
Cats that suffer from chronic stress can cause different behavioral problems. Scratching, aggression, and excessive fear of otherwise non-threatening circumstances are a few of them. Its relationship with you can also take an undesirable turn. The cat can become very suspicious of your every move. It will always think that you're out to scare the living daylights out of it. This is no way to become a good pet parent.
Cats are not scared of cucumbers per se. What they don't like is the way in which this piece of vegetable is introduced to the scene. As pet parents, it is imperative that we introduce any new object to our cats in a slow and gradual manner.
Sources:
Why Are Cats So Insanely Afraid Of Cucumbers? – IFL Science
Related Reads
Related Reads