PetSide may earn a small commission from affiliate links in this article.
Learn more
Saint Berdoodles are beautiful, intelligent, and kindhearted dogs that combine the many charming physical and mental attributes of the two-parent breeds – poodles and Saint Bernards. If you're thinking of getting yourself a Saint Berdoodle puppy, you couldn't have chosen better. So long as you have the room and the time to care for them properly St Berdoodle will be a loyal gentle and loving pet.
Saint Bernards are large, powerful, brave dogs with a natural instinct to protect those around them. Poodles are highly intelligent and eager to please and easily trainable dogs that when combined with the Saint Benard genetics can help to subdue the excessive shedding that the thick Saint Bernard coat gives off.
Breed Overview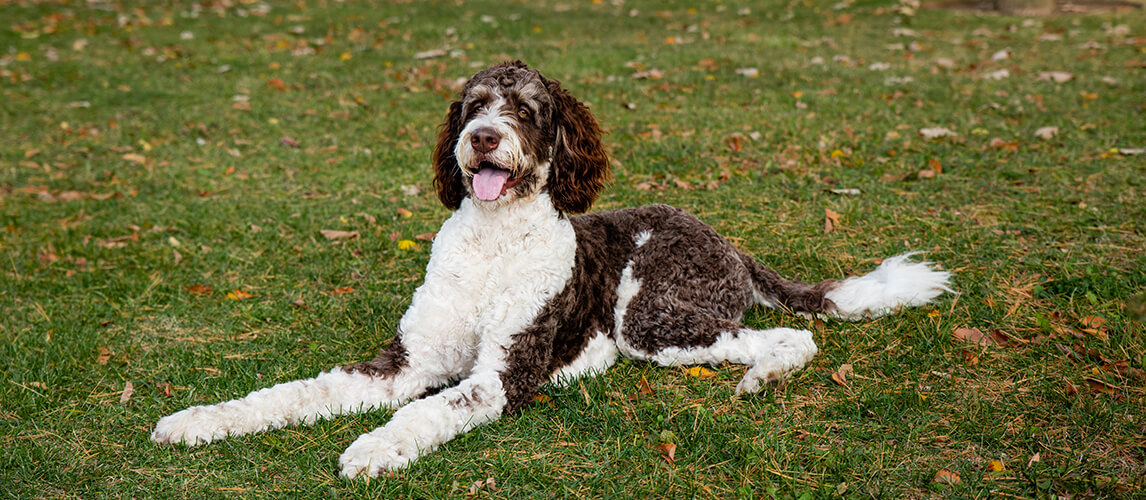 St Berdoodles are considered designer dogs as the two-parent breeds are both considered highly desirable aesthetically. However, the added bonus of this dog being loyal, protective, intelligent, eager to please, and receptive to training, make them a breed that is loved all-round.
Saint Berdoodle Breed Facts
Saint Berdoodles are not suitable guard dogs but are meant as companion dogs.
Saint Berdoodles can grow to the same height as a Great Dane.
This breed is classed as a giant breed because it can grow to over 100 pounds.
There are Mini Saint Berdoodles that are closer to a medium-large breed.
They are naturally nurturing and kind-natured.
Saint Berdoodles require a lot of breeding due to their thick, high-maintenance coats.
Saint Berdoodle Breed History
the two breeds that make up the Saint Berdoodle originate from quite different points in time. St Bernards are estimated to have been originally bred in the 1700s, whilst poodles were bred in the 1600s, the link between both being that they were first bred in Europe.
Saint Bernards are naturally protective and are often used as rescue dogs for that reason, it also shows the degree of trainability and intelligence this magnificent breed has. Poodles are also highly trainable and extremely intelligent, with the added bonus of also being hypoallergenic.
the breeding of Saint Berdoodle puppies is believed to have started in the late 1800s (around the mid-1880s). Partly due to the fact that they are highly desirable aesthetically, and partly for the combination of the two breed personalities.
Saint Berdoodle Breed Profile
Saint Berdoodles are perfect for pet lovers that are interested in owning a giant dog. They're gentle, kind-natured, affectionate, playful, and intelligent. They make loyal, trustworthy, and obedient dogs. However, if you're interested in owning a Saint Berdoodle, you need to understand the many facets of this breed to ensure you're fully prepared.
Appearance
Saints Berdoodles are considered giant dogs however, there is a wide range in the size they can grow to due to the difference between the two parent breeds. Depending on which parent a Saint Berdoodle puppy takes after, it could influence its fur type, length, height, weight, color, and overall shape.
Weight: 45-180 pounds
Height: 14-30 inches tall from the ground to the top of the shoulders
Build: Large, muscular, tall, wide
Coat Color: White & brown, white & black, or red & white
Coat Length: Medium-long
Coat Type & Texture: Any of the following – curly, wiry, smooth, bushy, coarse
Temperament
Saint Berdoodles have gentle personalities that mesh extremely well with other dogs and other pets (so long as these pets are willing to meet the Berdoodle). As a standard Poodle mix, the Saint Berdoodle is extremely intelligent, meaning it can be easily trained (though it may be occasionally hardheaded).
This intelligence also lends well to respond to their environment, commands, and to those around them. Though if you have yourself a stubborn Saint Berdoodle, you could be in for a battle of wills – in which case obedience classes would be highly recommended.
Additionally, believe it or not, Saint Berdoodles can struggle with separation anxiety as they are naturally drawn to people and other animals, constantly seeking companionship.
Are Saint Berdoodles Good Family Dogs?
Not only are Saint Berdoodle's great family dogs, but they can even be kept in homes with very young children, as they have naturally strong protective instincts. It's an added bonus if you have your Saint Berdoodle pup from a young age.
Saint Berdoodle puppies are highly adaptable and will quickly learn the ways of very small children and other pets, adapting their behavior accordingly. Saint Berdoodles are highly empathic dogs that lend well to human interaction, making them gentle giants.
Exercise
Saint Berdoodles are relatively low energy thanks to their Saint Bernard genes. Poodles are slightly more high-energy than Saint Bernards, so if your Berdoodle takes more after its poodle parent, then you may find they demand a little bit more exercise.
A long walk each day should be enough to accommodate your Saint Berdoodle's exercise requirements. Though it is well worth noting that if your Berdoodle takes after its Poodle parent it may have a little more energy which could require some additional exercise to burn off.
Mental Stimulation
With dogs like Saint Berpooodles, you must take into account the mental stimulation required to keep them from getting bored. They are a cross between two extremely intelligent breeds, and if their minds aren't stimulated properly then you run the risk of them developing destructive or antisocial behavior as a result of boredom. With them being such large dogs, you certainly don't want them targeting the furniture.
Though the method of stimulation varies according to the personality of the individual dog, there are some basic methods for alleviating boredom. A few ideas for keeping your Saint Berdoodle occupied include:
Puzzle toys
Obedience Training
Agility Training
Teach them new tricks
A fellow pet to play with
Give them a job
Create an obstacle course
Teach them the names of different toys
Feeding
Saint Berdoodle dogs have rather large appetites as we're sure you can imagine for such large dogs. Because Saint Berdoodles can vary quite dramatically in size, there's no set amount of food you should feed them. However, there is a general rule of thumb that a dog should be fed around 3 to 4.5 cups of dry food per day (with an additional 1/3 cup for every 10lbs over 100lbs of body weight).
If you have yourself a fussy Saint Berdoodle, you might want to consider either adding freshly cooked veg to the mix, or a dog food topper such as gravy, broth, or meaty chunks.
Many owners opt for a mix of dry and wet food to encourage their dog to eat so that it grows healthily. Especially seeing as giant breeds are more likely to develop skeletal deformations if they're not getting the proper nutrition.
Grooming a Saint Berdoodle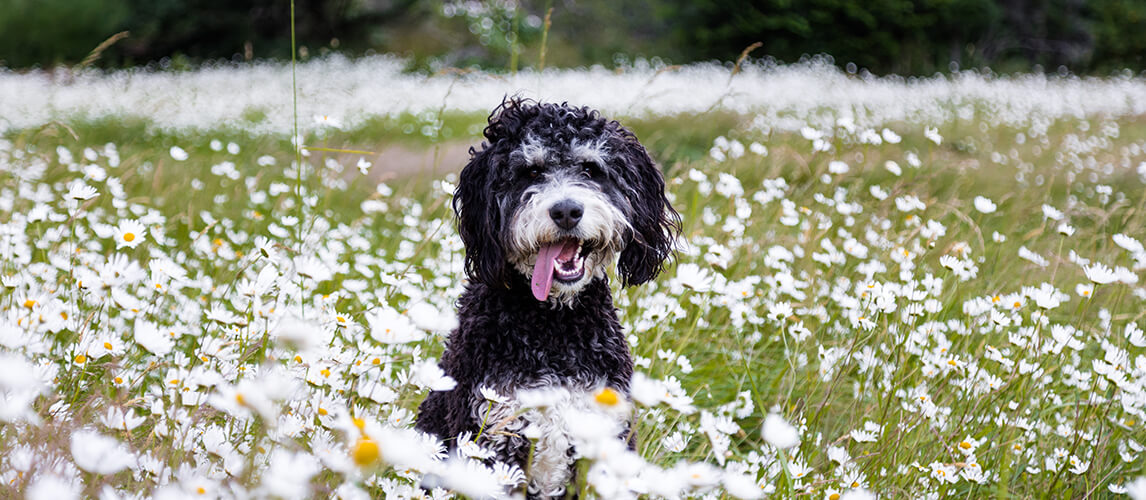 Though Poodles might be hypoallergenic, Saint Bernards are not. Therefore, you should not expect a Saint Berdoodle to be either. Saint Berdoodles actually have very thick luscious coats that shed a lot throughout the year (though perhaps not quite as much as a purebred Saint Bernard). So constant grooming is a must to reduce the risk of matting – which can become a flea breeding ground or lead to skin problems.
Constant Brushing
That thick dramatic coat has the potential to develop some nasty mats if left to its own devices – especially if it has the curly fur of its poodle parent. You're going to need a high-quality grooming brush alongside maintaining a regular brushing routine.
You should try to stick to every morning for a few minutes if possible. Just make sure you get everywhere. Especially nearer to their rear end where loose fur can gather.
An Occasional Professional Groom
With a dog like this, it's worth investing in the occasional trip to a professional groomer so that they can comb back over the entire body and fitness anywhere that might have been missed. There's no shame in this, as professional groomers have the equipment and expertise necessary for doing a detailed and thorough job.
Bathing
Not exactly something every dog looks forward to (though some do love it!), but your Saint Berdoodle will need a bath every now and again – especially if they've been splashing around in muddy conditions.
To keep their hair manageable, as well as to maintain proper hygiene a bath is an absolute must. Additionally, a bath can help to loosen off some of the wayward furs that won't come out during brushing – especially when combined with de-shedding shampoo.
It's best to start bathing whilst your Saint Berdoodle is still young as opposed to starting when they get older. This way you can condition them to accept a bath more readily with the help of positive reinforcement.
Saint Berdoodle Health
Mixed breeds tend to be a bit healthier than purebreds because they are less likely to inherit genetic weaknesses from their parents that develop as a fault during the selective breeding process. As a result, Saint Berdoodles are typically healthier than their parent breeds. However, there is still the possibility that they could develop one of the following health issues:
Hip/Elbow Dysplasia – A condition with which the joints are not properly covered by the socket, causing easy dislocations that can become progressively worse in later life.
Gastric Dilatation Volvulus (GDV) – Also known as Bloat or Tortion, GDV is extremely dangerous and is caused by a rapid buildup of air in the stomach which can lead to ruptures and become potentially fatal if not treated immediately.
Arthritis – The weight of a Saint Berdoodle can put a lot of excess stress on their joints over time. The joints can become swollen and tender leading to stiffness and reduced mobility. Arthritis is something that usually gets worse with old age but can be treated to make mobility a little bit easier for your pup.
Heart Disease – Especially with larger Berdoodles, heart disease can develop as a result of their size. The heart of a Saint Berdoodle can be undersized and struggle to maintain such a large body. This can lead to the development of heart conditions in later life that may require veterinary care.
Entropion – This is a very common condition with Saint Bernards owing to the excess of skin around their face. Entropion causes the skin of the eyelids to turn inwards, meaning the fur can poke at the eyes and cause irritation and possible infections. If Entropion is severe enough then it may require surgical intervention.
Ectropion – Ectropion is when the eyelids fold outwards due to excess weight pulling down on them. Another very common problem with Saint Bernards, hence their droopy-eyed appearance.
Addison's Disease (AD) – Addison's Disease impacts the immune system which can lead to lethargy, weight loss, weakness, nausea, diarrhea, muscle/joint pain, depression, and many other symptoms. If left untreated it can lead to acute adrenal failure, shock, or could even be fatal. AD can be treated with medication but the medication MUST be maintained at all times.
Epilepsy – Epilepsy is a common ailment of poodles and can potentially affect Saint Berdoodles, causing fits, seizures, and convulsions. This can be treated with medication and should be monitored at all times.
Where To Get Saint Berdoodles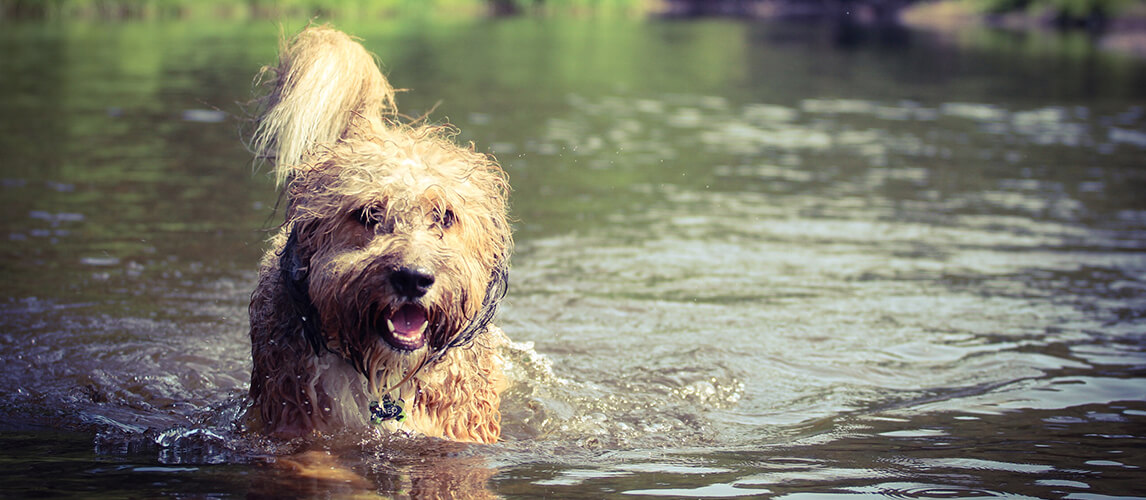 Saint Berdoodle breeding is not overly common, therefore Saint Berdoodle puppies are somewhat few and far between. But just because it can be difficult to get hold of one of these beautiful dogs, doesn't mean it's impossible. Here are a few tips for sourcing Saint Berdoodles from reputable breeders, should you decide not to adopt:
Check the nearest Saint Berdoodle club for recommended Saint Berdoodle breeders.
Try asking your vet if they know of anybody that is breeding them.
Check with Saint Benard breeders or poodle breeders as they may be aware of somebody who is breeding the mix.
It's worth noting that the AKC Marketplace doesn't list Saint Berdoodle dog breeders, as the breed itself is not registered with them. This can make finding a reputable breeder a little bit more difficult. In this, case it is important to know the right questions to ask a breeder to be sure that you're getting a puppy that has been well raised and cared for along with its mother.
Adopt Don't Shop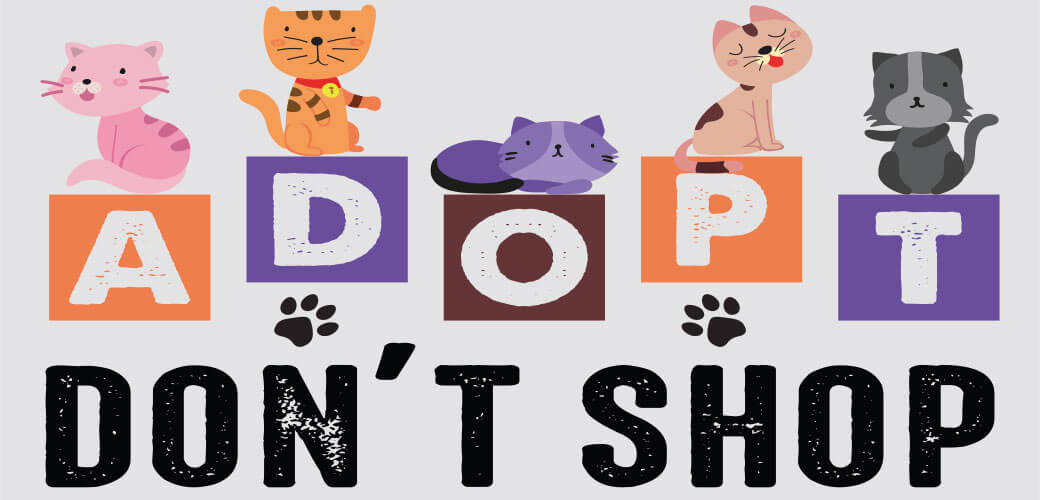 Though they may not be readily available, we would always ask that anyone considering purchasing a Saint Berdoodle puppy first checks with breed clubs and shelters to see if there is one that has been surrendered. We implore you to consider giving a forever home to a lost dog before considering purchasing one from a breeder.
Frequently Asked Questions:
Q: How big do Saint Berdoodles get?
A: Saint Berdoodles grow to be between 14-30 inches tall and can weigh between 45-180 pounds. With the Saint Berdoodle dog being a mixed breed between Poodles and Saint Bernards, it can vary quite dramatically in size. Just like with humans, mixed-breed dogs can take after either one of their parents more so than the other.
As a result, the puppy could weigh as much as the lightest poodle, or as much as the heaviest Saint Bernard. Equally, they could measure at the bottom end of poodle height, or at the top end of Saint Bernard's height. It's simply a case of the genetic lottery.
Q: Do Saint Berdoodles shed a lot?
A: Not as much as a purebred Sint Bernard, however, they can still shed significantly in some cases. Much like with height and weight, a Saint Berdoodle could inherit it's Poodle parent's fur (in which case the chance of shedding will be significantly reduced). Alternatively, they could take more after their Saint Bernard parent, in which case they will be especially fluffy and more likely to shed heavily.
Q: Are St Berdoodles easy to train?
A: For the most part, yes. Saint Berdoodle puppies are relatively easy to train. St Berdoodles come from two breeds that are eager to please and highly intelligent. This can both work in your favor and work against you, as the eager to please element gives no personality trait that makes them more willing to learn if it will make their owners happy.
However, the intelligence of the same Berdoodle puppy can also cause them to be somewhat stubborn and potentially hardheaded if they decide a task is really not to their liking.
Q: How long do St Berdoodles live?
A: St Berdoodles seven typical lifespan of both of their parents. This means that a St Berdoodle dog can live anywhere between 8 to 14 years. Though poodles can live up to 16 years, it is highly unlikely that this would be the case with the St Berdoodle puppy as they are substantially more likely to inherit the size and potential complications of their St Bernard parent.
Q: Is Saint Bernard Poodle mix hypoallergenic?
A: No. Though Poodles are a hypoallergenic breed, the Saint Berdoodle is not. Saint Bernard dogs have extremely thick, heavy coats that shed a lot during shedding season. Even with the hypoallergenic genes of a Poodle, Saint Berdoodles still shed heavily – though perhaps not quite as heavily as their Saint Bernard parents.
Q: How much does a Saint Berdoodle cost?
A: Considering Saint Bernard and Poodle puppies are extremely expensive, it stands to reason that a mixed breed of the two would be close to the same price. Saint Berdoodle puppies can cost between $1,000-$2,000 depending on their parentage. Additionally, if the parents are registered with the AKC the price can be as much as double.