PetSafe Solvit Tagalong Basket Dog Carrier for Bikes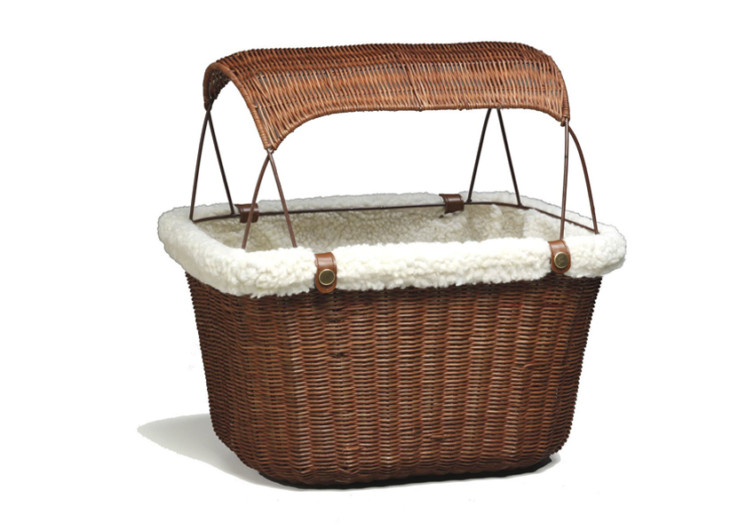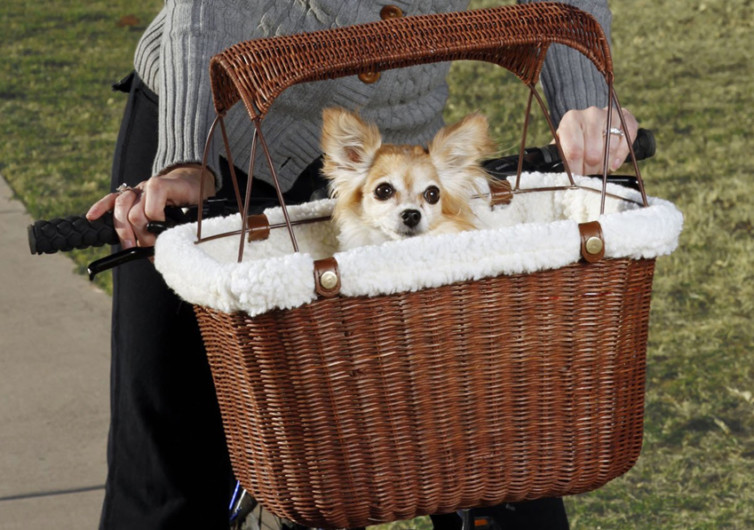 The Tagalong Bicycle Basket is a unique and elegant way to bring your pet dog with you whenever you go biking. It is a little cabin for your most precious doggie, complete with a canopy that conjures images of the wagons of the Wild West. It is neat, fashionable, and comfortable for your pet.
Featuring premium-quality resin wicker construction, this is a pet basket that will last longer than the lifespan of your pet. Speaking of pet, take note that the Tagalong can only accommodate toy and small canines that weigh no heavier than 13 lbs. The dimensions of the basket are spacious enough to accommodate a Pug, Toy Poodle, Chihuahua, Yorkshire Terrier, or any other toy dog.
The basket comes with a sheepskin liner. It is thick enough to support the dog's body. Of course, it is always possible to put an extra blanket at the bottom and sides of the bicycle basket. However, one should be cautious not to make the padding too thick. Otherwise, this will also reduce the volume of the basket. The liner itself is easy to remove. One can toss it in the washing machine; although most pet parents prefer washing it by hand to preserve its integrity.
The wicker design may not be the real deal, but it sure adheres to the design principles of wicker furniture. The holes that the wicker weave create allow for enhanced ventilation. Your pet can lie down in the basket and it will never suffocate. Air will continue to flow through the small holes of the basket weave.
The Tagalong Bicycle Basket also comes with a sun shade. This component is also easy to remove so you can give your pet unobstructed view of its world. And when the sun is up, put the sun shade on and your pet can still enjoy a bike ride with you.
Mounting the Tagalong onto your bike's handle bar is easy. It features a unique bracket system that allows for easier installation and removal without the need for any tool. The same bracket technology also comes with 3 adjustment positions for better fit on any bicycle. Inside the basket is a safety leash that should help secure your pet during the ride.
The Tagalong Bicycle Basket from PetSafe is a great way to let your pet get along when you go biking. It is a lovely pet carrier basket designed for your toy dog.
Related Reads
Related Reads