Merry Pet MPS002 Pet House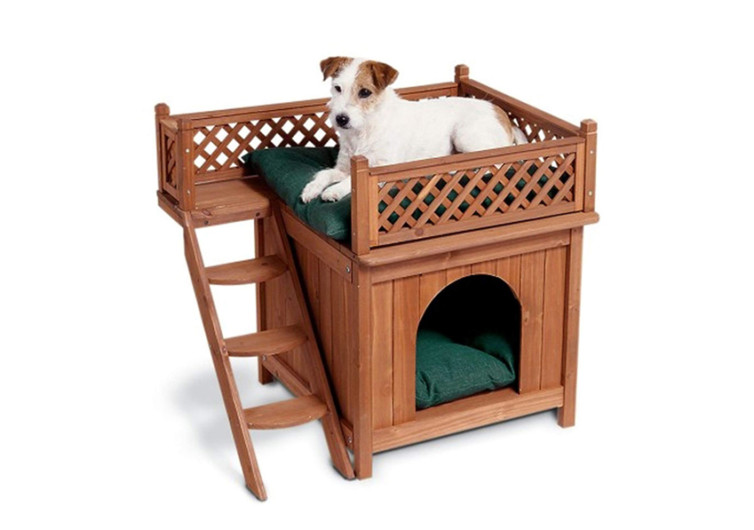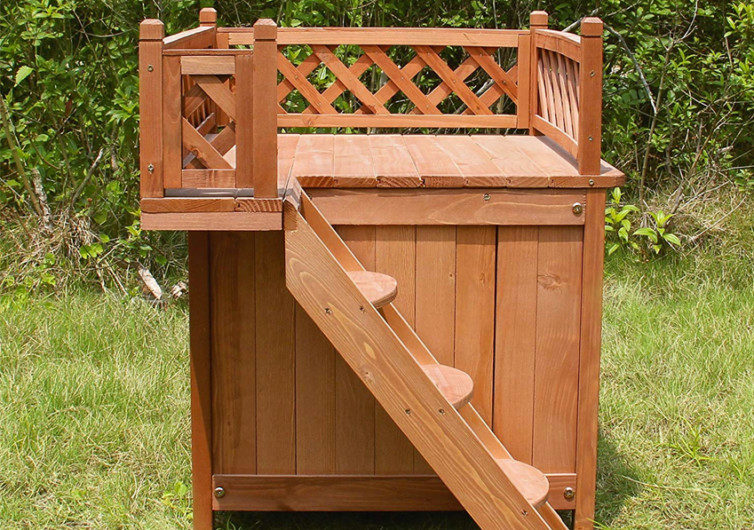 If you love your dog, you would want it to have a house that is not only unique but also beautiful. The Wood Room with a View Pet House is Merry Pet's offering to pet parents who only want the best for their dogs. Keep in mind, however, that this is only for smaller dogs.
Looking at the Merry Pet and you can't help but think of a medieval castle watchtower. The top of the pet house comes with wooden rails. This helps secure your pet while it lies down on a comfy bed. You have to provide the bed for it to nap on, however. The rails come with intricate latticework that gives the Merry Pet an aesthetic quality you won't see in other dog houses. This latticework also helps provide better ventilation for your dog.
Reaching the top of the tower is made possible by a three-step ladder on the side. The top landing is rather narrow, so you have to train your little hound to go up and down the stairs with care. The angle of the ladder is also a bit steep. There are also no guardrails on the outer section of the ladder. Pet parents should always train their dogs on how to ascend to and descend from the tower.
Forming the base of the Merry Pet is a 17.3 by 17.3 inch dog house. It provides a 15.4-inch ceiling, which should be enough for your small or toy dog breed. There's only one opening in front of the dog house. The door measures 9.3 inches wide and 11.3 inches high. There are no windows or additional vents on the sides of the Merry Pet. The only source of ventilation is through the door. You may want to keep this in mind when purchasing this dog house.
The Merry Pet comes with an elevated flooring. It's ideal for keeping your dog dry, in case you decide to put the dog house in your backyard. The raised flooring also helps cool the interior of the dog house, compensating for the lack of windows and vents.
This dog house features kiln-dried cedar wood and finished with natural color stains. The finish gives the Merry Pet a more elegant look that can complement any décor in your home.
The Wood Room with a View Dog House is a beautiful shelter for your small dog. It's also an adorable furniture to have in your home.
Related Reads
Related Reads