Litter Genie Ultimate Cat Litter Odor Control Refill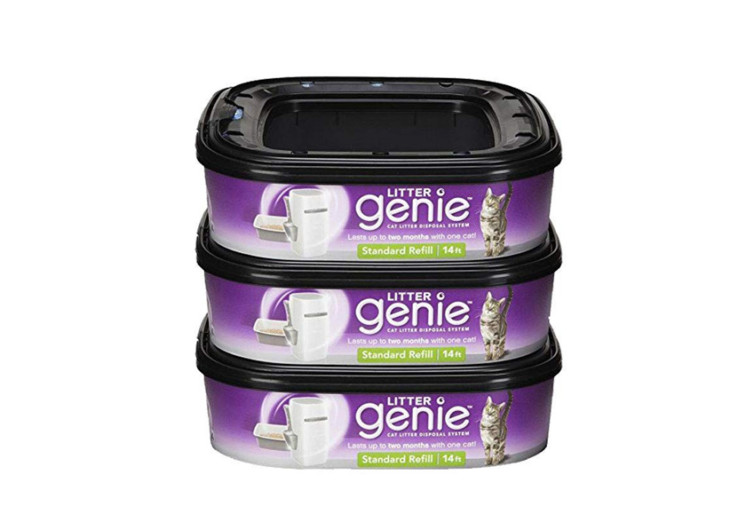 If you already have the Litter Genie Pail, you also have to have the Ultimate Cat Litter Odor Control Refill. This refill system helps ensure your Litter Genie pail gets to manage the nasty odors from soiled cat litter with ease. There's no worrying about the smell of cat urine and feces permeating the rest of your house.
It is not easy managing pet wastes. In general, you should never allow soiled cat litter to collect in your trash can as this can flood your house with the stench. That is why it is important to empty these waste collection containers every day. It's a chore, but it's something that is crucial in maintaining the cleanliness and freshness of your home.
The Litter Genie addresses such issues by offering you a trash can-like contraption. The main difference here is that the Litter Genie comes with a unique design that locks the contents. This means you will never have a headache about nasty odors in your house.
At the core of this system is Litter Genie's ingenious Odor Control Refill. This is a product that is composed of 7 different layers of odor-controlling materials. They are like your ordinary garbage bag, except that they're designed for the Litter Genie system.
Each bag comes with the patented Odor Barrier Technology of Litter Genie. This technology locks away microorganisms that cause odors. This is unlike other waste bags that come with artificial scents that serve to overpower the odor from cat litter. What the Litter Genie does is it neutralizes the principal cause of cat litter odor – germs. By neutralizing these microorganisms, Litter Genie can reduce if not eliminate the odors that emanate from the soiled cat litter.
It is also admirable that the Litter Genie refill bags are very durable. They do not break nor tear. This is regardless of how full the bag is. The most important feature of the Litter Genie is its minimal impact on the environment. It is important to understand that it's not biodegradable. However, because it can last anywhere from 2 to 3 weeks, you will not have to empty the Litter Genie pail every day. This makes it an eco-friendly solution to cat wastes.
The Litter Genie Ultimate Cat Litter Odor Control Refill is perfect for those who may have the Litter Genie pail already. It's the perfect combo for a more efficient way of managing cat litter.
Related Reads
Related Reads