PetSide may earn a small commission from affiliate links in this article.
Learn more
There's something majestic about a large powerful cat such as a panther, wild bobcat, or an African wild cat. But while wild cats are off the agenda for pet owners, it's possible to have a supersized domestic cat that will also settle well into your home.
We take a walk on the wild side in our guide to some of the largest cat breeds that make excellent feline companions.
What makes a 'big cat'?
Your average domestic cat weighs between eight and 12 pounds.  Anything beyond 10-12 pounds is considered a large cat breed, while some giant pet cats can weigh up to 25 pounds, which is a lot of cat to love!
Many of the largest cat breeds originate from wild cats, with animals such as wild forest cats, the African serval, and wild bobcats deliberately bred with domestic cats to create a hybrid breed. These breeds not only retain some of the large statures of their wild ancestor but also elements of their wild appearance. And the result is often an oversized domestic cat with more than a nod to its wild cat past.
Large cats as family pets
The largest cat breeds generally make good family pets and bond well with humans. They can also work well as a house cats. However, they tend to be more curious, powerful, and athletic so will need supervision if you have children or other small pets in your home.
14 of the Largest Cat Breeds
If you like big felines, why not choose one of the largest domestic cats in our largest cat breed list? All these large cats are stunning to look at and make loving and generally easy to care for pets.
1. American Bobtail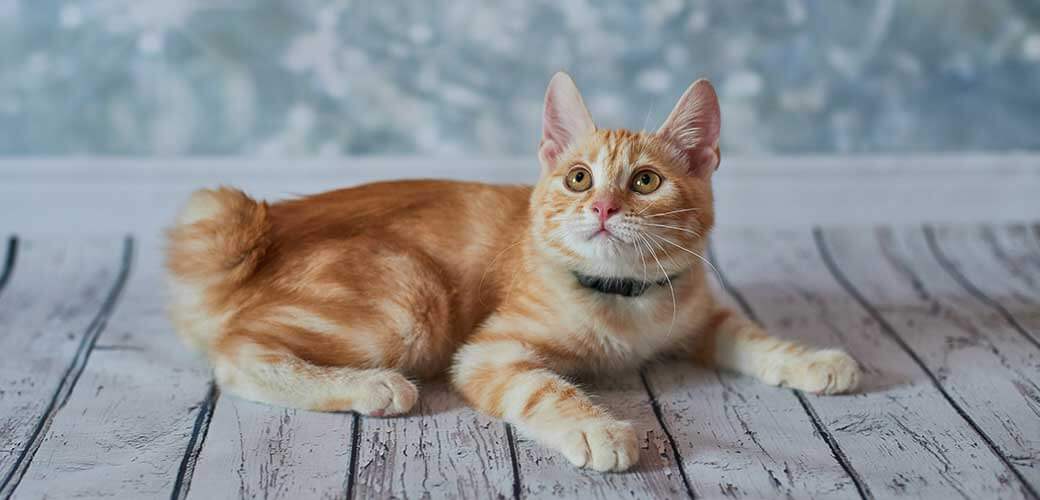 Not one of the biggest cat breeds, the American bobtail is still oversized, weighing up to 16 pounds as an adult. But what sets this large cutie apart is its stubby bobbed tail which measures just a few inches long.
Believed to have originated from an abandoned cat in Arizona, the American bobtail is thought to be the breeding result of a wild bobcat and a domesticated cat. The Cat Fanciers Association and the International Cat Association have only recognized the breed since 2002.
The American bobtail is an intelligent cat with long limbs and a substantial body. Its mid-length shaggy fur can come in any color. Friendly, smart, and adaptable, this big house cat is great for an active household.
2. Bengal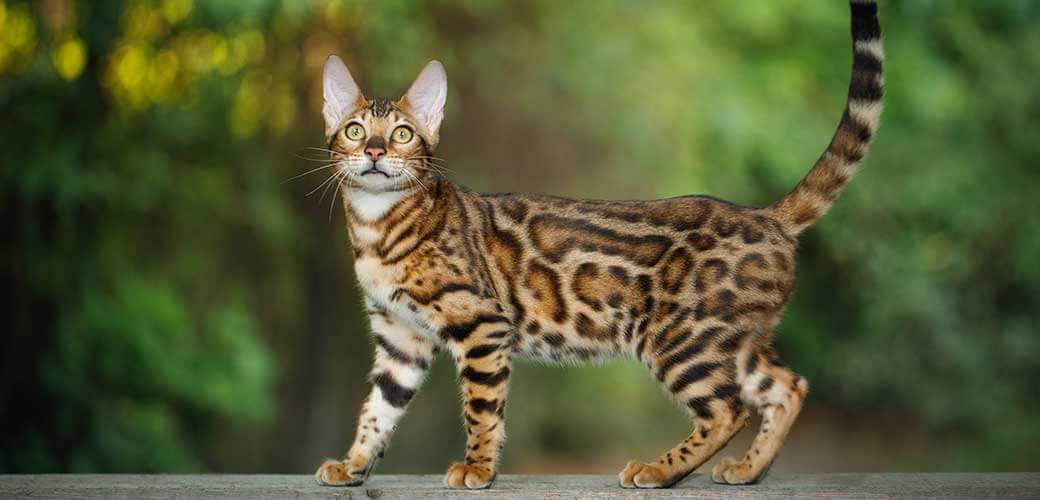 Not only is the Bengal a sizeable cat, but also has authentic wild looks. With its beautifully patterned coat with a combination of spots and stripes plus a long, lithe tail, the Bengal looks like he would be very much at home in the jungle. This large cat weighs between 15 and 18 pounds as an adult and has an athletic body designed for climbing.
The Bengal cat is also known to be one of the genuine hybrid cats, combining the Egyptian Mau and wild Asian leopard cat. This wild heritage means Bengal cats are very active and energetic. But its domestic roots also mean the Bengal is playful, friendly, and people-focused. They can also be taught tricks too!
3. Birman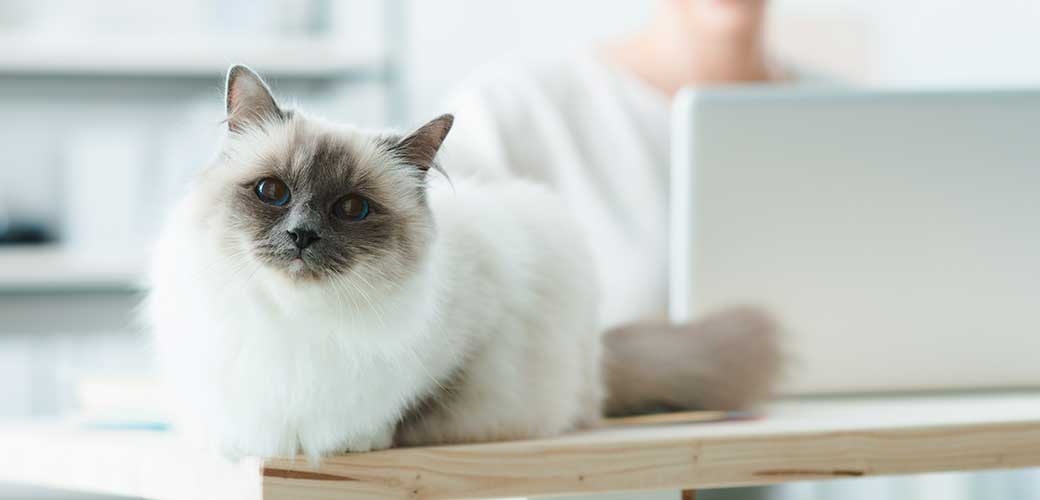 Tipping the scales at over 15 pounds, the Birman is a beautiful large cat breed that's also a little mysterious.
The full history of the breed – known as the Sacred Cat of Burma – is hazy, although it's thought they are a Burmese cat that was bred with a Siamese at one point. The result is a stunning large feline, distinguished by its long silky coat and startlingly blue eyes. Typically white, seal, blue or lilac, the Birman also features colored points on their ears, face, and tail and, unusually, a white 'glove' on each paw.
Active, inquisitive, and sociable, the Birman loves to play with its human owners and makes a good large cat choice for most homes.
4. British Shorthair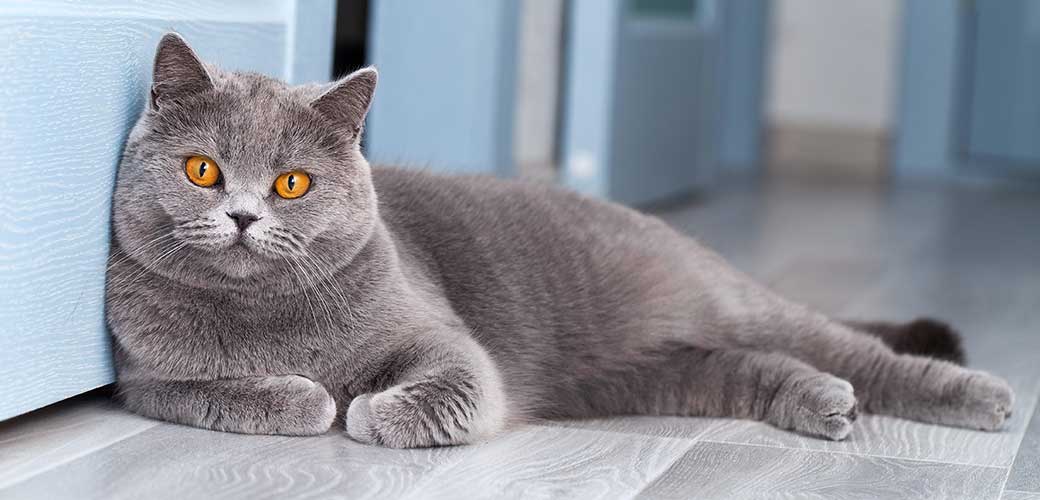 Not only is the British shorthair a giant cat breed, but it is also one of the tallest, measuring up to 14 inches in height. This plush-furred breed is also one of the most popular in its native UK.
The British shorthair dates back to the 1st century when its ancestors were brought to Britain by the invading Romans. In recent times, British shorthairs suffered a decline, so after the Second World War, were bred with other cats, including Persians and Russian Blues, to reinvigorate the breed.
A surprisingly docile cat considering its size, these gentle giants are also sociable and make the ideal family cat. But the breed can become needy as they thrive on love and attention, so don't like being left alone for too long.
5. Chartreux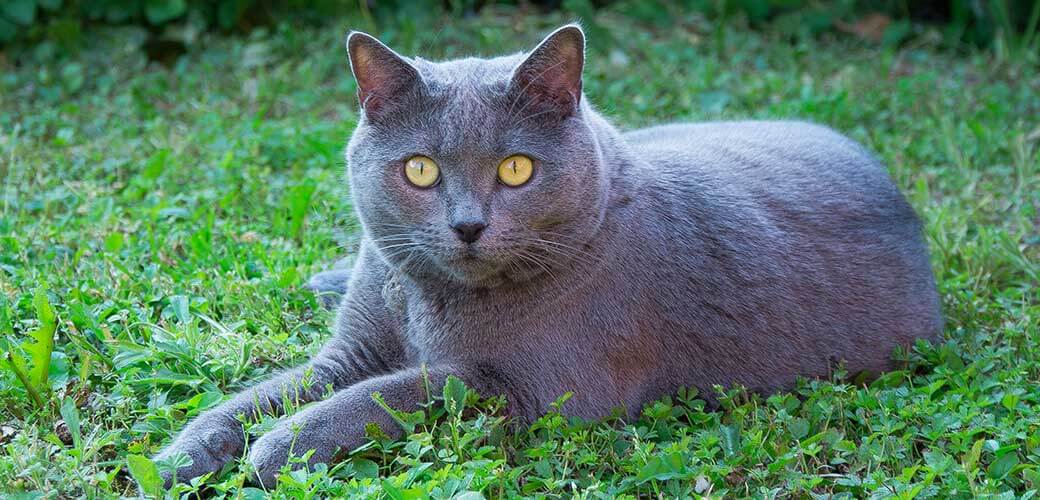 Thought to date back to the 13th century, the Chartreux originates from what is now known as Syria. This muscular breed was brought to France in the 1500s and was actively bred by the Carthusian monks, most likely used as working cats. A later breeding program in the 1920s resulted in the Chartreux cat we know today, with a large round face, amber eyes, and gorgeous blue fur.
Arriving in America in the 1970s, Chartreux cats are still relatively rare. They are a very healthy breed with some similar characteristics to dogs, most notably their devotion to humans. The Chartreux tends to bond with one person and follow them around, making them excellent companions in a single household.
6. Chausie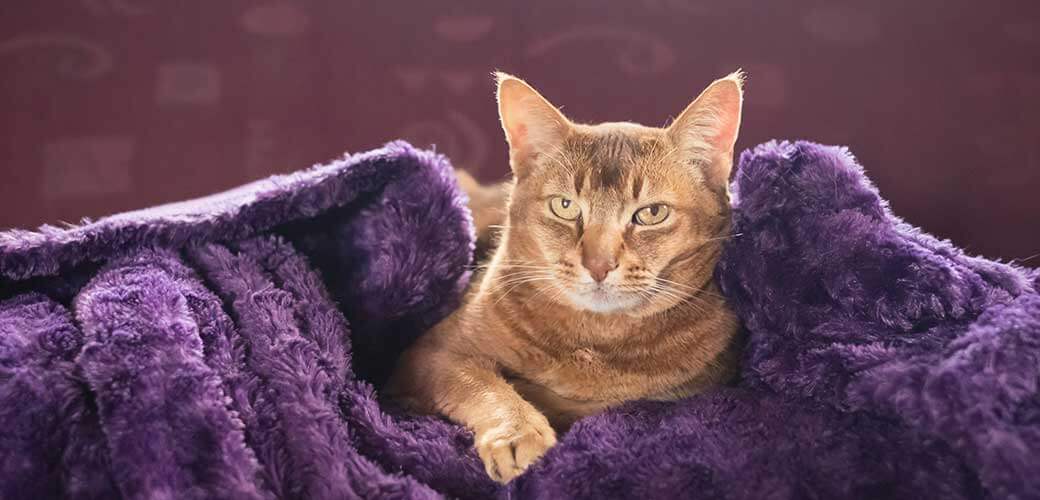 The Chausie is a very exotic-looking large cat breed which dates to ancient Egypt. Its name comes from the Latin, 'felis chaus', which translates as a jungle cat. The breed is a hybrid between wild and domestic cat breeds such as the Abyssinian and Oriental shorthair.
With its regal looks, short tail, and wild coat pattern, the Chausie is a very handsome cat. The breed can grow to 18 inches tall and up to 20 pounds, putting the Chausie near the top of the largest cat breeds.  Their body is muscular with long legs, giving the Chausie a lanky appearance. But don't be fooled as this cat is very athletic and strong. He's also a smart feline and likes to seek out adventure.
As the Chausie is also known to be headstrong, this breed is best suited to experienced cat owners who have the time to dedicate to this beautiful large cat.
7. Maine Coon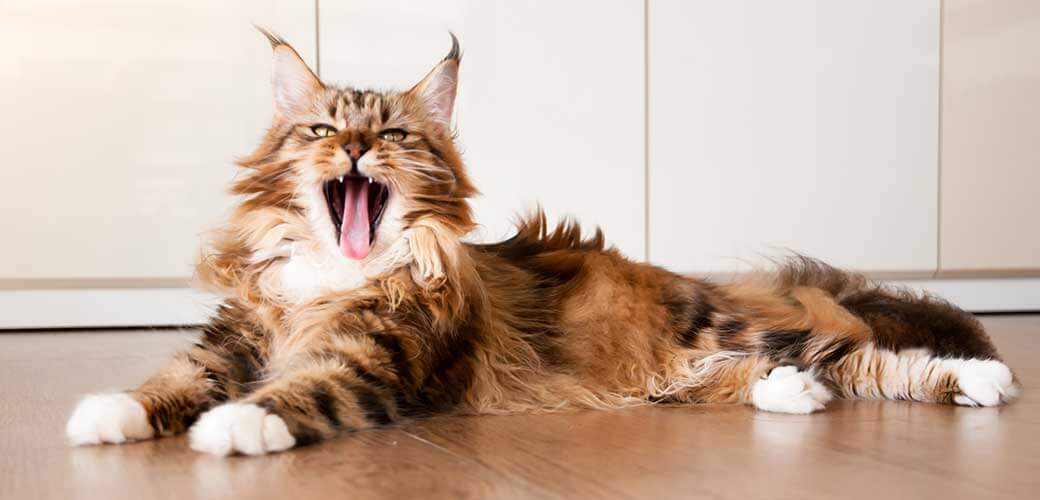 According to the Cat Fanciers Association, Maine coons are the largest cat breed in the US. This gentle giant can weigh over 25 pounds, and a 30 -pound Main coon is not unknown. The story goes that this breed originated as a cross between a house cat and a raccoon, hence its long, smooth coat and fulsome tail. This is untrue, but the real origins of Maine coons are still unclear.
The official cat of Maine, the breed, is thought to have come to the States aboard ships in the 1700s and could indicate that some European longhaired breeds such as the Norwegian forest have had an influence. Maine's long coat can come in one of over 75 color combinations, and he also has large paws that have tufts of fur between the toes.
Despite his size, the Maine coon cat is a super-affectionate cat that is relaxed, intelligent, and loves to indulge in kitten-like play.
8. Norwegian Forest Cat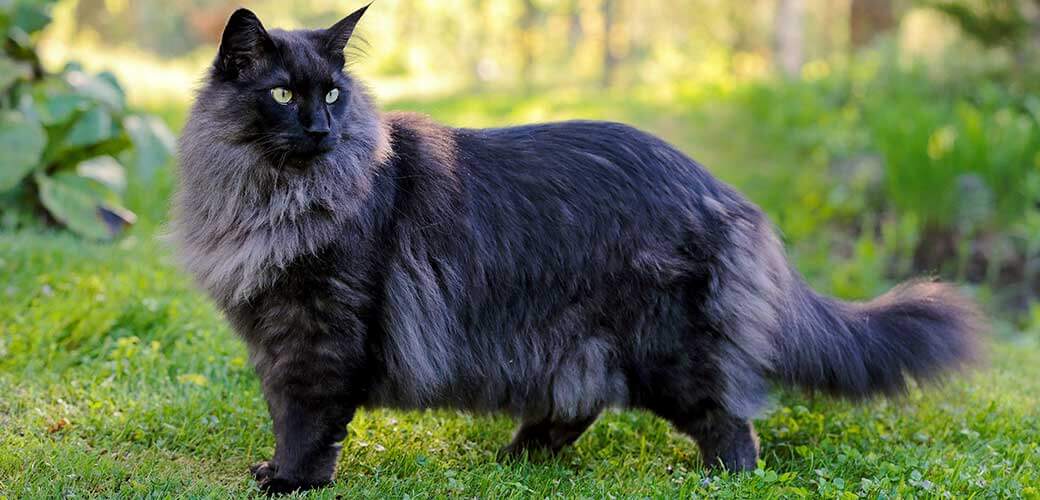 There's no denying the wild look of the Norwegian forest cat, which tips the scales at over 20 pounds. A cross between domestic cats and wild forest cats, this breed originated from Norway and is also thought to have the Siberian cat as an ancestor.
Perfectly bred for the harsh Norwegian climate, this substantial breed is exceptionally hardy and has a woolly coat that repels water and insulates against the cold. And this thick coat takes the look of this large cat to a new 'big cat' level!
What is interesting about Norwegian forest cats is their unusually strong claws, which make it an expert at climbing rocks and trees. But despite its hardy, outdoor nature, today's Norwegian forest cat makes a loving and intelligent pet that does appreciate the comforts of home.
9. Persian Cat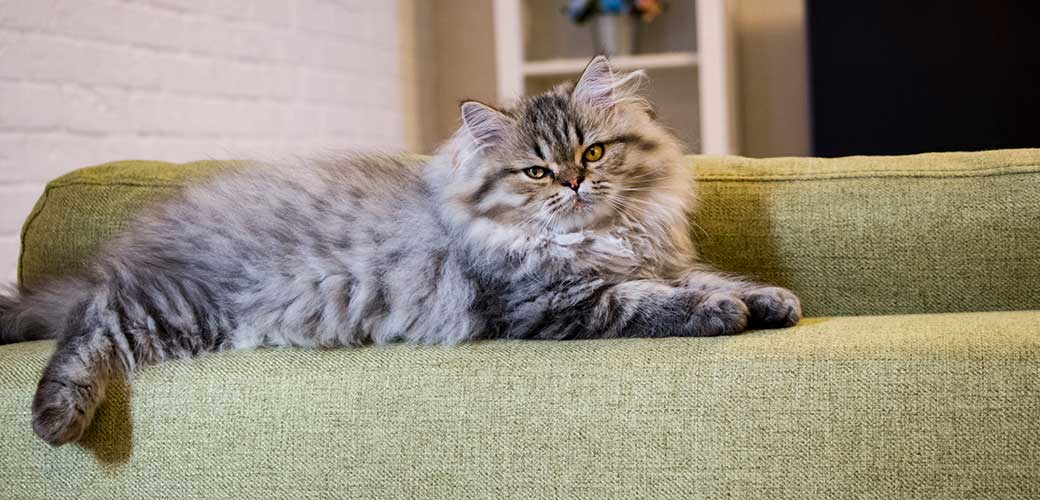 The Persian is at the smaller end of our largest cat breed scales but sneaks in as his appearance makes him look much larger than he is! Weighing around 12 pounds as an adult, the Persian tends to be heavier, adding to his big, bulky look.
Instantly recognizable, thanks to the round, flat face and short muzzle, the Persian cat originates from Mesopotamia, which today is known as Iran. The Persian breed was brought to Europe by an Italian nobleman in the 1600s and grew in popularity, becoming the favored cat breed of Queen Victoria.
Persian cats are not athletes and are often considered couch potatoes. They love nothing more than cuddling up on the sofa in the company of humans. They can also be happily left alone if it is not too long, making them a great cat for working households.
10. Ragdoll Cat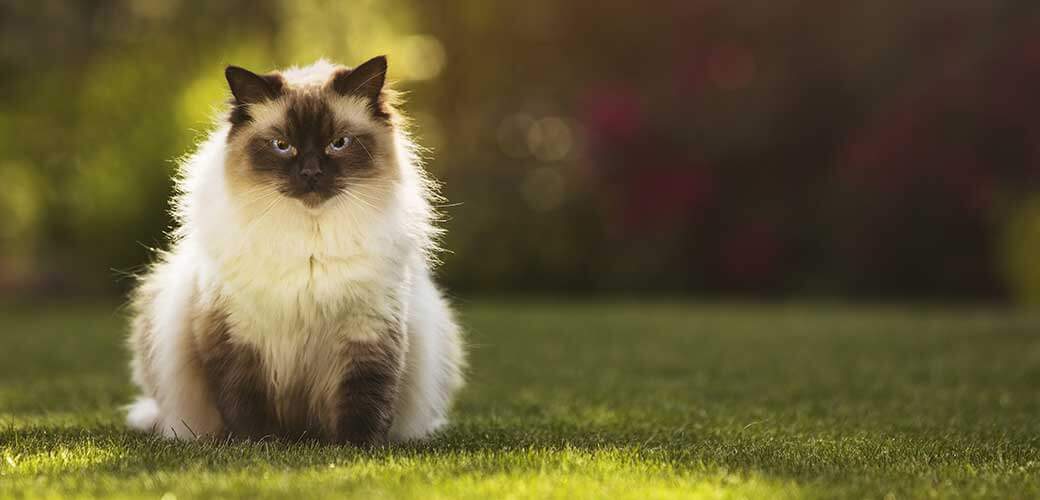 Docile, affectionate, and a total cuddle bug, the ragdoll cat has earnt its name thanks to its ability to act like a loving ragdoll when picked up and held. With the male ragdoll weighing around 20 pounds, its female counterparts are a little unusual as they weigh around 15 pounds, which is heavy for a female cat.
A hybrid cat from the white Angora and Siamese cat, the ragdoll is beautiful to look at, with its thick fluffy coat in blue, seal, chocolate, lilac, or cream and Siamese-type contrasting color points. The breed was developed in California in the 1960s and is renowned for its friendliness, even with other cats and dogs.  This sociability means the ragdoll is often called the dogs of the cat world as they even love to play fetch!
11. Ragamuffin Cat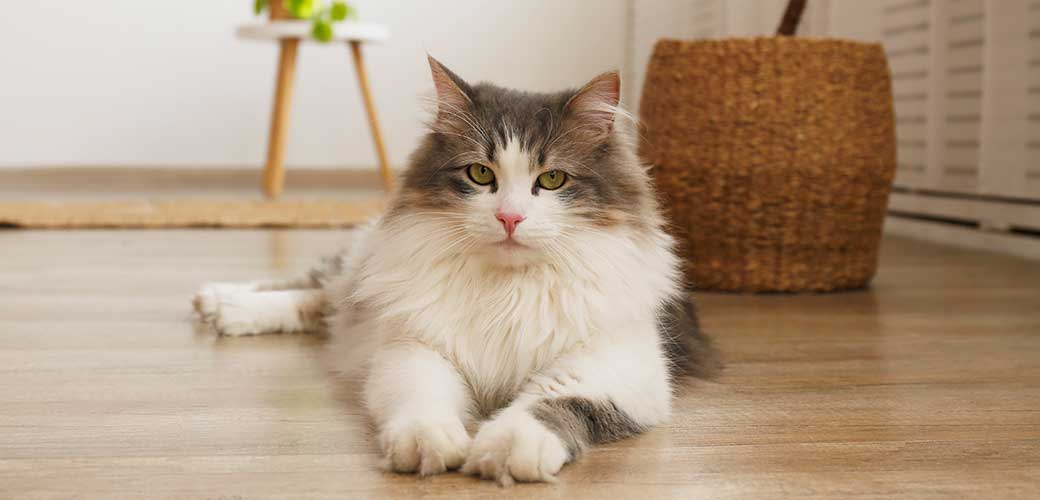 The ragamuffin is another large cat breed that has a super-laidback personality. Ragamuffin cats also have a habit of overeating and can sometimes top the heaviest large cat breed!
Weighing up to 20 pounds and measuring a maximum of 12 inches in height, the loving ragamuffin has a luxuriously thick coat which gives them a shaggy, 'ragamuffin' appearance. As an affectionate breed, they have a lovely round open face, friendly expression, and docile nature.
The ragamuffin and the ragdoll are from the same domesticated cat breeding stock, which is why they look and act similarly. But a disagreement between breeders regarding the direction the breed should take has led to the development of two separate breeds.
12. Savannah Cat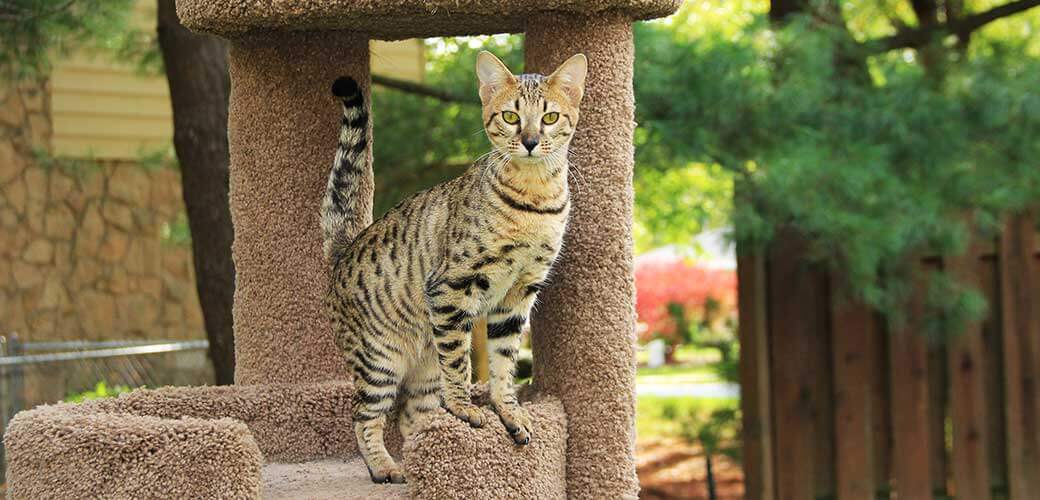 A cross between a domestic cat (usually a Siamese) and the wild African serval, the Savannah cat has taken on many of its wild cat features, including a pair of large ears. Weighing in at up to 25 pounds, the Savannah is also one of the largest cat breeds.
Its leopard-like appearance makes the Savannah cat highly sought after and comes with a classification so that owners know how many wild cats they contain. The more African serval genes a Savannah cat has, the larger they are likely to be.
As a hybrid, Savannah cats can have a strong personality and a wild appearance. They are also incredibly powerful and have muscular bodies, making them exceptional climbers and jumpers. This means that the Savannah is best suited to experienced cat owners with the time and energy to devote to their large pet.
13. Siberian Cat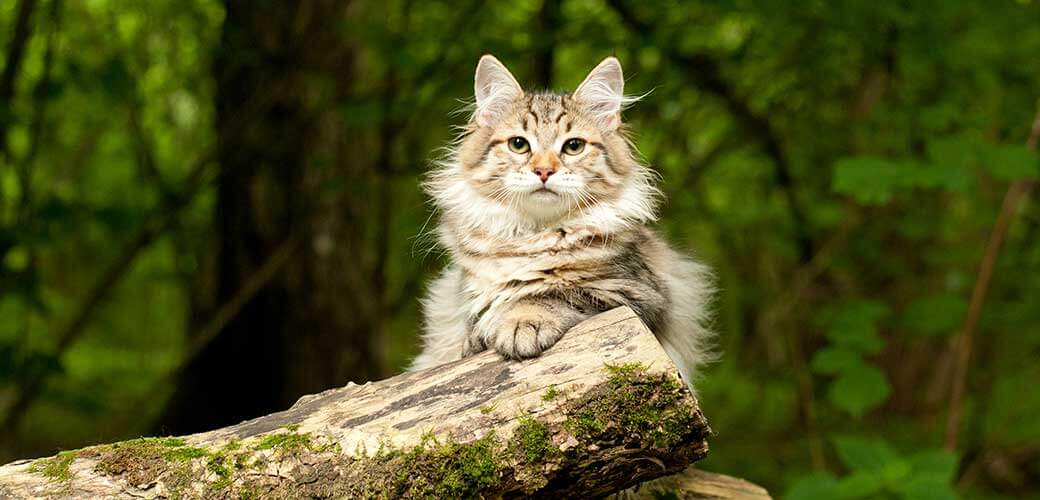 Also known as the Siberian forest cat, this large breed originates from Russia, where it was bred to withstand the sub-zero temperatures and harsh landscapes. With a maximum weight of around 20 pounds, the breed is sturdy and has a thick coat with three layers to keep it warm and dry. Siberian forest cats are also one of the longest felines in the world, with a body that can reach 18 inches in length.
As a domesticated cat, the Siberian has a surprisingly affectionate nature and loves to play. Siberian cats are smart too and can solve problems such as figuring out how to open a door or get their paws on any hidden snacks. Siberian cats also love to be around people and like active households, which can include smaller children and pets.
14. Turkish Van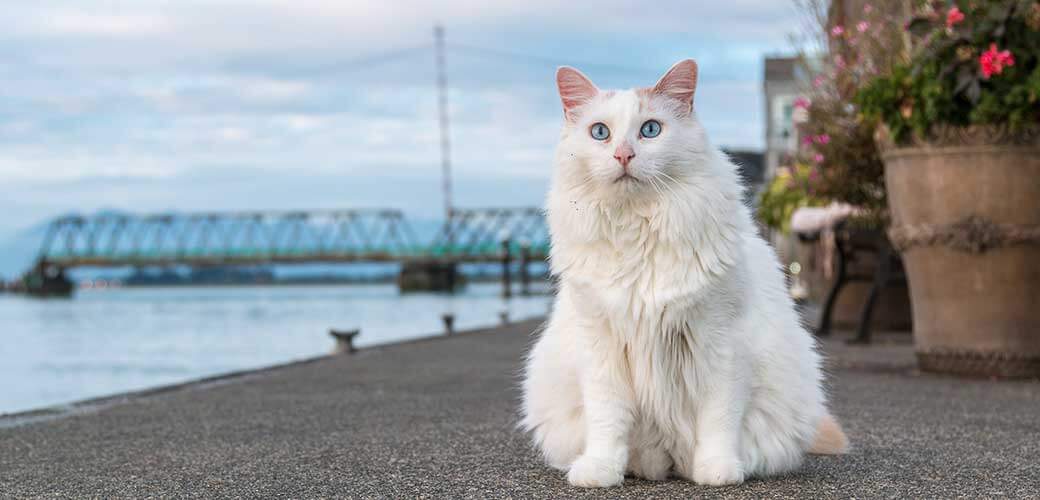 The Turkish van is an interesting breed, not least because it can take up to five years before they reach full maturity. Once they do, the Turkish van makes for an impressive cat, with a muscular body and large yet slim frame, which can also make them look longer.
Originating from the mountains of Turkey, where they are a much-prized breed, Turkish vans get their name from their distinctive fur pattern, which has color restricted to its head and tail only, while the body must be white.
Many Turkish vans have an unusual affinity with water and love to have a splash. They are also very playful and active, bordering on mischievous, meaning they make for entertaining pets.
FAQs:
Q: How big is the world's largest cat?
A: According to the Guinness Book of Records – which measures length rather than weight – the world's largest living cat is a Maine Coon called Ludo, who is 45.6 inches long, from nose to tip of his tail. That's as long as the average six-year-old child.
Meanwhile, the world's longest-ever cat – Stewie – was also a Maine Coon and measured 48.5 inches long.
Q: What is the largest breed of cats?
A: The Maine Coon is the largest domestic cat breed you can own. This handsome creature is well-built and can weigh up to 25 pounds. We will look at the Maine Coon in more depth later in this guide.
Q: What is the biggest cat you can legally own?
A: In many US states, most exotic cats – such as leopards and tigers – are generally illegal to own. Where it is possible to own a large exotic cat, you will require a special permit and license, which can be very difficult to obtain.
Source:
A history of big cats – Guinness World Records