KONG Cloud E-Collar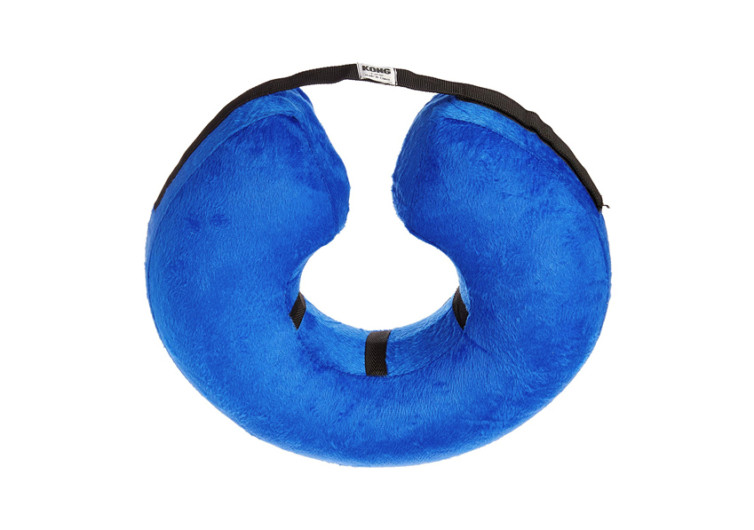 Pet parents trust KONG to provide their pets with exceptional products. From the Classic KONG toy to other nearly-indestructible pet accessories, the brand is synonymous with quality. Their Cloud Collar follows in this tradition of excellent craftsmanship and thoughtful design.
The KONG Cloud Collar resembles the neck pillow we humans use in our travels. It's a neck and head stabilizer, if you would like to call it that. That's the same principle behind the creation of the KONG Cloud Collar. The thing that you may ask is why would a dog want to use a contraption such as this?
The Cloud Collar is a better alternative to the conventional Elizabethan collar that vets put on sick, ill, or recently-operated dogs and cats. The E-collar looks more like an ice cream cone with your pet's head being the scoop of ice cream. What this device does is it prevents your dog from licking or biting a body part that needs to heal. It can also help prevent the dog from scratching its ears or head in case there is injury to these body parts.
The problem with the E-collar is that it can limit the pet's peripheral vision. It can also impair its ability to eat or drink from its bowl. The surface that is in contact with the pet is also harder or more solid. This can irritate some dogs.
The Cloud Collar addresses these concerns by giving your pet a more comfortable platform with which to immobilize its neck and head. It doesn't hamper its ability to drink or eat. This KONG creation also doesn't obstruct the dog or cat's field of vision. It has an inflatable design so you can adjust its firmness or softness with relative ease.
Like all KONG products, the Cloud Collar comes with a material that is resistant against scratches and bites. It will also not leave scuff or scratch marks on the floor, wall, or any other surface. It is washable, too. This means you can use it over and over.
The Cloud Collar comes in several sizes to fit the neck circumference of your pet. Its smallest size can fit a neck circumference of 6 to 8 inches while the largest Cloud Collar is perfect for 20 to 25-inch necks.
The KONG Cloud Collar is a comfortable and effective way to manage your pet's neck and head movements. It works like a traditional E-collar, only better.
Related Reads
Related Reads