How to Choose the Best Cat Food for Your Feline
Cats need a complete and well-balanced diet to lead normal, healthy lives. Choosing the best possible diet for our feline friends can be intimidating, however. Pet stores, groceries, and online shops can inundate you with a lot of options, making the selection process a bit complicated. There are far too many options but very little information to make a sound decision. That's about to change as we share with you how you can choose the best diet for your feline friend.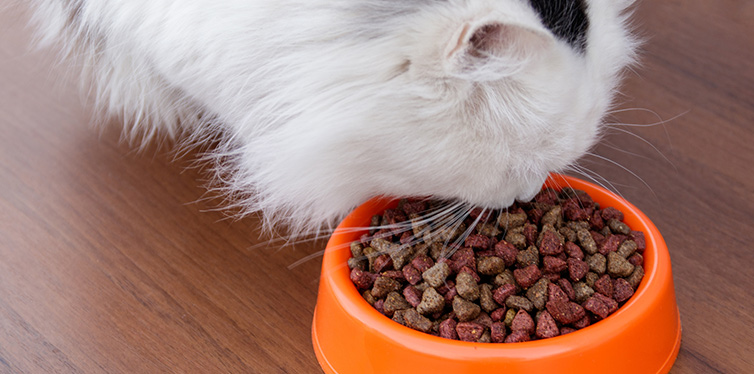 Understand What Your Cat Needs
Before you start choosing the best cat food for your feline friend, let's first understand its nutrient needs. Cat fanciers agree that all felines should have high-quality proteins and high-quality fats in their diets. They do not need carbohydrates, contrary to what you may already know. Bear in mind that felines are carnivores by nature.
It is essential to understand why protein is so vital to a cat's health. They function in the growth and development of every conceivable tissue inside the cat's body. This also includes substances like hormones and immunoglobulins. In other words, there won't be cells, tissues, organs, and substances without proteins serving as building blocks. In essence, you will not have a cat without this essential element.
Fats are important components of the cell wall. Without it, the cell will degenerate and die. Fat is also important in the production of certain hormones like steroids and sex hormones. Fatty acids like arachidonic acid, EPA, and DHA are essential to cats. Animal fats are excellent sources of these kinds of fatty acids. There are also fatty acids in certain plant ingredients, but these are fats that your cat doesn't need.
Carbs, on the other hand, also have a function in cat health. Its principal function is to provide energy to the different cells and tissues. However, given that both proteins and fats also contain calories or energy, you can almost always opt not to give carbs to your pet. Majority of the commercially-available cat food products contain too many carbohydrates. True, some of these contain proteins and fats, but these are the kind that your cat doesn't need.
Since the major sources of carbs are plant foods, it is okay to give your pet cat diets that contain fruits and vegetables. These are excellent sources of vitamins and minerals that can give many benefits to your pet.
Cats are very prone to kidney diseases. Younger cats can suffer from acute renal failure more than senior cats. As they grow older, it can turn into chronic renal failure. There are many reasons why cats can develop kidney problems. One of them is their low thirst drive. They depend on their food for water. It is for this reason that wet cat food is better than cat kibbles. But if you can guarantee that your cat can drink from a pet drinking fountain, then you can give them high-quality kibbles.
To sum it up, here are the things you need to look for in the best cat food:
Animal protein as the first ingredient
Essential fatty acids like Eicosapentaenoic acid, Docosahexaenoic acid, and Arachidonic acid
Taurine as an essential amino acid for cats
Vitamins, minerals, and enzymes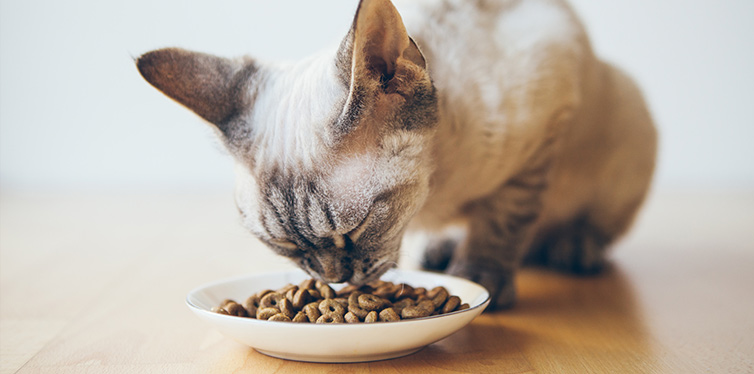 Look for High-Quality Ingredients
Any pet deserves only the best possible food that contains the highest possible quality of ingredients. For cats, this often means high-quality proteins. There is an ongoing debate as to what constitutes "high-quality" proteins. On one side of the argument are those in favor of animal proteins while the other represents plant proteins.
High-quality proteins are those that contain all the essential amino acids necessary for a cat's growth and development. Animal proteins contain all of these amino acids that cats need; plants don't. There is a very particular amino acid that all cats need which is present only in animal proteins. This is taurine. This amino acid is responsible for maintaining the integrity of the cat's heart muscles. Without it, cats can develop hypertrophic cardiomyopathy where the muscles of the heart grow too large. This can compromise the delivery of oxygen and nutrients.
Taurine also plays a role in a cat's normal vision and healthy immune system. It also enhances digestion. And if your cat is pregnant, taurine can also help in the normal development of the kittens inside the mommy cat.
Plant proteins do not contain taurine. As a result, cat food manufacturers always supplement their products with taurine. This is not necessary if only the cat food contains animal proteins. As such, if you want to give the best food for your cat, you need to give it cat food that contains high quality proteins – animal proteins.
But, we're not done yet. You also have to consider the animal protein that is present in the cat food. Some cats can develop food allergies. When it comes to allergies, proteins are almost always the culprit. This is where your choice of animal proteins can come in.
Many cat foods contain chicken and other animal proteins that can be allergenic. These animal proteins are so common that cats already have a ready immunologic response to them. As such, it is important to look for cat food that contains novel animal proteins. These can include herring, salmon, turkey, white fish, and the like. These are animal proteins that are not very common such that your cat's immune system will not fight them.
Summing it up, you should look for the following high-quality ingredients in your cat food.
Novel animal proteins like salmon, turkey, herring, and walleye, among others
All-natural ingredients
No meat byproducts
No allergenic grains
No fillers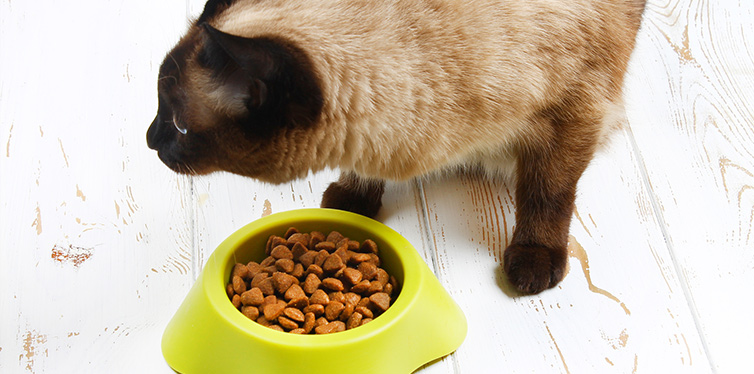 Consider the Digestibility of the Protein
We know now that cats need animal proteins for optimum health. However, one very important consideration is the digestibility of protein. This relates to the cat's tendency for allergies.
Proteins are very large molecules that undergo initial digestion in the cat's stomach. They break down into their component polypeptides. Each polypeptide undergoes final digestion in the cat's small intestines, turning it into component amino acids. As such, amino acids are the smallest functional units of proteins. These can pass through the intestinal wall where absorption takes place.
There are immune system cells in the intestinal wall. These cells have a special affinity for any substance that it considers "not welcome".  The normal anatomy of cats allows for the safe passage of amino acids through the intestinal wall. As such the cells of the immune system will let these amino acids pass.
It is unfortunate that there are polypeptides or proteins that remain undigested. These molecules will attempt to cross the intestinal barrier. Immune system cells recognize these "molecules" as "unwelcome" so they initiate an immune reaction. We all know this as food allergy.
The issue here is in how well the cat's intestines are able to digest these large molecules of proteins and polypeptides. This is where the protein's digestibility is important.
Let's look at a hypothetical case. Suppose we have two cat food products each having 30 percent crude proteins as listed in the label. Cat food A contains an animal protein that is 95% digestible. Cat food B contains 75% digestible animal protein. If we are to feed our cats 2 ounces of these cat foods, we will obtain the following.
Cat food A = 2 ounces x 0.30 x 0.95 = 0.57 ounces of protein
Cat food B = 2 ounces x 0.30 x 0.75 = 0.45 ounces of protein
This means that Cat Food A contains more digestible proteins than Cat Food B. This is despite the fact that both cat food formulations have a crude protein content of 30 percent. It is for this reason that you also need to look at the individual ingredients of the cat food. This is because very few pet food manufacturers will put in their labels the digestibility rating of their food ingredients.
Keep in mind that the higher the digestibility score of a particular ingredient, the better it is for your cat. This means it gets to absorb more of this nutrient for use by its cells, tissues, and organs. It also means fewer chances of food allergies and other health problems.
Read the Label and Know the Ingredients to Avoid
Cat fanciers always advise their friends to read the label of the food product they want to buy for their kitty. We agree. It is important for us to read the label of the cat food we want to buy. To be more specific, we have to know what ingredients we are giving to our pets.
Here is a list of the ingredients in cat food that have to watch out for.
All ingredients should be identifiable. If you read "meat" or "poultry" in the ingredient list, forget about getting that cat food. Why? The word "meat" doesn't give you a definite answer. It could be pork meat, beef, venison, lamb, boar, or others. You can never be sure about the "type" of meat that you are giving to your pet cat.
The same is true with "poultry" and "fish". There are different species of poultry and fish. So which of these species is present in the cat food? If you are not sure, then proceed with the next product.
There are also those that put "rendered fat" in their ingredient list. The question here is rendered fat from which animal? Is it cattle, swine, deer, or boar? But if it lists "rendered pork fat", then you know that this ingredient comes from pigs.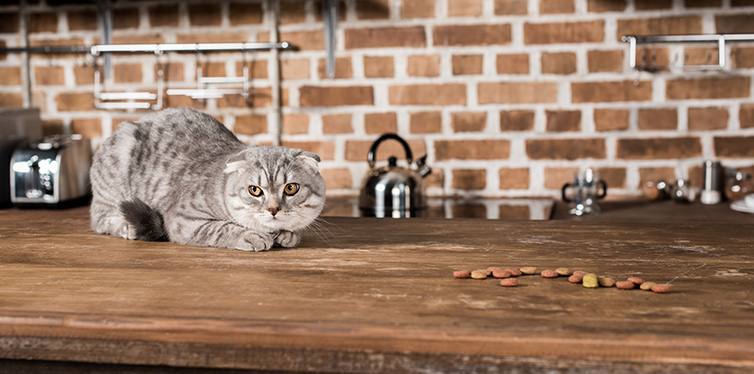 Unhealthy Grains and Unnecessary Fillers
The only carbs that cats eat in the wild are those that are already present in the intestines of prey animals. You will never see a cougar or a tiger feasting on wheat or corn. It is not in their DNA.
While there are grains like oats and sorghum that can be beneficial for cats, it's best to stay away from cat food that can contain allergenic grains. These can include soy, wheat, and corn. In addition to these grains, you also have to watch out for fruit pomace and sugars.
How do you know that there are more fillers in the cat food than necessary? Do the math. Compute for the dry weight matter composition of the cat food by subtracting the crude contents from the moisture content.
For instance, a certain cat food may have 30% protein, 10% fat, and 10% moisture. This means that its dry matter composition is only 90%. To get the actual protein composition, divide 30% by 90% to get 33%. For the fat composition, this is 11%. When you combine 33% and 11%, you will get 44%. This means that the remaining 56% is carbs. There's your clue. Your cat should not be eating more carbs than proteins. This can only mean one thing – the cat food contains too many fillers.
If you see Blue 2, Yellow 5, Red 40, or any other print that resembles an artificial food coloring, stay away from it. These may not have any direct harmful effects on your cat, but they don't need them either.
BHA, BHTA, ethoxyquin, sodium nitrate, and menadione are some of the chemicals that are present in many cat foods. Menadione can disrupt the normal function of the antioxidant glutathione. This can lead to oxidative stress, leading to cell membrane damage. Both BHA and BHT are artificial preservatives. Both also happen to be carcinogenic. Sodium nitrate and nitrate are also carcinogenic.
Ethoxyquin, on the other hand, can cause liver damage, cancer, depression, and convulsions. The problem here is that you won't read ethoxyquin on the ingredient list of pet foods. This is because it serves as a preservative of byproducts. It is for this reason that you should avoid cat food that lists byproducts as one of its ingredients.
If you're not sure about the ingredients on the label, it is best to research on them.
Choosing the best cat food for your feline friend starts with an understanding of its nutritional needs. From there, you can already pick the best one for your furbaby.
Sources:
Choosing the Best Cat Food – PetMD
3 Ways to Choose Cat Food – WikiHow
Related Reads
Related Reads