PetSide may earn a small commission from affiliate links in this article.
Learn more
With over 45 million US households owning at least one cat, there's no disputing the popularity of the feline. Second only to dogs as America's favorite pet, it is also understandable that we want to cherish and love our cats. But too much can be a bad thing, as overweight, even obese pets are on the rise.
Maintaining a cat's healthy weight is essential for both their health and wellbeing, as well as helping to ensure they live a long and happy life. But when you consider their age, breed, and even gender, knowing what a healthy cat weight should be is not always straightforward. We look to answer the question, 'how heavy should my cat be?' and help you to decide if your cat's weight needs a little extra attention.
What is the Average Weight of a Cat?
Many vets and animal experts put the average cat weight at between 10 and 12 pounds. And, as a rough guide, it is a good place to start if you want to keep your cat in a healthier range. However, this average cat's weight does not take into account key factors such as the cat's breed, age, and gender. We look at how these factors can help to tip the scale for an individual cat.
Breed
A total of 71 different cat breeds are currently recognized by The International Cat Association, with each breed possessing differences, some subtle, some not so subtle. And this includes their ideal weight. According to the cat weight chart used by veterinary professionals, the difference in weight between breeds can be significant. The world's smallest breed, the Singapura, can weigh as little as four pounds. Meanwhile the Maine Coon – one of the largest domestic cat breeds – can tip the scales at over 18 pounds and still be within a healthy weight range. Female cats can also be a lower weight than their male equivalent in any breed.
This all means that when it comes to how much should their cat weigh, pet owners need to know more about what the average cat weight range is for their specific breed.
Age
As well as its breed, a cat's age can also impact on its average weight. Different cats will reach their average peak weight at different life stages, with purebreds such as the Siamese cat not getting to full development and so average weight until around the age of six.
So, again understanding your cat's breed and physical development can make all the difference in ascertaining the average weight ranges at their various age points. It is also important to factor in the fact that more senior adult cats (11 years and over) will lose a level of body condition as they age.
Gender
Gender can also play a key role in determining your cat's weight, with male cats tending to be larger and so naturally heavier than a female cat.
A cat's reproductive life can also influence their weight. Cats who have not been neutered or spayed are known to have higher metabolisms and so are more efficient at burning energy and maintaining a healthy weight. Research has also shown that many cat breeds that have been sterilized can be prone to gaining a few pounds extra if portion control is not maintained come dinner time.
How to Know if Your Cat's Weight is Healthy
So, know you know that your kit's breed, age, and gender as well as if they have been sterilized or not can all affect what their 'average' weight should be, it's time to get little hands on. And that means doing both a visual and touch test to check if your cat's particular weight could be a cause for concern.
By looking at your cat's body shape and then gently feeling through their fur to ascertain their frame and degree of fat deposits, you can more clearly decide what is – and what is not – normal for them.
It is also a good idea to observe how your cat carries himself, and how they move and exercise to see if their weight is causing them to struggle in any way. Other observations can be their fur (if it is matted, it could mean your cat is too heavy and may be struggling to groom), their energy levels and if their breathing is labored in any way or they are prone to snore.
The Body Conditioning System
A more formal way to assess your cat's weight is the Body Condition Score, which is used by many vets when they come to examine your pet. Based on three factors, the Body Condition Score – or BCS – is also easy to do at home.
The three factors to indicate the weight of a healthy cat is:
 The ribs – a cat's ribs can be felt but are not excessively visible and have a thin layer of fat
 A clear waistline – when observed from above, your cat's body shape should nip in to form a waistline
 A visible tummy tuck – when viewed from the side, their tum should tuck up gently
From these three-point observations of your cat, you can then assign a score in a similar way to the human Body Mass Index (BMI) which will then indicate their body condition. These scores range from 1 to 9, with one indicating a severely underweight cat and nine considered obese.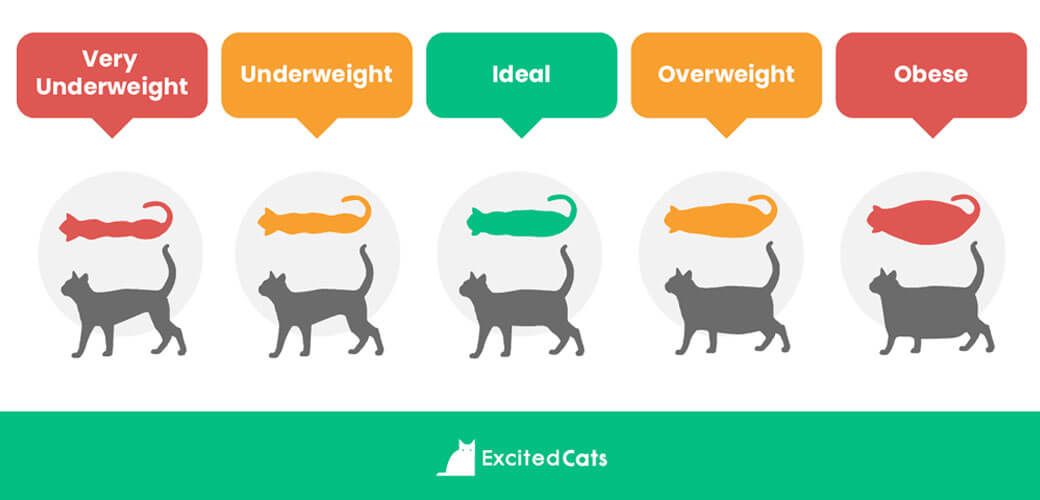 Image provided by ExcitedCats.com
As a guide to using this cat weight chart, here is how to assess your cat:
Underweight
An underweight cat will have very little fat under the skin, meaning you will be able to not only feel but see their ribs from the side (although they may be more difficult to see from above).
Looking down on their body shape, their waist shape will be more exaggerated, and their tail bone will be prominent. From the side, their tummy tuck will also be more extreme. Very underweight cats will have little or no fat covering, especially around the bones of their tail and their ribs and shoulder blades will be prominent, as will the bones in their spine.
Overweight
Feeling your cat's body condition will tell you whether he is overweight as, while you should still just be able to feel his ribs, you will need to press a little deeper through the fat layer to find them. And when you look down at their silhouette, there is little or no 'hourglass' definition in their body shape.
To confirm, observe your kit from the side: his tail bones will be well padded, and his belly will hang low rather than being nicely tucked in. Obese cats are a cause for concern as not only can it impact their activity levels but can also lead to a host of health problems, including heart disease and diabetes. All that excess weight will also take its toll on the joints of an overweight or obese cat as well as the impact on how an overweight cat breathes as their lungs won't have the space to fully expand as they should
Ideal weight
A cat at its optimum weight for its age, breed, and size will be sleek but still with a moderate layer of fat under its skin. You should be able to gently feel the ripple of their ribs when petting them, but they should not be visible unless they are in a stretching or jumping position.
His tail bone should also be nicely contoured, and they should have an hourglass waist when you look down on them from above. From the side, there should be a gentle tummy tuck, without any extremes in shape.
As well as their shape, a healthy cat at its ideal weight will look, well, healthy! And they will be bright and have the energy and curiosity to get the best out of their busy day.
Why is Maintaining a Healthy Weight so Important for Your Cat?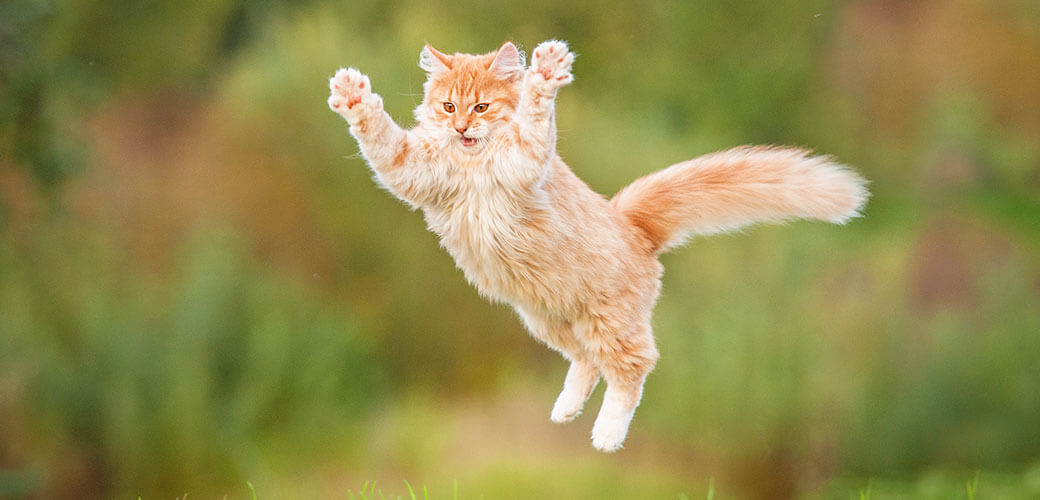 For an active, healthy, and long life, maintaining the optimum healthy cat weight throughout their various life stages is essential for your pet.
Overweight or obese domestic cats can experience the detrimental impact of excess weight over time, including:
Their health
Overweight cats are more at risk of various health conditions, some of which can be serious or life-threatening. Implications of obesity on your cat's health include kidney disease, feline diabetes, heart problems, osteoarthritis, urinary tract issues and pancreatitis, liver disease, and even liver failure.
 Their activity levels
Whether they like to wander or are strictly indoor felines, domestic cats are natural athletes and explorers and need to be agile to keep living their best life. But if they are carrying excess weight or are prone to weight gain, then it can start to hold them back from the things they love to do such as leaping, climbing and playing. Which in turn hinders them from losing weight so it can become a vicious circle.
Their wellbeing
An overweight cat can also experience a host of issues that limit their ability to naturally 'be a cat' and so impact their overall wellbeing.
This can include impacting their ability to successfully groom themselves, leading to coat and skin problems as well as affecting their natural breathing, meaning the snore, which can impact the quality of their rest time.
How to Help Your Cat to Lose Weight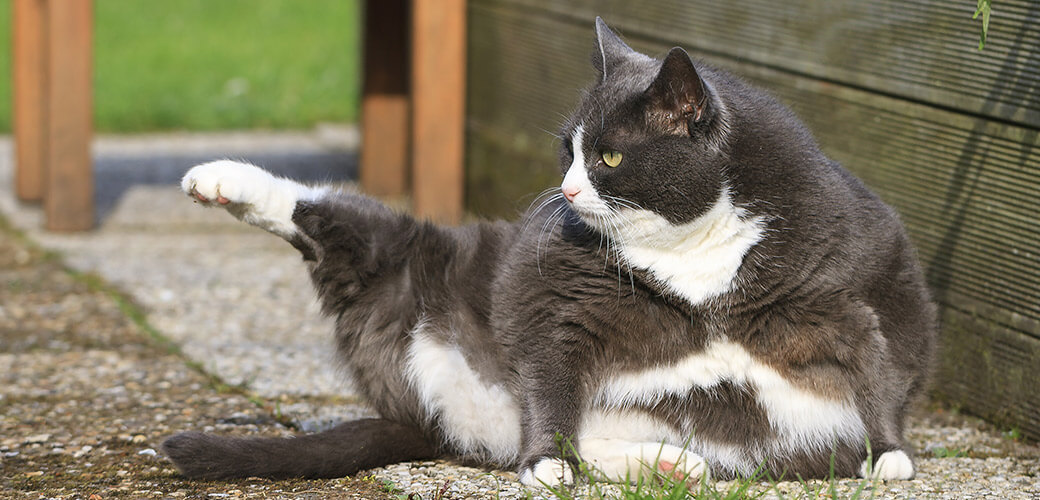 It is not always easy to support an obese or overweight cat to slim back down to their ideal weight. And if your cat loses weight too quickly, they are at risk of developing a condition called fatty liver disease, which can be life-threatening.
But if your kitty needs to lose some chunk of their trunk, here are the best steps to step to get them back to their best:
Portion control
A good tip is to feed your cat for what they should weigh, not what they currently weigh, which could mean cutting their portions down by at least a quarter. Read the packaging on their food to get the right portion control for their ideal size. And avoid the temptation to give them extra treats or human food titbits.
Switch their diet
A low-fat diet with managed calories could be a good option to get healthy weight loss underway. Always opt for high-quality cat food that is protein-based and avoid grains, corn, and soy. Wet food or canned food is a good option to replace dry food as kibble often contains unnecessary carbs which can contribute to weight gain.
Speak to your vet if you are unsure and transition your kit to their new diet gradually to avoid unnecessary digestive upsets as they lose weight.
Consider free feeding
While some cats are happy to graze all day, some can be gobblers who wolf down their food in one sitting. Then come back to beg later in the day. To balance their appetite, try on three or four smaller meals throughout the day to keep them satisfied and those portions managed.
Or opt for free feeding via an automatic cat feeder so they can eat their allowance at intervals and cut out the need to keep refilling their food bowl.
Add a challenge to feed time
If your cat gorges on their food, food puzzles such as a toy or specially shaped dish can force them to slow down and earn their dinner. And eating slowly will ensure he feels full and less likely to beg for more.
Add in more exercise
Unlike dogs, who thrive on a set exercise routine, it can be more of a challenge to make your cat formally exercise and keep active. The best way is to introduce new and consistent ways to get your kit moving throughout the day.
From a 10-minute play session every day to adding a cat tower or placing their food at a different height so they need to climb and exercise to get their dinner, there are many ways you can naturally get your kit active and burn off those excess calories.
When to Seek Help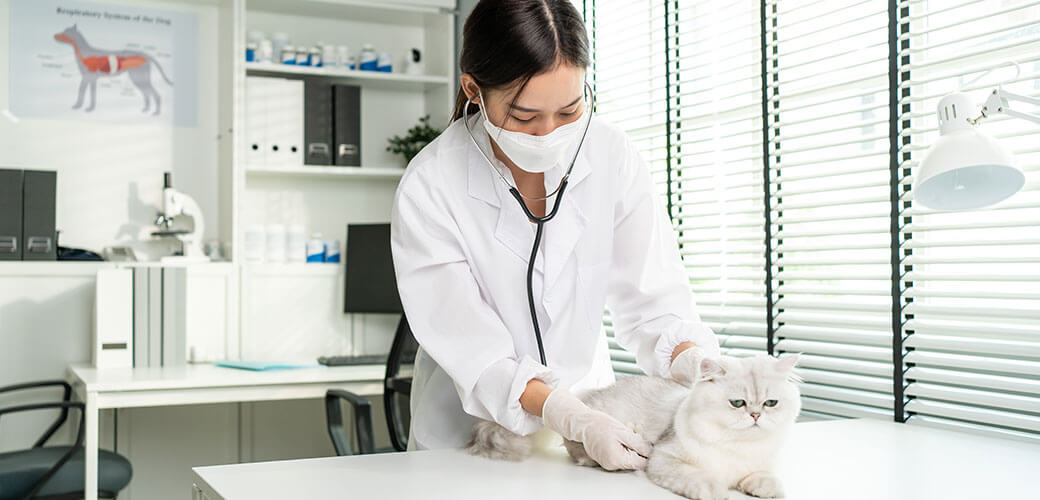 If you feel your cat is too heavy, then taking the steps to help them lose weight will not only boost their healthy lifestyle and longevity but also support their wellbeing. But if you are unsure as to how to approach a weight loss program for your otherwise healthy cat, always seek professional help.
And if despite your best efforts, you can't help your cat lose weight – or in the case of an underweight cat, not putting it back on – and is displaying other symptoms such as lethargy or digestive problems, then a vet can conduct a thorough check to rule out or treat any underlying health condition.
Source:
Amanda Ardente, DVM, Ph.D., Obesity in Cats – PetMD