10 Foods To Avoid Feeding Your Cat
While we all love treating our beloved feline friends and giving into their meows for delicious treats, it's important to give them foods that are beneficial to their health, rather than harmful. Unfortunately, there are a number of human foods that can be hazardous to your cat and knowing what to avoid will ensure that you can be a better pet owner. The food your animal eats can either be their best medicine and keep them super healthy and happy or cause them harm. Sadly, some of the most harmful foods to cats are things we eat every day. They are food items that are often lying around our kitchens and countertops, and things we might not even imagine are potentially toxic to our four-pawed pals.
It's important that your animals are eating a well-balanced, vet approved diet and that they receive regular check-ups to monitor their overall health and weight. Knowing what foods to avoid is a great place to start and will ensure that your pet remains healthy and is eating only the best foods. You can spoil your pet and keep them healthy at the same time!  So here is our no-go list of the top foods that are harmful to your pet.
Milk and Dairy
Despite milk being a popular treat for cats in popular culture, it's actually not very good for them.  While they might enjoy the taste, many cats are lactose intolerant, and dairy products can cause harm to their digestive systems and lead to diarrhea and vomiting.  Kittens should, of course, drink their mother's milk, but since they are weaned off it as a young age, many do not have the constitution to handle dairy.  While some might be able to handle milk, many won't be able to, and thus it's better to avoid milk and dairy all together if you want to prevent stomach upset.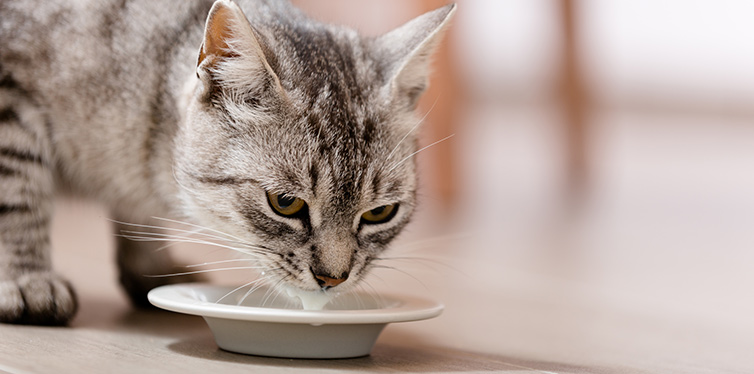 Garlic and Onion
Garlic and onion are part of the nightshade family and can negatively impact the red blood cells of cats which can lead to anemia and a stomach upset. While these foods are usually poisonous in large quantities, they are also often found in sauces and soups. As such, anything with onion or garlic in it should be avoided. If you think your cat has eaten onion or garlic and they are displaying lethargy, a decreased appetite, pale gums, or dark urine, get them to your vet as soon as possible. These signs all point to possible anemia.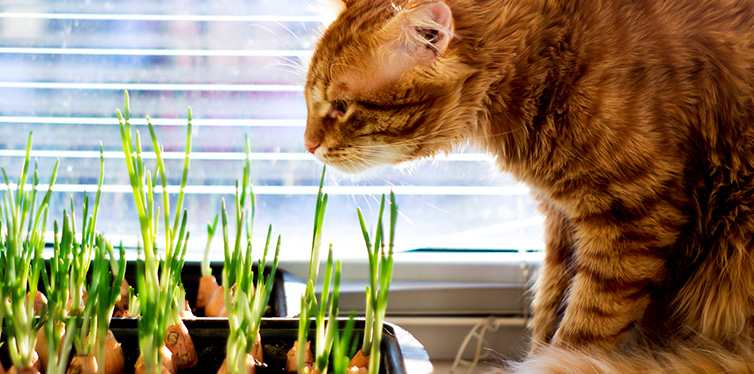 Raw Meat, Bones, or Eggs
While the raw diet has taken off among many dog owners, it is best to avoid raw meat, bones, and eggs when it comes to your cat. Raw meat can be a dangerous breeding ground for harmful bacteria like E. coli and salmonella which can poison your cat and make them feel really sick. Usual symptoms of E. coli and salmonella include nausea, vomiting, diarrhea, and lethargy. These toxic bacteria-borne illnesses can also transfer to humans, so it's important that you wash your hands regularly, especially when preparing food.
Raw bones are another harmful food that should be avoided as they can splinter and hurt your cat's trachea, whereas raw eggs can cause skin issues. If you feel that your cat is
displaying any of the above symptoms, it's important to get them to a vet as soon as possible as digestive problems can lead to extreme dehydration and pain.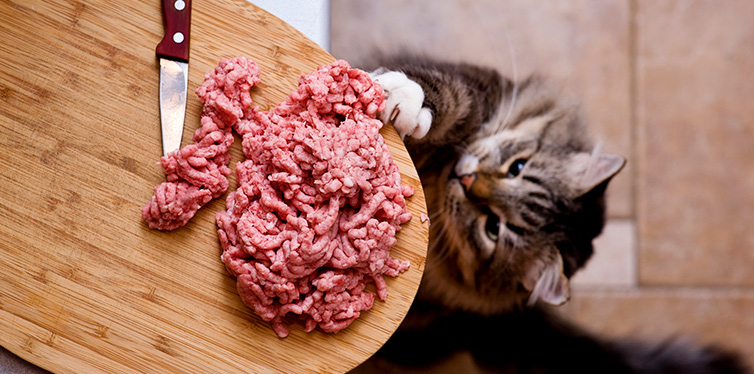 Raw Fish
While cats love fish, raw fish can cause a lot of harm to your pet and should never be given to them. Raw fish can house harmful bacteria that can lead to stomach upset and food poisoning. The bacteria found in raw fish can destroy an essential vitamin to cats known as thiamine. When this is destroyed, it can impact their appetite and in extreme cases lead to seizures and even death.
The best way to ensure that your cat gets the best benefits from fish is to ensure that their vet approved food also contains fish oil. This will help with their joints, keep their coats shiny, and help their eye sight. However, raw fish is a big no!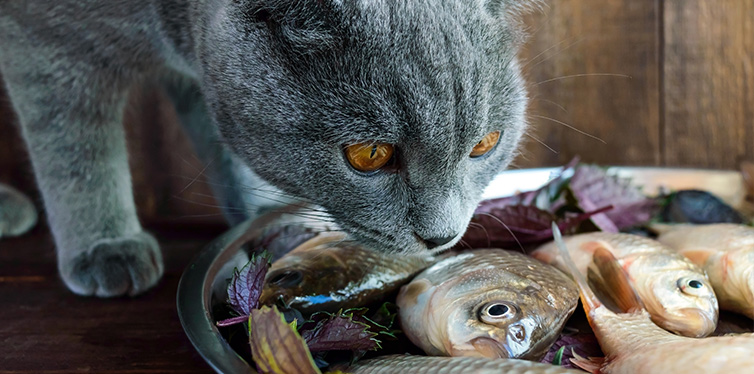 Chocolate
Chocolate is dangerous for cats and dogs alike, and if your cat gets its paws on a slab of chocolate, it can lead to all sorts of problems.  While dogs are usually the more likely culprits when it comes to nibbling chocolate, some emergency vets have noted that it can happen with cats. Chocolate contains two ingredients that are poisonous to cats, namely caffeine and theobromine. If your cat ingests these ingredients, it can lead to muscle tremors, heart problems, or seizures.
If you fear your cat has eaten chocolate take them to the emergency vet as soon as possible and if you can, bring the chocolate wrapper so that the vet can see what the active ingredients are. Darker and unsweetened chocolates usually have the highest amounts of these ingredients.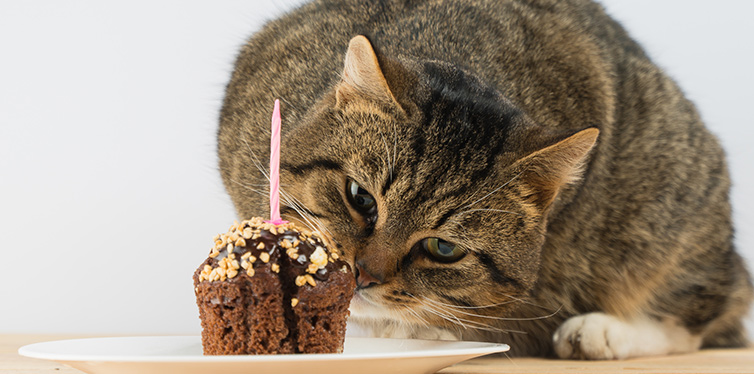 Dog Food
While a vet-approved dog food brand that has been developed by professionals is optimum for dogs, it isn't suitable for cats. While it might not be as toxic for them as some of the other food types on our list, dogs and cats have different dietary needs and thus their different food types cater to these individual differences. Cats need higher amounts of vitamin A, protein and arachidonic acid and thus their food has higher levels of these nutrients. Cats also need higher levels of taurine acids in their food as a deficiency in this acid can lead to heart disease and dental and vision issues. Dogs are able to produce these acids on their own, and thus their foods don't need high levels.  If you cat accidnetly eats a bit of dog food, it probably won't cause any harm, however, this should not be their regular meal. Again, if you notice any discomfort and lethargy in your cat, take them to the vet for a professional opinion.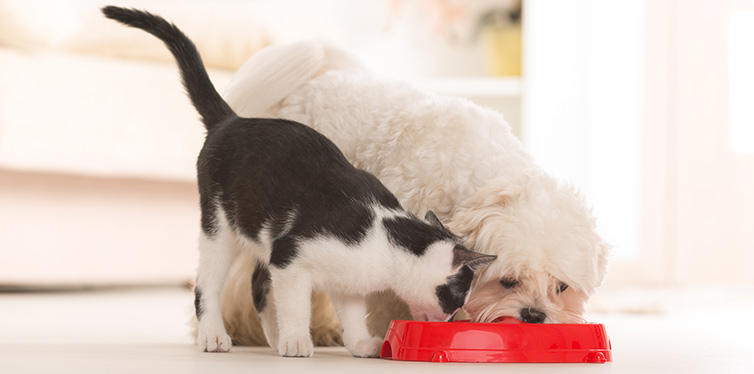 Alcohol
Alcohol can be incredibly toxic for all animals and if you cat by mistake ingests alcohol can cause a myriad of problems including nausea, tremors, disorientation, abnormal heart rate, and even render your pet into a coma and cause death. If your pet consumes even a small amount of alcohol, these very serious symptoms could prevail. You need to rush them to the vet immediately so that they can receive the medical attention they need.  Alcohol ingestion is a serious emergency!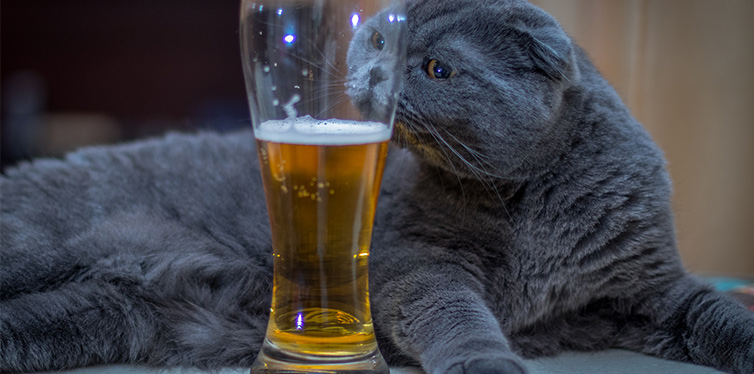 Raw Dough
Raw yeast dough needs to rise before we can make delicious bread, or pizza, so if your cat eats the raw dough, it will rise in their stomach.  This could stretch your cat's stomach and cause them immense pain, or even organ rupture. As the yeast is fermenting it also releases alcohol. As seen in point 7, alcohol is very dangerous for our furry-friends and can lead to horrible symptoms and even death. If your cat has ingested raw yeast consult your vet urgently so that appropriate medical care can be administered.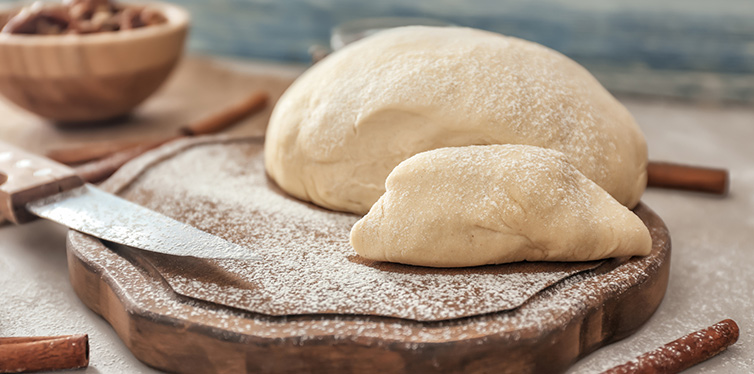 Xylitol
Xylitol is a naturally occurring alcohol and is used often as a sugar substitute. It can be used as a sweetener for tea and coffee, and is often found in sweets, ' sugar-free' chewing gum, and other sweet treats. If your cat ingests xylitol, their insulin levels will increase and this, if untreated, can lead to liver damage. Symptoms of possible liver damage due to xylitol poisoning will include loss of co-ordination, lethargy, and vomiting.  If untreated, these symptoms can lead to serious seizures and in some cases complete liver failure. It's thus important to keep xylitol away from your cats.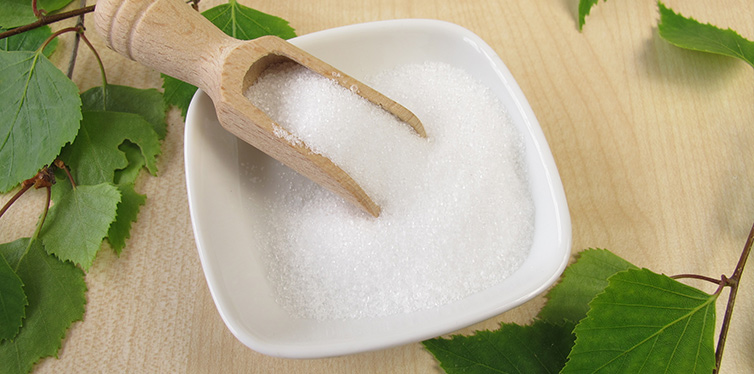 Raisins and Grapes
For an unknown reason, grapes and raisins have been shown to cause possible kidney failure in some cats. Cats will usually show symptoms of toxicity in 24 hours, and symptoms might include abdominal pain, reduced urination, decreased appetite, lethargy, or diarrhea. Early signs could also be constant vomiting and hyperactivity. If your cat is acting strangely and you have left grapes or raisins in your kitchen, it's best to get them to a vet so that they can check their kidneys.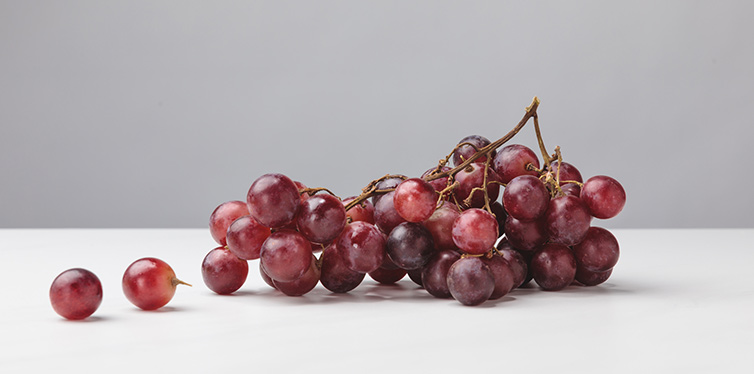 How To Ensure Your Cat Doesn't Eat Toxic Food
There are a number of ways to stop your curious kitty from eating unhealthy or harmful foods.  You will need to be vigilant, and you will need to put some safeguards in place. Try these tips out.
Don't let your cat on the countertops while you are cooking. If they are super curious and like to be involved, it might be best to take them out of the kitchen while you are cooking.
Don't ever feed them scraps from the table, or leave a table unattended with lots of food.
Keep food sealed and out of reach. If your cat is particularly curious and likes getting into cupboards, it's best to lock the pantry when you are out.
Chat with everyone in the family about what foods are harmful and ensure you are all on the same page. It's no use only one person being careful. You have to work as a team to ensure that your cat doesn't get hold of any harmful foods.
What To Do If Your Cat Mistakenly Eats Something Harmful
If your cat eats something harmful and is displaying symptoms of lethargy, nausea, vomiting, decreased appetite, diarrhea, or dark urine, get them to a vet as soon as possible. They might need antibiotics if they have caught a bacterial infection, and if they are severely dehydrated, they might need to go on a drip. Other symptoms could be indicative of a more serious illness like kidney failure, or liver damage and thus medical attention will be needed.
If you are unsure, then call your local vet. It's better to be safe than sorry when it comes to your pet's health.
What Healthy Treats To Give Your Cat
If you want to spoil your favorite feline, there are a number of healthy and safe treats you can give them. Remember, treats are for special occasions and should also be given in moderation as weight gain can be equally as unhealthy in an animal.
Catnip – This is a low calorie and healthy treat. You can grow your own, or get some from the pet store and it's bound to have your cat feeling content for ages!
Vet approved snacks and nibbles from your vet store
Home cooked fish, or meat (in small quantities). You could use organic meat if you want to be really healthy, but these shouldn't make up your cat's entire meal and should be given in conjunction with a well-balanced, healthy diet.
Related Post: What Human Foods Can Cats Eat?
Sources:
Cat Treats and Snacks: What's Healthy? – Pets WebMD
Related Reads
Related Reads