Dremel 7300-PT 4.8V Pet Nail Grooming Tool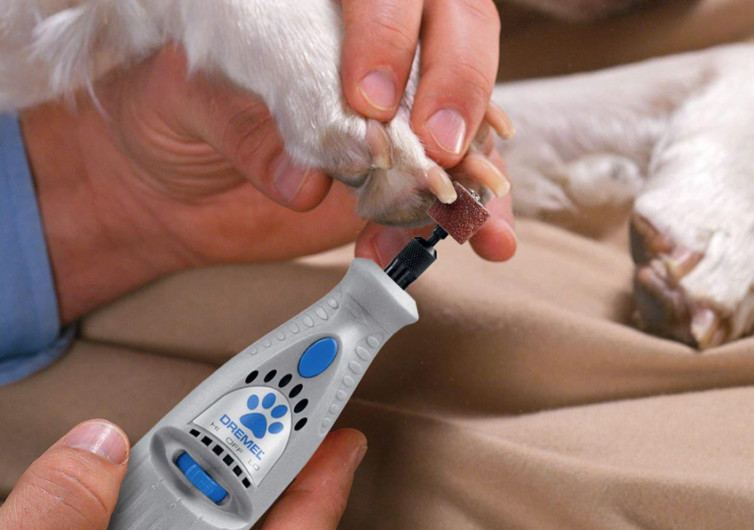 Handymen rely on Dremel to give them excellent handheld grinders and sanders. Who would have thought that the Dremel's engineering excellence in portable grinders can be very beneficial in the pet kingdom? This is what the 7300-PT Pet Nail Grooming Tool provides. It gives pet parents the peace of mind when it comes to grooming their pet's nails. The 7300-PT comes with the same precision engineering that people have come to expect from a Dremel product.
What makes this nail grooming tool better than conventional clippers is that it is a painless and stress-free way to trim your pet's nails. There is no danger of cutting into the quick of the nail which might lead to uncontrolled bleeding. Traditional nail clippers risk overcutting the nail. This can be very painful for the pet and can make it very anxious. Over time, the animal may no longer want to be groomed.
The 7300-PT offers a safer, quicker, and stress-free solution to trimming pet nails. It allows for the more gradual trimming of the nails by grinding the tips. It is this gentle grinding mechanism that helps make nail grooming so pleasant for your pet. A calm and relaxed pet during nail grooming also spells comfort and peace of mind for the pet parent.
This Dremel Pet Nail Grooming Tool comes with 4.8 volts of power. It may be underpowered, but it can trim your pet's nails real fast. It also features a removable battery pack. You can purchase several of these to get your device running nonstop. The battery pack is also rechargeable, which makes the addition of an extra pack more sensible.
The device also comes with two variable speed settings. The Dremel 7300-PT can go as fast as 13,000 RPM or as slow as 6,500 RPM. While you may wish there is a way to fine-tune the speed of the device, its low- and high-speed settings are often enough.
The system already comes with 60-grit, half-inch diameter sanding bands. This is perfect for grinding away your pet's nails in a jiffy. It is gentle, too, never spooking your pet. Overall, grooming your pet's nails will be a stress-free experience for your furry friend.
The 7300-PT Pet Nail Grooming Tool follows the same engineering precision that Dremel employs in many of its hand tools. You can bet this device will make nail grooming more pleasant and safer for your pet.
Related Reads
Related Reads