How To Clean a Cat's Litterbox
There are many benefits to owning a cat. Not only are felines super independant and easy to look after, they can also can be great company. Did you know that petting a cat releases the happy chemical 'oxytocin' which physically reduces our stress levels too? There are, however, a few things that do not release the happy chemical oxytocin…and that's cleaning a cat's litter box!
Cats by nature are very clean animals. When they go outside they usually find a nice hidden spot, do their 'business' and then cover it up neatly. They even clean themselves afterwards, unlike dogs.
The problem is, that many of us own indoor cats or have cats who may need a litter box inside the house. But this shouldn't be a problem; cleaning a litter box is a simple and safe task when done properly.
Here's how to properly clean a cat's litter box:
Step One – Choose The Right Litter Box
There are several different styles of litter trays or litter boxes that are available on the market. The litter boxes that most people will have seen are the standard type which are made from plastic and uncovered. Most cats don't have a problem using this type of litter tray, but some humans don't like to see or smell the cat waste (which is pretty understandable).
That's where covered cat litter boxes step in. The lower half of a covered cat litter box is similar to a normal litter box and made from durable plastic. The top half however is a separate removable section that covers the box and usually has a cat flap opening, so the cat can go inside and do its poop in private.
These cat litter boxes are better at keeping both the smell and sight of cat waste away from human eyes and noses. The downside of these litter trays is that some cats can feel a little trapped, especially if there are other cats in the house. If you're unsure which cat litter tray to buy then maybe opt for a covered style and if your cat feels trapped then just remove the lid.
You can also buy self-cleaning cat litter boxes but these can cause strange noises and movements which can freak your cat out and cause your cat to soil the house.
The next thing you will need to buy is a special cat litter scoop and poop bags to put the soiled waste into.
You can buy scented cat litter liners and litter deodorants but the scent tends to be overpowering for the cat and can deter your feline from using the cat litter box.
Another item that you might want to think about purchasing is a cat litter mat. If you haven't heard of them before then this is probably going to be a game-changer for you. A cat litter mat works by preventing soiled cat litter from scattering across the floor, the special material traps the litter particles to help keep the area around the litter box, mess-free.
Related Post: Best Cat Litter Boxes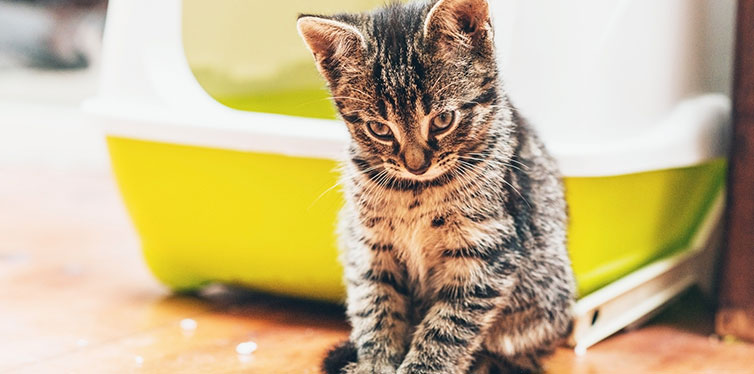 Step Two – Choose The Right Cat Litter
To clump or not to clump, that is the question. There is a vast range of cat litter choices available to buy and choosing the best for your kitty isn't always an easy option. You might find that there is a bit of trial and error involved but generally speaking, the two main types of cat litter are clumping and non-clumping. But what does this all mean?
Clumping cat litter is usually made from a special type of clay that clumps when your cat urinates and this serves two beneficial purposes. Firstly, it can hold the odor, so the litter box is less likely to smell and secondly, it means that removing the soiled litter is easier as you'll just need to remove the offending clump.
Non-clumping cat litter can be made from a variety of different materials including: clay, silica gel crystals, recycled paper, corn and wheat. You will be able to find many different cat litters on the market and the cheapest is rarely the best. Often, the more you pay, the better quality. Look out for a cat litter that is dust-free, non-scented (cats don't tend to like scented), absorbent, lightweight and able to capture odors.
Step Three – Safety First
You might think that it is over-the-top to suggest wearing protective gloves and a mask, but cleaning cat litter is no joke. A cat litter box is positively alive with bacteria which can be very dangerous to humans. The main culprit is toxoplasmosis which is a disease spread through cat intestines and excreted through its faeces. If you have a compromised immune system this can make you very ill. There have even been tales of people dying from this disease.
The people who are most at risk are pregnant women. So, if you're pregnant then please do not change the litter box, get a friend or family member to do this for you as this can be fatal for your unborn child.
If you're not pregnant and have a normal immune system then you'll be fine changing the cat litter, although it's safe to use gloves and a mask to block out the strong scent of ammonia from cat urine.
Step Four – Scoop It Up
In most cases, you can just scoop up the cat waste from the cat litter box without having to change the litter. If you have used clumping litter then it might be easier to remove liquid waste as it will now exist as a solid lump. Poops need removing immediately – obviously! With some litter trays it can be difficult to tell that you cat has used it until you move the surface with the scoop and discover the wet section underneath. If it's super wet then the litter will need changing.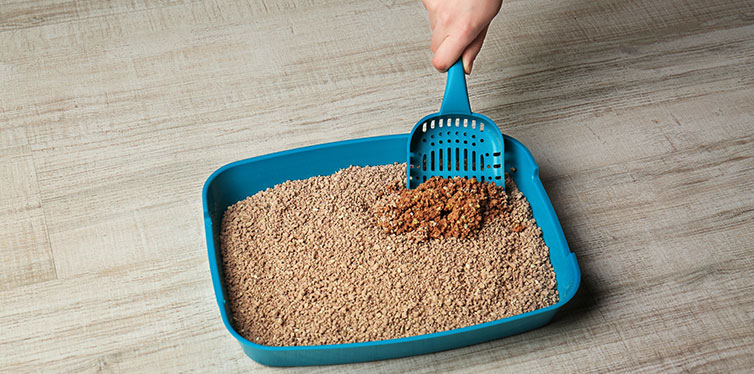 Step Five – Change The Litter
It's important to change the cat's litter tray for a number of reasons. Firstly, it's hygienic and leaving waste in the litter tray is pretty gross. Secondly, you will minimize any risk of disease by regularly changing the cat's litter box. Thirdly, cats are super clean animals and they do not like dirty litter trays. In fact, if the litter box is dirty then the cat might decide to not use it and instead choose a different spot…somewhere in your home.
So, every few days add a little more clean cat litter to the tray if you feel it needs to be freshened up and have scooped out any soiled clumps; by the end of the week it will need to be washed.
Step Six – Wash The Litter Box
If the litter box is being regularly used, then it will need washing at least once a week. Empty any remaining litter into the trash can and then you'll need to get to work on the litter box itself.
For this task you will need: fresh cat litter, cat-friendly detergent, vinegar and sponge. Some detergents are harmful to cats so please check before using any. If in doubt, then grab yourself some vinegar or baking soda, both of which work wonders at cleaning the litter box and leaving it odor-free. Just mix with a little warm water and scrub away.
Once dry, add around 3cm of fresh cat litter and wait to see how long it takes for your cat to use their fresh new toilet – usually not very long!
Step Seven – Place Litter Box In Safe Space
We wouldn't go to the toilet in a place where we felt threatened or trapped and so we shouldn't expect our furry feline friends to do this either. Placing a cat litter box in the right place is an essential part of training a cat to use their toilet.
Never leave a cat litter box near a large window or cat flap. These are perceived threats to a cat and you may find that Felix prefers to poop in your bathroom if you place the litter tray in the wrong location! It's also important not to place a litter tray near the cat's food and water. As we already know, cats are super clean and sensitive and this means that they don't want to poop near where they eat – and we can't really blame them for that!
Related Post: Best Wet Cat Food
The best place for a cat litter tray is fairly hidden in a corner where not many people walk past – this will keep both kitty happy and make your life easier too.
In conclusion, cleaning a cat litter box is quick and easy. Don't skip the scoop, stay safe and cover up your hands, find the best litter for your cat and clean regularly. Avoid highly-scented products (that are really just made for us), don't use harmful detergents and give kitty a little peace to poop!
Sources:
How to Safely Clean a Cat's Litter Box, Animal Planet
Preventing litter box problems, The Humane Society of the United States
Related Reads
Related Reads