Catit Jumbo Hooded Cat Litter Pan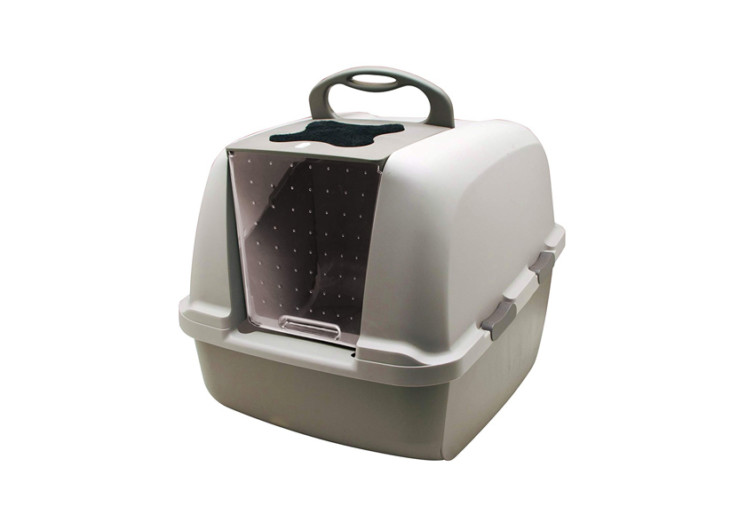 Pet parents who have finicky kitties will find the Catit Jumbo Hooded Cat Litter Pan to be heaven-sent. This is a rigid-sided, pet kennel-like contraption that provides shy cats the utmost privacy when they have to go. The Catit features a thoughtful construction and a unique design to give your cat a more "private" time when it needs to urinate or defecate.
Cats, like other living things, require some sort of privacy when they need to defecate or urinate. That is why placing the litter box in an area of the house that has the least foot traffic is ideal. And if you have a small room, you can allot this as your kitty's personal toilet.
However, not all pet parents have the luxury of such things. As such, Catit devised a gadget that can provide cats with the privacy that they need. Having said that, the Catit Jumbo Hooded Cat Litter Pan is the perfect solution when going on a picnic or when traveling with your pet cat. One can place the cat's litter box inside the gadget so it can have its own mobile toilet.
The Pan is spacious enough to allow cats to stand and move about inside. It is 20 inches wide, 22.4 inches long, and 18.3 inches high. The door measures 9.6 inches wide and 10.4 inches high. It is wide enough to allow large-sized cats to enter and exit the contraption with relative ease. The bottom edge of the door comes at an 8-inch elevation from the floor of the pan. This way, you get to retain any cat litter in the pan and none on your floor.
The Catit Hooded Cat Litter Pan already comes with a carbon filter to help trap the odor coming from pet wastes. To keep it working, however, one has to purchase additional carbon filters to replace the original. One can also purchase additional pan liners to keep the bottom of the pan clean and tidy.
The system features two sections. There's a bottom panel that comprises the floor and bottom third of the pan. The upper section consists of the roof and the upper two-thirds of the Catit Hooded Cat Litter Pan. Four locking tabs secure these two panels together.
The Catit Jumbo Hooded Cat Litter Pan is a simple solution to the need of cats for more private elimination of wastes. It's tough and easy to clean.
Related Reads
Related Reads