No, dogs should not eat grapefruit. We all know this fruit to have many health benefits including weight loss, prevention of insulin resistance, and boosting of the immune system. These benefits are only applicable to humans who eat grapefruit, but not to man's best friend.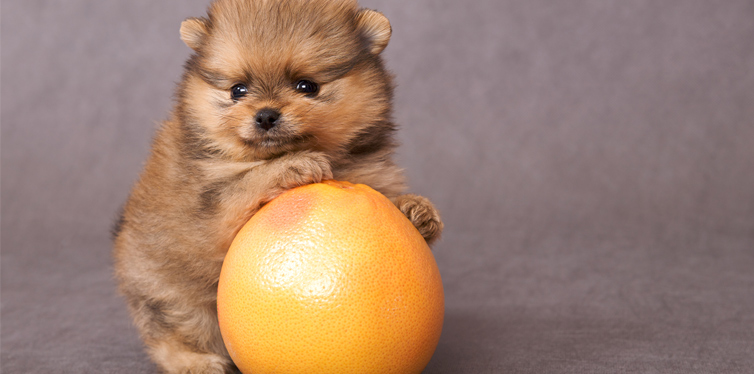 Why Grapefruit is Not Good for Dogs
Grapefruit is a good source of Vitamin C. A serving of 3.5 ounces of grapefruit contains 33.3 milligrams of Vitamin C which comprises 40 percent of our daily requirements. This is good news for us humans who are not capable of producing our own Vitamin C. Dogs and other animals can produce Vitamin C on their own. Adding Vitamin C in their diet may not provide the effects that we want. Instead, they may develop nausea and diarrhea as a result of having too much Vitamin C in their body.
A more important reason why grapefruit is not good for your dog is the presence of psoralen and certain essential oils. Psoralen is an organic compound that has mutagenic properties. When this substance interacts with UV light, it can induce apoptosis or the death of the cell. Over time, it can lead to dramatic changes in the DNA of certain cells of the dog. This can lead to the formation of mutant cells. Any mutant cell has the potential to be cancerous. It is for this reason that grapefruit is never a good fruit for dogs. Psoralen is present in the pith, seeds, and peel or skin of grapefruit. Giving your hound grapefruit is never a good idea even if you manage to remove the seeds, peel, and pith.
In addition to the presence of psoralen, grapefruit also contains essential oils. These are beneficial for humans, but not for dogs. There are compounds present in essential oils that may be difficult for the dog's liver to process. Since the liver is the principal detoxifier of the body, the inability to process these compounds can lead to toxicity.
It is for this reason that many dog owners report having their dogs sick after ingesting grapefruit.
Related Post: Best Dog Vitamins
All About Grapefruit Toxicity in Dogs
Toxicity is a major concern every time a dog ingests grapefruit. It can exhibit vomiting in an effort to get rid of the toxic substance from its body. Vomiting can produce complications. For example, if the vomiting is severe, the dog may lose important electrolytes. This can lead to weakness, heart irregularities, and fainting spells. The dog may lose water, too. This can produce dehydration that begets other health problems.
Diarrhea can also accompany grapefruit toxicity in dogs. Like vomiting, this can lead to different problems like dehydration, weakness, dizziness, and nervous system irregularities. This is due to electrolyte and fluid losses. Malnutrition can also result from diarrhea since the food in the dog's gut exits the body at a very rapid pace. This prevents the more efficient absorption of the nutrients.
In addition to diarrhea and vomiting, dogs that eat grapefruit can also become photosensitive. When they go outdoors under the sun, their skin can turn reddish. Irritation and inflammation can occur. This exposes your dog to potential skin infections because of a compromise in the integrity of the skin.
Grapefruit toxicity in dogs can also result in changes in behavior. In some dogs, depression can also set in. These neurologic and behavioral changes are the direct result of the mutagenic properties of psoralen. It causes temporary changes in the structure of the cells of the brain.
What You Can Do to Help Your Dog with Grapefruit Toxicity
If you see your dog eating grapefruit, you should remove the fruit at once. Do not attempt to make your dog vomit in an effort to remove the grapefruit. Only a veterinarian knows what treatment options are available for your dog.
Bring your pet to your vet the instant you notice it eating grapefruit. He will perform a thorough examination of your pet. If your dog vomits at this time, the vet will also examine the contents of the vomitus. He will also order blood tests to help determine how well your dog's liver is handling the toxic substances present in grapefruit. The vet may also require examination of the dog's urine to evaluate kidney function. This is to make sure that the dog's kidneys are capable of excreting the toxic substances.
If you did not see your dog eating grapefruit, you can rely on the resulting symptoms and signs of grapefruit toxicity. Keep in mind that these signs and symptoms are not specific to grapefruit toxicity. If you can see remnants of grapefruit like the skin, rind, or seeds, then you can also bring these to the vet. This will give the vet an idea of how best to manage your pet's condition.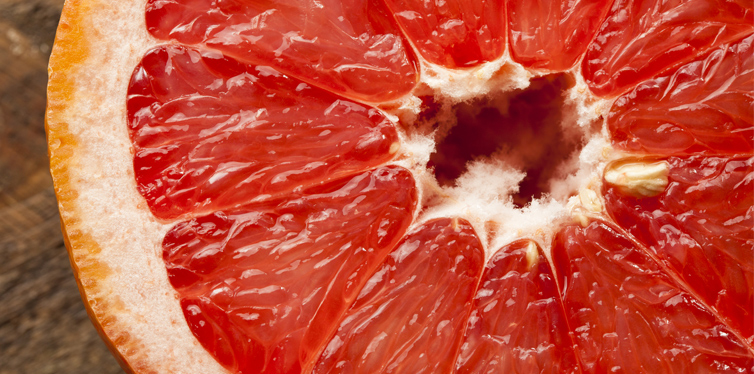 Treatment for Grapefruit Toxicity in Dogs
The treatment for grapefruit toxicity is dependent on the symptoms that your dog presents with. If your dog is not yet vomiting, the vet may have to induce it. This requires the administration of an emetic substance that will make your dog vomit. Timing is critical since you want to expel the toxic substances present in grapefruit before the body has the chance to absorb them into the system.
If the induction of vomiting is not successful, the vet can administer activated charcoal. This binds and neutralizes the toxic substances before the dog's intestines absorb them. Inducing vomiting is not pleasant for the dog. As such, the vet will try to balance this by giving an antiemetic to help minimize nausea and control vomiting.
If your dog also has diarrhea together with vomiting, the administration of intravenous fluids is necessary. This will help replenish lost fluids and electrolytes. It also aids in the removal of the toxins.
Your vet can also manage photosensitivity reactions by applying a cream that contains anti-inflammatory ingredients. It is also important not to let your dog go under the sun.
Grapefruit may be a healthy fruit for humans, but it isn't for our pet dogs. There may be some dogs that are fine eating grapefruit, but it's best not to play with fate.
Related Post: Best Calcium Supplements for Dogs 
Sources:
Toxic and Non-Toxic Plants – ASPCA
Grapefruit Poisoning in Dogs – Wag!