Can Dogs Eat Cucumber? (Nutrition Guide)
Yes, you can give Fido cucumber as long as it doesn't take up more than 10 percent of its everyday calorie requirements. Cucumbers are rich in phytochemicals and vitamin K that can bring many benefits to your pet. These are crunchy and have high water content, too. Cucumbers can be a good alternative to your conventional calorie-rich doggie treats as this veggie only contains 8 calories for every half-cup of cucumbers. It's a healthy and crunchy treat that your dog will appreciate.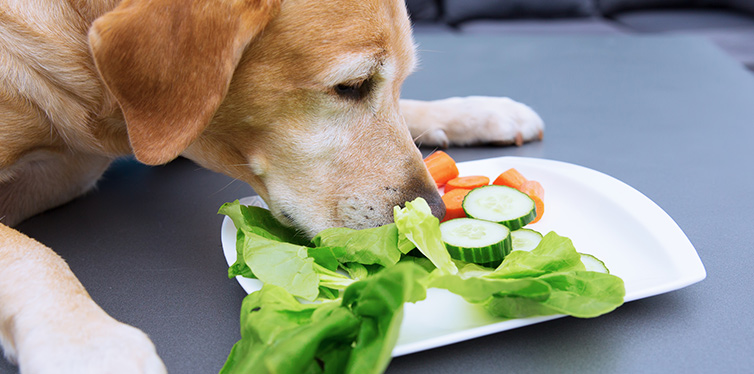 What's Good in Cucumbers
Cucumber is one of the vegetables that pet parents can give to their dogs without having to worry about toxic effects. It is a safe treat that contains less than a fifth of the calories of a single piece of Milk Bone doggie biscuits. The nice crunch can also be stimulating for the dog. Both the sound and feel of the crunch on the dog's mouth can produce sensations that are pleasing to your hound.
What cucumber is good for is its water content. This fantastic vegetable contains 95% water. It is a healthy alternative to plain water for dogs that may have low thirst drive. It can also be a good thirst-quencher on a scorching day. Instead of bringing your dog's water bottle with you, you can put some slices in your pocket for your pet to feast on during the run.
Cucumbers also contain moderate amounts of Vitamin K. Half a cup of sliced cucumbers can provide 8 percent of the dog's need for this vitamin. There are also modest amounts of thiamine, riboflavin, pantothenic acid, vitamin C, folate, and vitamin B6. This crunchy vegetable also comes with calcium, fluoride, magnesium, manganese, potassium, zinc, iron, and phosphorus.
You will not worry about your dog's weight, either. This low-calorie vegetable also comes with negligible amounts of fat. There is sodium, but the amount is insignificant. Your dog will not have issues with increases in blood pressure.
Benefits of Cucumbers for Dogs
Owing to the nutrient composition of cucumbers, this veggie can bring the following benefits to your pet.
With more than 95% of its composition being water, cucumbers can be a great way to improve the hydration of your pet. This will serve best those dogs that do not drink well or may require additional water in their food. This extra hydration can go a long way towards ensuring that all the cells of the dog's body are functioning in an optimal manner. Cells need water to perform complex metabolic functions.
Promotes Normal Blood Clotting
One of the things that people don't know about cucumbers is that it contains vitamin K. This nutrient plays a role in normal blood clotting. If your dog sustains an injury its body will be able to plug any damage tissue by forming a blood clot. This will also sequester the different cells that are necessary for tissue repair.
Containing very few calories, cucumbers can be a good treat for dogs that need to lose weight. You can put several slices of this vegetable in your doggie treats pouch instead of commercial dog treats. You can now forget about doggie biscuits, cookies, and other treats.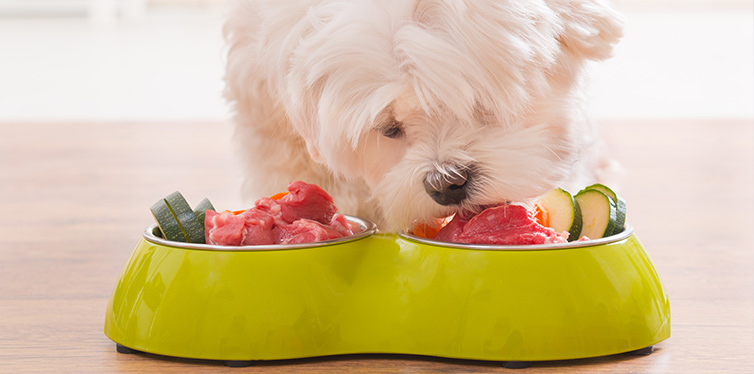 Things to Watch Out For
There are a couple of things that you need to understand whenever you serve cucumbers to your dog.
First, be mindful of your dog's tendency to overeat. You might think that it is okay to give more than a handful of cucumbers to your pet at a time. Eating too many cucumbers will not bring serious harm to your pet. Like everything else in life, eating too much may upset your dog's stomach. This is true if this is the first time that your dog is going to eat cucumbers. This vegetable might not sit well with the tummy of certain dogs. This can produce diarrhea and abdominal discomfort.
Second, cucumbers have the potential to cause choking in your dog. This happens if the slicing of the cucumber is not done in the correct way. Large pieces of cucumbers may lodge into the esophagus of your dog. This can exert pressure on the airway in front of the esophagus. This results in difficult breathing.
The natural question that people ask is, "Can dogs eat cucumber skin?" This is because the skin is "harder" than the meat or flesh. Some pet parents think that feeding dogs cucumbers including the skin is the primary cause of choking. This is not always the case. Choking often relates to the size of the food particle that goes through the esophagus. If the food particle is large, then it may not be able to pass through the esophagus in an easy manner. It has nothing to do whether the cucumber still has its skin on or not.
Can dogs eat cucumber seeds then? Yes, they can. Cucumber seeds are not hard as other seeds. They are soft and can be digested by the gastric juices in the dog's stomach. They will not cause blockage in the esophagus as well.
How to Give Cucumbers to Your Dog
Most pet parents give their dogs raw and fresh cucumbers. These can be sliced into smaller pieces so as not to cause blockage in the dog's esophagus. If you have a small or toy dog, the pieces should be manageable enough not to cause choking. The same is true for dogs that love to wolf down the food that you give them. It is also not advisable to give whole cucumbers. Remember, you dog can choke on it.
Don't make the mistake of giving your pet cucumber pickles. These have salt and spices that may be detrimental to your dog's health. If you wish to give pickles to your dog, you will be better off making them so you can choose the ingredients that are safe for your pet.
Cucumbers provide a healthier low-calorie and crunchy treat for dogs. As long as you slice each piece in the correct size, this vegetable can be a healthy treat for your dog.
Sources:
Toxic and Dangerous Foods Your Dog Should Never Eat – Pets Web MD
10 Fruits and Veggies That Aid in Dog Nutrition – HowStuffWorks
Related Reads
Related Reads